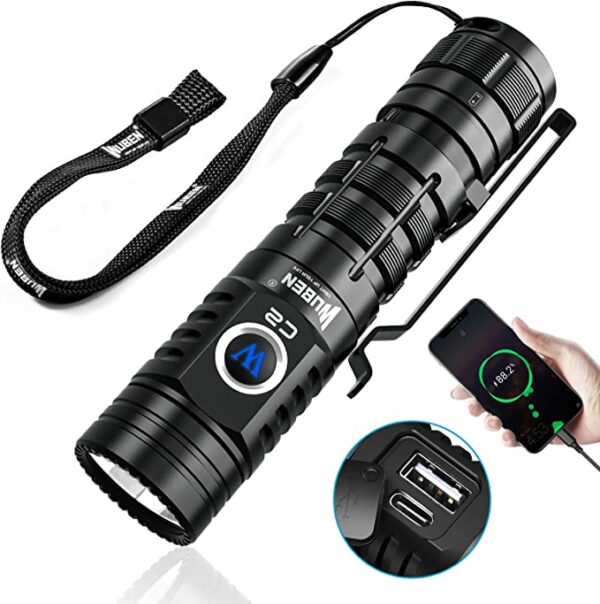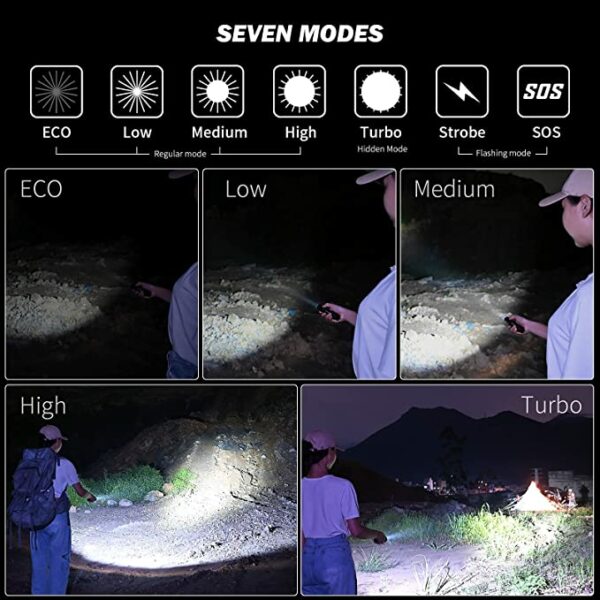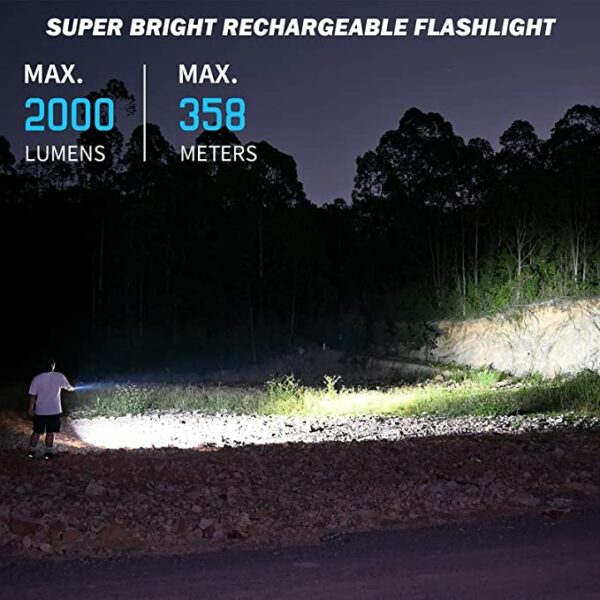 Jamie Flashlight-WUBEN C2 Rechargeable LED Flashlights 2000 High Lumens, Pocket Flashlight with Power Bank, 7 Modes Flash Light, IP68 Waterproof Tactical Flashlight for Emergencies, Outdoor
Description
WUBEN C2 Rechargeable LED Flashlights 2000 High Lumens, Pocket Flashlight with Power Bank, 7 Modes Flash Light, IP68 Waterproof Tactical Flashlight for Emergencies, Outdoor

[SUPER BRIGHT & COMPACT]: WUBEN C2 is an ultra-bight type-c rechargeable led flashlight, that utilizes an advanced Luminus SST40 6500K LED. This flashlight delivers a max output of 2000 lumens and up to 358-meter throw, greatly meets your illumination needs with a very compact size at 5.06 x 4.11 In(L x D).

[7 MODES & MEMORY FUNCTION & BREATHING LIGHT]: WUBEN C2 has 4 basic modes: High-Med-Low-ECO(long press on the switch to cycle Switching, with memory function), 1 hidden mode: Turbo(click twice when the flashlight is on), and 2 flashing modes: Strobe-SOS. This pocket flashlight also comes with blue breathing light to help you find it easily in the dark.

[RECHARGEABLE & POWER BANK]: Equipped with one 4800mAh large power capacity rechargeable battery as well as a Type-C charging cable, so you could use it once you get it. Extended battery life and up to 300 hours long lighting time on ECO modes make this led flashlight ideal for outdoor activities. Most of all, it also serves as a power bank when the phone is powered off in an emergency.

[HEAVY-DUTY AND TOUGH MATERIAL]: WUBEN C2 is made of hard anodizing aircraft grade 6061 T6 aviation aluminum, IP68 waterproof, and 1.5M impact-resistant, which makes this tactical flashlight more durable and rugged, very suitable for all kinds of daily, survival, outdoor and tactical activities.

[EFFORTLESS PORTABILITY & SMART DESIGN]: Compact size and integrated pocket clip make illuminating anywhere a breeze, you can attach the EDC flashlight to belts, pockets, and backpacks for easy carrying. This flashlight has an intelligent low-power warning function to remind you to charge it. When the power is less than 15%, the red indicator light will keep flashing. it also indicates charging status. Full is blue, charging is red.

TIPS: Because this flashlight is adapting to a conductive end face, please be sure to tighten the tail cap. Otherwise, the flashlight may not be able to turn on/can not be charged normally.
| Winner Name | Ticket Number | Draw Date |
| --- | --- | --- |
| Jeanette Anderson | 20 | 21/07/2022 |
| Ticket Number | Date | Name |
| --- | --- | --- |
| 1 | 2022-07-21 14:48:34 | Kim Ayres |
| 2 | 2022-07-21 18:57:14 | jeanette rich |
| 5 | 2022-07-21 20:34:49 | Deborah Talbot |
| 7 | 2022-07-21 19:43:09 | Jeremy Boothroyd |
| 8 | 2022-07-21 19:17:12 | Kevin Hayes |
| 10 | 2022-07-21 20:30:45 | Tyrone Small |
| 11 | 2022-07-21 16:15:57 | Mark Hamm |
| 12 | 2022-07-21 17:21:22 | connor wren |
| 13 | 2022-07-21 17:21:22 | connor wren |
| 14 | 2022-07-21 13:57:05 | Holly Gawrel |
| 15 | 2022-07-21 14:56:36 | Jeanette Anderson |
| 16 | 2022-07-21 19:43:05 | Leah Cook |
| 17 | 2022-07-21 14:48:34 | Kim Ayres |
| 18 | 2022-07-21 16:15:57 | Mark Hamm |
| 19 | 2022-07-21 14:24:54 | Sarah Heal |
| 20 | 2022-07-21 14:56:36 | Jeanette Anderson |
| 21 | 2022-07-21 18:57:14 | jeanette rich |
| 22 | 2022-07-21 14:18:41 | Emma Davies |
| 23 | 2022-07-21 16:29:40 | Sharon Hobday |
| 24 | 2022-07-21 19:55:33 | Emma Louise |
| 25 | 2022-07-21 17:00:45 | Steve Cuff |
| 26 | 2022-07-21 17:21:22 | connor wren |
| 27 | 2022-07-21 17:53:37 | Nicola Cobain |
| 28 | 2022-07-21 17:26:55 | Ian Garner |
| 29 | 2022-07-21 19:06:03 | Michael O'connor |
| 30 | 2022-07-21 16:15:57 | Mark Hamm |
| 32 | 2022-07-21 16:29:40 | Sharon Hobday |
| 36 | 2022-07-21 20:43:27 | Kate Clifford |
| 37 | 2022-07-21 17:21:22 | connor wren |
| 38 | 2022-07-21 17:21:22 | connor wren |
| 39 | 2022-07-21 13:55:43 | Tony Harding |
| 40 | 2022-07-21 17:21:22 | connor wren |
| 43 | 2022-07-21 20:36:34 | Jane Clarke |
| 44 | 2022-07-21 16:15:57 | Mark Hamm |
| 45 | 2022-07-21 19:43:05 | Leah Cook |
| 46 | 2022-07-21 13:55:43 | Tony Harding |
| 47 | 2022-07-21 20:44:46 | Kate Clifford |
| 49 | 2022-07-21 19:30:08 | Lorraine Mcardle |
| 51 | 2022-07-21 17:21:22 | connor wren |
| 52 | 2022-07-21 14:36:08 | Sam Fitzgerald |
| 53 | 2022-07-21 16:15:57 | Mark Hamm |
| 54 | 2022-07-21 16:15:57 | Mark Hamm |
| 57 | 2022-07-21 14:45:26 | Phillip Drew |
| 58 | 2022-07-21 16:15:57 | Mark Hamm |
| 61 | 2022-07-21 14:36:08 | Sam Fitzgerald |
| 62 | 2022-07-21 14:36:08 | Sam Fitzgerald |
| 64 | 2022-07-21 16:15:57 | Mark Hamm |
| 65 | 2022-07-21 17:26:55 | Ian Garner |
| 66 | 2022-07-21 14:48:34 | Kim Ayres |
| 68 | 2022-07-21 17:26:55 | Ian Garner |
| 69 | 2022-07-21 16:15:57 | Mark Hamm |
| 71 | 2022-07-21 17:53:37 | Nicola Cobain |
| 77 | 2022-07-21 17:21:22 | connor wren |
| 81 | 2022-07-21 14:48:34 | Kim Ayres |
| 82 | 2022-07-21 14:48:34 | Kim Ayres |
| 83 | 2022-07-21 19:54:57 | William Harvey |
| 84 | 2022-07-21 17:21:22 | connor wren |
| 85 | 2022-07-21 14:00:11 | Lekel North |
| 86 | 2022-07-21 17:26:55 | Ian Garner |
| 91 | 2022-07-21 17:21:22 | connor wren |
| 95 | 2022-07-21 14:45:26 | Phillip Drew |
| 97 | 2022-07-21 19:11:14 | Rachel Salloway |
| 99 | 2022-07-21 20:44:46 | Kate Clifford |
| 101 | 2022-07-21 15:14:06 | Emma Jones |
| 102 | 2022-07-21 16:15:57 | Mark Hamm |
| 105 | 2022-07-21 16:36:50 | Mary Knights |
| 106 | 2022-07-21 17:00:45 | Steve Cuff |
| 110 | 2022-07-21 19:35:35 | Emma-lee Wilson |