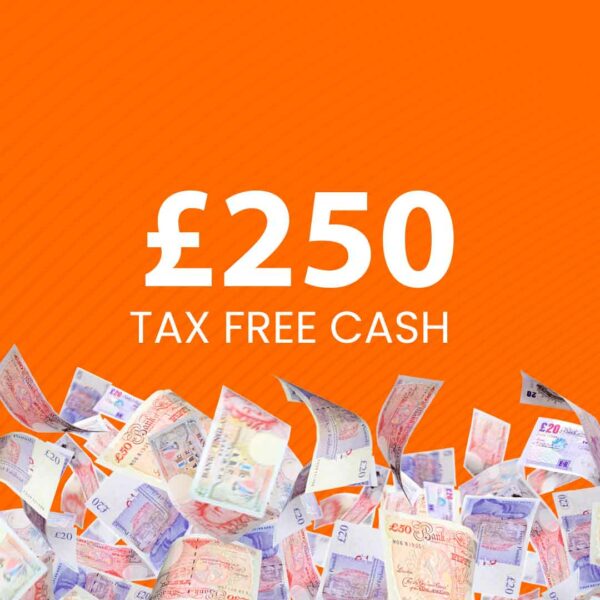 INSTANT WIN £250 CASH + 4 GOLDEN TICKETS WORTH £50
Description
INSTANT WIN £250 CASH + 4  GOLDEN TICKETS WORTH £50
ONE LUCKY WINNER WILL WIN £250 INSTANT CASH- 4 LUCKY WINNER WILL WIN £50
 FIND THE GOLDEN TICKETS AND INSTANTLY WIN £50!
Buy your tickets for this competition and check your ticket numbers. If you have the golden Ticket number, you will instantly win £50!
The 4 golden Ticket numbers are
332
433
74
18
All ticket numbers are generated at random by the system.
| Winner Name | Ticket Number | Draw Date |
| --- | --- | --- |
| Leanne Hodgson | 24 | 22/04/2022 |
1-100
101-200
201-300
301-400
401-500
| Ticket Number | Date | Name |
| --- | --- | --- |
| 1 | 2022-04-19 15:55:56 | Michaela Nodwell |
| 2 | 2022-04-19 18:35:47 | Linda Beer |
| 3 | 2022-04-22 19:43:16 | Nicola Perkins |
| 4 | 2022-04-19 15:24:03 | Caroline Stemp |
| 5 | 2022-04-22 20:14:03 | Brogan Sandercock |
| 6 | 2022-04-22 19:49:23 | Regina Phalange |
| 7 | 2022-04-22 13:52:47 | Deborah Talbot |
| 8 | 2022-04-22 20:06:47 | Sandra Owen Youens |
| 9 | 2022-04-22 20:06:14 | Daniel Lee |
| 10 | 2022-04-22 19:45:37 | Sarah Cox |
| 11 | 2022-04-21 14:30:17 | Lisa Burgess |
| 12 | 2022-04-22 18:17:56 | Claire Darby |
| 13 | 2022-04-22 17:26:43 | Jamela Bousaida |
| 14 | 2022-04-22 20:06:47 | Sandra Owen Youens |
| 15 | 2022-04-22 19:13:35 | Nicola Walker |
| 16 | 2022-04-22 19:47:51 | Annabelle Baylis |
| 17 | 2022-04-19 15:18:17 | Samantha Bailey |
| 18 | 2022-04-19 15:11:56 | Kenneth Wilkins |
| 19 | 2022-04-22 17:23:24 | Kiola Smith |
| 20 | 2022-04-21 01:01:34 | Charlotte Osborne |
| 21 | 2022-04-22 18:34:55 | Shellie Pouladdej |
| 22 | 2022-04-22 02:40:11 | Heather Mee |
| 23 | 2022-04-22 16:10:45 | Keith Cheese |
| 24 | 2022-04-22 19:27:28 | Leanne Hodgson |
| 25 | 2022-04-21 16:23:30 | Victoria Sealey |
| 26 | 2022-04-21 12:03:03 | Jess Ellis |
| 27 | 2022-04-22 17:26:43 | Jamela Bousaida |
| 28 | 2022-04-22 18:59:04 | Kelly White |
| 29 | 2022-04-22 15:37:07 | Mark Lofthouse |
| 30 | 2022-04-19 15:19:32 | Amy Whitlam |
| 31 | 2022-04-19 15:19:37 | Chloe Warren |
| 32 | 2022-04-22 18:45:15 | Daniel Russell |
| 33 | 2022-04-22 02:40:11 | Heather Mee |
| 34 | 2022-04-19 15:19:37 | Chloe Warren |
| 35 | 2022-04-22 19:23:49 | Jemma Betteridge |
| 36 | 2022-04-21 22:48:57 | Caroline Stemp |
| 37 | 2022-04-21 09:19:46 | Shana Taylor |
| 38 | 2022-04-22 20:05:17 | Clive Moxhay |
| 39 | 2022-04-22 18:55:02 | Martine Williams |
| 40 | 2022-04-22 02:40:11 | Heather Mee |
| 41 | 2022-04-22 18:55:40 | Sammie Martin |
| 42 | 2022-04-22 18:48:54 | Kelly Clarke-booth |
| 43 | 2022-04-19 19:39:02 | Marc Baker |
| 44 | 2022-04-19 17:43:13 | Sophie Sayer |
| 45 | 2022-04-22 20:08:57 | Peter Martin |
| 46 | 2022-04-21 22:12:06 | phyllis steer |
| 47 | 2022-04-22 20:25:24 | Hayley Morris |
| 48 | 2022-04-22 19:35:05 | Sinead Morgan |
| 49 | 2022-04-22 19:25:24 | Samantha Tilley |
| 50 | 2022-04-20 19:31:40 | Denise Barry |
| 51 | 2022-04-22 20:07:31 | Josh Pender |
| 52 | 2022-04-22 18:43:12 | Catherine Johnson |
| 53 | 2022-04-21 01:01:34 | Charlotte Osborne |
| 54 | 2022-04-19 15:24:03 | Caroline Stemp |
| 55 | 2022-04-22 11:48:31 | Chris Wills |
| 56 | 2022-04-22 19:20:26 | Jodie Ravenhill |
| 57 | 2022-04-22 20:10:05 | Leanne Veal |
| 58 | 2022-04-22 19:47:42 | Deanne Melhuish |
| 59 | 2022-04-19 17:49:25 | Chris Wills |
| 60 | 2022-04-22 12:31:30 | Annie Position |
| 61 | 2022-04-22 19:41:30 | Lee Jones |
| 62 | 2022-04-22 18:21:59 | charlotte parnell |
| 63 | 2022-04-22 13:01:05 | Emma Davies |
| 64 | 2022-04-22 18:57:51 | Toby BAMSEY |
| 65 | 2022-04-22 19:32:38 | Lisa Durney |
| 66 | 2022-04-21 17:51:16 | Beckie Anderson |
| 67 | 2022-04-22 20:34:51 | Caroline Stevens |
| 68 | 2022-04-22 19:01:08 | Gail Gilbert |
| 69 | 2022-04-20 22:32:35 | charlotte parnell |
| 70 | 2022-04-22 19:50:16 | Kim Escott |
| 71 | 2022-04-22 19:35:40 | Karen hilleard |
| 72 | 2022-04-22 02:40:11 | Heather Mee |
| 73 | 2022-04-19 15:28:09 | Geena Burrett |
| 74 | 2022-04-19 15:13:42 | Emma Renton |
| 75 | 2022-04-19 17:45:02 | Chris Wills |
| 76 | 2022-04-21 09:33:54 | Claire Allen |
| 77 | 2022-04-22 19:27:28 | Leanne Hodgson |
| 78 | 2022-04-22 19:18:02 | Stephanie Mckenna |
| 79 | 2022-04-22 08:08:24 | Tracy Cramond |
| 80 | 2022-04-22 19:17:09 | Natasha Montgomery |
| 81 | 2022-04-19 17:45:02 | Chris Wills |
| 82 | 2022-04-22 10:21:02 | Heather Jenkins |
| 83 | 2022-04-22 14:06:17 | carly Lock |
| 84 | 2022-04-22 19:49:17 | Chelsie Smith |
| 85 | 2022-04-21 12:03:03 | Jess Ellis |
| 86 | 2022-04-19 23:23:03 | Claire Baker |
| 87 | 2022-04-22 17:48:10 | Kelly Walsh |
| 88 | 2022-04-19 15:09:28 | Stephanie Bush |
| 89 | 2022-04-22 19:28:47 | Charley Turner |
| 90 | 2022-04-21 13:40:22 | Suzi Gooding |
| 91 | 2022-04-22 18:53:19 | Andrew Gerry |
| 92 | 2022-04-21 21:48:14 | Nicola Walker |
| 93 | 2022-04-22 18:54:00 | Megan Barratt |
| 94 | 2022-04-21 22:12:06 | phyllis steer |
| 95 | 2022-04-22 19:47:16 | Nicole Stapleton |
| 96 | 2022-04-21 13:40:22 | Suzi Gooding |
| 97 | 2022-04-22 15:12:13 | tj leicester |
| 98 | 2022-04-21 22:48:57 | Caroline Stemp |
| 99 | 2022-04-22 20:38:26 | John Overbury |
| 100 | 2022-04-21 08:20:23 | Anya Neeze |