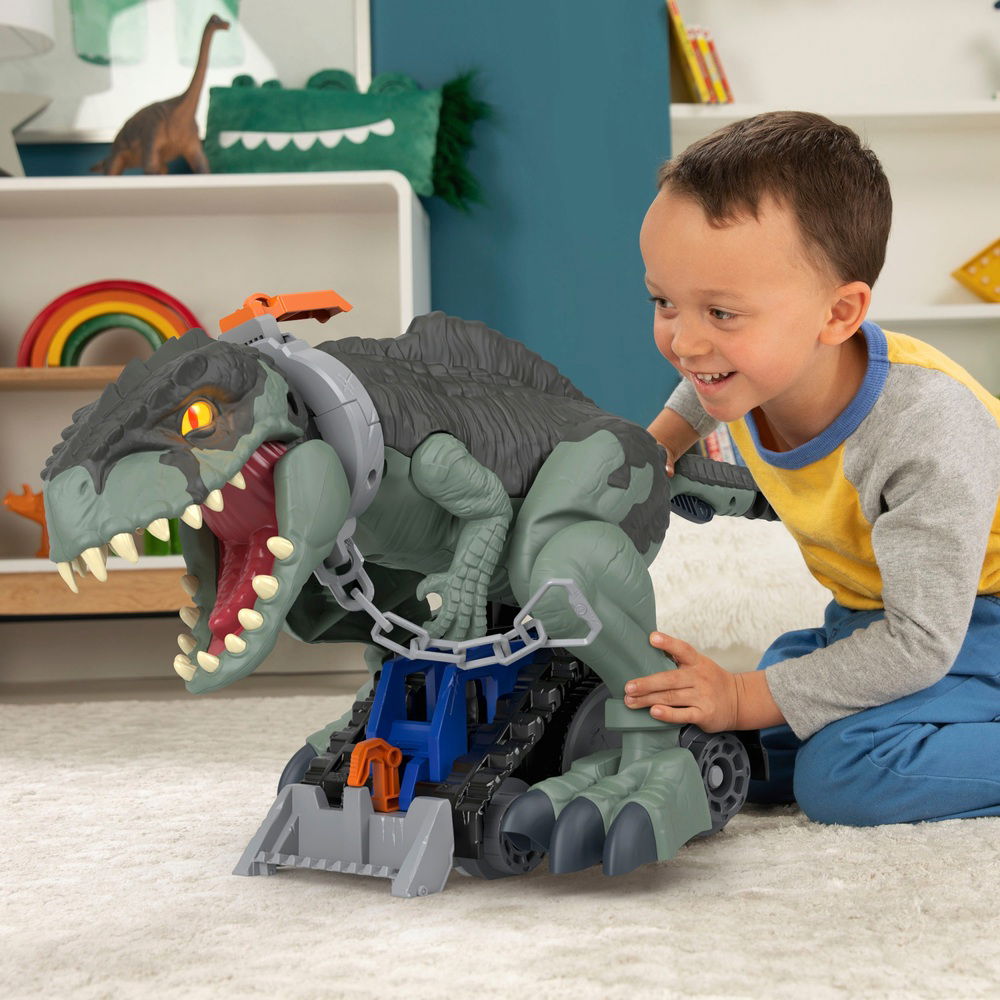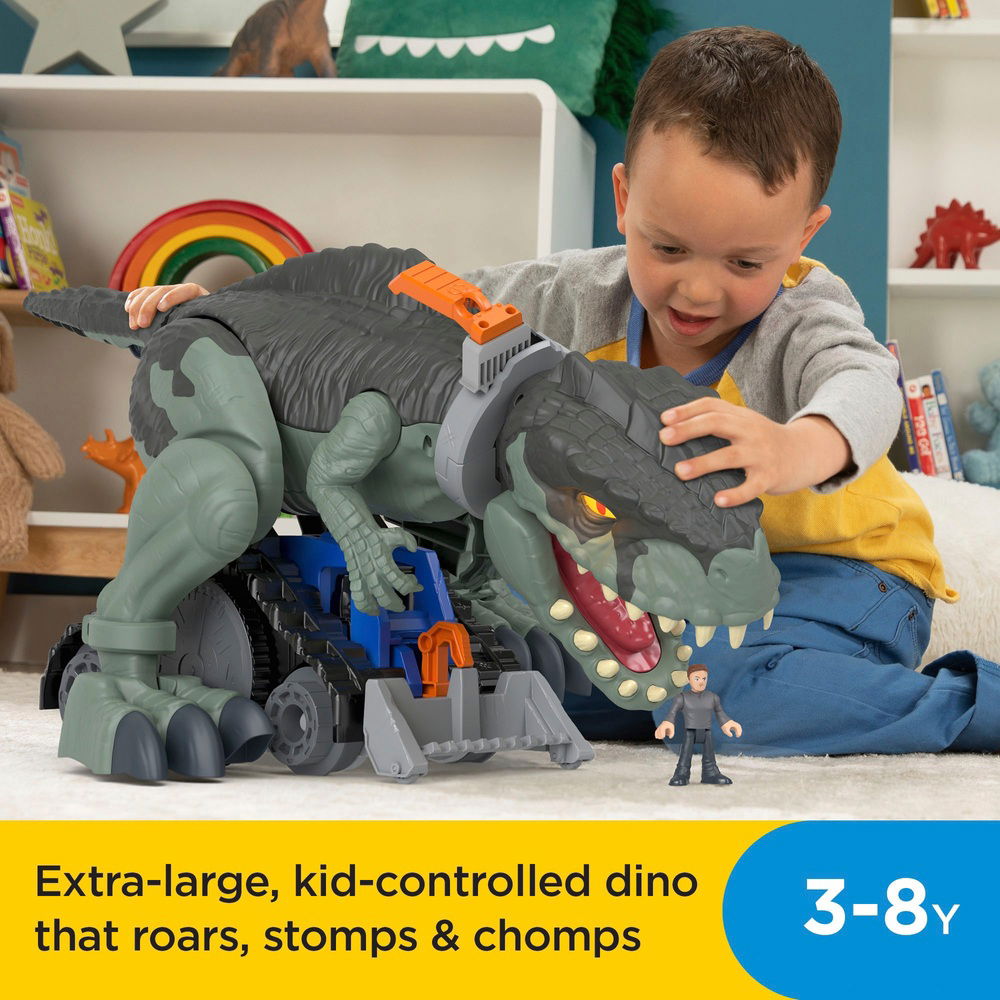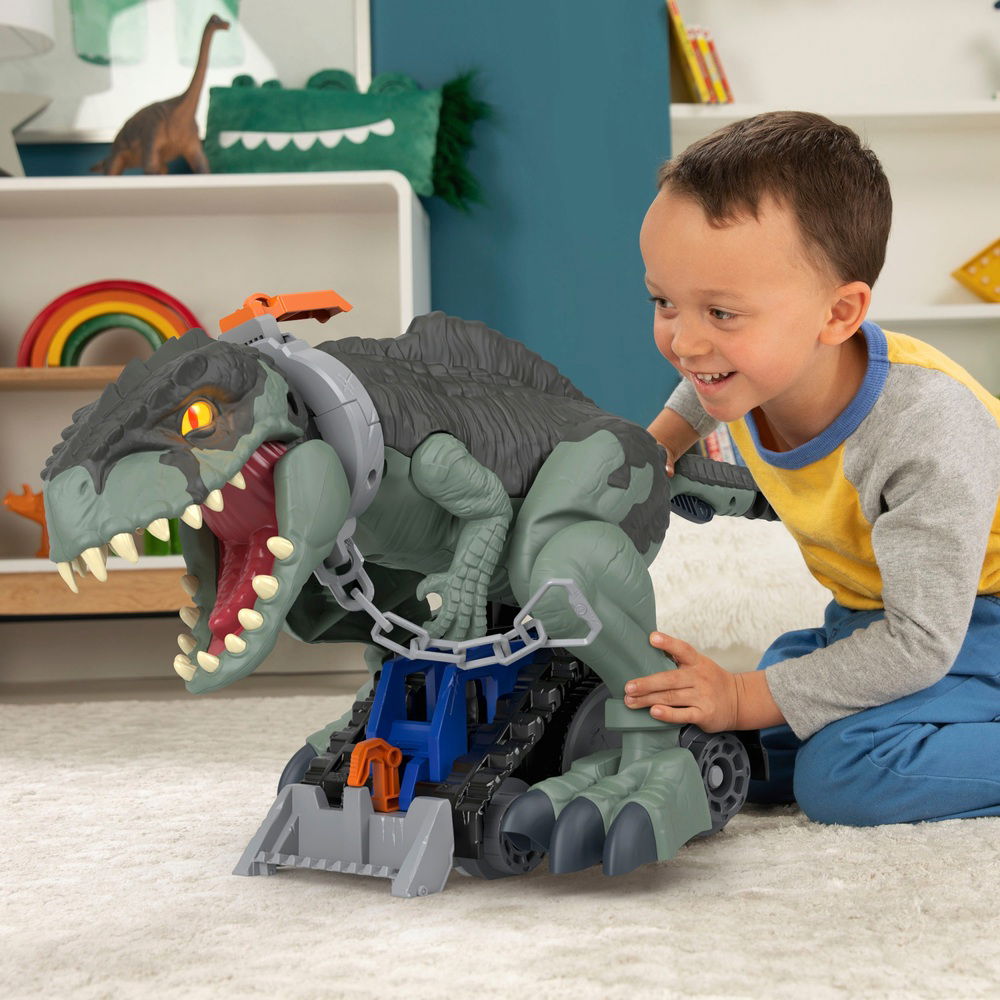 Imaginext Jurassic World Dominion: Mega Stomp & Rumble Giga Dinosaur
Description
Imaginext Jurassic World Dominion: Mega Stomp & Rumble Giga Dinosaur
1x Mega Stop & Rumble Giga Dinosaur
Includes: 1x Giga Dino figure, 1x Owen figure, 1x Chain
With light-up eyes
Dinosaur roars, stomps, chomps and thrashes!
Pull the handle or squeeze the tail to unleash the dino's loud roar
Twist her tail for cool head-thrashing action
Push along to see her stomp forward with realistic sounds
Attach the chain to the dino's legs or neck harness, then watch her break out!
Dimensions: 41H cm
Batteries required: 3 x CR14 (included)
Product Description
Kids can roar into epic Jurassic World adventures with the Imaginext Mega Stomp & Rumble Giga Dino toy! This dinosaur figure is so realistic, with fierce light-up eyes and a super-loud roar.
Interactive Jurassic World Dinosaur
The Stomp & Rumble Giga Dino features awesome head-thrashing and stomping action! Plus, her roar makes her whole body shake. This kid- controlled Giga dinosaur brings all your Jurassic World stories to life.
It's a Dino Breakout!
Kids can roll the Stomp & Rumble Giga Dino forward to break her free from the chain. Watch her stomp and roar along after Owen – just like in the Jurassic World film.
| Winner Name | Ticket Number | Draw Date |
| --- | --- | --- |
| Mandy Moore | 79 | 14/09/2022 |
| Ticket Number | Date | Name |
| --- | --- | --- |
| 1 | 2022-09-14 16:02:28 | Holly Louise |
| 2 | 2022-09-10 21:05:21 | Natasha Bourne |
| 3 | 2022-09-14 07:08:32 | Chris Lake |
| 4 | 2022-09-13 18:34:14 | Kelsi symonds |
| 5 | 2022-09-13 10:51:21 | K S |
| 6 | 2022-09-14 07:12:52 | Jeanette Anderson |
| 7 | 2022-09-14 14:55:24 | Sharon Smith |
| 8 | 2022-09-09 16:28:33 | Dana Mills |
| 9 | 2022-09-09 17:46:04 | Nicola Copley |
| 10 | 2022-09-13 13:57:51 | Roxanne Walker |
| 11 | 2022-09-13 07:03:01 | Soph Sayer |
| 12 | 2022-09-12 20:12:38 | Tracy Owen |
| 13 | 2022-09-14 11:07:52 | Lindsey Evans |
| 14 | 2022-09-13 10:51:21 | K S |
| 15 | 2022-09-05 17:34:57 | Keira Bradford-jones |
| 16 | 2022-09-13 10:51:21 | K S |
| 17 | 2022-09-05 20:27:18 | Clare Keating |
| 18 | 2022-09-14 13:03:06 | Leyanie Dore |
| 19 | 2022-09-09 17:13:36 | Melanie jackson Jackson |
| 20 | 2022-09-14 11:02:01 | Clare Keating |
| 21 | 2022-09-13 19:57:32 | Lisa Roberts |
| 22 | 2022-09-13 10:51:21 | K S |
| 23 | 2022-09-13 19:57:32 | Lisa Roberts |
| 24 | 2022-09-09 21:16:50 | Dawn Kendrick |
| 25 | 2022-09-14 14:28:49 | Danielle Benn |
| 26 | 2022-09-13 19:57:32 | Lisa Roberts |
| 27 | 2022-09-13 16:24:19 | Soph Sayer |
| 28 | 2022-09-13 10:51:21 | K S |
| 29 | 2022-09-13 19:07:30 | Natalie King |
| 30 | 2022-09-13 16:24:19 | Soph Sayer |
| 31 | 2022-09-05 22:36:56 | Linda Beer |
| 32 | 2022-09-06 13:13:01 | Nicola Bird |
| 33 | 2022-09-13 10:51:21 | K S |
| 34 | 2022-09-13 07:03:01 | Soph Sayer |
| 35 | 2022-09-13 22:29:30 | Clare Keating |
| 36 | 2022-09-14 14:28:49 | Danielle Benn |
| 37 | 2022-09-05 22:36:56 | Linda Beer |
| 38 | 2022-09-13 10:51:21 | K S |
| 39 | 2022-09-13 16:24:19 | Soph Sayer |
| 40 | 2022-09-14 14:28:49 | Danielle Benn |
| 41 | 2022-09-13 16:24:19 | Soph Sayer |
| 42 | 2022-09-05 14:59:09 | Holly Gawrel |
| 43 | 2022-09-05 14:27:51 | Soph Sayer |
| 44 | 2022-09-14 14:23:05 | Mica Mulgrue |
| 45 | 2022-09-13 10:51:21 | K S |
| 46 | 2022-09-13 21:22:19 | K S |
| 47 | 2022-09-14 16:44:40 | David Orrey |
| 48 | 2022-09-14 18:05:43 | Wendy Wells |
| 49 | 2022-09-14 17:00:27 | Amy Phillips |
| 50 | 2022-09-05 18:04:25 | Stacey Roberts |
| 51 | 2022-09-14 08:17:18 | Soph Sayer |
| 52 | 2022-09-13 07:02:05 | Chloe Rabone |
| 53 | 2022-09-14 17:00:27 | Amy Phillips |
| 54 | 2022-09-06 18:32:38 | Dean O'Connor |
| 55 | 2022-09-13 10:53:25 | K S |
| 56 | 2022-09-14 18:05:43 | Wendy Wells |
| 57 | 2022-09-07 09:59:56 | Jackie Dyer |
| 58 | 2022-09-06 08:56:13 | Jackie Dyer |
| 59 | 2022-09-14 07:08:32 | Chris Lake |
| 60 | 2022-09-13 16:24:19 | Soph Sayer |
| 61 | 2022-09-14 07:08:32 | Chris Lake |
| 62 | 2022-09-05 14:27:51 | Soph Sayer |
| 63 | 2022-09-13 16:24:19 | Soph Sayer |
| 64 | 2022-09-14 16:41:00 | Bradley Lewis |
| 65 | 2022-09-13 10:51:21 | K S |
| 66 | 2022-09-13 22:29:30 | Clare Keating |
| 67 | 2022-09-14 11:07:52 | Lindsey Evans |
| 68 | 2022-09-13 19:55:06 | Marc Baker |
| 69 | 2022-09-14 16:02:28 | Holly Louise |
| 70 | 2022-09-13 19:55:06 | Marc Baker |
| 71 | 2022-09-12 20:12:38 | Tracy Owen |
| 72 | 2022-09-13 10:51:21 | K S |
| 73 | 2022-09-12 23:25:41 | Natalie D |
| 74 | 2022-09-14 07:12:52 | Jeanette Anderson |
| 75 | 2022-09-13 10:51:21 | K S |
| 76 | 2022-09-13 14:30:14 | Liam Timms |
| 77 | 2022-09-13 16:24:19 | Soph Sayer |
| 78 | 2022-09-14 14:55:24 | Sharon Smith |
| 79 | 2022-09-14 13:44:51 | Mandy Moore |
| 80 | 2022-09-14 18:45:36 | Christine Scarbrough |
| 81 | 2022-09-14 16:09:30 | Kayleen Simpson |
| 82 | 2022-09-13 10:51:21 | K S |
| 83 | 2022-09-12 13:48:47 | Stephanie Heal |
| 84 | 2022-09-14 17:51:30 | Kirsty Westy |
| 85 | 2022-09-13 10:51:21 | K S |
| 86 | 2022-09-05 14:27:51 | Soph Sayer |
| 87 | 2022-09-13 14:34:59 | Hollie Brown |
| 88 | 2022-09-14 16:02:28 | Holly Louise |
| 89 | 2022-09-14 07:08:32 | Chris Lake |
| 90 | 2022-09-14 06:43:25 | Nicola Bird |
| 91 | 2022-09-14 07:12:52 | Jeanette Anderson |
| 92 | 2022-09-13 10:51:21 | K S |
| 93 | 2022-09-14 07:12:52 | Jeanette Anderson |
| 94 | 2022-09-14 17:00:27 | Amy Phillips |
| 95 | 2022-09-13 10:47:04 | K S |
| 96 | 2022-09-07 21:47:49 | Claire Leworthy |
| 97 | 2022-09-14 18:05:43 | Wendy Wells |
| 98 | 2022-09-14 14:14:43 | Charlie Williams |
| 99 | 2022-09-14 16:29:00 | Di Hodge |
| 100 | 2022-09-14 08:17:18 | Soph Sayer |