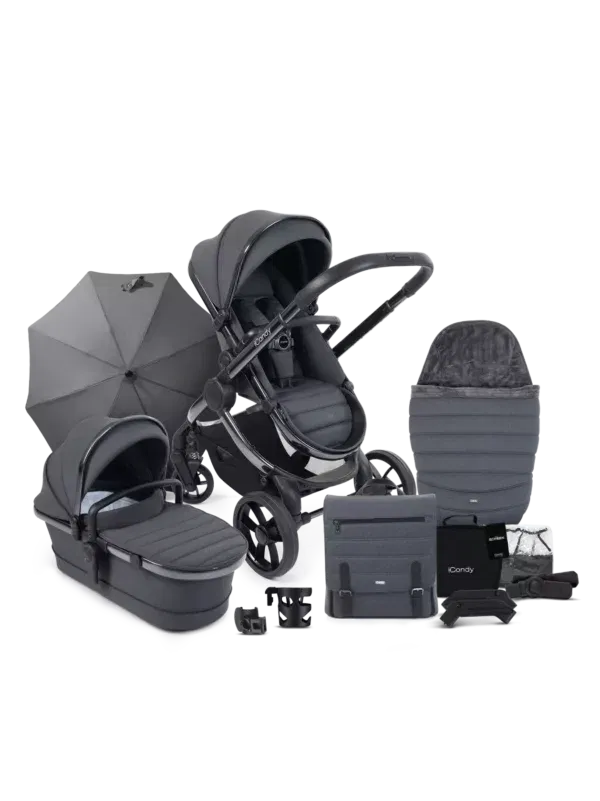 iCandy Peach 7 Pushchair & Accessories Bundle, Grey or £800 Cash
Description
iCandy Peach 7 Pushchair & Accessories Bundle, Grey or £800 Cash
Now in its seventh generation, every element of the iCandy Peach has been crafted to ensure perfection in functionality, quality and safety. It is the choice of parents who demand cutting edge design and style that lasts.
This handy bundle is the full package of stroller and accessories. It includes the Peach 7 stroller, carrycot, car seat adaptors, rain cover and elevators. Additionally, you'll also get some brilliant accessories including an iCandy changing bag, Duo-Pod, parasol, cup holder, clamp, and sunshade.
Famous for its one-handed fold, incorporated carry strap and fashion-forward fabrics, the Peach can easily convert into a twin or double pushchair with the use of innovative adaptors. Suitable from birth to 3 years of age, it will grow with your child providing an easy way to carry them around whether it's a stroll to the shops or an adventure through the countryside thanks to the four-wheel suspension.
Key Features:
Suitable from birth (with carrycot) or 6 months (pushchair & seat unit) up to 25kg
One hand fold with easy carry strap
Can easily convert into a twin or double pushchair with the use of innovative adaptors
Four wheel suspension that can handle all terrains
Adjustable handle height
Pivoting foot rest
Freestanding chassis when folded
Four recline positions
Five point safety harness
| Winner Name | Ticket Number | Draw Date |
| --- | --- | --- |
| Katherine Parker | 1320 | 08/07/2022 |
1-300
301-600
601-900
901-1200
1201-1500
| Ticket Number | Date | Name |
| --- | --- | --- |
| 1 | 2022-07-04 21:53:15 | Barbara Maull |
| 2 | 2022-07-06 16:51:39 | Sadie Simpson |
| 3 | 2022-07-01 12:22:54 | Sharon Hines |
| 4 | 2022-06-28 10:00:29 | Kyra Young |
| 5 | 2022-07-07 09:47:01 | Louisa Butler |
| 6 | 2022-06-24 11:55:54 | Lauren Down |
| 7 | 2022-06-24 17:33:30 | Rebecca Wood |
| 8 | 2022-06-30 06:46:36 | Michael t O'connor |
| 9 | 2022-06-24 17:33:30 | Rebecca Wood |
| 10 | 2022-06-24 17:33:30 | Rebecca Wood |
| 11 | 2022-07-04 17:56:27 | Jodie England |
| 12 | 2022-06-24 17:33:30 | Rebecca Wood |
| 13 | 2022-06-24 16:28:19 | Paige Bradshaw |
| 14 | 2022-06-24 17:33:30 | Rebecca Wood |
| 15 | 2022-06-24 12:00:30 | Alice Hill |
| 16 | 2022-07-07 09:47:01 | Louisa Butler |
| 17 | 2022-06-24 15:04:29 | Beth Eason |
| 18 | 2022-06-24 21:44:55 | Julie Webb |
| 19 | 2022-06-24 15:04:29 | Beth Eason |
| 20 | 2022-06-24 17:33:30 | Rebecca Wood |
| 21 | 2022-07-07 09:47:01 | Louisa Butler |
| 22 | 2022-07-06 06:28:02 | Karla Ward |
| 23 | 2022-06-30 13:23:57 | Katherine Parker |
| 24 | 2022-07-01 11:15:31 | Karla Ward |
| 25 | 2022-06-24 12:00:30 | Alice Hill |
| 26 | 2022-06-24 17:33:30 | Rebecca Wood |
| 27 | 2022-06-24 21:44:55 | Julie Webb |
| 28 | 2022-07-01 21:24:54 | Joeanne O'connor |
| 29 | 2022-06-25 21:01:48 | Emily Hardingham |
| 30 | 2022-06-24 20:15:06 | Annie Goldie |
| 31 | 2022-07-01 12:22:54 | Sharon Hines |
| 32 | 2022-06-28 11:54:43 | Acacia Bodhi |
| 33 | 2022-07-02 07:07:58 | Jade Hopkins |
| 34 | 2022-06-24 14:50:23 | Jane Hasni |
| 35 | 2022-06-27 07:38:03 | Mandy Smith |
| 36 | 2022-07-08 17:48:16 | Keith Moore |
| 37 | 2022-07-07 15:58:32 | Mandy Smith |
| 38 | 2022-07-08 06:54:22 | Abbie Denton |
| 39 | 2022-07-08 19:19:49 | Samantha Thorne |
| 40 | 2022-06-24 17:33:30 | Rebecca Wood |
| 42 | 2022-07-07 09:47:01 | Louisa Butler |
| 43 | 2022-07-08 20:17:19 | Jess Shephard |
| 44 | 2022-07-04 17:56:27 | Jodie England |
| 45 | 2022-07-04 09:10:30 | Kevin Reed |
| 46 | 2022-07-08 19:32:46 | Kitty Cat |
| 47 | 2022-06-24 18:37:13 | Louise perry |
| 48 | 2022-06-24 20:52:03 | melanie Burnay |
| 49 | 2022-07-08 13:02:00 | Marny Stocker |
| 50 | 2022-07-06 06:28:02 | Karla Ward |
| 51 | 2022-07-08 20:34:41 | Emma Fox |
| 52 | 2022-07-07 15:04:50 | Tammie Isaacs |
| 53 | 2022-07-08 14:37:24 | Molly Elnaugh |
| 54 | 2022-07-08 20:52:41 | Emily Connie |
| 55 | 2022-07-01 12:22:54 | Sharon Hines |
| 56 | 2022-07-08 08:51:50 | Sarah Deakin |
| 57 | 2022-06-30 19:57:26 | Natalie Parkes |
| 58 | 2022-07-07 11:11:21 | Hayley N |
| 60 | 2022-07-08 19:50:53 | Tracy Mills |
| 62 | 2022-07-01 11:15:31 | Karla Ward |
| 63 | 2022-07-08 20:18:43 | Trish Mcculloch |
| 64 | 2022-06-24 12:45:31 | Chloe Warren |
| 65 | 2022-07-04 21:53:15 | Barbara Maull |
| 66 | 2022-07-08 20:15:27 | Nathan Down |
| 67 | 2022-07-08 06:54:22 | Abbie Denton |
| 68 | 2022-07-08 20:26:01 | Joanna Heasman |
| 70 | 2022-07-05 13:00:40 | Bren Last |
| 72 | 2022-07-07 23:36:24 | Richard Stonelake |
| 74 | 2022-07-07 08:18:49 | Sharon Avery |
| 75 | 2022-07-07 13:04:23 | Megan Dean |
| 76 | 2022-06-27 16:52:07 | Ami Howard |
| 77 | 2022-07-07 09:47:01 | Louisa Butler |
| 79 | 2022-07-05 21:51:00 | Mica Mulgrue |
| 80 | 2022-07-06 15:32:41 | M Brown |
| 81 | 2022-07-08 06:54:22 | Abbie Denton |
| 82 | 2022-07-07 11:24:34 | Grace Birchill-Studdy |
| 83 | 2022-07-08 20:19:24 | Matt Caine |
| 84 | 2022-07-08 20:58:03 | Jeni Chown |
| 86 | 2022-07-07 23:36:24 | Richard Stonelake |
| 88 | 2022-07-08 20:53:05 | Naomi Warren |
| 90 | 2022-07-07 21:08:16 | Samantha Dillon |
| 91 | 2022-07-07 09:47:01 | Louisa Butler |
| 92 | 2022-07-08 13:37:16 | Kellee Wye |
| 93 | 2022-06-26 21:38:21 | April Bradbeer |
| 95 | 2022-07-07 15:04:50 | Tammie Isaacs |
| 97 | 2022-07-08 17:24:24 | Sarah Widdop |
| 100 | 2022-06-24 16:13:12 | Brogan Simpson |
| 101 | 2022-07-06 06:28:02 | Karla Ward |
| 103 | 2022-07-08 20:16:08 | Rebecca Wood |
| 104 | 2022-07-08 20:19:44 | Tara Evans |
| 106 | 2022-07-07 15:09:17 | Shelby Isaacs |
| 107 | 2022-07-08 19:19:43 | William Harvey |
| 108 | 2022-07-02 08:59:16 | Josh foster |
| 109 | 2022-07-08 20:19:44 | Tara Evans |
| 110 | 2022-07-08 20:19:44 | Tara Evans |
| 111 | 2022-06-24 12:07:59 | Maia Roberts |
| 112 | 2022-07-08 20:19:44 | Tara Evans |
| 113 | 2022-07-08 20:19:44 | Tara Evans |
| 114 | 2022-07-07 17:26:54 | Barbara Maull |
| 115 | 2022-07-08 20:19:44 | Tara Evans |
| 116 | 2022-07-08 20:15:27 | Nathan Down |
| 117 | 2022-07-08 20:19:44 | Tara Evans |
| 118 | 2022-07-08 20:19:44 | Tara Evans |
| 119 | 2022-07-07 09:47:01 | Louisa Butler |
| 120 | 2022-07-08 19:51:46 | Kaylie Talbot |
| 121 | 2022-07-02 22:46:25 | Natalie Maple |
| 122 | 2022-06-24 14:50:23 | Jane Hasni |
| 123 | 2022-07-08 20:19:44 | Tara Evans |
| 124 | 2022-07-08 17:48:16 | Keith Moore |
| 126 | 2022-06-24 17:33:30 | Rebecca Wood |
| 127 | 2022-07-07 11:30:25 | Keedie Green |
| 128 | 2022-07-08 20:16:08 | Rebecca Wood |
| 129 | 2022-07-07 23:36:24 | Richard Stonelake |
| 131 | 2022-07-08 06:25:45 | Jodie England |
| 132 | 2022-06-30 07:12:11 | Kirsty kandasamy |
| 133 | 2022-07-07 09:47:01 | Louisa Butler |
| 134 | 2022-07-07 16:24:35 | Jessica Faye |
| 136 | 2022-07-07 21:08:34 | Hilary Moon |
| 137 | 2022-07-08 19:39:27 | Joanne Warner |
| 138 | 2022-07-08 20:16:08 | Rebecca Wood |
| 139 | 2022-07-08 17:17:25 | Naomi Davis |
| 140 | 2022-06-24 17:33:30 | Rebecca Wood |
| 141 | 2022-07-08 20:15:27 | Nathan Down |
| 142 | 2022-07-07 10:09:41 | Charlotte Coleman |
| 143 | 2022-07-08 20:20:22 | David Smith |
| 144 | 2022-07-08 15:15:36 | connor wren |
| 148 | 2022-07-06 16:30:45 | M P |
| 149 | 2022-06-30 07:12:11 | Kirsty kandasamy |
| 151 | 2022-07-07 21:08:16 | Samantha Dillon |
| 158 | 2022-07-08 19:32:04 | CJ C |
| 161 | 2022-07-08 19:55:12 | Sally-ann Aplin |
| 162 | 2022-07-06 06:28:02 | Karla Ward |
| 163 | 2022-07-08 08:19:38 | Aaron Robinson |
| 164 | 2022-07-07 18:50:07 | Chloe Cockram |
| 167 | 2022-06-27 20:46:49 | Paula Combstock |
| 169 | 2022-07-08 08:19:38 | Aaron Robinson |
| 171 | 2022-07-08 20:52:41 | Emily Connie |
| 174 | 2022-07-08 06:54:22 | Abbie Denton |
| 175 | 2022-07-07 09:47:01 | Louisa Butler |
| 176 | 2022-07-07 10:30:04 | Tanya Neal |
| 177 | 2022-07-08 20:20:22 | David Smith |
| 178 | 2022-07-07 10:58:11 | Casey Grainger |
| 179 | 2022-07-02 18:46:56 | Naomi Warren |
| 180 | 2022-07-08 20:20:22 | David Smith |
| 181 | 2022-07-08 11:51:50 | Laura Lee |
| 182 | 2022-06-30 07:12:11 | Kirsty kandasamy |
| 186 | 2022-07-08 20:23:54 | Charlotte Ager |
| 187 | 2022-07-08 18:32:36 | Michael t O'connor |
| 188 | 2022-06-26 17:10:00 | Julie Webb |
| 195 | 2022-07-06 06:11:27 | Karla Ward |
| 196 | 2022-06-24 12:07:59 | Maia Roberts |
| 198 | 2022-06-24 12:29:53 | Tina Light |
| 199 | 2022-07-07 23:36:24 | Richard Stonelake |
| 202 | 2022-07-07 23:41:02 | Candy Light |
| 204 | 2022-07-08 06:25:45 | Jodie England |
| 206 | 2022-06-24 17:33:30 | Rebecca Wood |
| 208 | 2022-07-08 20:52:41 | Emily Connie |
| 209 | 2022-07-07 09:47:01 | Louisa Butler |
| 211 | 2022-06-25 21:01:48 | Emily Hardingham |
| 213 | 2022-07-05 09:00:18 | Mandy Hayman |
| 223 | 2022-07-08 20:12:55 | Donna Ellis |
| 224 | 2022-07-08 20:43:01 | Emma-lee Wilson |
| 225 | 2022-07-05 13:24:44 | Belinda Denham |
| 226 | 2022-07-06 06:11:27 | Karla Ward |
| 231 | 2022-07-06 06:11:27 | Karla Ward |
| 232 | 2022-06-24 11:58:20 | Karla Ward |
| 235 | 2022-07-07 08:10:40 | Laura Paton |
| 236 | 2022-07-08 20:15:27 | Nathan Down |
| 238 | 2022-07-07 09:43:28 | Tyler Baker |
| 247 | 2022-07-07 09:47:01 | Louisa Butler |
| 249 | 2022-07-08 08:51:50 | Sarah Deakin |
| 250 | 2022-06-24 12:07:59 | Maia Roberts |
| 252 | 2022-07-08 20:53:05 | Naomi Warren |
| 255 | 2022-06-24 20:54:42 | Aaron Robinson |
| 256 | 2022-06-24 14:39:32 | Lucy Bailey |
| 258 | 2022-07-08 08:59:40 | Heidi Richards |
| 259 | 2022-07-07 23:36:24 | Richard Stonelake |
| 260 | 2022-06-24 12:45:31 | Chloe Warren |
| 262 | 2022-07-04 21:53:15 | Barbara Maull |
| 263 | 2022-07-08 20:21:42 | James Spence |
| 265 | 2022-07-06 06:11:27 | Karla Ward |
| 271 | 2022-07-06 12:53:24 | Francessca Lawrence |
| 272 | 2022-07-04 11:15:33 | Natalie Youel |
| 274 | 2022-06-24 16:21:43 | Jodie Joyce |
| 276 | 2022-06-30 19:06:22 | Katie Leszman |
| 277 | 2022-07-02 06:54:14 | Mia Smith |
| 278 | 2022-07-07 11:07:56 | Danielle Hooper |
| 280 | 2022-07-08 20:50:41 | Tia Potter |
| 282 | 2022-07-08 20:23:03 | Staci Bolt |
| 284 | 2022-07-08 20:52:41 | Emily Connie |
| 286 | 2022-06-24 20:54:42 | Aaron Robinson |
| 287 | 2022-07-07 23:36:24 | Richard Stonelake |
| 288 | 2022-07-07 10:09:41 | Charlotte Coleman |
| 289 | 2022-07-08 14:37:24 | Molly Elnaugh |
| 291 | 2022-07-08 12:29:19 | Winner Winner |
| 292 | 2022-07-08 20:49:03 | Carla Hames |
| 293 | 2022-07-08 11:15:46 | Tammie Isaacs |
| 294 | 2022-07-08 20:19:44 | Tara Evans |
| 295 | 2022-07-07 09:47:01 | Louisa Butler |
| 296 | 2022-07-07 10:09:41 | Charlotte Coleman |
| 298 | 2022-07-07 17:26:54 | Barbara Maull |
| 299 | 2022-06-24 17:33:30 | Rebecca Wood |