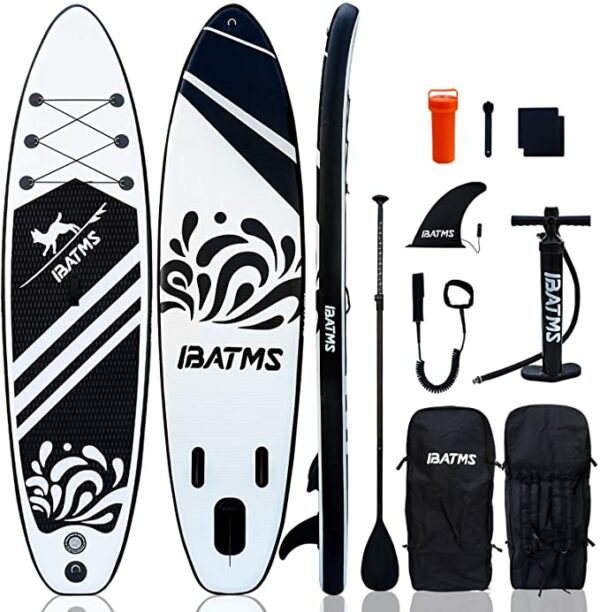 IBATMS Paddle Board,10'6″ x 32″ x6″ Inflatable Stand Up Paddle Sup Board with Premium SUP Accessories & Backpack,
Description
IBATMS Paddle Board,10'6″ x 32″ x6″ Inflatable Stand Up Paddle Sup Board with Premium SUP Accessories & Backpack,Non-Slip Deck,Leash,Fin,Paddle and Hand Pump 
WIDE AND SAFETY & CONVENICE DESIGN】Our IBATMS paddle board is 10'6″ long and provides 32" of deck width,board thick is 6″,it is the ideal size for many SUP paddlers. What's more, the SUP board features with detachable bottom panel fin, enhances stability and balance, improve speed, steering and handling, the top deck of inflatable paddle board is a soft, cushioned non-slip traction pad to boost the rider's safety.

【10'6″ x 32″ x 6″】Constructed of premium quality double-sided sandwich fabric and high-density drop stitches for superior stiffness and maximum pressure (15 PSI).With a width of 32 inches (80cm),has greater buoyancy and sufficient area to support stand or sit down.A soft EVA pad with a ray diamond pattern with a thickness of 4 mm for excellent grip and optimal comfort. And the EVA has good friction, which will prevent you from sliding,providing more stable driving and better performance.

【EASY TO CARRY AND STORE】Ultra light 19.6 lbs(8.9kg),easy to inflate and deflate. Everything can be folded up and put in your backpack, take it anywhere.The central handle allows you to easily carry inflatable paddle boards to the water bank.The high-quality hand pump makes the paddleboard easy to inflate and deflate.Adjustable aluminum paddle can be easily adjusted to your desired height.Sturdy backpack can hold an inflatable board and all accessories.

【COMPLETE ACCESSORY& VARIOUS LEISURE METHODS】 Come with Adjustable paddle, Removable Fin, Hand Pump, Leash, Backpack, Repair Kit.The paddle board is 320cm long and 80cm wide and 15cm thick.The carrying capacity is up to 300lb,can accommodate two young people of moderate weight standing on the board at the same time.Apply for all beginner and Intermediate Riders, for paddling, cruising, yoga, fishing, sightseeing in flatwater.

【WARRANTY】IBAMTS Inflatable sup paddle board are built to stand the test of time, but we offer risk free returns within 30 days & 1 year warranty on materials,please feel free to contact us if you have any question,we will take actively action to deal with it well.
| Winner Name | Ticket Number | Draw Date |
| --- | --- | --- |
| Sarah Gerry | 251 | 24/06/2022 |
1-100
101-200
201-300
301-400
| Ticket Number | Date | Name |
| --- | --- | --- |
| 1 | 2022-06-23 19:16:48 | Kellie Flaherty |
| 2 | 2022-06-24 07:52:14 | Ellyse Webb |
| 3 | 2022-06-23 13:00:28 | Danielle Hooper |
| 4 | 2022-06-21 16:39:08 | Aimy Sturrock |
| 5 | 2022-06-23 18:17:40 | Jade Blight |
| 6 | 2022-06-23 19:15:09 | Tia potter |
| 7 | 2022-06-21 22:50:24 | Kellie Flaherty |
| 8 | 2022-06-23 19:02:41 | Victoria Rooke |
| 9 | 2022-06-23 21:39:11 | Mat Doye |
| 10 | 2022-06-23 10:26:03 | Rachel Andrew |
| 11 | 2022-06-23 10:42:55 | Laura Dickinson |
| 12 | 2022-06-23 21:39:34 | Tracy Tavender |
| 13 | 2022-06-23 19:30:23 | Oliver Osborne |
| 14 | 2022-06-21 21:05:27 | Claire Smith |
| 15 | 2022-06-24 14:29:51 | Debbie Frizzel |
| 16 | 2022-06-23 13:00:28 | Danielle Hooper |
| 17 | 2022-06-22 10:06:13 | Keavy Oconnor |
| 18 | 2022-06-24 07:52:14 | Ellyse Webb |
| 19 | 2022-06-22 10:06:13 | Keavy Oconnor |
| 20 | 2022-06-23 19:15:09 | Tia potter |
| 21 | 2022-06-23 19:15:09 | Tia potter |
| 22 | 2022-06-23 21:05:33 | Claire Viner |
| 23 | 2022-06-24 11:23:21 | Holly Wines |
| 24 | 2022-06-21 16:31:05 | Erin Milligan |
| 25 | 2022-06-21 23:16:59 | Donna Mealand |
| 26 | 2022-06-24 14:41:51 | Denise Kennedy |
| 27 | 2022-06-22 19:54:18 | David Smith |
| 28 | 2022-06-24 02:32:12 | Tanya Sherlock |
| 29 | 2022-06-22 18:47:41 | Lesley Jones |
| 30 | 2022-06-24 14:31:46 | Debbie Frizzel |
| 31 | 2022-06-21 20:11:12 | Sarah Gerry |
| 32 | 2022-06-24 17:50:17 | Janet Mann |
| 33 | 2022-06-21 19:01:50 | Amy Collier |
| 34 | 2022-06-23 17:36:53 | Nicola Blakeley |
| 35 | 2022-06-24 18:31:20 | Andy Webber |
| 36 | 2022-06-24 16:05:52 | Lea Painter |
| 37 | 2022-06-24 15:38:04 | Lynne Deeley |
| 38 | 2022-06-21 14:18:36 | Clare Jamieson |
| 39 | 2022-06-23 22:50:23 | Shirley Lumley |
| 40 | 2022-06-24 07:41:04 | Lucy Roberts |
| 41 | 2022-06-24 11:23:21 | Holly Wines |
| 42 | 2022-06-22 20:01:18 | Terri Saunders |
| 43 | 2022-06-22 18:22:25 | Nicola Cobain |
| 44 | 2022-06-24 14:14:48 | Chris Wills |
| 45 | 2022-06-23 11:12:47 | Michelle Petricca |
| 46 | 2022-06-24 18:04:34 | Phil Masters |
| 47 | 2022-06-23 22:50:23 | Shirley Lumley |
| 48 | 2022-06-22 12:51:37 | Jenna Bryant |
| 49 | 2022-06-24 18:31:54 | Zoe Budd |
| 50 | 2022-06-24 16:34:02 | Sharon Camp |
| 51 | 2022-06-24 18:22:23 | luke poole |
| 52 | 2022-06-22 09:26:14 | Chris Wills |
| 53 | 2022-06-24 18:04:34 | Phil Masters |
| 54 | 2022-06-20 23:01:08 | Tom Smart |
| 55 | 2022-06-24 14:28:08 | Alisha Hackman |
| 56 | 2022-06-24 18:04:34 | Phil Masters |
| 57 | 2022-06-24 17:58:56 | Kimberly Swinscoe |
| 58 | 2022-06-23 13:31:32 | Sarah Pring |
| 59 | 2022-06-20 22:23:25 | Gemma Kirk |
| 60 | 2022-06-24 12:59:16 | Craig Derrick |
| 61 | 2022-06-24 16:12:28 | Nathan White |
| 62 | 2022-06-24 18:04:34 | Phil Masters |
| 63 | 2022-06-24 18:04:34 | Phil Masters |
| 64 | 2022-06-24 16:59:57 | Tania Coles |
| 65 | 2022-06-24 14:41:51 | Denise Kennedy |
| 66 | 2022-06-24 17:29:46 | Liam Webb |
| 67 | 2022-06-24 11:23:21 | Holly Wines |
| 68 | 2022-06-23 10:16:36 | Paul Sutherland |
| 69 | 2022-06-21 15:59:55 | Jo Disley |
| 70 | 2022-06-24 10:01:09 | Kirsty Westy |
| 71 | 2022-06-24 09:18:37 | Joanna Johnson-laird |
| 72 | 2022-06-24 10:54:38 | Alicia Brien |
| 73 | 2022-06-21 13:07:25 | Matthew Gill |
| 74 | 2022-06-23 20:32:04 | Sammy Watterson |
| 75 | 2022-06-22 18:22:25 | Nicola Cobain |
| 76 | 2022-06-24 11:49:55 | Wendy Bowman |
| 77 | 2022-06-24 14:28:08 | Alisha Hackman |
| 78 | 2022-06-24 17:53:09 | Sophia Poolton |
| 79 | 2022-06-21 18:25:39 | Cheryl Szender |
| 80 | 2022-06-24 18:10:23 | Adam Bowhay |
| 81 | 2022-06-20 22:23:25 | Gemma Kirk |
| 82 | 2022-06-24 06:53:22 | Alisha Waldron |
| 83 | 2022-06-21 18:25:39 | Cheryl Szender |
| 84 | 2022-06-24 06:49:29 | Siobhan Wilcock |
| 85 | 2022-06-22 19:15:59 | Lekel North |
| 86 | 2022-06-24 18:11:28 | Ronni Smith |
| 87 | 2022-06-23 23:31:40 | Shareen Flynn |
| 88 | 2022-06-24 17:33:11 | Janine Saunders |
| 89 | 2022-06-24 17:54:02 | Gemma Kirk |
| 90 | 2022-06-24 18:42:59 | Robbie Ruddenham |
| 91 | 2022-06-24 11:23:21 | Holly Wines |
| 92 | 2022-06-24 02:32:12 | Tanya Sherlock |
| 93 | 2022-06-22 19:38:17 | Emma Kestell |
| 94 | 2022-06-24 14:41:51 | Denise Kennedy |
| 95 | 2022-06-24 14:09:58 | Anita Brown |
| 96 | 2022-06-23 06:58:19 | Danielle Hooper |
| 97 | 2022-06-22 19:54:18 | David Smith |
| 98 | 2022-06-24 15:15:53 | Katrina Bennett |
| 99 | 2022-06-23 19:14:27 | Di Hodge |
| 100 | 2022-06-24 07:52:14 | Ellyse Webb |