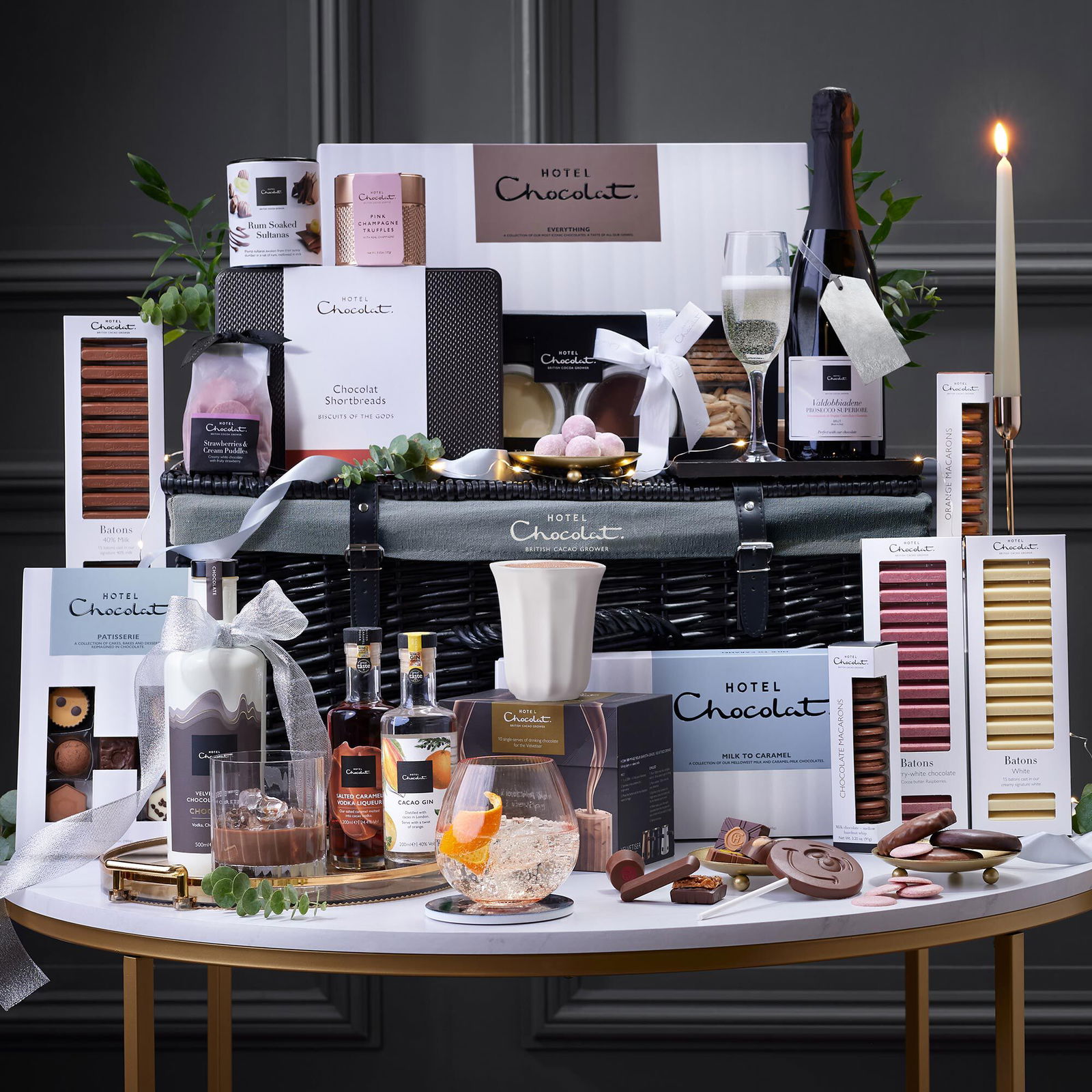 HOTEL CHOCOLATE -The Festive Feast Hamper The ultimate collection of seasonal goodies to bring festive joy to al
Description
HOTEL CHOCOLATE -The Festive Feast Hamper The ultimate collection of seasonal goodies to bring festive joy to all
If you're searching for a generous Christmas hamper that brings together classic treats and new festive favourites, look no further. The Festive Feast Hamper is a magnificent collection of high-cacao delights. From macarons, truffles, and batons, to biscuits, hot chocolates and tipples, there really is something for everyone to enjoy. Looking for a spectacular centrepiece for the office or nibbles to keep the family occupied over the holidays? Don't miss out — make the most of this online exclusive.
With more chocolates than you can shake a candy cane at, the Festive Feast Hamper is brimming with Strawberries & Cream Puddles, Creme Caramel Buttons, White Batons, Raspberry-white Batons, and 40% Milk Batons that kids and grown-ups of all ages will adore. There's even a Milk Smiley Lick to make everyone happy!
Further family-friendly treats include:
Chocolate Macarons
Chocolate Orange Macarons
Chocolat Shortbreads
Mini Dipping Adventure
You'll also find irresistible gift boxes that are generous selections in their own right: with the Everything Luxe, Milk to Caramel Sleekster, and Patisserie H-box, you can enjoy our most popular classics, mellow recipes, and dessert-inspired chocolates.
Want to kick the holiday celebrations up a notch? With Rum Sultanas and a Pink Champagne Truffles Tin, there are tipsy treats galore. We've also added in a 750ml bottle of Valdobbiadene Prosecco Superiore, along with some Salted Caramel Vodka, Cacao Gin, and our decadent Velvetised Chocolate Cream.
| Winner Name | Ticket Number | Draw Date |
| --- | --- | --- |
| Laura Clark | 506 | 12/10/2023 |
1-300
301-600
601-900
901-1200
| Ticket Number | Date | Name |
| --- | --- | --- |
| 1 | 2023-10-11 22:10:22 | Lisa Glover |
| 2 | 2023-10-12 05:16:25 | Khadine Coyle |
| 3 | 2023-10-12 13:52:30 | martina bailey |
| 4 | 2023-10-12 12:35:30 | maria deane |
| 5 | 2023-10-10 08:58:11 | Ashleigh Taylor |
| 6 | 2023-10-11 18:23:39 | Pru Parnell |
| 7 | 2023-10-09 11:14:09 | K D |
| 8 | 2023-10-12 01:13:40 | Emma White |
| 9 | 2023-10-12 01:13:40 | Emma White |
| 10 | 2023-10-09 13:41:17 | Emma Lou |
| 11 | 2023-10-09 23:28:26 | Karen Woodward |
| 12 | 2023-10-11 20:12:13 | Dawn Foley |
| 13 | 2023-10-09 13:41:17 | Emma Lou |
| 14 | 2023-10-09 16:55:25 | Susan m Morrison |
| 15 | 2023-10-09 13:41:17 | Emma Lou |
| 16 | 2023-10-09 12:15:44 | Sarah Wilson |
| 17 | 2023-10-09 22:26:37 | phyllis steer |
| 18 | 2023-10-10 12:09:37 | Jill Higham |
| 19 | 2023-10-11 20:51:59 | Lisa Sanders |
| 20 | 2023-10-12 11:28:52 | Rose Paynter |
| 21 | 2023-10-09 13:41:17 | Emma Lou |
| 22 | 2023-10-12 01:13:40 | Emma White |
| 23 | 2023-10-11 22:10:22 | Lisa Glover |
| 24 | 2023-10-09 13:41:17 | Emma Lou |
| 25 | 2023-10-12 01:13:40 | Emma White |
| 26 | 2023-10-12 14:08:17 | Jenna Cogbill |
| 27 | 2023-10-09 12:02:15 | Chelsea Quaintance |
| 28 | 2023-10-09 12:55:18 | Sarah Hughes |
| 29 | 2023-10-11 23:14:41 | G W |
| 30 | 2023-10-12 07:42:54 | Andrea Hemmings |
| 31 | 2023-10-11 20:12:13 | Dawn Foley |
| 32 | 2023-10-11 22:43:25 | Clare Keating |
| 33 | 2023-10-10 13:49:31 | Sarah jane Glover |
| 34 | 2023-10-12 19:38:20 | Marie Marie |
| 35 | 2023-10-12 19:08:32 | Leanne Butler |
| 36 | 2023-10-12 14:54:29 | Raymondij Burgess |
| 37 | 2023-10-12 19:02:23 | D T |
| 38 | 2023-10-12 15:58:05 | Dee Payne |
| 39 | 2023-10-12 18:31:50 | Kelly Thorne |
| 40 | 2023-10-10 12:24:36 | Sarah Parnell |
| 41 | 2023-10-12 01:13:40 | Emma White |
| 42 | 2023-10-10 12:09:37 | Jill Higham |
| 43 | 2023-10-12 18:49:40 | Jacqueline Wines |
| 44 | 2023-10-11 19:37:10 | Kim Ayres |
| 45 | 2023-10-11 23:34:34 | Emma Whitfield |
| 46 | 2023-10-12 19:02:37 | Kelly Sidell |
| 47 | 2023-10-10 13:49:31 | Sarah jane Glover |
| 48 | 2023-10-12 01:13:40 | Emma White |
| 49 | 2023-10-12 17:25:16 | Rosie Reynolds |
| 50 | 2023-10-12 16:51:04 | Shiobhan Westcott |
| 51 | 2023-10-12 16:24:49 | Katrina S |
| 52 | 2023-10-12 15:16:27 | Lorraine Mcardle |
| 53 | 2023-10-12 12:04:41 | Karley Costick |
| 54 | 2023-10-11 20:12:13 | Dawn Foley |
| 55 | 2023-10-11 20:12:13 | Dawn Foley |
| 56 | 2023-10-12 17:03:09 | R H |
| 57 | 2023-10-12 18:31:50 | Kelly Thorne |
| 58 | 2023-10-12 19:28:50 | Isabel Eva |
| 59 | 2023-10-09 19:10:07 | A.T W |
| 60 | 2023-10-12 16:47:25 | Sharon Saunders |
| 61 | 2023-10-10 13:49:31 | Sarah jane Glover |
| 62 | 2023-10-12 17:02:35 | Alan Piper |
| 63 | 2023-10-10 11:46:36 | Ann Chase |
| 64 | 2023-10-12 18:52:10 | NEIL wagstaffe |
| 65 | 2023-10-12 18:46:02 | Miss Kimberley Sharman |
| 66 | 2023-10-12 18:38:19 | martina bailey |
| 67 | 2023-10-12 14:50:29 | Sue Manders |
| 68 | 2023-10-12 18:46:02 | Miss Kimberley Sharman |
| 69 | 2023-10-10 14:53:35 | Emma Lou |
| 70 | 2023-10-09 11:54:30 | Laura Kate |
| 71 | 2023-10-11 20:12:13 | Dawn Foley |
| 72 | 2023-10-12 20:02:40 | Sharon Smith |
| 73 | 2023-10-09 22:26:37 | phyllis steer |
| 74 | 2023-10-12 19:38:20 | Marie Marie |
| 75 | 2023-10-12 20:11:27 | Hannah Jones |
| 76 | 2023-10-12 16:24:37 | Claire dipple |
| 77 | 2023-10-12 11:19:06 | emma brazenell |
| 78 | 2023-10-10 13:49:31 | Sarah jane Glover |
| 79 | 2023-10-12 20:27:56 | David Smith |
| 80 | 2023-10-10 10:23:02 | Sarah Tabbron |
| 81 | 2023-10-09 19:08:11 | Carita Widdicombe |
| 82 | 2023-10-11 20:12:13 | Dawn Foley |
| 83 | 2023-10-11 20:12:13 | Dawn Foley |
| 84 | 2023-10-11 19:37:10 | Kim Ayres |
| 85 | 2023-10-12 19:08:02 | Kimberley Hallett |
| 86 | 2023-10-12 20:27:56 | David Smith |
| 87 | 2023-10-09 12:55:18 | Sarah Hughes |
| 88 | 2023-10-12 20:27:56 | David Smith |
| 89 | 2023-10-10 18:30:22 | Julie Cleave |
| 90 | 2023-10-12 19:35:29 | Odette Eddy |
| 91 | 2023-10-12 14:43:15 | Ian Critchlow |
| 92 | 2023-10-12 19:11:40 | Rachel Scott |
| 93 | 2023-10-11 19:37:10 | Kim Ayres |
| 94 | 2023-10-12 20:50:33 | Sarah Barlow |
| 96 | 2023-10-11 16:05:24 | Mark Walters |
| 97 | 2023-10-12 18:11:24 | Amanda Royal |
| 98 | 2023-10-11 22:33:00 | Marie Tucker |
| 99 | 2023-10-11 23:14:41 | G W |
| 100 | 2023-10-12 09:27:24 | Catherine Marshall |
| 101 | 2023-10-11 19:37:10 | Kim Ayres |
| 102 | 2023-10-10 13:49:31 | Sarah jane Glover |
| 103 | 2023-10-12 18:49:40 | Jacqueline Wines |
| 104 | 2023-10-12 14:30:46 | Emma & lee |
| 106 | 2023-10-12 18:11:24 | Amanda Royal |
| 107 | 2023-10-11 23:23:46 | Anne Wallace |
| 108 | 2023-10-10 20:05:28 | Laura Collick |
| 109 | 2023-10-12 17:18:59 | abbie vinnicombe |
| 110 | 2023-10-12 19:08:07 | Esmé Kershaw |
| 111 | 2023-10-12 12:48:35 | Jacqueline Barry |
| 112 | 2023-10-11 20:12:13 | Dawn Foley |
| 113 | 2023-10-10 08:58:11 | Ashleigh Taylor |
| 114 | 2023-10-12 13:52:30 | martina bailey |
| 115 | 2023-10-12 20:02:40 | Sharon Smith |
| 116 | 2023-10-12 19:28:50 | Isabel Eva |
| 117 | 2023-10-12 20:55:49 | Rachel Clarke |
| 118 | 2023-10-12 20:53:54 | Emma Noon |
| 119 | 2023-10-12 18:06:15 | Julie Croskerry |
| 120 | 2023-10-12 18:46:46 | Carolynne Hollinshed |
| 121 | 2023-10-12 19:38:20 | Marie Marie |
| 123 | 2023-10-11 20:12:13 | Dawn Foley |
| 124 | 2023-10-12 19:38:20 | Marie Marie |
| 125 | 2023-10-10 13:49:31 | Sarah jane Glover |
| 126 | 2023-10-12 20:45:16 | Janet Rynn |
| 127 | 2023-10-12 01:13:40 | Emma White |
| 128 | 2023-10-10 13:49:31 | Sarah jane Glover |
| 129 | 2023-10-12 19:32:20 | Judith Barnett |
| 131 | 2023-10-09 22:26:37 | phyllis steer |
| 132 | 2023-10-12 18:37:53 | Si Underwood |
| 133 | 2023-10-12 19:16:48 | Sarah McLaren |
| 135 | 2023-10-12 20:02:40 | Sharon Smith |
| 137 | 2023-10-12 20:54:23 | Marie Sandford |
| 138 | 2023-10-12 17:25:16 | Rosie Reynolds |
| 140 | 2023-10-12 19:02:40 | Channie Lamoon |
| 142 | 2023-10-12 19:38:20 | Marie Marie |
| 143 | 2023-10-12 19:16:48 | Sarah McLaren |
| 144 | 2023-10-12 19:34:27 | Francesca Paris |
| 145 | 2023-10-11 12:42:10 | Laura Currie |
| 146 | 2023-10-12 14:54:29 | Raymondij Burgess |
| 148 | 2023-10-12 17:18:59 | abbie vinnicombe |
| 149 | 2023-10-12 20:27:39 | Mrs B |
| 150 | 2023-10-09 14:00:16 | Moira Jayne Angel |
| 151 | 2023-10-12 12:45:04 | Kelly Adams |
| 152 | 2023-10-12 20:31:33 | Kimberley Morley |
| 153 | 2023-10-12 20:34:35 | Karen Harman |
| 155 | 2023-10-12 20:36:24 | Lucy Fenner |
| 157 | 2023-10-09 19:49:13 | Neve Knight |
| 158 | 2023-10-11 22:43:25 | Clare Keating |
| 159 | 2023-10-09 20:54:49 | Susan Y |
| 161 | 2023-10-12 19:12:20 | Karen Marshall |
| 162 | 2023-10-11 23:34:34 | Emma Whitfield |
| 164 | 2023-10-10 13:49:31 | Sarah jane Glover |
| 165 | 2023-10-12 20:52:00 | Michala Jane |
| 166 | 2023-10-12 18:49:40 | Jacqueline Wines |
| 167 | 2023-10-09 19:55:45 | Sally Smith |
| 169 | 2023-10-12 12:35:30 | maria deane |
| 171 | 2023-10-12 20:52:00 | Michala Jane |
| 172 | 2023-10-09 11:54:30 | Laura Kate |
| 174 | 2023-10-12 20:36:24 | Lucy Fenner |
| 175 | 2023-10-12 13:52:30 | martina bailey |
| 178 | 2023-10-12 18:37:53 | Si Underwood |
| 179 | 2023-10-12 18:38:19 | martina bailey |
| 180 | 2023-10-12 19:11:47 | Samantha Head |
| 181 | 2023-10-12 16:55:48 | Sarah Dennis |
| 184 | 2023-10-12 18:35:52 | Marie Tucker |
| 185 | 2023-10-12 19:32:05 | Ann Atkinson |
| 186 | 2023-10-10 13:49:31 | Sarah jane Glover |
| 187 | 2023-10-12 17:25:16 | Rosie Reynolds |
| 188 | 2023-10-10 09:48:22 | Amanda Royal |
| 191 | 2023-10-10 09:48:22 | Amanda Royal |
| 195 | 2023-10-12 20:53:54 | Emma Noon |
| 197 | 2023-10-12 19:16:53 | Jenny Simmonds |
| 198 | 2023-10-10 19:53:12 | Neve Knight |
| 199 | 2023-10-12 14:30:46 | Emma & lee |
| 200 | 2023-10-12 16:54:15 | Jackie Dean |
| 202 | 2023-10-12 19:38:20 | Marie Marie |
| 203 | 2023-10-12 20:51:26 | Claire Symons |
| 204 | 2023-10-12 20:51:26 | Claire Symons |
| 205 | 2023-10-11 15:44:20 | Susan Beck |
| 206 | 2023-10-10 19:20:29 | Gemma McCarthy |
| 207 | 2023-10-10 10:23:02 | Sarah Tabbron |
| 208 | 2023-10-12 20:36:24 | Lucy Fenner |
| 209 | 2023-10-12 20:24:32 | S I |
| 210 | 2023-10-12 10:43:34 | Rachel chalk |
| 211 | 2023-10-12 08:42:17 | Tracey Osborn |
| 213 | 2023-10-12 18:20:56 | Linda Ward |
| 214 | 2023-10-12 19:27:26 | Kate Beverley |
| 215 | 2023-10-12 15:58:05 | Dee Payne |
| 216 | 2023-10-12 20:13:42 | Kelly Parker |
| 217 | 2023-10-11 18:27:51 | Sarah jane Glover |
| 221 | 2023-10-12 09:05:14 | rebecca cox |
| 223 | 2023-10-12 05:51:38 | Karen Hutchinson |
| 225 | 2023-10-12 20:56:52 | Jodie Southwell |
| 226 | 2023-10-12 16:54:15 | Jackie Dean |
| 228 | 2023-10-09 20:59:30 | Sarah Osborne |
| 229 | 2023-10-11 21:03:16 | Shiv Siobhan Kirk |
| 230 | 2023-10-12 20:31:33 | Kimberley Morley |
| 231 | 2023-10-12 17:41:41 | Dawn Drew |
| 232 | 2023-10-10 19:20:29 | Gemma McCarthy |
| 233 | 2023-10-09 22:26:37 | phyllis steer |
| 234 | 2023-10-12 19:10:41 | Adele Young |
| 236 | 2023-10-11 18:27:51 | Sarah jane Glover |
| 239 | 2023-10-11 21:48:52 | Sam Harper |
| 240 | 2023-10-12 00:20:16 | Rachel Gilbert |
| 241 | 2023-10-12 19:29:15 | Kendra Brain |
| 243 | 2023-10-12 20:53:54 | Emma Noon |
| 246 | 2023-10-12 19:00:10 | Nicky Smith |
| 247 | 2023-10-12 18:10:49 | Georgia Kendall |
| 248 | 2023-10-11 21:03:16 | Shiv Siobhan Kirk |
| 250 | 2023-10-11 18:15:43 | Hayley Leaman |
| 251 | 2023-10-12 13:52:30 | martina bailey |
| 253 | 2023-10-12 20:25:29 | Kasia Kyziol |
| 254 | 2023-10-12 20:26:25 | Neve Knight |
| 255 | 2023-10-12 09:07:25 | Terri Mcneill |
| 257 | 2023-10-11 18:27:51 | Sarah jane Glover |
| 258 | 2023-10-10 12:14:10 | Joanna Edge |
| 259 | 2023-10-10 11:46:36 | Ann Chase |
| 260 | 2023-10-11 21:46:16 | marion clark |
| 262 | 2023-10-11 21:08:05 | Belinda Mellas |
| 263 | 2023-10-09 20:54:49 | Susan Y |
| 268 | 2023-10-12 19:34:09 | Cheryl Matthews |
| 269 | 2023-10-12 18:31:50 | Kelly Thorne |
| 270 | 2023-10-12 19:34:27 | Francesca Paris |
| 272 | 2023-10-11 19:37:10 | Kim Ayres |
| 275 | 2023-10-10 14:32:44 | Rebecca Mortimore |
| 278 | 2023-10-11 21:03:16 | Shiv Siobhan Kirk |
| 281 | 2023-10-12 19:40:36 | Victoria Johnston |
| 283 | 2023-10-12 19:25:12 | Terianne Robson-Burrell |
| 286 | 2023-10-10 09:48:22 | Amanda Royal |
| 288 | 2023-10-09 22:26:37 | phyllis steer |
| 289 | 2023-10-12 20:28:23 | Zena Cockles |
| 293 | 2023-10-12 20:41:48 | Kirsty Finnerty |
| 294 | 2023-10-10 13:49:31 | Sarah jane Glover |
| 295 | 2023-10-12 19:02:23 | D T |
| 297 | 2023-10-09 11:54:30 | Laura Kate |
| 299 | 2023-10-11 23:23:46 | Anne Wallace |