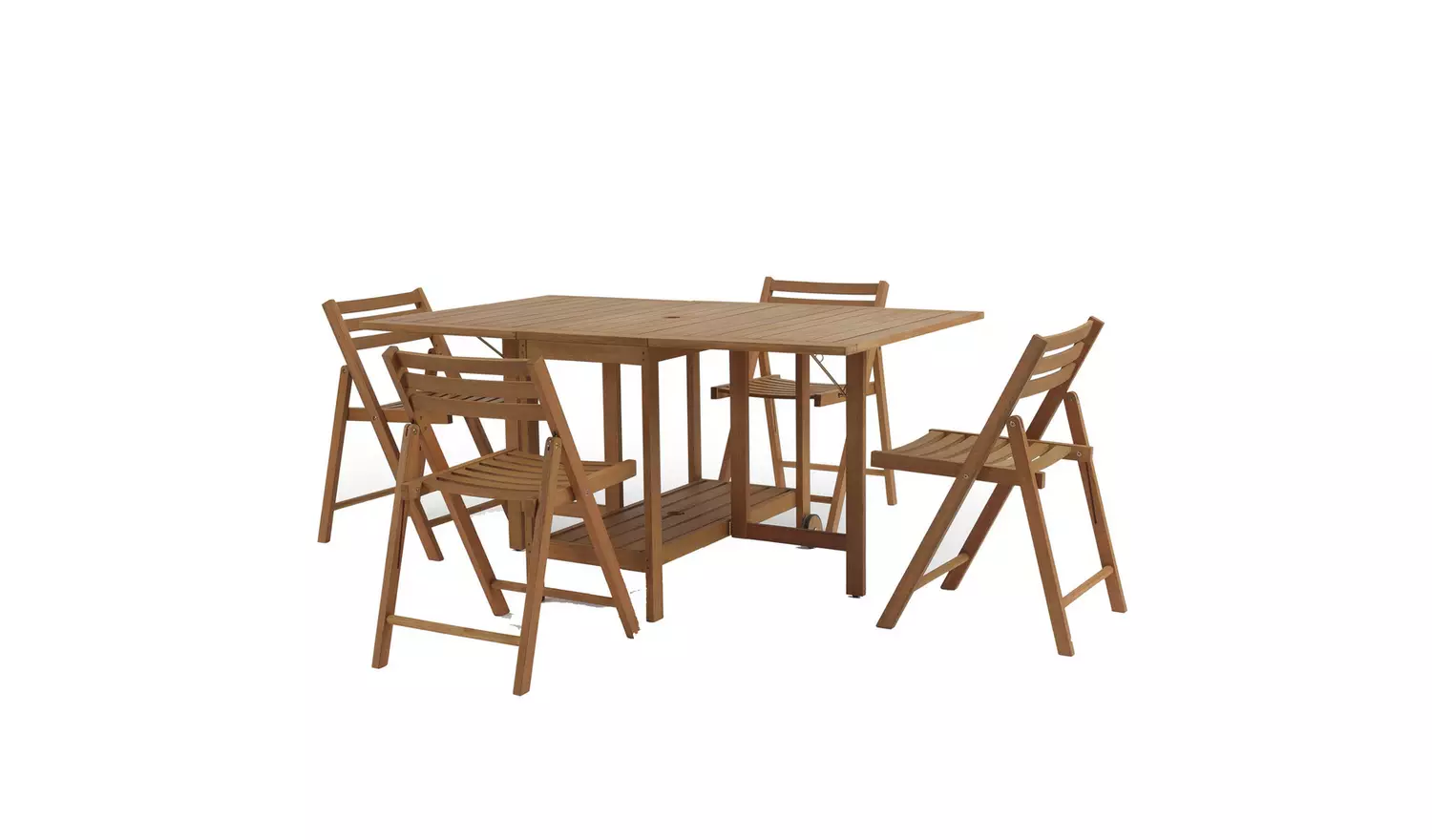 Habitat Zeno Folding 4 Seater Patio Set – Light Wood
Description
Habitat Zeno Folding 4 Seater Patio Set – Light Wood
Get out there. Our Zeno table transforms your garden or deck into an alfresco dining spot. Simply flip open both sides of the table and voila! a table for four. It even has a handy shelf at the bottom for extra plates, condiments or other storage. This great value set is made from hard eucalyptus wood and includes one table and four chairs. And when the party is over simply fold it all up and use the table wheels to store away in a flash. Save space, have fun.
General features:
Set seats 4 people .
Set made from eucalyptus .
Table FSC certified wood.
Chairs FSC certified wood.
Storage included in: table.
Store inside when not in use.
Cover or store inside in winter months to prolong life of the products.
Total weight 37kg.
Garden table features:
Hardwood table top.
Table size: H75, W150, L95cm.
Removable legs for storage.
Table folds down for easy storage.
Chair features:
Chair seat and back made from eucalyptus.
Size H77, W44.5, D56cm.
Seat height 44.5cm.
Seating area size W 44.5, D56cm.
Folding chairs.
120kg maximum user weight per chair.
| Winner Name | Ticket Number | Draw Date |
| --- | --- | --- |
| Victoria Sowersby | 147 | 31/05/2022 |
1-100
101-200
201-300
301-400
401-500
501-600
| Ticket Number | Date | Name |
| --- | --- | --- |
| 1 | 2022-05-26 10:37:34 | Moira stokes |
| 3 | 2022-05-31 10:31:33 | Leah Gove |
| 8 | 2022-05-31 20:34:02 | Hannah Wilks |
| 10 | 2022-05-31 08:40:44 | Vikki Forward |
| 13 | 2022-05-31 08:40:44 | Vikki Forward |
| 15 | 2022-05-31 20:34:40 | Lisa Darragh |
| 16 | 2022-05-31 19:40:20 | David keeler |
| 19 | 2022-05-31 19:48:27 | Fran Hughes |
| 20 | 2022-05-31 11:39:40 | Moira stokes |
| 21 | 2022-05-31 10:33:56 | Lisa Roberts |
| 22 | 2022-05-31 20:01:00 | Samantha Davies |
| 23 | 2022-05-31 20:11:35 | Lisa Roberts |
| 24 | 2022-05-31 20:15:36 | Angelica Pickles |
| 25 | 2022-05-31 19:24:57 | Andy S |
| 27 | 2022-05-31 08:40:44 | Vikki Forward |
| 28 | 2022-05-31 19:01:25 | Julie Mcglinchey |
| 31 | 2022-05-31 17:41:13 | Sammy Lou |
| 37 | 2022-05-31 16:07:04 | Jo Disley |
| 45 | 2022-05-31 15:19:59 | Sarah Dennis |
| 51 | 2022-05-31 16:47:39 | Hannah tomlinson |
| 52 | 2022-05-31 04:34:14 | Heather Mee |
| 53 | 2022-05-30 12:44:42 | Samantha Head |
| 54 | 2022-05-31 12:16:23 | Shelley Forward |
| 55 | 2022-05-31 18:22:46 | Bev O'Connor |
| 60 | 2022-05-31 12:41:24 | Charlotte Addison |
| 68 | 2022-05-30 09:43:02 | Keira Bradford-jones |
| 69 | 2022-05-31 15:18:41 | Sophie Lintern |
| 70 | 2022-05-31 20:40:28 | Charlotte Warner |
| 82 | 2022-05-31 16:07:04 | Jo Disley |
| 84 | 2022-05-31 16:26:28 | Tyler Ward |
| 85 | 2022-05-31 17:40:48 | Lekel North |
| 87 | 2022-05-31 18:53:23 | Nicola Bassett |
| 93 | 2022-05-31 20:04:34 | Deborah Talbot |
| 94 | 2022-05-31 04:37:09 | Heather Mee |
| 99 | 2022-05-31 20:34:40 | Lisa Darragh |
| 100 | 2022-05-31 17:10:27 | Holly Kemp |