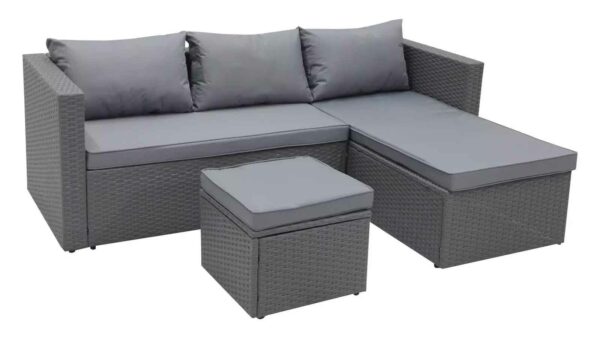 Habitat Mini Corner Sofa Set with Storage
Description
Habitat Mini Corner Sofa Set with Storage – Grey
Nice out? Don't miss out. From dusk 'til dawn, the sumptuous hand-woven rattan effect mini corner sofa brings you a comfortable seating area for your outdoor space or conservatory. It includes a cushion-top table that doubles as a footrest. Lift its lid to reveal hidden storage space with a waterproof bag inside; handy for stowing away blankets and throws. Is it positioned as a left or right corner sofa, you ask? The choice is yours!
Lift the stool lid to store a blanket or candles. That's handy! Plus, detachable legs make it easy to store.
It's a stylish addition to any outdoor space. Add a splash of boho-chic to the set with some patterned cushions and for breezy evenings, add cosy throws. Then you can linger for longer with a drink in hand watching all the stars come out.
General features:
Set seats 3 people .
Set made from rattan effect and steel.
Storage included in: stools, .
Store inside when not in use.
Cover or store inside in winter months to prolong life of the products.
Total weight 33.5kg.
Garden table features:
Rattan effect table top.
Table size: H39, W45, L45cm.
Removable legs for storage.
Chair features:
Chair seat and back made from rattan effect.
Size H62.5, W70, D140cm.
Seat height 38cm.
Seating area size W 173, D60cm.
110kg maximum user weight per chair.
Sofa features:
Sofa size H62.5, W70. D123cm.
220kg maximum user weight per sofa.
Bench features:
220kg maximum user weight per bench.
Stool features:
Stool size H39, W45, D45cm.
110kg maximum user weight per stool.
Cushion features:
Includes 6 cushions.
Polyester and cream cushions.
Removable covers.
Remove cushions when not in use and store inside.
Packaging information:
Package 1 size H40, W137.5, D76cm.
Package 1 weight 38kg.
General Information:
Self-assembly – 2 people required.
Manufacturer's 1 year guarantee.
| Winner Name | Ticket Number | Draw Date |
| --- | --- | --- |
| William Kerslake | 156 | 08/05/2022 |
1-100
101-200
201-300
301-400
401-500
501-600
| Ticket Number | Date | Name |
| --- | --- | --- |
| 1 | 2022-05-08 16:01:41 | Andy Webber |
| 2 | 2022-05-08 13:15:49 | Donna Zmaczynska |
| 3 | 2022-05-08 10:41:35 | Alison Farley |
| 4 | 2022-05-08 16:40:02 | Rachel Scott |
| 5 | 2022-05-08 16:01:41 | Andy Webber |
| 6 | 2022-05-08 10:24:03 | Kelea KERRY |
| 7 | 2022-05-08 09:12:00 | Lisa Sayers |
| 8 | 2022-05-08 10:44:48 | Edit Pinder |
| 9 | 2022-05-08 17:28:04 | Lauren Slater |
| 11 | 2022-05-08 10:31:58 | Carolyn Clayton |
| 12 | 2022-05-08 10:24:03 | Kelea KERRY |
| 13 | 2022-05-08 10:47:54 | Julie Webb |
| 14 | 2022-05-08 17:25:16 | Jessica Foster |
| 15 | 2022-05-08 19:42:41 | Hope Williams |
| 16 | 2022-05-08 20:40:00 | Amy Joint |
| 17 | 2022-05-08 19:17:39 | Kirsty Westwood |
| 18 | 2022-05-08 20:32:28 | Tina Graham |
| 19 | 2022-05-08 17:31:27 | Carla Hames |
| 20 | 2022-05-08 09:52:05 | Mary Knights |
| 21 | 2022-05-08 09:13:45 | Lisa Roberts |
| 22 | 2022-05-08 11:31:55 | William Kerslake |
| 23 | 2022-05-08 16:01:41 | Andy Webber |
| 24 | 2022-05-08 18:58:19 | Julie Wright |
| 27 | 2022-05-08 10:47:54 | Julie Webb |
| 28 | 2022-05-08 11:39:14 | Kirstin Payne |
| 29 | 2022-05-08 11:44:16 | Carol Jones |
| 30 | 2022-05-08 15:28:29 | jan blackler |
| 34 | 2022-05-08 10:24:03 | Kelea KERRY |
| 35 | 2022-05-08 20:43:04 | Stacey Gouldthorpe |
| 39 | 2022-05-08 13:15:49 | Donna Zmaczynska |
| 40 | 2022-05-08 20:22:22 | Tegan Vinnicombe |
| 41 | 2022-05-08 19:43:09 | Sharon Avery |
| 42 | 2022-05-08 11:44:16 | Carol Jones |
| 43 | 2022-05-08 12:51:54 | mark chapman |
| 48 | 2022-05-08 11:44:16 | Carol Jones |
| 49 | 2022-05-08 12:56:25 | Chloe Kershaw |
| 50 | 2022-05-08 16:58:29 | Julia Kuhn |
| 51 | 2022-05-08 16:58:29 | Julia Kuhn |
| 56 | 2022-05-08 20:18:06 | Lindsey Cackett |
| 58 | 2022-05-08 20:44:20 | Zeta Hunter |
| 59 | 2022-05-08 20:18:06 | Lindsey Cackett |
| 60 | 2022-05-08 18:26:41 | Elise Watling |
| 61 | 2022-05-08 15:19:12 | Kirsty Kilkenny |
| 65 | 2022-05-08 17:34:19 | Emma Woodgate |
| 66 | 2022-05-08 17:40:01 | Julie Floyd |
| 68 | 2022-05-08 13:15:49 | Donna Zmaczynska |
| 69 | 2022-05-08 20:14:56 | Aimee Povey |
| 70 | 2022-05-08 16:01:31 | DANIELLE Coulter |
| 71 | 2022-05-08 09:20:24 | Claire Lou |
| 72 | 2022-05-08 09:39:48 | Kathy Lee |
| 73 | 2022-05-08 16:54:38 | Debbie Hands Hands |
| 75 | 2022-05-08 11:06:34 | Ann Hall |
| 77 | 2022-05-08 20:32:51 | Olivia Kennard |
| 78 | 2022-05-08 20:28:44 | Hollie Peel |
| 79 | 2022-05-08 09:16:09 | Jackie Jones |
| 82 | 2022-05-08 13:15:49 | Donna Zmaczynska |
| 83 | 2022-05-08 20:28:54 | Natasha Court |
| 84 | 2022-05-08 18:32:06 | Nicola Stacey |
| 85 | 2022-05-08 17:24:38 | James Bennellick |
| 87 | 2022-05-08 18:24:00 | Bianca Gonzales Savage |
| 88 | 2022-05-08 17:55:53 | Katrina IķStevens |
| 89 | 2022-05-08 10:44:48 | Edit Pinder |
| 90 | 2022-05-08 18:35:07 | Caroline Fisher |
| 92 | 2022-05-08 20:32:51 | Olivia Kennard |
| 94 | 2022-05-08 17:43:34 | Toni Board |
| 95 | 2022-05-08 14:15:41 | Sarah Stapleton |
| 96 | 2022-05-08 19:15:45 | Gillian Ronchetti |
| 98 | 2022-05-08 18:30:52 | Vicki Wakefield |
| 99 | 2022-05-08 18:38:32 | Charlotte Plain |
| 100 | 2022-05-08 20:41:32 | Sam Ashelford |