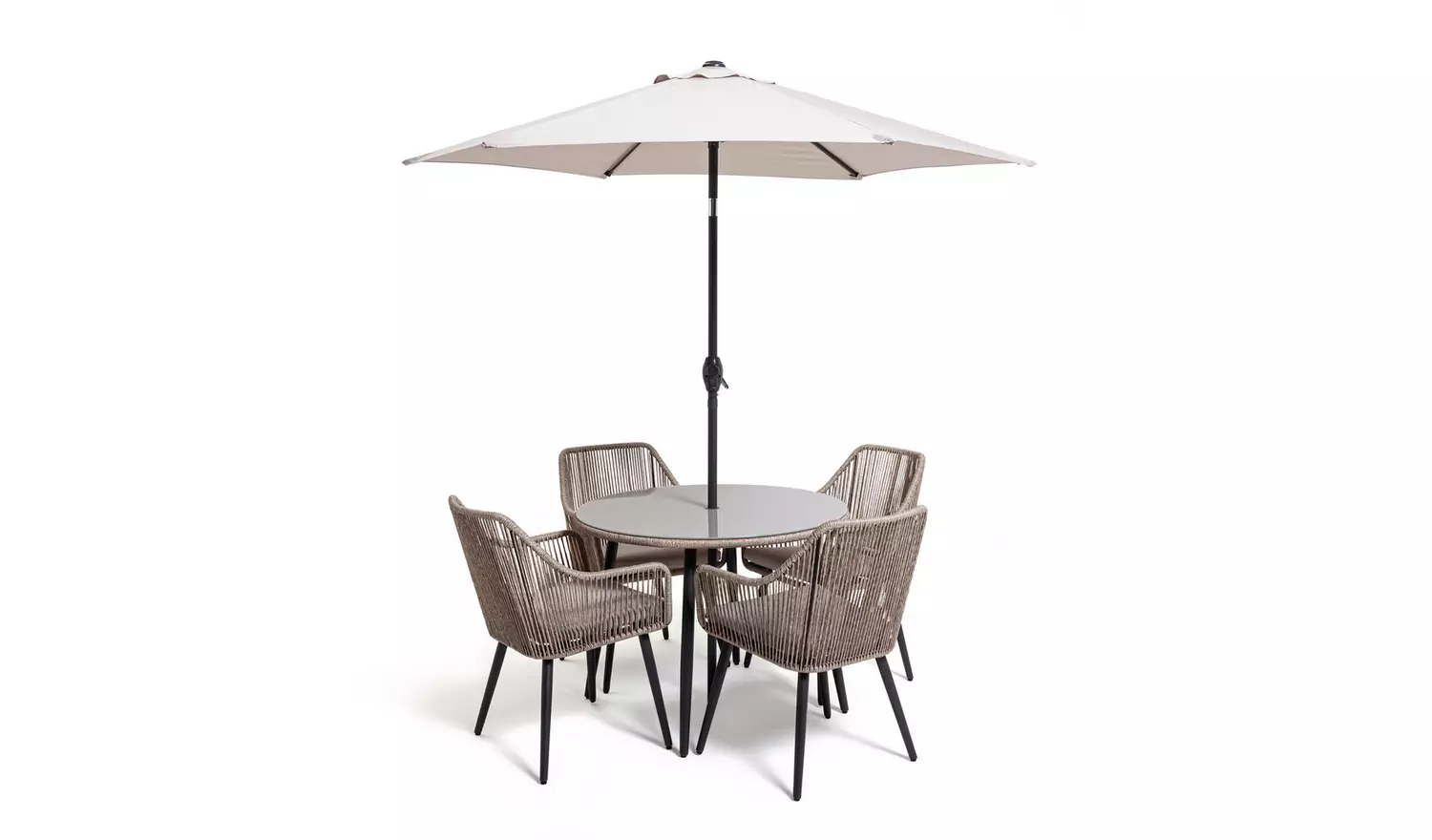 Habitat Malta 4 Seater Patio Set – Natural
Description
Habitat Malta 4 Seater Patio Set – Natural
Take the party outdoors. Our contemporary 4-seater rattan dining set is ideal for some fun in the sun with friends and family. Smart and sophisticated in jet black, the comfy, lightweight chairs are easy to move around. The wipe-clean glass-topped table has removeable legs, so when winter comes, it can be neatly stored away. And if the heat is on, pop the parasol in the gap provided, the shade tilts so you can move it around to stay cool. Lunch al fresco with a cocktail or two? Thought you'd never ask.
Take a look at matching chairs, stools and side tables in our Malta collection.
General features:
Set seats 4 people .
Set made from steel and rattan effect.
Store inside when not in use.
Cover or store inside in winter months to prolong life of the products.
Total weight 45kg.
Garden table features:
Glass table top.
Table size: H74, .
Table diameter: 100cm.
Removable legs for storage.
Chair features:
Chair seat and back made from rattan effect.
Size H82, W63, D61.5cm.
Seat height 44.5cm.
Seating area size W 45, D46cm.
110kg maximum user weight per chair.
Parasol features:
Cushion features:
Includes 4 cushions.
Polyester fabric and beige cushions.
Removable covers.
Stain resistant.
Remove cushions when not in use and store inside.
| Winner Name | Ticket Number | Draw Date |
| --- | --- | --- |
| Bridget Wedlake | 503 | 29/05/2022 |
1-100
101-200
201-300
301-400
401-500
501-600
601-700
701-800
| Ticket Number | Date | Name |
| --- | --- | --- |
| 1 | 2022-05-29 19:14:05 | Deborah Talbot |
| 2 | 2022-05-27 08:01:41 | Lorren Reeves |
| 3 | 2022-05-26 10:46:22 | Kelly Parker |
| 4 | 2022-05-27 19:40:24 | Kayleen Simpson |
| 6 | 2022-05-26 09:30:23 | Trudi Parnell |
| 7 | 2022-05-29 10:19:55 | Alison Binnie |
| 8 | 2022-05-29 20:10:33 | Nicola Cobain |
| 11 | 2022-05-29 18:55:48 | Jeanette Anderson |
| 12 | 2022-05-28 21:53:37 | Laura Bradbury |
| 13 | 2022-05-26 09:30:23 | Trudi Parnell |
| 14 | 2022-05-29 07:35:50 | Samantha Davies |
| 15 | 2022-05-27 19:54:58 | Bev O'Connor |
| 16 | 2022-05-29 09:02:54 | Natalie Driscoll |
| 19 | 2022-05-29 20:19:52 | Shelley Clewes |
| 20 | 2022-05-27 22:47:26 | Emma Barton |
| 21 | 2022-05-26 09:30:23 | Trudi Parnell |
| 22 | 2022-05-27 06:52:37 | Olivia Snell |
| 24 | 2022-05-26 09:30:23 | Trudi Parnell |
| 25 | 2022-05-27 21:28:46 | Elliot White |
| 27 | 2022-05-26 09:30:23 | Trudi Parnell |
| 29 | 2022-05-29 16:05:45 | Jodie Ellis |
| 32 | 2022-05-29 19:17:03 | Julie Mcglinchey |
| 33 | 2022-05-29 08:09:34 | Jade Pook |
| 34 | 2022-05-28 08:41:46 | Sally Dwyer |
| 35 | 2022-05-28 12:03:44 | Sam Perrin |
| 36 | 2022-05-28 00:23:23 | Lucinda Massey |
| 37 | 2022-05-29 16:01:31 | Francesca Coldrick |
| 39 | 2022-05-28 22:50:46 | Graham Haywood |
| 41 | 2022-05-29 19:17:03 | Julie Mcglinchey |
| 42 | 2022-05-29 16:05:45 | Jodie Ellis |
| 43 | 2022-05-29 17:28:11 | Charlotte Addison |
| 44 | 2022-05-27 17:13:31 | Natalie Driscoll |
| 45 | 2022-05-29 20:22:45 | Kelly Reed |
| 46 | 2022-05-29 11:03:58 | Elise Watling |
| 48 | 2022-05-29 19:49:03 | Nicola Trafford |
| 49 | 2022-05-27 16:04:56 | Shannon Deane |
| 50 | 2022-05-26 10:46:22 | Kelly Parker |
| 54 | 2022-05-29 18:52:24 | Raymond Burgess |
| 55 | 2022-05-28 04:46:21 | Mandy Cove |
| 56 | 2022-05-28 08:41:46 | Sally Dwyer |
| 57 | 2022-05-29 09:42:23 | Sheryl Brown |
| 58 | 2022-05-29 11:33:45 | Jessica weymouth |
| 60 | 2022-05-29 09:40:13 | Zoe Budd |
| 62 | 2022-05-29 20:25:36 | Susan Thorne |
| 63 | 2022-05-29 18:11:09 | Siobhan Atkinson |
| 64 | 2022-05-29 17:28:11 | Charlotte Addison |
| 66 | 2022-05-29 14:02:27 | Cara Mel |
| 67 | 2022-05-29 19:20:36 | Joanne Pennington |
| 68 | 2022-05-29 09:18:01 | Sophie Purkiss |
| 69 | 2022-05-29 06:52:12 | Rebekah Roach |
| 70 | 2022-05-26 17:15:38 | Laura Harding |
| 73 | 2022-05-29 20:38:50 | D C |
| 75 | 2022-05-28 20:26:13 | Jackie Staines |
| 76 | 2022-05-29 18:54:27 | Sarah Murray |
| 77 | 2022-05-29 20:42:23 | Joseph Clifford |
| 78 | 2022-05-29 16:05:45 | Jodie Ellis |
| 83 | 2022-05-29 19:31:38 | Lekel North |
| 85 | 2022-05-29 11:55:41 | Sam Perrin |
| 86 | 2022-05-29 20:25:36 | Susan Thorne |
| 87 | 2022-05-29 17:19:02 | Chloe Anning |
| 92 | 2022-05-29 14:32:04 | Jasmine Horler |
| 93 | 2022-05-29 19:14:05 | Deborah Talbot |
| 96 | 2022-05-29 10:12:12 | Julie Floyd |
| 97 | 2022-05-29 15:00:39 | Jessica Jones |
| 98 | 2022-05-29 16:05:45 | Jodie Ellis |
| 100 | 2022-05-29 16:24:15 | Meisha Williams |