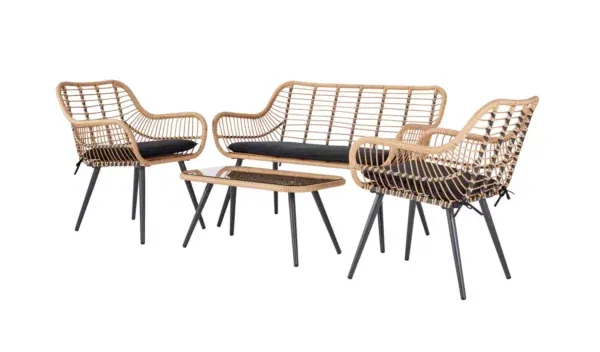 Habitat 4 Seater Bamboo Effect Garden Sofa Set
Description
Habitat 4 Seater Bamboo Effect Garden Sofa Set
When we enter the warm weather months, your garden becomes an extra room in the house. Make it as inviting as possible with the Argos Home bamboo 4-seater. A striking sofa set, it features splayed black legs and cushions that beautifully contrast the handwoven rattan-effect bamboo toned frame.
Create your own garden getaway with this stunning set. It will feel like you've been whisked to exotic climes! The set also comes with a small coffee table with a glass table top; the perfect place for keeping your summer beverages close to hand!
General features:
Set seats 4 people .
Set made from steel and rattan effect.
Store inside when not in use.
Cover or store inside in winter months to prolong life of the products.
Total weight 35kg.
Garden table features:
Glass table top.
Table size: H38, W45, L80cm.
Removable legs for storage.
Chair features:
Chair seat and back made from rattan effect.
Size H81, W61, D66cm.
Seat height 48cm.
Seating area size W 46, D50cm.
110kg maximum user weight per chair.
Sofa features:
Sofa size H81, W120. D66cm.
220kg maximum user weight per sofa.
Bench features:
Bench size H81, W119, D68cm.
220kg maximum user weight per bench.
Cushion features:
Includes 3 cushions.
Polyester fabric and black cushions.
Remove cushions when not in use and store inside.
| Winner Name | Ticket Number | Draw Date |
| --- | --- | --- |
| Sam Perrin | 217 | 29/05/2022 |
1-100
101-200
201-300
301-400
| Ticket Number | Date | Name |
| --- | --- | --- |
| 1 | 2022-05-29 20:36:24 | Jem V |
| 2 | 2022-05-28 21:52:15 | Laura Bradbury |
| 3 | 2022-05-27 06:52:37 | Olivia Snell |
| 4 | 2022-05-29 15:03:32 | Tasha Jade |
| 5 | 2022-05-29 20:35:07 | Sadie Baker |
| 6 | 2022-05-29 20:42:23 | Joseph Clifford |
| 7 | 2022-05-27 22:40:10 | Amy Thomas |
| 8 | 2022-05-29 20:31:16 | Tasha Jade |
| 9 | 2022-05-29 10:27:33 | Emma Louise |
| 10 | 2022-05-29 20:23:23 | Laura Dickinson |
| 11 | 2022-05-29 17:46:35 | Emma & lee |
| 12 | 2022-05-29 15:03:32 | Tasha Jade |
| 13 | 2022-05-29 18:37:06 | DAWN SHORTRIDGE |
| 14 | 2022-05-29 19:11:40 | Domm Hulme |
| 15 | 2022-05-28 04:46:21 | Mandy Cove |
| 16 | 2022-05-29 20:25:27 | Hannah Harrison-scott |
| 17 | 2022-05-29 20:21:55 | jackie dawkins |
| 20 | 2022-05-27 22:47:26 | E B |
| 21 | 2022-05-27 20:35:51 | Lisa Roberts |
| 22 | 2022-05-29 20:36:24 | Jem V |
| 23 | 2022-05-29 07:04:03 | Rebecca Shaw |
| 24 | 2022-05-28 13:07:57 | Melissa Birch |
| 25 | 2022-05-29 19:13:47 | Lynne Deeley |
| 28 | 2022-05-29 18:11:09 | Siobhan Atkinson |
| 29 | 2022-05-29 15:00:39 | Jessica Jones |
| 30 | 2022-05-29 10:23:39 | Alison Binnie |
| 31 | 2022-05-29 17:01:11 | Rachael Dummett |
| 32 | 2022-05-28 13:07:57 | Melissa Birch |
| 36 | 2022-05-26 21:32:36 | Melanie Cooper |
| 39 | 2022-05-29 13:40:03 | Sarah Pring |
| 46 | 2022-05-29 18:55:48 | Jeanette Anderson |
| 49 | 2022-05-27 20:42:18 | Chloe Kershaw |
| 51 | 2022-05-27 21:25:06 | Rebecca vaughan |
| 52 | 2022-05-29 20:35:04 | Theresa Copsey |
| 53 | 2022-05-29 18:21:39 | Mirelle Harper |
| 54 | 2022-05-29 19:24:53 | Alison Lowe |
| 55 | 2022-05-27 18:07:23 | Tanya Lewis |
| 56 | 2022-05-26 19:48:40 | Kirsty Finnerty |
| 59 | 2022-05-29 10:23:39 | Alison Binnie |
| 60 | 2022-05-29 11:03:58 | Elise Watling |
| 62 | 2022-05-28 12:03:44 | Sam Perrin |
| 65 | 2022-05-29 18:11:09 | Siobhan Atkinson |
| 67 | 2022-05-29 20:35:15 | Amanda Warner |
| 75 | 2022-05-29 18:13:50 | emma mcquoid |
| 76 | 2022-05-29 20:40:57 | Lisa Darragh |
| 77 | 2022-05-29 18:37:25 | Joanne Payne |
| 78 | 2022-05-29 15:33:09 | Joyce Hope |
| 79 | 2022-05-29 20:25:27 | Hannah Harrison-scott |
| 86 | 2022-05-29 10:04:46 | Sam Perrin |
| 87 | 2022-05-29 20:22:45 | Kelly Reed |
| 88 | 2022-05-29 16:55:16 | Sian Beer |
| 91 | 2022-05-29 20:35:04 | Theresa Copsey |
| 100 | 2022-05-29 20:19:52 | Shelley Clewes |