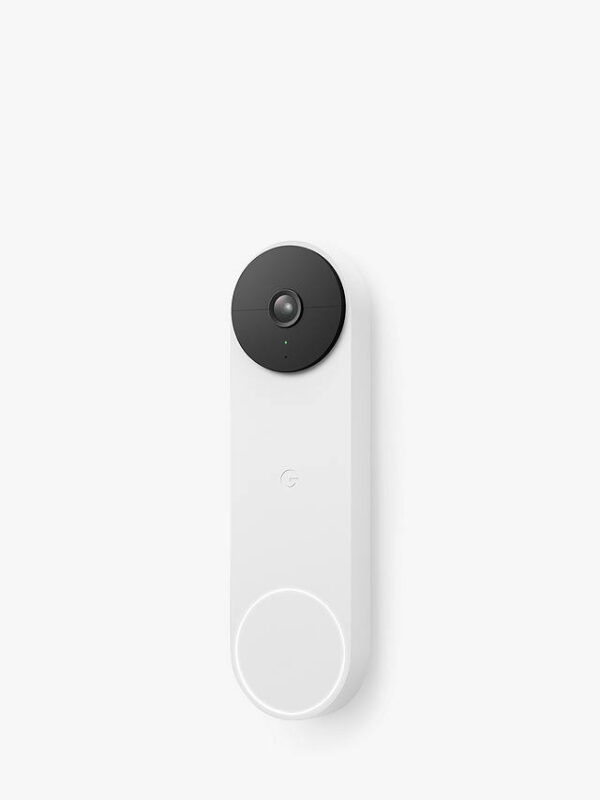 Google Nest Video Doorbell, Battery Powered
Description
Google Nest Video Doorbell, Battery Powered
Google Nest Video Doorbell, Battery Powered lets you know who's at the door, even when you're not in, so you won't miss a visitor or delivery. Using the Google Home app, it can send an alert to your smart device, and you can speak to visitors via the app too. It can tell the difference between people, packages, animals and vehicles, and can operate a compatible chime with a choice of wire-free or wired installation.
Intelligent alerts on your phone
Google Nest Doorbell can send you alerts, distinguishing between people, packages, animals, and vehicles.
See clearly
Equipped with 960 x 1280 HD vision, and 6x zoom, Google Nest Doorbell delivers clear imagery, day or night. And with a 145 degree field of view and 3:4 aspect ratio, you can see the visitor head to toe, as well as parcels left on the ground. HDR and night vision help with bright, high-contrast sunlight, and give you a better image even in low light and darkness.
Say hello, from wherever
By using the Google Home app on your smart device, you can answer the door, even when you're not at home. Or choose from a menu of pre-set responses from within the app.
Video history
See live what's happening at home or go back in time with 3 hour event history snapshots.
Nest Aware
With an additional Nest Aware or Nest Aware+ subscription (sold separately) you can scan through up to 60 days of video history to see what you've missed. You can create Activity Zones around important areas and receive alerts when something happens there, and create clips for easy sharing with other people. Please note that the Google Nest Video Doorbell, Battery Powered cannot continuously record 24/7 video history.
Secure
Everything about the Google Nest Doorbell is private. It uses security with 128-bit SSL encryption, and receives automatic security updates.
Set up
This Google Nest Doorbell is battery-powered, so it's universally compatible. If you install it using battery power, you'll receive an alert on your smart phone and on any Google-assistant enabled devices when someone rings the doorbell. Or you can choose wired installation to activate your existing chime (professional installation is recommended for wired).
System requirements:
to use existing doorbell chime, requires existing doorbell wires (8–24 VAC, 10 VA, 50/60 Hz transformer).
for chime: existing compatible wired mechanical or digital chime, or compatible chime/Google Nest product (sold separately).
working broadband Internet connection with at least 2 Mbps upload speed.
Google Home app on a mobile phone or tablet with iOS 12 or later, or Android 6 or later
Google account
Accessories included:
1 x Base plate
Release tool
2 x Wall anchors
2 x Wall screws
Wire connector
20 degree wedge
Spacers
Wedge screws
Charging cable, 1m
Quick start guide
| Winner Name | Ticket Number | Draw Date |
| --- | --- | --- |
| Heather Kelly | 662 | 11/05/2022 |
1-100
101-200
201-300
301-400
401-500
501-600
601-700
701-800
| Ticket Number | Date | Name |
| --- | --- | --- |
| 1 | 2022-05-07 18:43:22 | Sarah Stapleton |
| 2 | 2022-05-09 21:36:52 | Alison Cass |
| 3 | 2022-05-10 18:49:17 | Agnes Newman |
| 4 | 2022-05-10 18:50:46 | Alison Cass |
| 6 | 2022-05-11 09:46:02 | Kenneth Wilkins |
| 7 | 2022-05-11 07:19:35 | Donna Wilson |
| 8 | 2022-05-06 15:22:43 | Lauren Mann |
| 10 | 2022-05-10 18:50:46 | Alison Cass |
| 11 | 2022-05-09 21:36:52 | Alison Cass |
| 12 | 2022-05-11 13:58:48 | Ian Anslow |
| 13 | 2022-05-06 06:44:24 | Julie Webb |
| 14 | 2022-05-11 09:15:48 | Sian Bush |
| 16 | 2022-05-11 07:46:37 | Sharon Longbottom |
| 17 | 2022-05-11 19:12:11 | Richeldis Bentley |
| 18 | 2022-05-06 16:11:45 | Amanda Ruddenham |
| 19 | 2022-05-10 08:55:43 | Karen Hawthorne |
| 20 | 2022-05-11 20:13:54 | Julia Kuhn |
| 21 | 2022-05-05 20:28:55 | Lisa Roberts |
| 22 | 2022-05-11 16:36:49 | Melissa Ashley |
| 23 | 2022-05-11 07:46:37 | Sharon Longbottom |
| 24 | 2022-05-11 09:40:39 | M E |
| 25 | 2022-05-09 21:36:52 | Alison Cass |
| 26 | 2022-05-06 15:22:43 | Lauren Mann |
| 27 | 2022-05-06 06:44:24 | Julie Webb |
| 28 | 2022-05-11 12:48:26 | Angela Hill |
| 29 | 2022-05-06 16:11:45 | Amanda Ruddenham |
| 30 | 2022-05-10 18:14:48 | faye Willicott |
| 31 | 2022-05-11 07:46:37 | Sharon Longbottom |
| 32 | 2022-05-11 07:46:37 | Sharon Longbottom |
| 33 | 2022-05-10 01:09:54 | Marc Baker |
| 34 | 2022-05-11 16:49:17 | Leanne Petherick |
| 35 | 2022-05-07 14:32:27 | Jo Partridge |
| 36 | 2022-05-11 18:52:01 | Paul Delaney |
| 37 | 2022-05-11 16:36:49 | Melissa Ashley |
| 38 | 2022-05-11 14:23:57 | Esmé Kershaw. |
| 39 | 2022-05-11 07:19:35 | Donna Wilson |
| 40 | 2022-05-11 18:52:01 | Paul Delaney |
| 43 | 2022-05-09 15:29:02 | Janet Shannon |
| 44 | 2022-05-11 17:25:35 | Bryony Sheppard |
| 45 | 2022-05-10 18:50:46 | Alison Cass |
| 46 | 2022-05-09 21:36:52 | Alison Cass |
| 47 | 2022-05-09 21:36:52 | Alison Cass |
| 48 | 2022-05-11 18:01:23 | Andrea Wharton |
| 49 | 2022-05-10 18:50:46 | Alison Cass |
| 51 | 2022-05-11 19:05:03 | Franky Boy |
| 52 | 2022-05-05 16:20:13 | Caroline Fisher |
| 53 | 2022-05-10 18:14:48 | faye Willicott |
| 54 | 2022-05-10 21:42:16 | Kevin Hayes |
| 55 | 2022-05-11 18:35:46 | Liam Wallage |
| 56 | 2022-05-11 17:54:57 | amy jackson |
| 58 | 2022-05-06 20:58:35 | Tracy Stephenson |
| 59 | 2022-05-09 21:36:52 | Alison Cass |
| 60 | 2022-05-11 12:48:26 | Angela Hill |
| 62 | 2022-05-11 18:02:41 | Faye Cunnington |
| 63 | 2022-05-10 20:52:07 | Samantha Harnett |
| 69 | 2022-05-08 19:26:33 | K P |
| 72 | 2022-05-10 18:50:46 | Alison Cass |
| 73 | 2022-05-07 21:06:00 | Julie Webb |
| 74 | 2022-05-10 18:50:46 | Alison Cass |
| 75 | 2022-05-09 21:36:52 | Alison Cass |
| 76 | 2022-05-09 21:36:52 | Alison Cass |
| 77 | 2022-05-10 19:58:46 | Lisa Curnow |
| 82 | 2022-05-11 07:19:35 | Donna Wilson |
| 84 | 2022-05-11 07:19:35 | Donna Wilson |
| 85 | 2022-05-11 12:16:10 | Lekel North |
| 86 | 2022-05-11 19:33:55 | Carol Ross |
| 88 | 2022-05-11 18:45:18 | Tracey Woodcock |
| 91 | 2022-05-11 19:04:51 | Alan Radford |
| 93 | 2022-05-10 15:56:20 | Kim Ayres |
| 94 | 2022-05-09 21:36:52 | Alison Cass |
| 95 | 2022-05-11 19:12:11 | Richeldis Bentley |
| 96 | 2022-05-11 17:52:02 | Olivia Kennard |
| 97 | 2022-05-11 17:52:02 | Olivia Kennard |
| 98 | 2022-05-11 16:33:41 | Deb Jones |
| 100 | 2022-05-11 17:40:36 | Tracy Mcdonald |