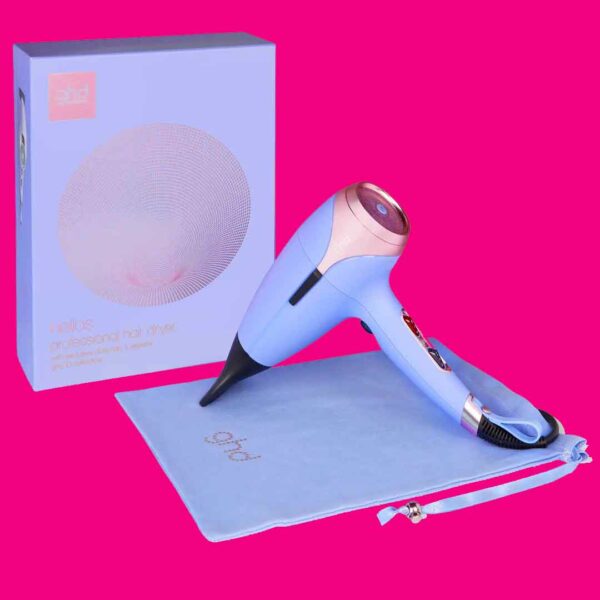 GHD HELIOS™ PROFESSIONAL HAIR DRYER IN FRESH LILAC
Description
GHD HELIOS™ PROFESSIONAL HAIR DRYER IN FRESH LILAC
No matter your style, create salon-worthy blow dries with the ghd helios™ hair dryer, now with a limited-edition fresh lilac coat, finished with metallic pink accents.
Celebrate every side of your personality with our iD collection – change up your look to suit any vibe with our award-winning, professional hair dryer. Designed by ghd's leading engineers, physicists and styling professionals to deliver ultimate styling control and a powerful 120kmh airflow for drastically faster styling*. Featuring bespoke Aeroprecis™ technology which combines four advanced internal elements to channel airflow through the longer-life, brushless DC motor. Advanced ionic technology gives a professional-quality, frizz-free finish with 30% more shine**.
A unique contoured nozzle focuses the powerful airflow to deliver 3x more hair alignment** and smoother results, 9/10 agree**. The ghd helios™ hair dryer features variable power and temperature settings so you can customise your blow dry, and a cool shot to set your style. Bespoke acoustic technology and an ergonomic, lightweight design make for a comfortable styling experience with this lilac purple ghd hair dryer. Store your ghd helios™ safely in the velvet-touch dust bag and flaunt your creative side with our iD collection stickers† for your phone and laptop.
Show off your salon-worthy styles with the limited edition ghd helios™ hair dryer in fresh lilac.
| Winner Name | Ticket Number | Draw Date |
| --- | --- | --- |
| Joanne Stewart | 74 | 28/04/2022 |
1-50
51-100
101-150
151-200
201-250
251-300
301-350
351-400
| Ticket Number | Date | Name |
| --- | --- | --- |
| 1 | 2022-04-28 20:10:35 | Jenny Turner |
| 2 | 2022-04-26 14:06:17 | Rosie Woodward |
| 6 | 2022-04-28 11:19:20 | Natasha Johnson |
| 7 | 2022-04-24 23:57:18 | Rachel Gilbert |
| 9 | 2022-04-28 20:44:39 | Rachael Nevill |
| 10 | 2022-04-22 21:13:26 | Jill Higham |
| 11 | 2022-04-27 10:11:18 | Emma Flahive |
| 13 | 2022-04-28 11:21:16 | Jennifer Pugsley |
| 15 | 2022-04-28 06:18:40 | Susan Youlden |
| 17 | 2022-04-28 13:30:42 | Naomi Mason |
| 19 | 2022-04-27 06:58:33 | Gemma Huggonson |
| 20 | 2022-04-28 19:20:04 | Ena Coyle |
| 21 | 2022-04-23 02:14:46 | Bev Hansford |
| 22 | 2022-04-26 14:06:17 | Rosie Woodward |
| 24 | 2022-04-26 21:41:26 | Emma Davies |
| 25 | 2022-04-28 20:27:40 | Rebecca vaughan |
| 26 | 2022-04-25 08:12:12 | Teresa Mitchell |
| 27 | 2022-04-28 18:39:48 | Leah Cook (Illman) |
| 28 | 2022-04-22 22:04:19 | Lucie Dobeer |
| 29 | 2022-04-27 18:47:43 | Amber Mccarthy |
| 30 | 2022-04-28 03:12:40 | Kim Dudley |
| 31 | 2022-04-27 20:33:28 | Lauren Hawkins |
| 32 | 2022-04-28 20:31:22 | Emma Jones |
| 33 | 2022-04-28 11:32:56 | Samantha Grice |
| 34 | 2022-04-28 17:16:13 | jan blackler |
| 36 | 2022-04-27 20:29:36 | Rachael Young |
| 37 | 2022-04-28 09:13:03 | Ben Haynes |
| 39 | 2022-04-27 18:57:25 | Mary Moulson |
| 41 | 2022-04-28 20:31:42 | Erin Giles |
| 42 | 2022-04-28 20:06:48 | Michelle Fewings |
| 43 | 2022-04-28 20:33:41 | Beckie Anderson |
| 44 | 2022-04-28 18:51:05 | Alicia Sandercock |
| 45 | 2022-04-27 06:58:33 | Gemma Huggonson |
| 49 | 2022-04-28 20:32:59 | Chloe Kershaw |
| 50 | 2022-04-28 13:09:13 | Sarah Channon |