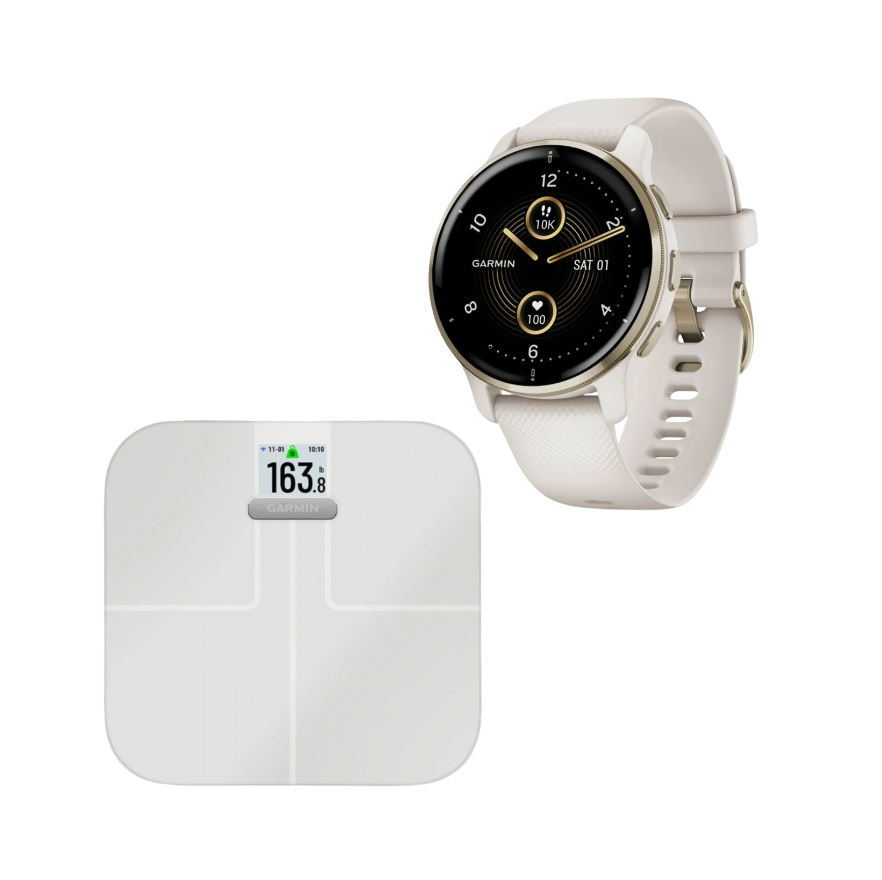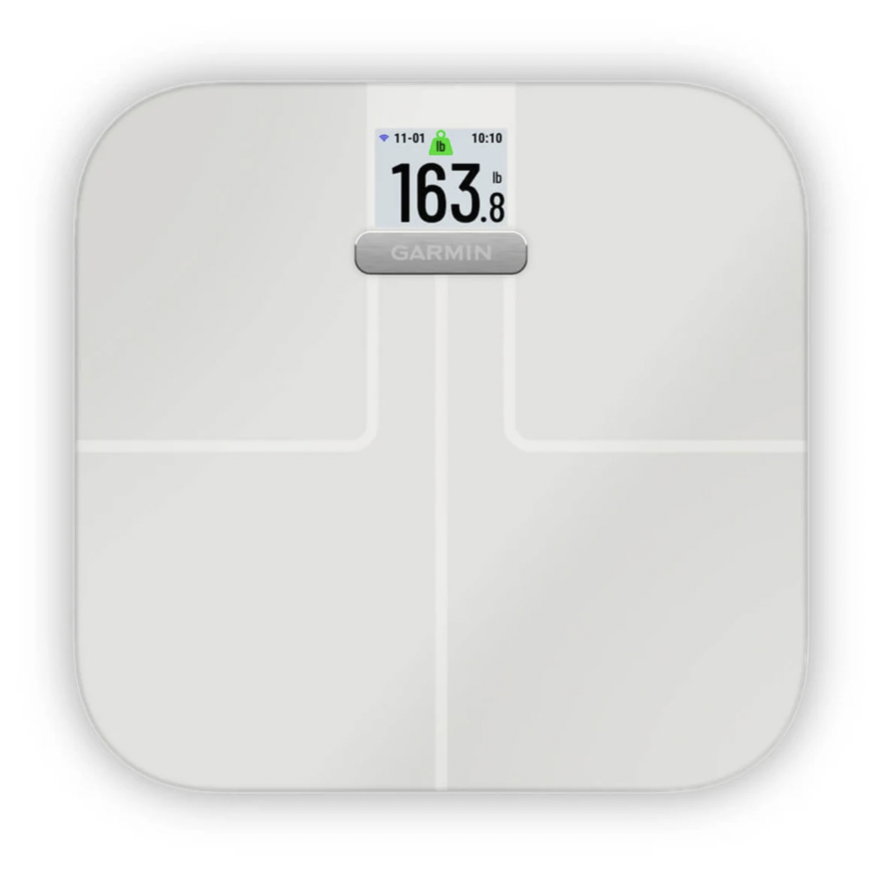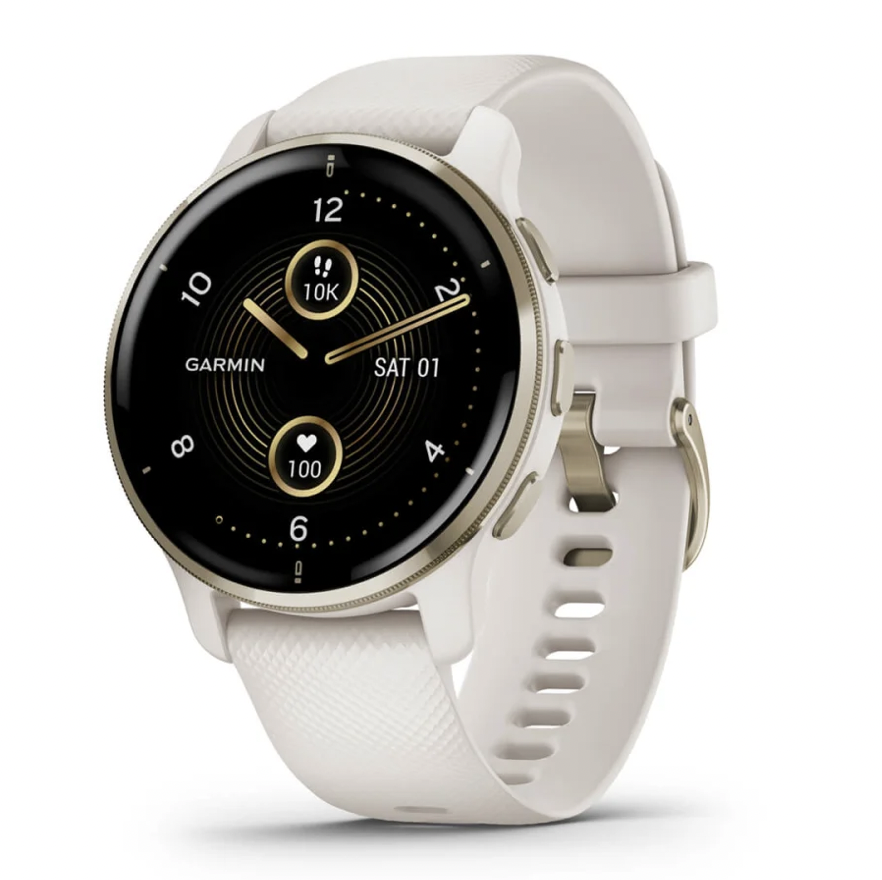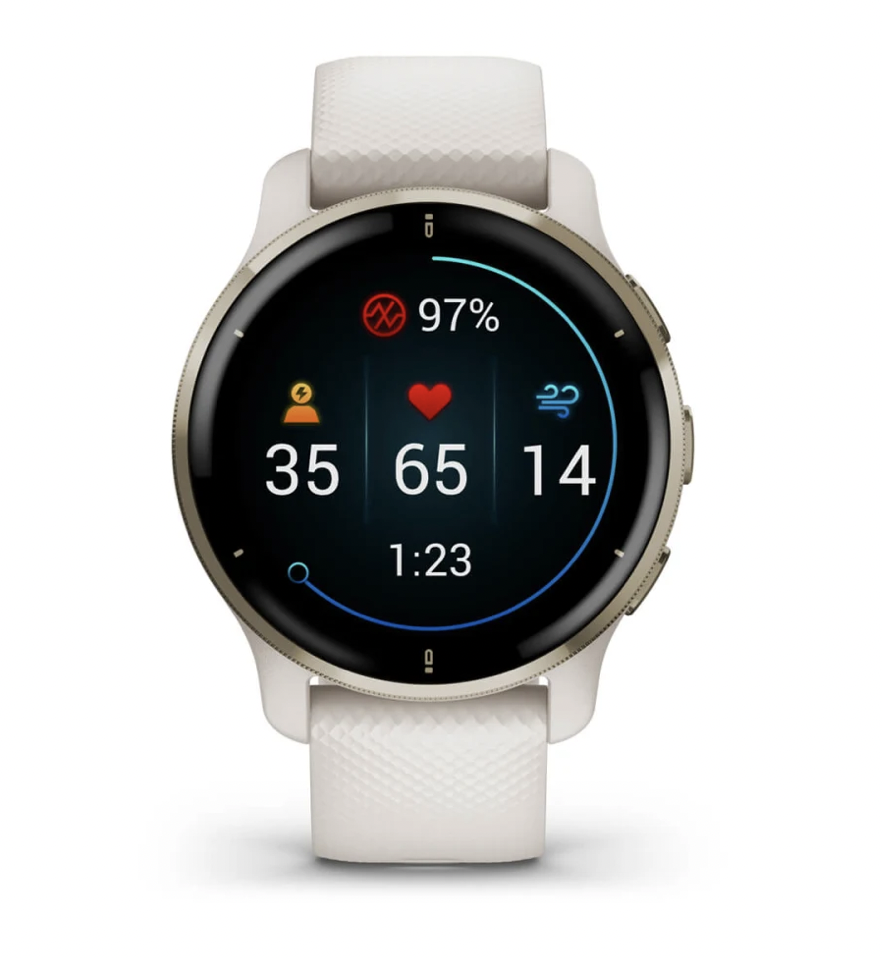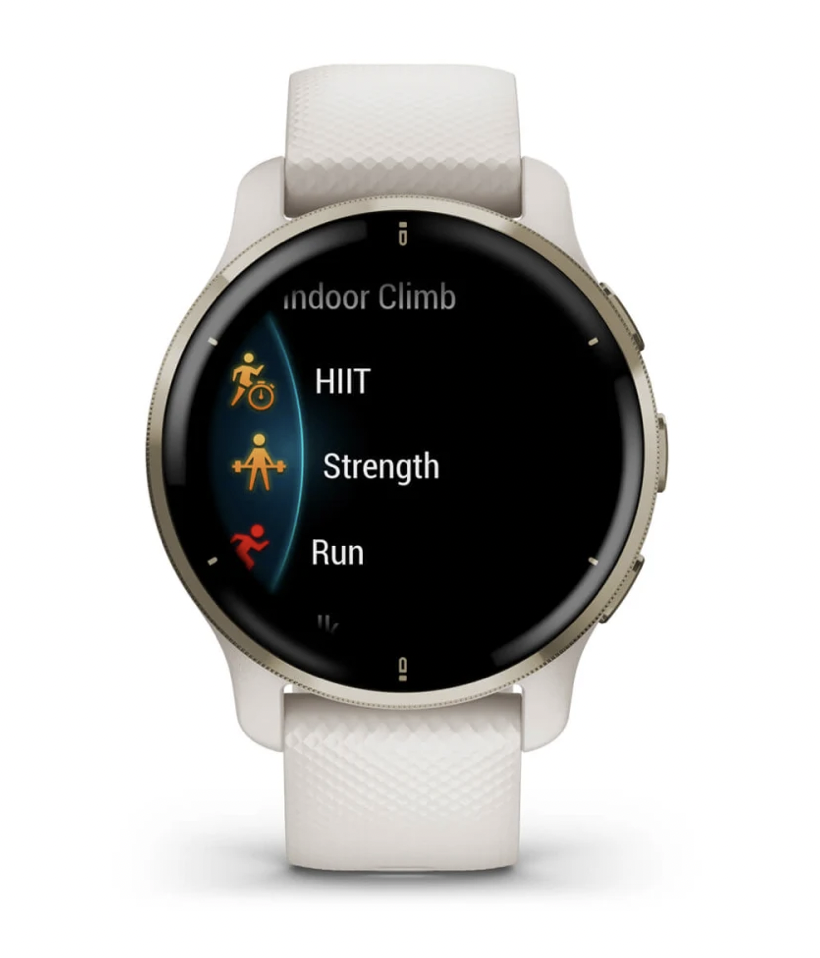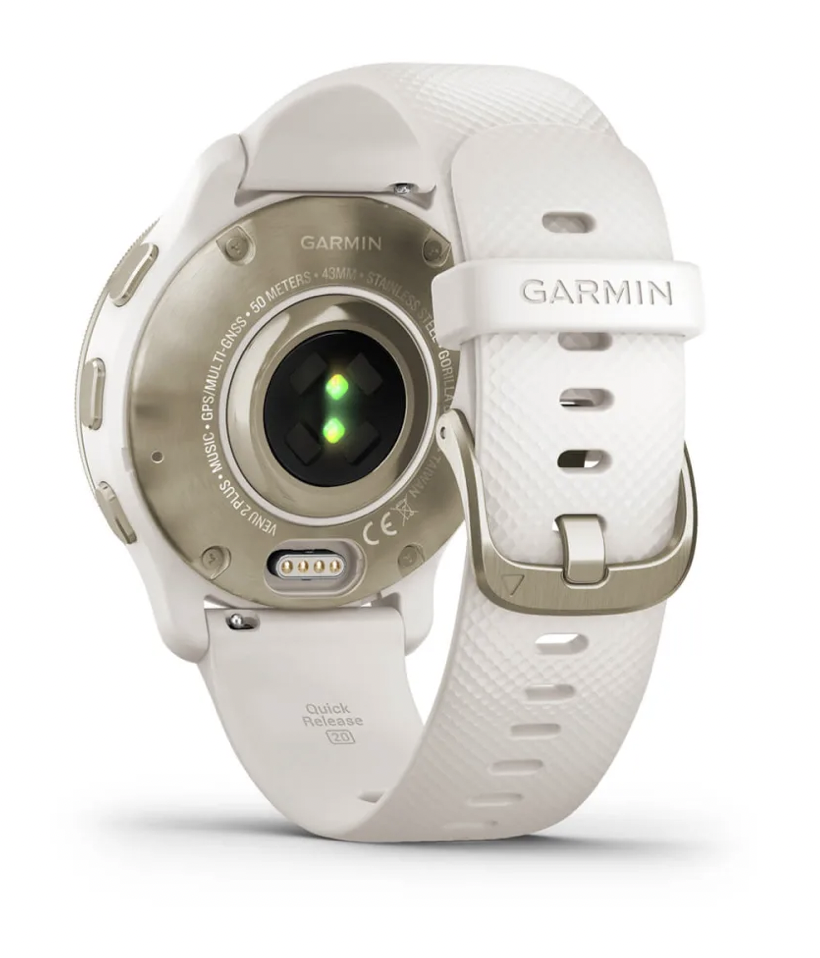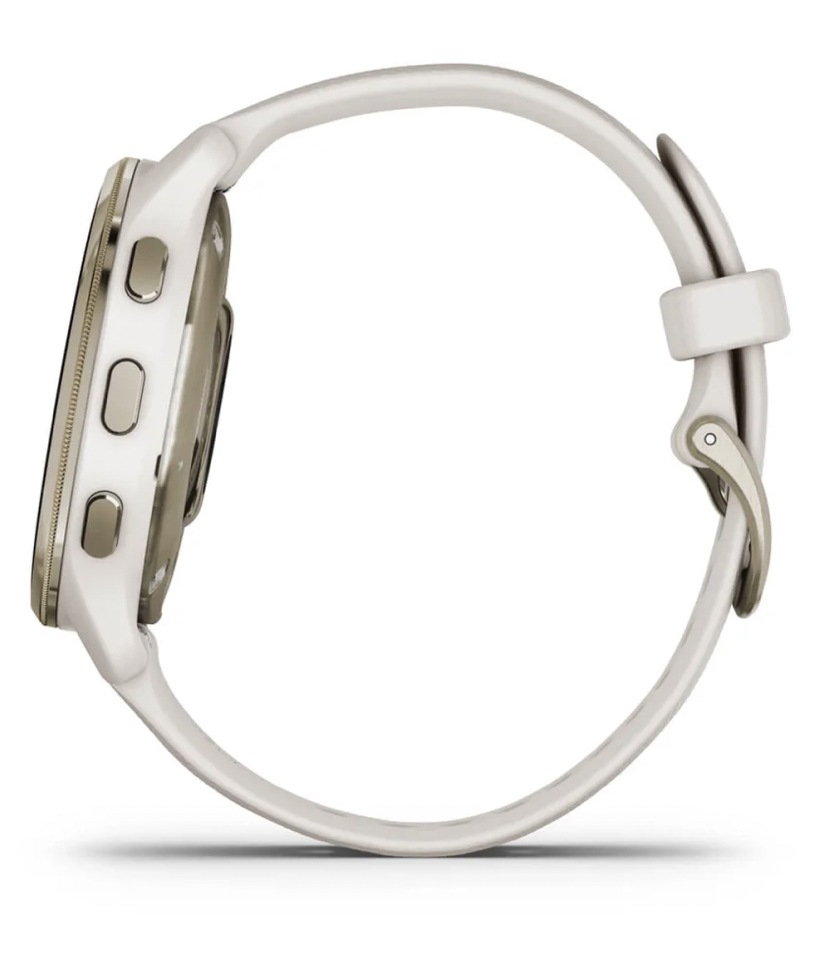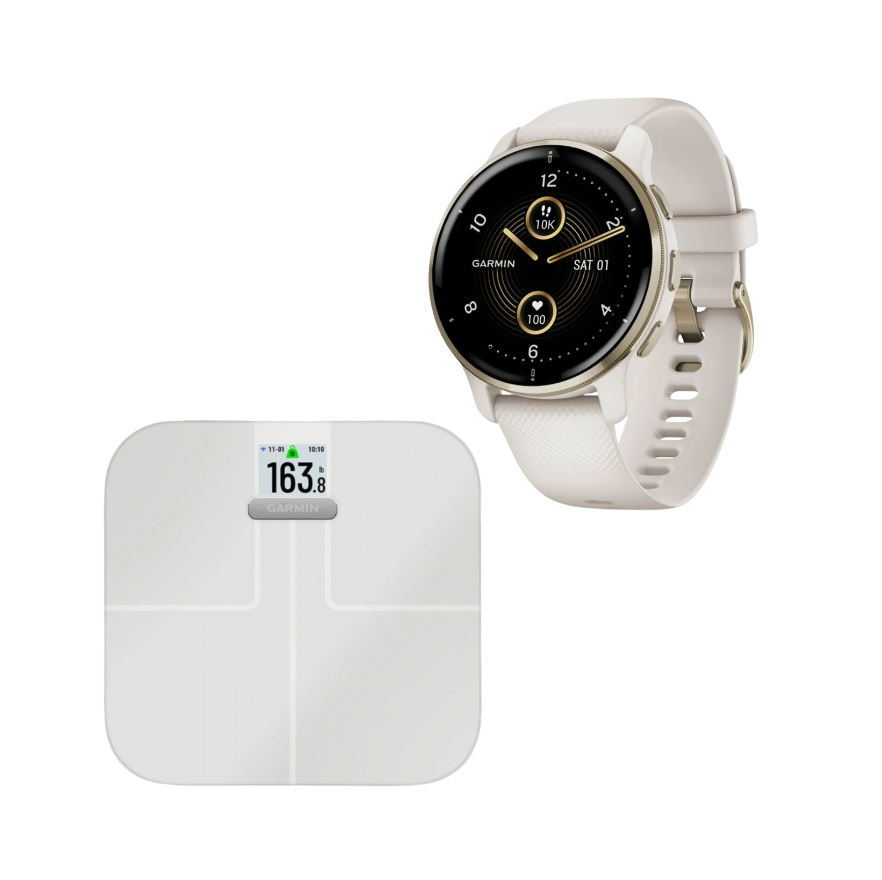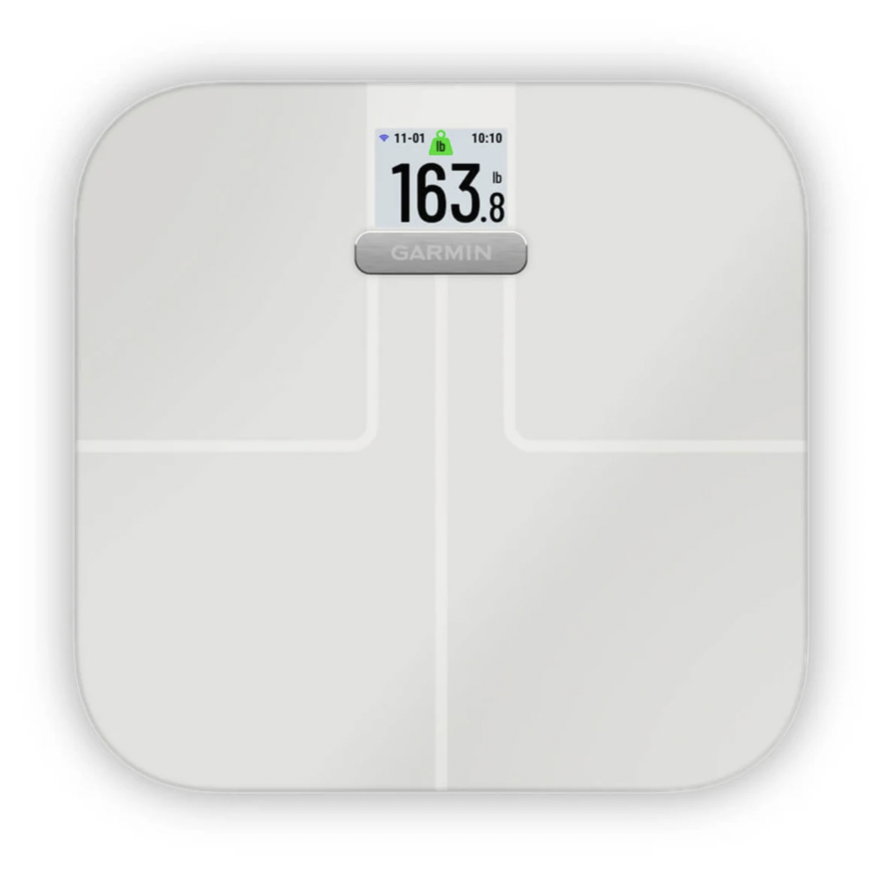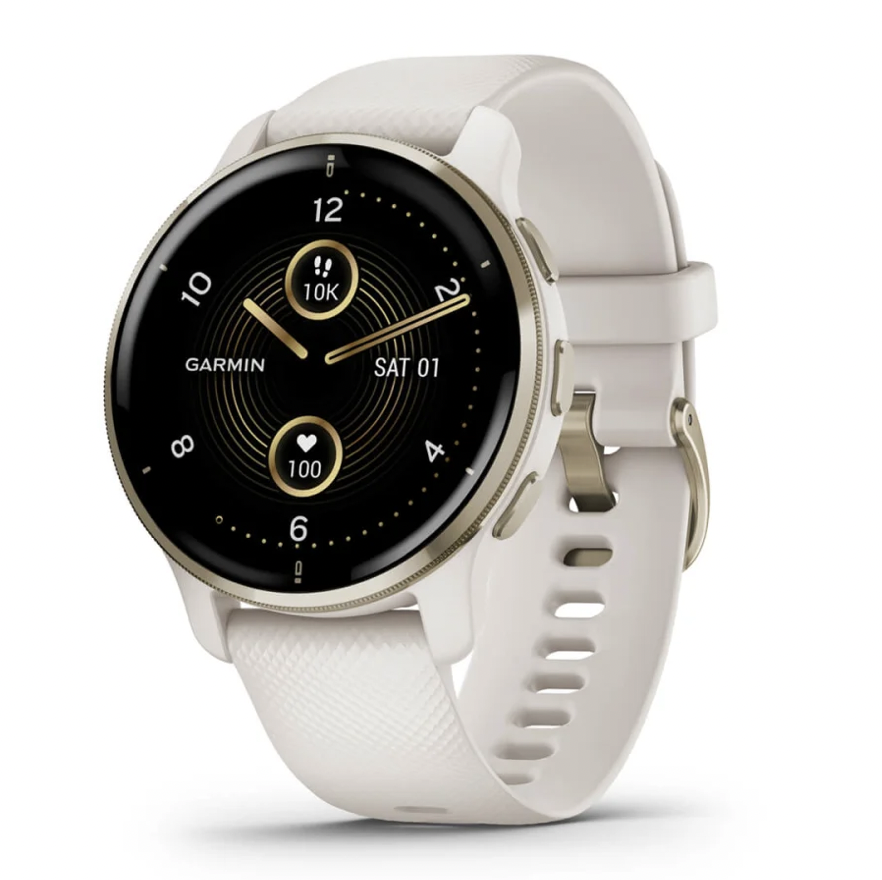 Garmin Venu® 2 & Index™ S2 Smart Scale White
Description
Garmin Venu® 2 & Index™ S2 Smart Scale White
Venu® 2 Plus Cream Gold Stainless Steel Bezel With Ivory Case And Silicone Band
HEALTH SNAPSHOT™ FEATURE – Log a 2-minute session to record key stats, including heart rate2, heart rate variability, Pulse Ox3, respiration and stress. Then generate a report with those stats to share via the Garmin Connect™ app on your compatible smartphone.
BODY BATTERY™ ENERGY MONITORING – See your body's energy levels throughout the day so you can find the best times for activity and rest.
PULSE OX SENSOR Use the Pulse Ox3 sensor to spot-check your blood oxygen saturation at any point during the day, or while you sleep, to show how well your body is absorbing oxygen.
STRESS TRACKING Find out if you're having a calm, balanced or stressful day. Relax reminders will even prompt you to do a short breathing activity when the watch detects that you're feeling stressed.
WOMEN'S HEALTH TRACKING Use the Garmin Connect app to track your menstrual cycle or pregnancy. Log symptoms, get exercise and nutrition education, and more. Even see and log details on your wrist with the Women's Health Tracking app.
HYDRATION TRACKING Log your daily fluid intake as a reminder to stay hydrated. You can even have an auto goal for hydration that adjusts based on how much you sweat during activities.
RESPIRATION TRACKING See how you're breathing throughout the day, during sleep, during breathwork and yoga activities or during a Health Snapshot session.
SLEEP SCORE AND ADVANCED SLEEP MONITORING Get a score for your sleep's quality and insights on how you can do better. Even keep track of the different sleep stages as well as heart rate, stress, Pulse Ox3 and respiration.
WRIST-BASED HEART RATE The watch constantly samples your heart rate2 and will alert you if it stays too high or too low while you're at rest. It also helps gauge how hard you work during activities — even while swimming.
MINDFUL BREATHING When you want to relax or focus, you can start a breathwork activity, and this watch will track your stress and respiration to help you get a better understanding of how you're breathing.
FITNESS AGE This feature uses chronological age, your weekly vigorous activity, resting heart rate and BMI or body fat percentage4 to estimate if your body is younger or older than you are. And you can get tips to lower your fitness age.
Index™ S2 Smart Scale White
Whether you're an athlete in training or just trying to maintain a healthy weight, this sleek scale can give you a more holistic view of your health on an easy-to-read colour display.
View your weight in pounds, kilograms or stones and pounds. Plus, see differences between one weigh-in and another.
See how your weight has changed during the past 30 days. Track longer trends in the Garmin Connect app
Get an accurate measurement of how your mass relates to your height to see if you're in a healthy range.
Your body needs some fat to be healthy. See what percentage of your mass is made up of essential and stored fat.
See how much skeletal muscle you have on your body, and track how much muscle you're building.
See how much of your weight is bone mass.
See what percent of your total mass comes from fluids. It can help you see how hydrated you are.
If you only want to track weight, you can disable any other body composition data you don't want to record.
See patterns in your weight, and track how your body changes throughout the day — on the scale and in Garmin Connect.
| Winner Name | Ticket Number | Draw Date |
| --- | --- | --- |
| Trudi Kim | 296 | 28/03/2023 |
1-100
101-200
201-300
301-400
| Ticket Number | Date | Name |
| --- | --- | --- |
| 2 | 2023-03-28 16:14:29 | Rosie Hunt |
| 3 | 2023-03-28 20:20:51 | The Brendon Family |
| 5 | 2023-03-28 20:20:51 | The Brendon Family |
| 6 | 2023-03-28 19:24:03 | Trudi Kim |
| 9 | 2023-03-28 20:20:51 | The Brendon Family |
| 10 | 2023-03-28 20:20:51 | The Brendon Family |
| 11 | 2023-03-28 20:15:08 | Jeanette Anderson |
| 12 | 2023-03-28 20:30:52 | Roxanne Demellweek |
| 13 | 2023-03-28 19:55:28 | The Brendon Family |
| 14 | 2023-03-28 17:16:37 | Sharon H |
| 16 | 2023-03-28 20:15:08 | Jeanette Anderson |
| 17 | 2023-03-28 19:55:28 | The Brendon Family |
| 18 | 2023-03-28 19:55:28 | The Brendon Family |
| 21 | 2023-03-28 20:20:51 | The Brendon Family |
| 22 | 2023-03-28 19:55:28 | The Brendon Family |
| 23 | 2023-03-28 17:16:37 | Sharon H |
| 24 | 2023-03-28 06:29:57 | Emma Louise |
| 26 | 2023-03-28 20:41:26 | Shazza H |
| 27 | 2023-03-28 19:55:28 | The Brendon Family |
| 31 | 2023-03-28 19:55:28 | The Brendon Family |
| 33 | 2023-03-28 19:35:00 | Freya Greenwood |
| 34 | 2023-03-28 20:51:10 | Theresa Copsey |
| 36 | 2023-03-28 20:43:19 | Trudi Kim |
| 37 | 2023-03-28 19:55:28 | The Brendon Family |
| 39 | 2023-03-28 17:29:48 | Kirsty Worthington |
| 41 | 2023-03-28 19:55:28 | The Brendon Family |
| 42 | 2023-03-28 20:33:22 | Kelly Warner |
| 45 | 2023-03-28 19:11:23 | Emma Brosnan |
| 49 | 2023-03-28 19:35:32 | Tanya Sumner |
| 52 | 2023-03-27 11:09:42 | Marie Taylor |
| 53 | 2023-03-28 19:38:44 | Mellissa Speed |
| 56 | 2023-03-28 20:39:20 | Kelly Reed |
| 58 | 2023-03-28 19:55:28 | The Brendon Family |
| 60 | 2023-03-28 17:51:49 | Tracey Yeldham |
| 62 | 2023-03-28 18:05:56 | N C |
| 66 | 2023-03-28 20:39:20 | Kelly Reed |
| 67 | 2023-03-28 20:26:21 | Hannah Wilks |
| 69 | 2023-03-28 17:00:34 | Emma Louise |
| 75 | 2023-03-28 20:57:08 | Laura Stanyon |
| 77 | 2023-03-28 20:29:26 | N C |
| 84 | 2023-03-28 19:55:28 | The Brendon Family |
| 90 | 2023-03-28 20:42:45 | Rachi B |
| 91 | 2023-03-28 12:03:24 | Anthony Rose |
| 97 | 2023-03-28 09:31:03 | Lynne Money |