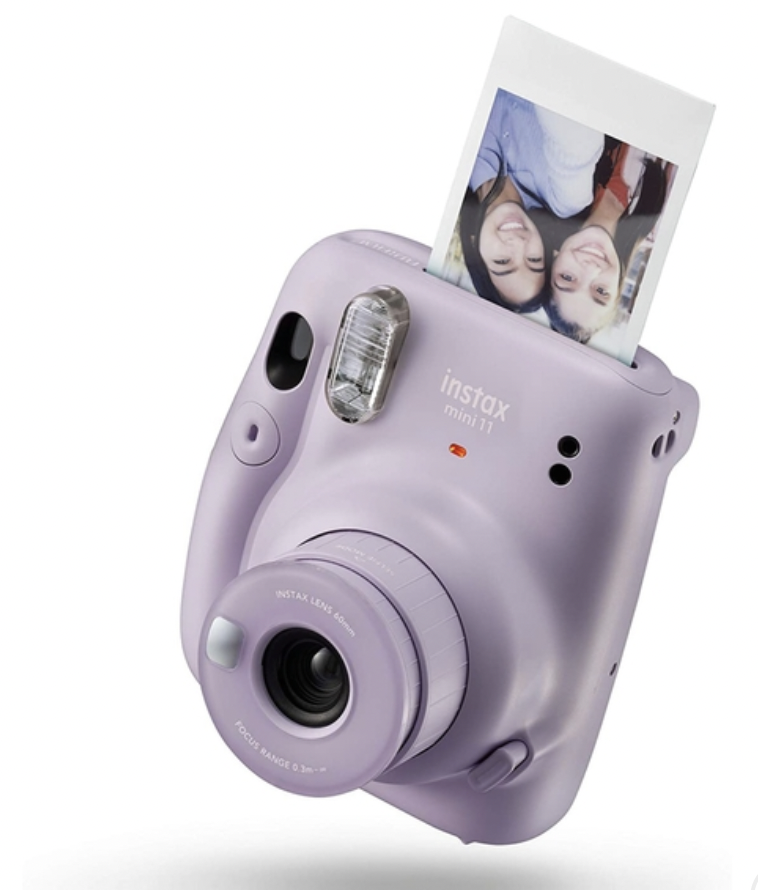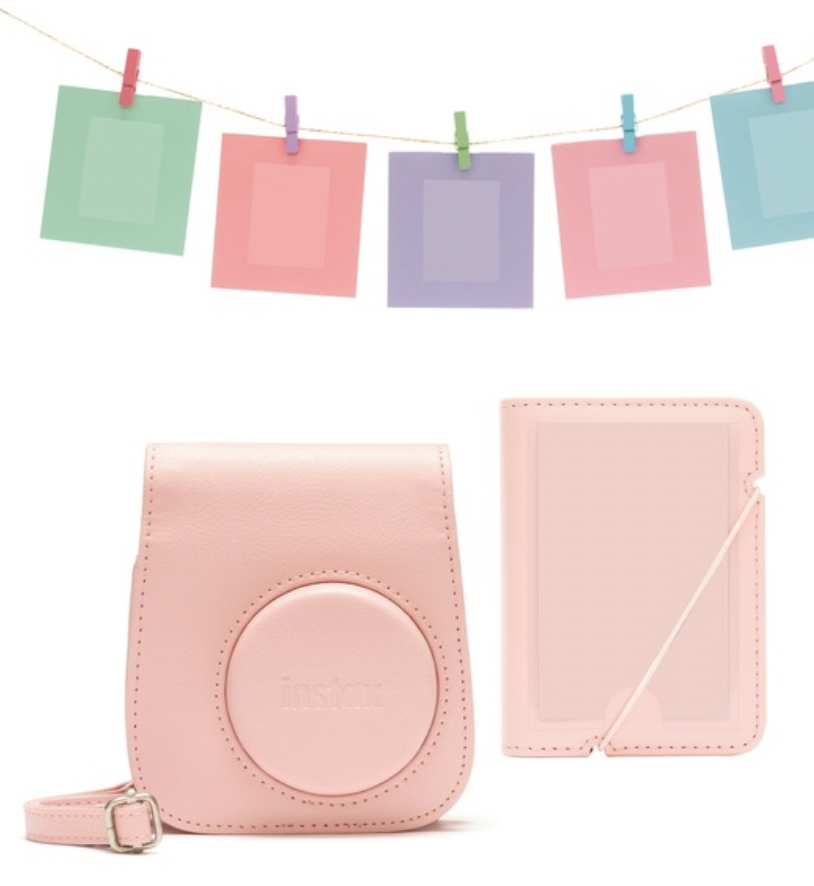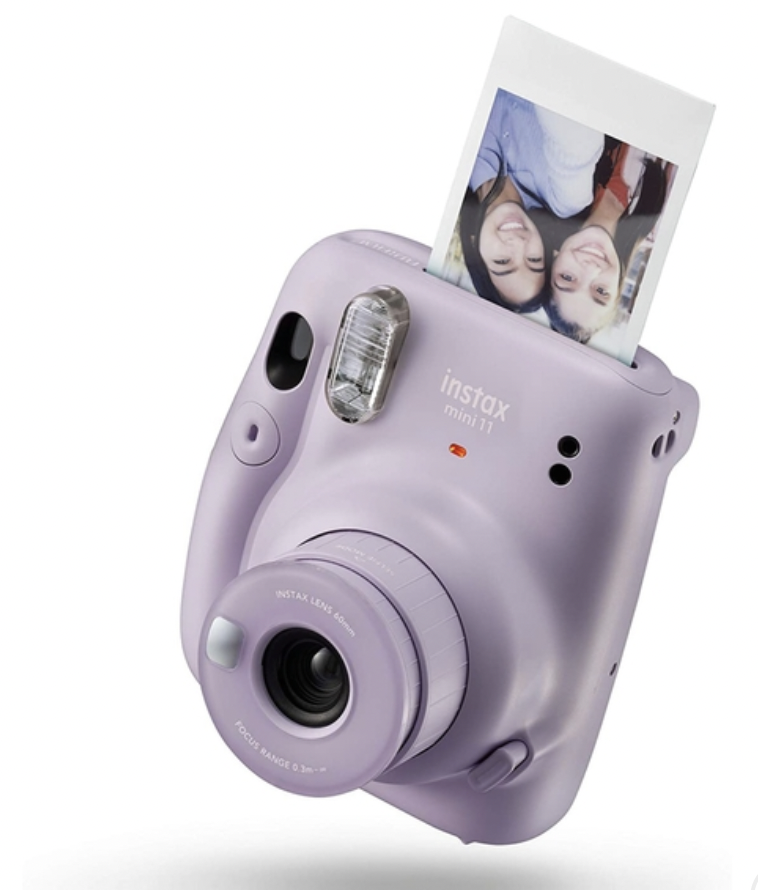 Fuji Instax Mini 11 Instant Camera without Film – Lilac Purple & Camera Accessory Kit Blush Pink
Description
Fuji Instax Mini 11 Instant Camera without Film – Lilac Purple & Camera Accessory Kit Blush Pink
Fuji Instax Mini 11 Instant Camera without Film – Lilac Purple
Meet your new best friend – the Fuji Instax Mini 11 Instant Camera. Cute, colourful and compact, this instant camera is just bursting with cool photo features.
Whether you're a pouter or a tongue sticker-outer, the Fuji Instax Mini 11 Instant Camera takes the perfect instant selfie. Positioned right next to the lens, the dedicated selfie mirror makes framing your selfie easy, even at arm's length. The close up lens attachment brings subjects right into focus, even when they're only 35cm away.
The Fuji Instax Mini 11 Instant Camera features slow synchro for low light and a constant firing flash with automatic light adjustment. Capture every moment with the instant camera that develops your photos in 90 seconds.
Contents: Fuji Instax Mini 11 Instant Camera
FUJIFILM Instax Mini instant film required, sold separately
Photo Picture Size: 62mm x 46mm
Range: 30cm and beyond, Selfie Mode for 30-50cm
Programmed electronic shutter 1/2 to 1/250 sec
Automatic exposure control and constant firing flash
Time to develop: approx. 90 seconds
Dimensions: 10W × 6.7D x 12Hcm
Weight: 293g
Batteries required: 2x AA (included)
Fuji Instax Mini 11 Instant Camera Accessory Kit Blush Pink
Official instax mini 11 accessory kit containing; a case with adjustable shoulder strap, a 29 capacity mini photo album with cover strap, and a set of 10 hanging cards and twine. The ideal accessory bundle.  A unique accompaniment for your instax mini 11 camera.
| Winner Name | Ticket Number | Draw Date |
| --- | --- | --- |
| Leah Knowles | 59 | 23/01/2023 |
| Ticket Number | Date | Name |
| --- | --- | --- |
| 1 | 2023-01-23 19:23:06 | Trudi Aitken |
| 2 | 2023-01-22 22:21:42 | Jamie Dingle |
| 3 | 2023-01-21 19:06:48 | Leanne Hawkins |
| 4 | 2023-01-23 15:12:36 | Dave Nice |
| 5 | 2023-01-23 20:01:52 | Jessica Gameson |
| 6 | 2023-01-23 20:07:53 | Jamail Akhtar |
| 7 | 2023-01-18 20:04:53 | Alex Wallwork |
| 8 | 2023-01-22 20:41:32 | Lisa Chamberlain |
| 9 | 2023-01-23 12:21:38 | Leanne Hawkins |
| 10 | 2023-01-23 18:12:13 | Poppy Hope |
| 11 | 2023-01-23 20:35:37 | K W |
| 12 | 2023-01-23 10:48:45 | Michelle Eveson |
| 13 | 2023-01-22 21:10:06 | Lisa Quinn |
| 14 | 2023-01-23 13:41:04 | Shannon Dempsey |
| 15 | 2023-01-23 12:08:48 | Leah Gray |
| 16 | 2023-01-23 19:27:20 | Louise Mitchell |
| 17 | 2023-01-21 12:19:27 | Shirley Morris |
| 18 | 2023-01-23 18:12:42 | Tia Potter |
| 19 | 2023-01-22 21:12:02 | Caroline White |
| 20 | 2023-01-23 20:49:51 | Hannah Huxtable |
| 21 | 2023-01-23 15:36:24 | Patricia Clarkson |
| 22 | 2023-01-23 19:11:23 | jeanette rich |
| 23 | 2023-01-23 12:21:38 | Leanne Hawkins |
| 24 | 2023-01-22 11:54:57 | Sharon Foster |
| 25 | 2023-01-22 21:10:06 | Lisa Quinn |
| 26 | 2023-01-23 06:35:08 | Abs M |
| 27 | 2023-01-23 15:36:24 | Patricia Clarkson |
| 28 | 2023-01-22 12:23:48 | Ben Greeno |
| 29 | 2023-01-22 21:12:02 | Caroline White |
| 30 | 2023-01-23 19:27:30 | Jacqueline Sandford |
| 31 | 2023-01-23 18:13:20 | Poppy Hope |
| 32 | 2023-01-23 15:36:24 | Patricia Clarkson |
| 33 | 2023-01-23 16:07:14 | Sami Knott |
| 34 | 2023-01-23 18:12:13 | Poppy Hope |
| 35 | 2023-01-23 18:12:42 | Tia Potter |
| 36 | 2023-01-23 20:43:00 | Georgia B |
| 37 | 2023-01-22 20:21:25 | emma mccauley |
| 38 | 2023-01-23 19:24:22 | Kelly Campbell |
| 40 | 2023-01-23 18:43:12 | Kevin Bradbury |
| 41 | 2023-01-19 15:46:45 | Usher Prowse |
| 42 | 2023-01-23 20:23:36 | Fiona Lakeman |
| 44 | 2023-01-23 18:12:42 | Tia Potter |
| 45 | 2023-01-23 20:37:37 | K W |
| 46 | 2023-01-23 11:07:05 | Leah Knowles |
| 47 | 2023-01-23 20:55:52 | Charlene Robb |
| 48 | 2023-01-23 16:02:48 | Chantelle Amphlett |
| 49 | 2023-01-23 20:23:12 | Harry Templeman |
| 50 | 2023-01-23 11:05:15 | K Westy |
| 51 | 2023-01-23 20:10:37 | Adam Osborn |
| 52 | 2023-01-23 18:06:34 | Emma Edwards |
| 53 | 2023-01-23 20:16:17 | Cheryl White |
| 54 | 2023-01-23 06:35:08 | Abs M |
| 55 | 2023-01-23 20:19:44 | Ann Pentelow |
| 56 | 2023-01-23 18:12:13 | Poppy Hope |
| 57 | 2023-01-23 20:35:37 | Amelia cutts |
| 58 | 2023-01-23 07:38:07 | Chloe Vesely |
| 59 | 2023-01-23 11:07:05 | Leah Knowles |
| 60 | 2023-01-23 19:51:33 | Keri Bayles |
| 61 | 2023-01-18 08:59:22 | Jamail Akhtar |
| 62 | 2023-01-23 20:26:52 | Laura Suckley |
| 63 | 2023-01-23 15:54:02 | Kevin Hayes |
| 64 | 2023-01-23 20:59:43 | Sophie Hodge |
| 65 | 2023-01-23 18:32:07 | Sarah Garner |
| 66 | 2023-01-23 20:33:18 | Samantha Lockhart |
| 67 | 2023-01-23 20:55:52 | Charlene Robb |
| 68 | 2023-01-23 19:06:29 | Shavanna Woon |
| 69 | 2023-01-23 06:45:15 | Amy Wain |
| 70 | 2023-01-23 20:14:14 | Anna Forbear |
| 71 | 2023-01-23 19:23:14 | Natasha England |
| 72 | 2023-01-23 20:38:28 | Emily Darke |
| 73 | 2023-01-22 20:21:25 | emma mccauley |
| 74 | 2023-01-22 19:46:45 | Lisa Bailey |
| 76 | 2023-01-23 06:35:08 | Abs M |
| 77 | 2023-01-23 11:07:05 | Leah Knowles |
| 78 | 2023-01-21 14:51:44 | Usher Prowse |
| 79 | 2023-01-23 17:02:43 | E W |
| 80 | 2023-01-21 19:42:48 | Trudi Aitken |
| 81 | 2023-01-23 17:32:40 | Oliver Hill |
| 82 | 2023-01-23 20:23:12 | Harry Templeman |
| 83 | 2023-01-23 20:18:38 | Alison Crust |
| 84 | 2023-01-23 20:52:50 | Nancy stevens |
| 87 | 2023-01-23 18:40:20 | Tara Ray |
| 88 | 2023-01-23 20:15:47 | Lucy Tinson |
| 89 | 2023-01-20 10:03:13 | Hana Veale |
| 90 | 2023-01-23 19:19:58 | Amber Probyn |
| 91 | 2023-01-23 09:02:53 | Olivia Wyatt |
| 92 | 2023-01-23 20:59:41 | TRACEY Board |
| 93 | 2023-01-23 18:12:13 | Poppy Hope |
| 94 | 2023-01-23 18:12:42 | Tia Potter |
| 95 | 2023-01-23 11:23:04 | Caroline Taylor |
| 96 | 2023-01-23 19:17:50 | Jo Spurle |
| 97 | 2023-01-23 15:36:24 | Patricia Clarkson |
| 98 | 2023-01-23 18:16:16 | Poppy Hope |
| 99 | 2023-01-23 20:20:29 | Fliss Wright |
| 100 | 2023-01-23 20:18:28 | Elly Coughlin |
| 101 | 2023-01-22 21:12:02 | Caroline White |
| 102 | 2023-01-23 18:12:13 | Poppy Hope |
| 103 | 2023-01-23 18:56:01 | Robbie Ruddenham |
| 105 | 2023-01-22 21:04:13 | Chantelle Amphlett |
| 106 | 2023-01-23 15:50:34 | Bethan Poppe |
| 107 | 2023-01-23 20:56:26 | Clare Keating |
| 108 | 2023-01-23 20:22:40 | Rachel Bell |
| 109 | 2023-01-23 18:12:42 | Tia Potter |
| 110 | 2023-01-19 15:46:45 | Usher Prowse |