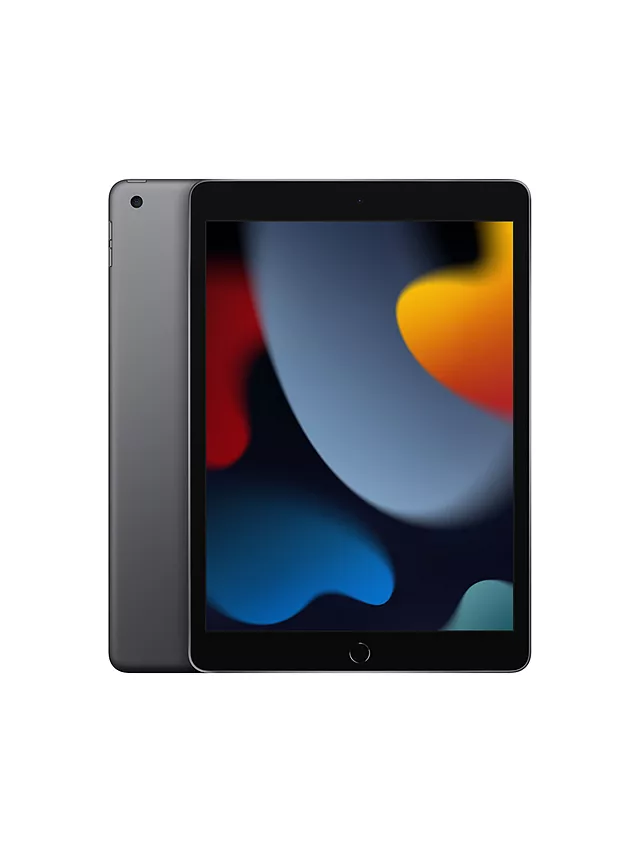 FOX GIVEAWAY- Apple iPad, 10.2″, A13 Bionic Processor, iPadOS, Wi-Fi, 64GB, Space Grey
Description
2021 Apple iPad, 10.2″, A13 Bionic Processor, iPadOS, Wi-Fi, 64GB, Space Grey
The 2021 Apple iPad features the mighty A13 Bionic Chip, an Ultra Wide front camera with Centre Stage, and is compatible with the 1st generation Apple Pencil (sold separately). Powerful, easy to use and versatile, it lets you work, play, create, learn, stay connected, and more.
A13 Bionic Chip
The A13 Bionic Chip makes everything more responsive, from messaging to web browsing, to switching between multiple apps. With up to 20% faster GPU performance than the previous model, it's ideal for immersive gaming and creative projects. And a more powerful Neural Engine drives machine learning-based features.
Retina display
Ensuring superb detail and vivid colours, the 10.2″ Retina display is ideal for watching movies, creating your next imaginative project, or working on your own art and graphics. True Tone automatically adjusts screen brightness for comfortable viewing depending on environmental lighting.
Ultra Wide camera with Centre Stage
The iPad's 12MP ultra wide front camera features Centre Stage. It automatically pans to keep you in frame as you move around, and when others join or leave the call, the view expands or zooms in automatically. Meanwhile the rear Wide camera is 8MP, capturing sharp stills and video, and letting you scan documents and experience the world of AR apps.
One-touch security
The iPad was designed with privacy and security in mind, featuring Touch ID. Touch ID lets you use your fingerprint as your password, letting you unlock your iPad or make secure purchases on the App Store, iTunes and iBooks. Your fingerprint information stays on your iPad – it is not shared with anyone, even Apple, helping to ensure that your personal information remains private.
Supports Apple pencil and Smart Keyboard
The 2021 iPad is compatible with the first-generation Apple Pencil. So you can take notes, create artworks, mark up screenshots, and much more. Or attach a thin and light Smart Keyboard for comfortable typing, which folds up into a slim, lightweight cover for protection. Both Apple Pencil and Smart Keyboard are sold separately.
All day battery life
The 2021 iPad will keep you going for up to 10 hours of surfing the web on Wi-Fi or watching video off a single charge.
A world of apps
Each of the core collection of apps is engineered with incredible attention to detail, like Photos, Maps, Messages, News and Health, that work straight out of the box. Plus, with over a million apps available on the App Store, you'll find plenty of options to do almost anything you can imagine. With iCloud, iOS can connect your Apple products automatically and make your everyday easier. Start a task on your iPad and finish on your Mac. Stream video from your iPhone to your TV through Apple TV. Everything's synced so all your devices have the latest information.
Wireless communication
Built-in Wi-Fi makes it easy to connect this tablet to the internet, whether that's through your own home network, Wi-Fi at work or a public connection. Bluetooth will let you send files and folders wirelessly between Bluetooth devices, and stream music to compatible speakers or headphones.
| Winner Name | Ticket Number | Draw Date |
| --- | --- | --- |
| Troy T | 994 | 20/09/2022 |
1-300
301-600
601-900
901-1200
1201-1500
1501-1800
1801-2100
| Ticket Number | Date | Name |
| --- | --- | --- |
| 1 | 2022-09-19 14:26:00 | Tracey Winsborrow |
| 2 | 2022-09-20 08:21:55 | Jen Stapley |
| 3 | 2022-09-19 13:07:15 | Paul Wilkinson |
| 4 | 2022-09-20 08:34:18 | Claire Sawyer |
| 5 | 2022-09-19 21:19:10 | Angela Skene |
| 6 | 2022-09-20 09:06:16 | Chris Earnshaw |
| 7 | 2022-09-20 12:58:18 | Alice Mellor-Smith |
| 8 | 2022-09-20 16:48:18 | Stephanie Pickford |
| 9 | 2022-09-20 12:08:44 | Lindsay Hall |
| 10 | 2022-09-20 09:14:45 | Anna Kelly |
| 11 | 2022-09-20 09:04:26 | Natalie Clarke |
| 12 | 2022-09-20 08:22:58 | Natalie Hewitt |
| 13 | 2022-09-20 10:40:03 | michelle wallis |
| 14 | 2022-09-19 14:23:49 | Jacob Iles |
| 15 | 2022-09-19 22:26:27 | McKayla Gullis |
| 16 | 2022-09-20 07:49:21 | Emma Page |
| 17 | 2022-09-20 19:51:04 | Tracey Maher |
| 18 | 2022-09-20 09:01:47 | Laura Smart |
| 19 | 2022-09-20 08:10:25 | Bethan Williams |
| 20 | 2022-09-20 19:04:19 | Anna Gardiner |
| 21 | 2022-09-19 15:08:57 | Daisy Read |
| 22 | 2022-09-20 15:45:08 | Tracy Daniell |
| 23 | 2022-09-20 08:29:44 | Rosemary Lenhardt |
| 24 | 2022-09-20 08:28:13 | Chris Spencer |
| 25 | 2022-09-19 12:18:46 | Lisa Roberts |
| 26 | 2022-09-20 16:44:40 | Moira Williams |
| 27 | 2022-09-20 12:08:14 | Gina Bell |
| 28 | 2022-09-20 09:56:46 | Victoria Rooke |
| 29 | 2022-09-20 08:08:38 | Katie Powell |
| 30 | 2022-09-19 15:52:32 | Steph Evans |
| 31 | 2022-09-20 19:49:16 | Jennifer Waye |
| 32 | 2022-09-20 18:40:57 | Charlotte Wells |
| 33 | 2022-09-20 08:35:35 | Dee Payne |
| 34 | 2022-09-20 10:25:17 | Cahli Dodd |
| 35 | 2022-09-20 09:00:00 | Mike Smart |
| 36 | 2022-09-19 20:44:24 | Charlotte Timberlake |
| 37 | 2022-09-20 10:59:19 | Shannon Izod |
| 38 | 2022-09-19 12:33:33 | Suzanne Brabson |
| 39 | 2022-09-20 11:31:34 | Julie Prowse |
| 40 | 2022-09-20 15:56:40 | Harriet Thomas |
| 41 | 2022-09-20 18:05:04 | Jeanette Bennett' |
| 42 | 2022-09-20 19:16:50 | Lauryn Gemmell |
| 43 | 2022-09-20 08:08:23 | Vicky Rosser |
| 44 | 2022-09-20 08:05:40 | Louis Grant |
| 45 | 2022-09-19 17:37:26 | Lisa Macdonald |
| 46 | 2022-09-19 15:07:25 | Megan Coley |
| 47 | 2022-09-19 21:02:27 | John Sutton |
| 48 | 2022-09-20 02:12:45 | Amanda Gerry-O'Connor |
| 49 | 2022-09-20 11:57:06 | Nikita Rapley |
| 50 | 2022-09-20 13:08:37 | Luke Mulliss |
| 51 | 2022-09-20 08:19:00 | Jamie Price |
| 52 | 2022-09-20 19:58:17 | Marc Baker |
| 53 | 2022-09-20 16:29:25 | Lisa Higgins |
| 54 | 2022-09-20 08:05:22 | Jade Saunders |
| 55 | 2022-09-20 07:38:19 | Michael Gane |
| 56 | 2022-09-20 08:20:52 | ASHLEY Smith |
| 57 | 2022-09-20 11:58:23 | Anna Swinglehurst |
| 58 | 2022-09-19 22:41:10 | Charlotte Kingsley |
| 59 | 2022-09-20 18:02:45 | Chloe Penny |
| 60 | 2022-09-20 15:14:50 | Gerry Blue |
| 61 | 2022-09-19 21:05:23 | Antonia Bastin |
| 62 | 2022-09-20 17:49:23 | Sophie Humphreys |
| 63 | 2022-09-19 15:21:59 | Steve Marshall |
| 64 | 2022-09-20 11:08:40 | Harriet Clarke |
| 65 | 2022-09-19 15:54:22 | Scott Griffin |
| 66 | 2022-09-20 12:26:05 | Marykate Smith |
| 67 | 2022-09-20 12:03:37 | Veselina Kremenska |
| 68 | 2022-09-20 13:17:43 | Kirsten Baker |
| 69 | 2022-09-20 10:27:51 | Becky Sanders |
| 70 | 2022-09-19 19:37:59 | Amy Angell |
| 71 | 2022-09-20 10:18:49 | Rebecca Harvey |
| 72 | 2022-09-20 09:53:55 | Issy Lee |
| 73 | 2022-09-19 12:18:06 | Jamie dipple |
| 74 | 2022-09-19 12:52:59 | Graham Grove |
| 75 | 2022-09-20 07:20:43 | Rachel Gilbert |
| 76 | 2022-09-20 08:15:06 | Tara Marks |
| 77 | 2022-09-19 19:08:30 | Sarah edwards |
| 78 | 2022-09-20 17:31:33 | Charlotte Phillips |
| 79 | 2022-09-20 11:57:36 | L Coysh |
| 80 | 2022-09-20 15:30:34 | Mitchell Bird |
| 81 | 2022-09-20 08:15:45 | Jemma Edwards |
| 82 | 2022-09-20 19:06:36 | Shona Hatch |
| 83 | 2022-09-20 09:20:01 | Kelly Stott |
| 84 | 2022-09-20 11:45:03 | nathan kneebone |
| 85 | 2022-09-20 18:59:33 | Tracy Mcdonald |
| 86 | 2022-09-20 18:47:59 | Janet Mann |
| 87 | 2022-09-20 08:07:52 | Louise Street |
| 88 | 2022-09-19 17:14:06 | Rachel Harris |
| 89 | 2022-09-20 08:57:15 | Laura Martin |
| 90 | 2022-09-20 17:55:29 | Jamie Kimberley |
| 91 | 2022-09-20 13:46:29 | Chloe Lock |
| 92 | 2022-09-20 10:59:54 | Katie Reddaway |
| 93 | 2022-09-19 19:13:41 | Daniel Hamilton |
| 94 | 2022-09-19 21:51:56 | Holly Louise |
| 95 | 2022-09-20 10:40:14 | Sean McArdle |
| 96 | 2022-09-20 13:35:09 | Sandra Stevens |
| 97 | 2022-09-20 09:47:39 | Vikki Ellison |
| 98 | 2022-09-20 17:48:10 | Joe Swales |
| 99 | 2022-09-20 08:25:48 | Sapphire Jackman |
| 100 | 2022-09-20 14:46:42 | Charlie West |
| 101 | 2022-09-20 10:03:09 | Sharon Lee |
| 102 | 2022-09-19 21:26:15 | Nichola Brown |
| 103 | 2022-09-19 15:06:13 | Tracey Hardman |
| 104 | 2022-09-19 18:18:09 | Lisa Curnow |
| 105 | 2022-09-20 17:36:34 | Keely Hill |
| 106 | 2022-09-19 19:26:38 | Jazmin Roberts |
| 107 | 2022-09-19 19:20:17 | Anne-Marie Daniels |
| 108 | 2022-09-20 14:44:57 | Tia Richardson |
| 109 | 2022-09-20 16:55:50 | Tanya Sumner |
| 110 | 2022-09-20 14:24:21 | Ty Ivey |
| 111 | 2022-09-20 19:46:31 | Laura Roche |
| 112 | 2022-09-19 15:53:16 | Thomas evans |
| 113 | 2022-09-20 16:41:29 | Melissa Whittle |
| 114 | 2022-09-20 14:16:22 | Lauren Ford |
| 115 | 2022-09-20 12:47:20 | Leanne Nutley |
| 116 | 2022-09-20 14:58:59 | Jasmine Baillie |
| 117 | 2022-09-20 10:56:18 | George Taylor |
| 118 | 2022-09-20 10:30:20 | Amanda Da Silva |
| 119 | 2022-09-19 12:20:16 | Alison Hill |
| 120 | 2022-09-19 20:01:31 | DANIELLE Coulter |
| 121 | 2022-09-20 11:15:30 | Rhian Creber |
| 122 | 2022-09-20 15:12:44 | Adele Terry |
| 123 | 2022-09-20 00:11:06 | Ryan Mclaughlin |
| 124 | 2022-09-20 04:59:27 | Gabrielle Sanford |
| 125 | 2022-09-19 17:47:10 | Francesca Jeune |
| 126 | 2022-09-20 09:38:00 | Jackie West |
| 127 | 2022-09-20 16:05:07 | Ben Haynes |
| 128 | 2022-09-20 10:28:09 | Steph Sutherland |
| 129 | 2022-09-19 13:09:52 | Gail Anderson |
| 130 | 2022-09-19 20:16:47 | Jackie Maunder |
| 131 | 2022-09-20 09:50:19 | Rebecca Parker |
| 132 | 2022-09-20 11:11:44 | Denise Barry |
| 133 | 2022-09-20 09:54:06 | Kelly Richards |
| 134 | 2022-09-20 12:50:11 | Liz Muir |
| 135 | 2022-09-20 15:57:33 | Lauren Bond |
| 136 | 2022-09-19 14:19:00 | April Hatcher |
| 137 | 2022-09-20 11:59:13 | Gemma Osborn |
| 138 | 2022-09-19 15:34:06 | Leah Hackman |
| 139 | 2022-09-20 08:18:11 | Michelle Rowles |
| 140 | 2022-09-19 19:53:46 | Sophie Hodge |
| 141 | 2022-09-20 17:49:52 | Victoria Sealey |
| 142 | 2022-09-20 08:11:38 | Lauren Hodge |
| 143 | 2022-09-20 08:07:39 | Kirsty Swinhoe |
| 144 | 2022-09-19 13:06:13 | Joanne Woodland |
| 145 | 2022-09-20 10:17:55 | Jade Roberts |
| 146 | 2022-09-20 12:34:52 | Sarah jane Glover |
| 147 | 2022-09-20 19:42:24 | Anthony Boundy |
| 148 | 2022-09-19 21:51:34 | Elizabeth Forshaw |
| 149 | 2022-09-20 08:17:37 | Gemma Holland |
| 150 | 2022-09-20 14:17:30 | Tinker Bell |
| 151 | 2022-09-20 08:45:09 | Sophie Woodman |
| 152 | 2022-09-20 08:46:00 | Karen Reed |
| 153 | 2022-09-20 19:50:33 | Jeni Chown |
| 154 | 2022-09-20 00:00:38 | Ann Sandover |
| 155 | 2022-09-20 19:37:07 | Emma Goulding |
| 156 | 2022-09-19 20:27:19 | Jenny noel |
| 157 | 2022-09-19 16:48:17 | Caroline Quinn |
| 158 | 2022-09-20 16:48:35 | Gordon Macleod |
| 159 | 2022-09-20 08:24:36 | Becky Snell |
| 160 | 2022-09-19 17:41:12 | Elz . |
| 161 | 2022-09-20 11:14:25 | Gary Knights |
| 162 | 2022-09-20 19:40:28 | Katie Hurrell |
| 163 | 2022-09-20 15:01:17 | Sophie Evans |
| 164 | 2022-09-19 19:46:03 | Amy Peterson |
| 165 | 2022-09-20 19:50:07 | Stevie-Anne Brown |
| 166 | 2022-09-19 17:41:31 | Lauren Grostate |
| 167 | 2022-09-19 13:39:12 | Barbara Pickersgill |
| 168 | 2022-09-19 19:20:13 | Sammy Goss |
| 169 | 2022-09-20 19:10:14 | Bryony Shill |
| 170 | 2022-09-20 10:18:19 | Dawn Honey |
| 171 | 2022-09-20 11:10:06 | Katie Bosworth |
| 172 | 2022-09-20 09:41:45 | Kirsty Richards |
| 173 | 2022-09-19 17:14:38 | Di Hodge |
| 174 | 2022-09-20 09:59:41 | Melanie Standfast |
| 175 | 2022-09-20 08:12:28 | Laura Godfrey |
| 176 | 2022-09-20 10:18:37 | Sophie Drew |
| 177 | 2022-09-20 14:32:37 | Sophie Titley |
| 178 | 2022-09-19 14:14:54 | Kelly Adams |
| 179 | 2022-09-20 15:52:26 | Dale Wilkes |
| 180 | 2022-09-20 09:17:33 | Kim Davey |
| 181 | 2022-09-20 13:47:23 | Alisha E Pennington |
| 182 | 2022-09-19 18:00:25 | Annette M |
| 183 | 2022-09-20 13:27:49 | Christina Doyle |
| 184 | 2022-09-20 08:41:17 | Rachel Salloway |
| 185 | 2022-09-20 14:25:03 | Dayne Jones |
| 186 | 2022-09-20 19:21:45 | Joanne Kirk |
| 187 | 2022-09-19 13:34:43 | Cathy Cook |
| 188 | 2022-09-20 09:59:13 | Jade Hopkins |
| 189 | 2022-09-20 15:13:00 | William James |
| 190 | 2022-09-20 19:32:49 | Natasha Furze |
| 191 | 2022-09-19 20:31:56 | Andy James |
| 192 | 2022-09-20 14:46:00 | Becky Hall |
| 193 | 2022-09-20 08:25:12 | Mandy Blake-Burke |
| 194 | 2022-09-20 09:31:00 | Barbara Jones |
| 195 | 2022-09-19 21:53:31 | charlotte higman |
| 196 | 2022-09-19 20:11:13 | Veronica Dowall |
| 197 | 2022-09-20 11:38:26 | Rachel Williams |
| 198 | 2022-09-19 21:17:43 | Michael Back |
| 199 | 2022-09-20 11:40:14 | Abigail Carpenter |
| 200 | 2022-09-20 08:25:25 | Dean Stevens |
| 201 | 2022-09-20 18:25:57 | debbie valentine |
| 202 | 2022-09-20 08:15:32 | Thomas Whirton |
| 203 | 2022-09-20 07:22:21 | Holly Smith |
| 204 | 2022-09-19 17:19:03 | Emma Potter |
| 205 | 2022-09-19 14:28:55 | Melanie Bailey |
| 206 | 2022-09-19 13:11:24 | Debbie Bradshaw |
| 207 | 2022-09-20 10:43:28 | Lauren Price |
| 208 | 2022-09-20 16:08:24 | Kelly Barrett |
| 209 | 2022-09-20 18:53:50 | Graham Hack |
| 210 | 2022-09-20 08:39:19 | Deborah Carling |
| 211 | 2022-09-19 18:13:45 | Kathleen Starling |
| 212 | 2022-09-19 23:21:49 | K Smells |
| 213 | 2022-09-20 11:15:21 | Amanda Warner |
| 214 | 2022-09-19 13:52:49 | Nathan Hill |
| 215 | 2022-09-20 18:23:07 | Rebecca Wood |
| 216 | 2022-09-20 15:54:57 | Clarice Warden |
| 217 | 2022-09-20 08:18:54 | Teresa Stapley |
| 218 | 2022-09-20 07:27:55 | Carolyn Clayton |
| 219 | 2022-09-20 14:14:47 | Michelle Turner |
| 220 | 2022-09-19 19:33:48 | Sophia Bos |
| 221 | 2022-09-19 16:58:47 | Liam Short |
| 222 | 2022-09-19 15:45:53 | Leanne Merry |
| 223 | 2022-09-20 08:14:45 | Patricia Mcculloch |
| 224 | 2022-09-20 08:50:56 | Carly Mason |
| 225 | 2022-09-20 19:43:24 | Rikki Millett |
| 226 | 2022-09-20 16:10:01 | Jade Sedgbeer |
| 227 | 2022-09-20 10:55:03 | jackie dawkins |
| 228 | 2022-09-19 23:07:21 | Charlene Harvey |
| 229 | 2022-09-19 22:30:42 | Chloe Sweatland |
| 230 | 2022-09-20 19:26:11 | Charlotte Barker |
| 231 | 2022-09-20 14:28:04 | Sarah Kell |
| 232 | 2022-09-20 10:24:30 | Tania Mckenzie |
| 233 | 2022-09-20 17:40:49 | S S |
| 234 | 2022-09-19 16:22:49 | Jimmy Saunders |
| 235 | 2022-09-20 16:04:39 | Nathan Meakin |
| 236 | 2022-09-19 16:01:49 | Ryan kirby |
| 237 | 2022-09-20 09:00:18 | Amanda Ruddenham |
| 238 | 2022-09-20 16:23:23 | Andrew Clarke |
| 239 | 2022-09-20 10:27:02 | Sarah Rowlands |
| 240 | 2022-09-19 21:30:07 | Ebony Edwards |
| 241 | 2022-09-20 09:58:57 | Soph Sayer |
| 242 | 2022-09-20 08:13:42 | Tanya O'Reilly |
| 243 | 2022-09-20 08:52:10 | Leanne Hardwell |
| 244 | 2022-09-20 12:31:59 | Kim Escott |
| 245 | 2022-09-19 22:22:01 | Tracey Potter |
| 246 | 2022-09-20 09:27:07 | Glenn Bowden |
| 247 | 2022-09-20 19:50:14 | Amy Hardware |
| 248 | 2022-09-19 12:47:56 | Gavin Dyer |
| 249 | 2022-09-19 12:59:39 | Gary Hunt |
| 250 | 2022-09-20 16:01:06 | Liam Ellis |
| 251 | 2022-09-20 09:50:20 | Michael Strefford |
| 252 | 2022-09-19 13:08:24 | Phil Collins |
| 253 | 2022-09-20 13:04:18 | June Hooton |
| 254 | 2022-09-19 14:56:48 | Jonny Davies |
| 255 | 2022-09-20 08:36:42 | Rachel Cottam |
| 256 | 2022-09-20 16:36:39 | Jessica Down |
| 257 | 2022-09-20 07:52:44 | Kelly Call |
| 258 | 2022-09-20 08:57:33 | Hailey Green |
| 259 | 2022-09-20 15:54:10 | Mrs Linda Grimshaw |
| 260 | 2022-09-20 08:21:09 | Pam Morland |
| 261 | 2022-09-20 10:55:54 | Michael Ilott |
| 262 | 2022-09-19 15:24:46 | Toni Board |
| 263 | 2022-09-20 17:14:58 | Jenny Knight |
| 264 | 2022-09-20 18:14:55 | Tanya Roberts |
| 265 | 2022-09-20 18:54:51 | kellie acreman |
| 266 | 2022-09-20 15:46:18 | Claire Mcnally |
| 267 | 2022-09-19 19:08:20 | Stacey Roberts |
| 268 | 2022-09-20 07:15:06 | Karen Harman |
| 269 | 2022-09-20 08:19:53 | Tammy Stoneman |
| 270 | 2022-09-20 19:02:55 | Emma Smith |
| 271 | 2022-09-20 15:36:14 | Lynne Deeley |
| 272 | 2022-09-20 11:25:58 | Ellie Woodland |
| 273 | 2022-09-19 16:51:55 | Sapphire Saunders |
| 274 | 2022-09-20 08:55:44 | Madison Childs |
| 275 | 2022-09-20 08:05:16 | Sara Hack |
| 276 | 2022-09-20 19:30:14 | Hayley Smith |
| 277 | 2022-09-19 21:53:48 | Sadie Simpson |
| 278 | 2022-09-20 17:06:15 | Kelsi symonds |
| 279 | 2022-09-19 14:10:54 | Amy R |
| 280 | 2022-09-20 15:42:27 | Debbie Frizzel |
| 281 | 2022-09-20 19:24:48 | Gabrielle Forbear |
| 282 | 2022-09-20 17:40:34 | Katie Richards |
| 283 | 2022-09-20 18:35:41 | Gemma Alford |
| 284 | 2022-09-19 17:31:05 | Andrew Lofthouse |
| 285 | 2022-09-20 11:00:18 | Harmony Keel |
| 286 | 2022-09-20 17:20:04 | Kelvin Courtenay |
| 287 | 2022-09-20 12:36:16 | Gareth Lieske |
| 288 | 2022-09-20 13:39:41 | Michaela Price |
| 289 | 2022-09-19 21:35:26 | Donna Hansford |
| 290 | 2022-09-20 18:17:40 | Amy Archer |
| 291 | 2022-09-20 19:35:04 | Jade Louise |
| 292 | 2022-09-20 11:28:11 | Jon Passmore |
| 293 | 2022-09-20 11:04:26 | Emma Vann-sawicka |
| 294 | 2022-09-19 21:22:27 | Carly Mason |
| 295 | 2022-09-20 18:41:08 | Sean Wright |
| 296 | 2022-09-20 19:36:03 | linda Brown |
| 297 | 2022-09-20 19:44:46 | Emily Burrows |
| 298 | 2022-09-19 16:43:45 | Ben Melsome |
| 299 | 2022-09-20 11:45:42 | Jayne Back |
| 300 | 2022-09-20 08:29:09 | Gale Jordan |