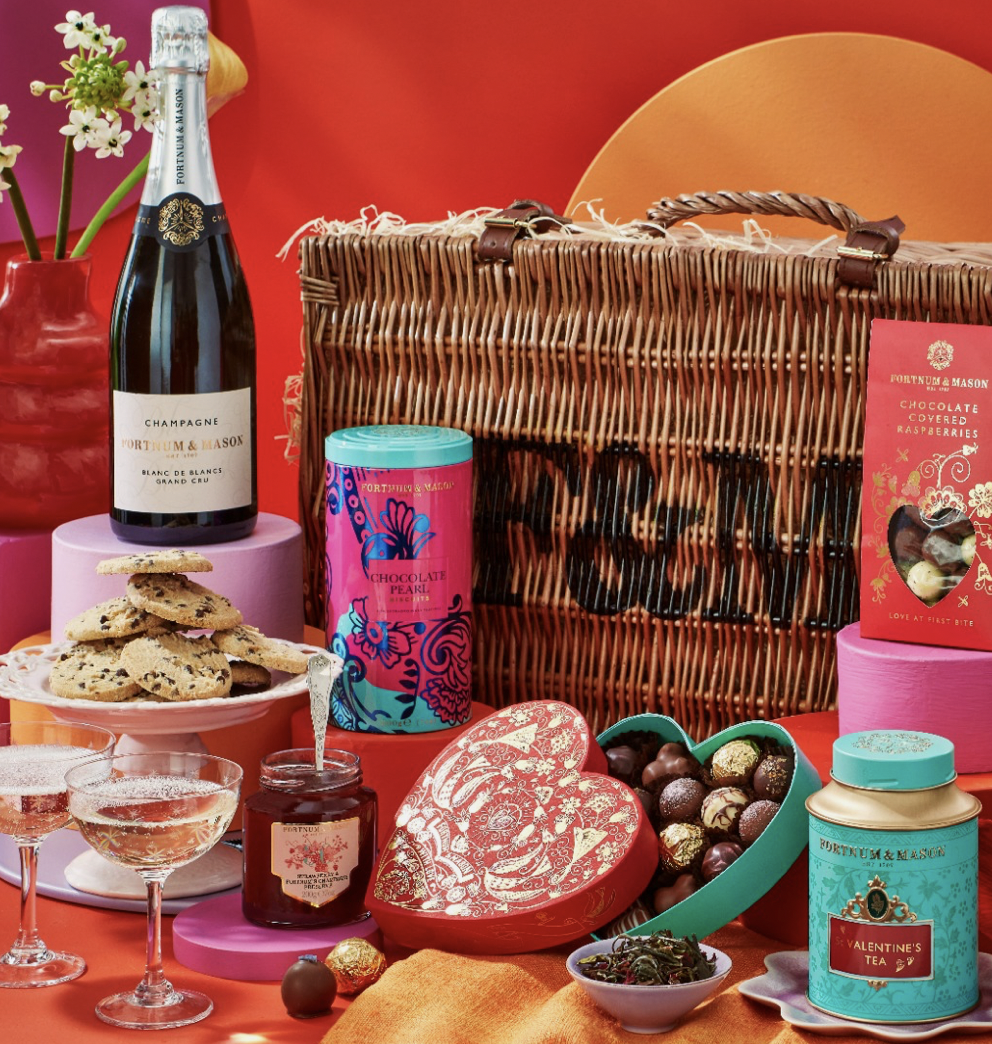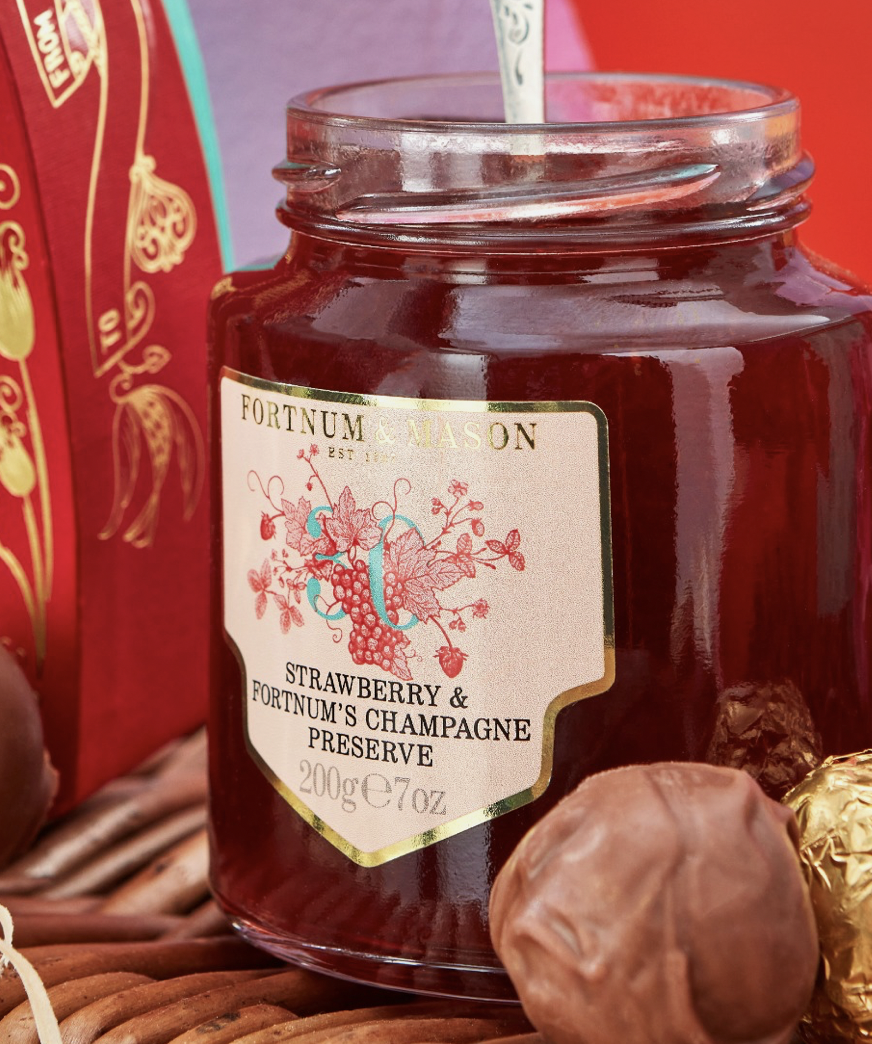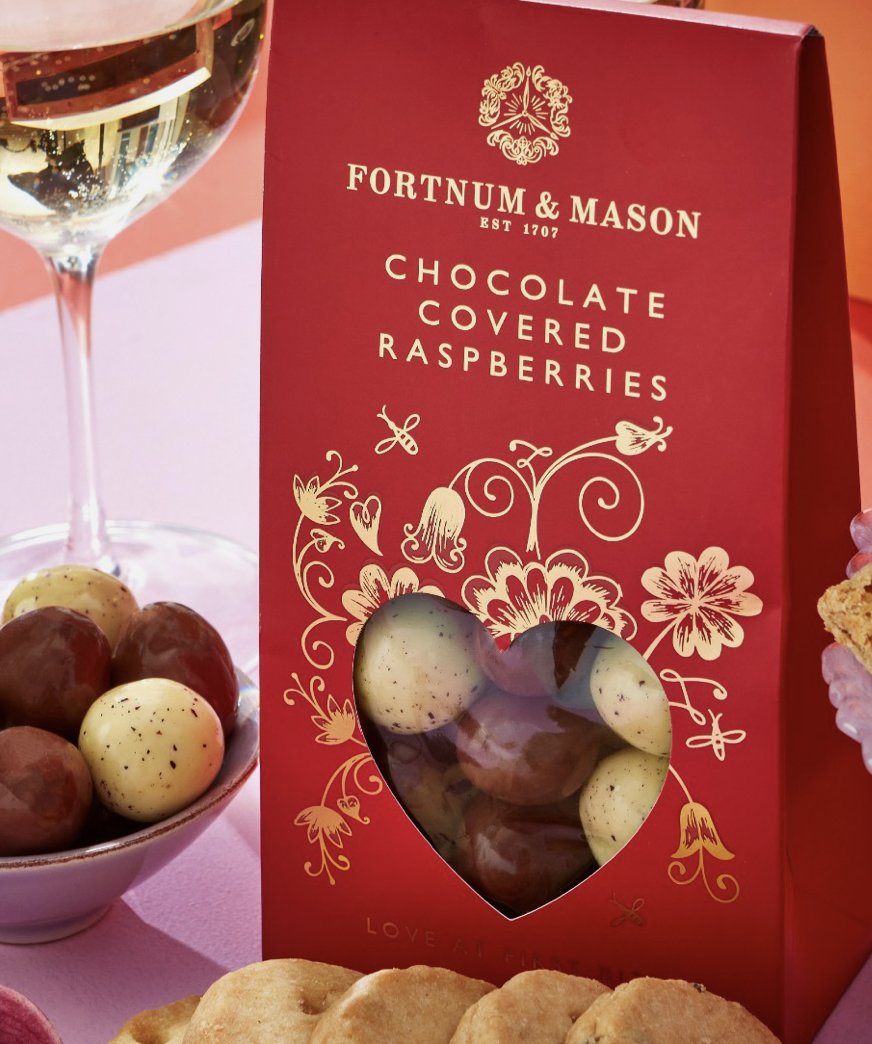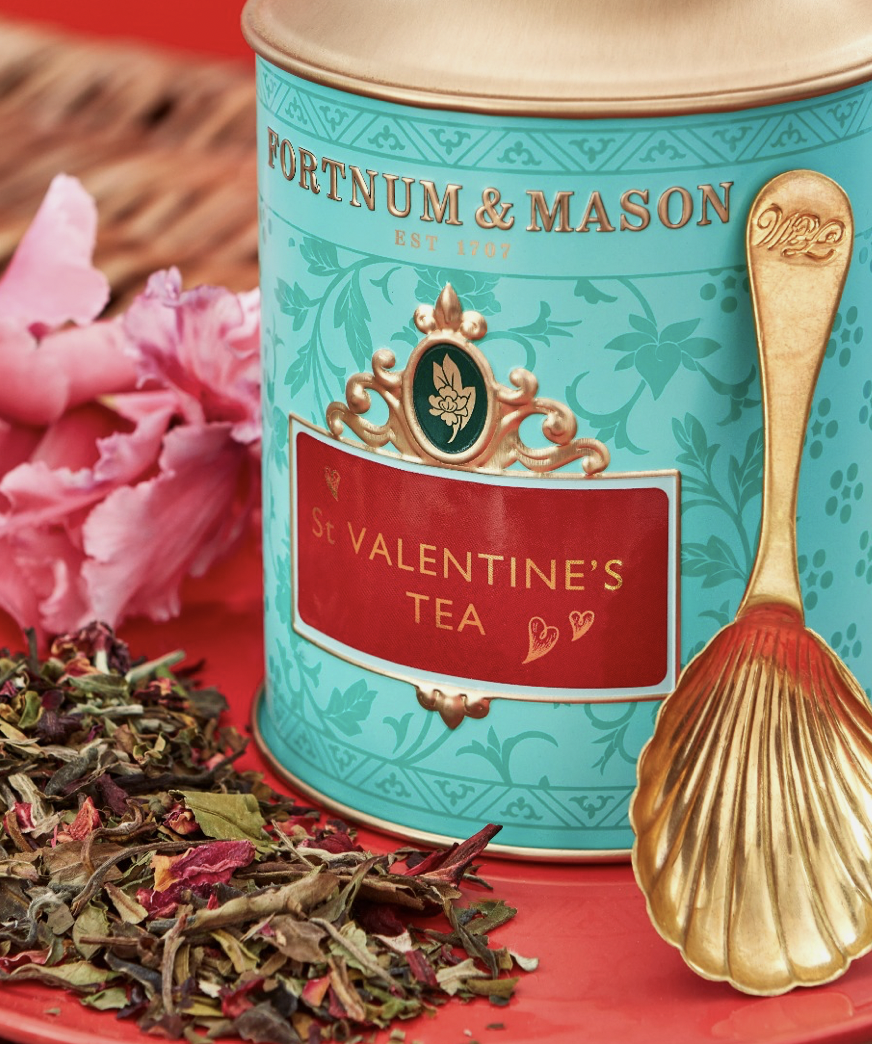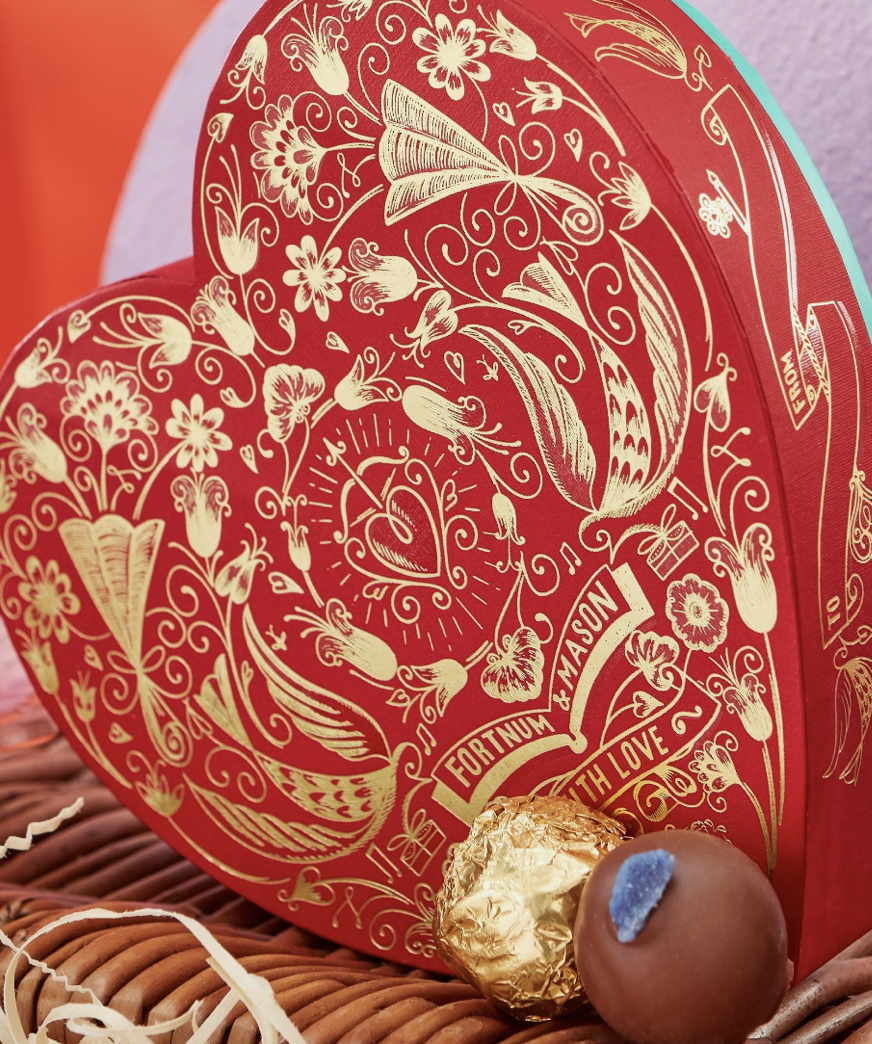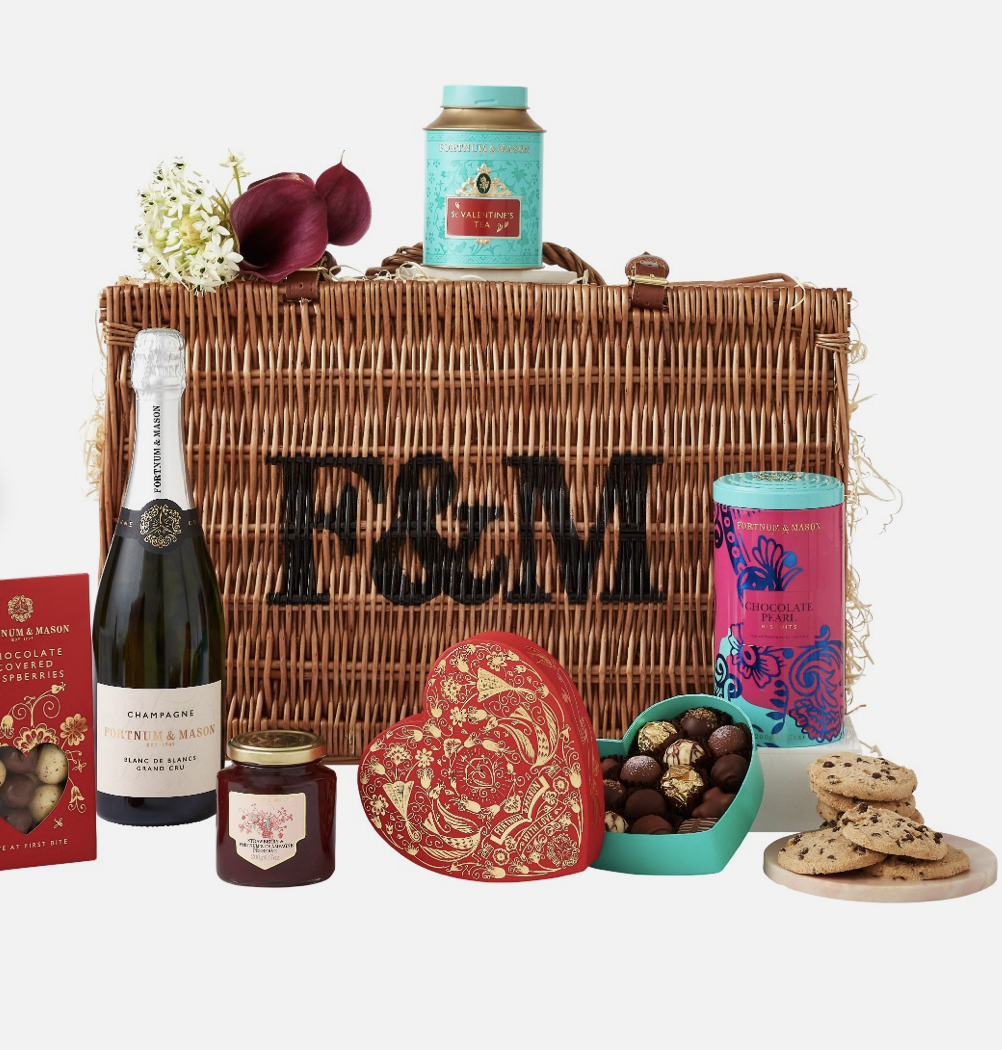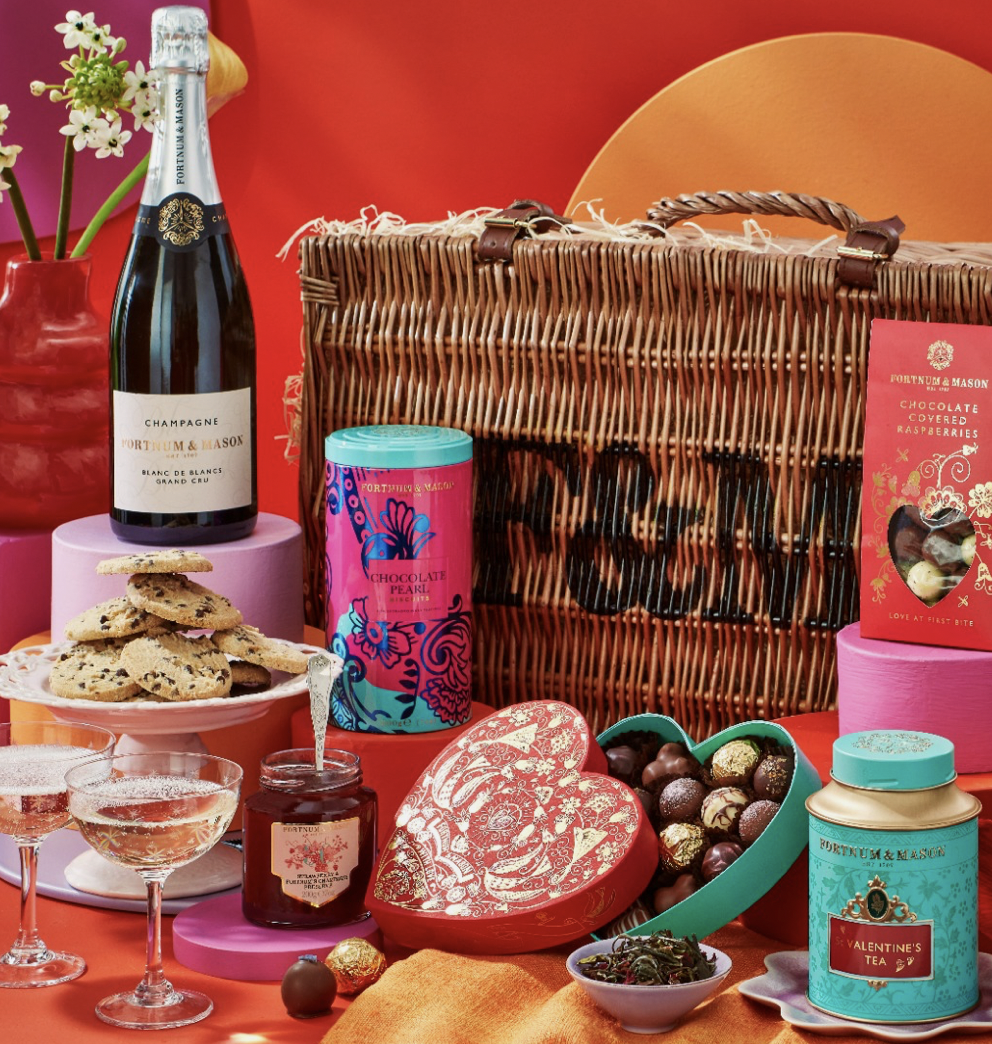 FORTNUM & MASON The Utterly Smitten Hamper
Description
FORTNUM & MASON The Utterly Smitten Hamper
You will be utterly smitten with this hamper on Valentine's Day. Filled with numerable delights, such as a bottle of champagne, crumbly biscuits, preserves, sweet treats and sippable teas for you and your loved one to enjoy throughout the day.
Every romantic occasion calls for a bottle of our Blanc de Blancs Champagne and Valentine's Day should be no exception. Produced by Laurent Hostomme, this champagne is extremely elegant, offering light floral notes and a refreshing acidity. You can be sure this bottle will get hearts fluttering.
To stoke the fires of love, this hamper brims with our sweetest treats – including our Miniature Heart Chocolate Selection Box and deliciously decadent Valentine's Chocolate Coated Raspberries. Speaking of sweetness, surprise your nearest and dearest with our finest Piccadilly Chocolate Pearl Biscuits.
Last but by no means least, to complete this heart-skipping hamper there are tipples and jars aplenty, including our Valentine's Tea. A delicious partner to freshly baked scones and a spoonful of our Strawberry & Champagne Preserve. With so much to enjoy, we're certain your partner will be eating out of the palm of your hand.
| Winner Name | Ticket Number | Draw Date |
| --- | --- | --- |
| Hannah Franklin | 133 | 27/01/2023 |
| Ticket Number | Date | Name |
| --- | --- | --- |
| 1 | 2023-01-26 21:25:28 | Mark Winter |
| 2 | 2023-01-27 12:44:04 | Shane Grant |
| 3 | 2023-01-27 20:43:56 | Carly Kelly |
| 4 | 2023-01-27 19:11:50 | Helen Harvey |
| 5 | 2023-01-27 20:41:05 | Emma White |
| 6 | 2023-01-26 21:25:28 | Mark Winter |
| 7 | 2023-01-21 10:10:27 | Joyce Cunliffe |
| 8 | 2023-01-26 23:35:20 | Gail. Gilbert. |
| 9 | 2023-01-27 19:20:11 | Lane Natasha |
| 10 | 2023-01-27 17:44:38 | Johanna Neal |
| 11 | 2023-01-21 19:11:18 | Nikki Chrysanthou |
| 12 | 2023-01-27 19:58:50 | Lex Bishop |
| 13 | 2023-01-27 11:58:42 | Jane Pritchard |
| 14 | 2023-01-27 20:10:19 | Rebecca Oxtoby |
| 15 | 2023-01-27 17:33:06 | Ian Anslow |
| 16 | 2023-01-27 20:24:16 | Joanne Ison |
| 17 | 2023-01-26 21:25:28 | Mark Winter |
| 18 | 2023-01-24 19:17:45 | phyllis steer |
| 19 | 2023-01-27 19:06:53 | Jason Crockett |
| 20 | 2023-01-27 18:54:36 | Joyce Cunliffe |
| 21 | 2023-01-21 10:10:27 | Joyce Cunliffe |
| 22 | 2023-01-27 11:32:02 | Suzanne Oliver |
| 23 | 2023-01-22 17:23:35 | Sophie Richardson |
| 24 | 2023-01-24 19:17:45 | phyllis steer |
| 25 | 2023-01-27 07:36:10 | Donna Spicer |
| 26 | 2023-01-26 16:41:55 | Alex Parrott |
| 27 | 2023-01-26 21:25:28 | Mark Winter |
| 28 | 2023-01-27 07:33:39 | Aim P |
| 30 | 2023-01-26 08:16:02 | Hannah Williams |
| 31 | 2023-01-27 09:40:23 | Mike Lee |
| 32 | 2023-01-27 19:06:53 | Jason Crockett |
| 33 | 2023-01-27 18:54:36 | Joyce Cunliffe |
| 34 | 2023-01-26 20:03:52 | Victoria Smye-Rumsby |
| 35 | 2023-01-27 14:41:38 | Danielle Denton |
| 38 | 2023-01-27 20:16:14 | Hannah Mcmurray |
| 39 | 2023-01-27 04:57:38 | D Dixon |
| 40 | 2023-01-26 20:04:24 | John Faulkner-Lloyd |
| 41 | 2023-01-27 10:15:59 | Lucy F |
| 42 | 2023-01-27 14:41:50 | Tracy Mills |
| 43 | 2023-01-27 20:52:41 | Mandy Butcher |
| 44 | 2023-01-27 11:13:44 | Sarah jane Glover |
| 46 | 2023-01-27 15:37:36 | Harold Lambert |
| 47 | 2023-01-27 20:50:34 | Lisa Cogavin |
| 49 | 2023-01-27 17:18:03 | Julie Botley |
| 50 | 2023-01-27 20:16:14 | Hannah Mcmurray |
| 51 | 2023-01-27 19:42:19 | carol smaller |
| 53 | 2023-01-26 08:16:02 | Hannah Williams |
| 54 | 2023-01-27 19:10:30 | Simon Marfell |
| 56 | 2023-01-27 18:06:33 | Samantha Head |
| 57 | 2023-01-26 11:56:52 | Hannah Riley |
| 59 | 2023-01-27 15:38:21 | Nikki Chrysanthou |
| 60 | 2023-01-27 20:46:00 | Sue Manders |
| 61 | 2023-01-27 20:44:46 | TRACEY Board |
| 62 | 2023-01-27 20:55:07 | Jill Higham |
| 64 | 2023-01-27 20:59:35 | Laurence Dent |
| 65 | 2023-01-27 14:38:01 | Sophie Jamieson |
| 66 | 2023-01-27 20:52:41 | Mandy Butcher |
| 69 | 2023-01-27 11:58:42 | Jane Pritchard |
| 70 | 2023-01-26 16:55:44 | Lucy F |
| 71 | 2023-01-27 20:59:29 | Karen Lee |
| 72 | 2023-01-27 17:26:01 | Jodie Ellis |
| 73 | 2023-01-27 20:02:10 | Kelly Clarke-booth |
| 74 | 2023-01-27 20:16:46 | Justin Lashley |
| 76 | 2023-01-27 15:37:36 | Harold Lambert |
| 77 | 2023-01-27 11:58:42 | Jane Pritchard |
| 79 | 2023-01-27 20:57:39 | Mandy Moore |
| 81 | 2023-01-27 13:38:29 | Michael Harvey |
| 82 | 2023-01-27 07:15:35 | Claire dipple |
| 83 | 2023-01-27 15:53:32 | Amy Coney |
| 84 | 2023-01-27 20:35:35 | Hannah Franklin |
| 85 | 2023-01-27 19:41:21 | Jennifer Hack |
| 86 | 2023-01-26 19:31:56 | Amie Manley |
| 87 | 2023-01-27 14:24:29 | Andrew Way |
| 88 | 2023-01-27 20:04:07 | Natasha England |
| 89 | 2023-01-26 18:13:27 | Julie Cleave |
| 90 | 2023-01-27 20:54:13 | Megan Dale |