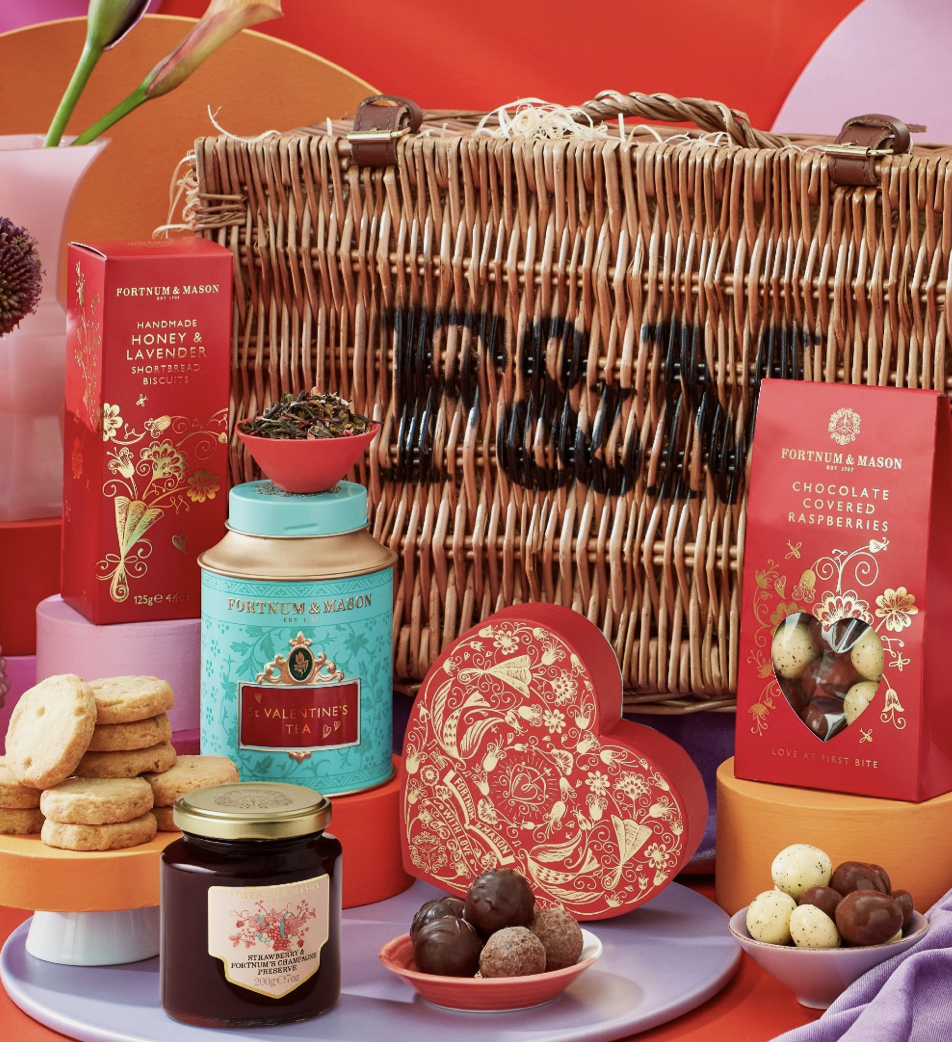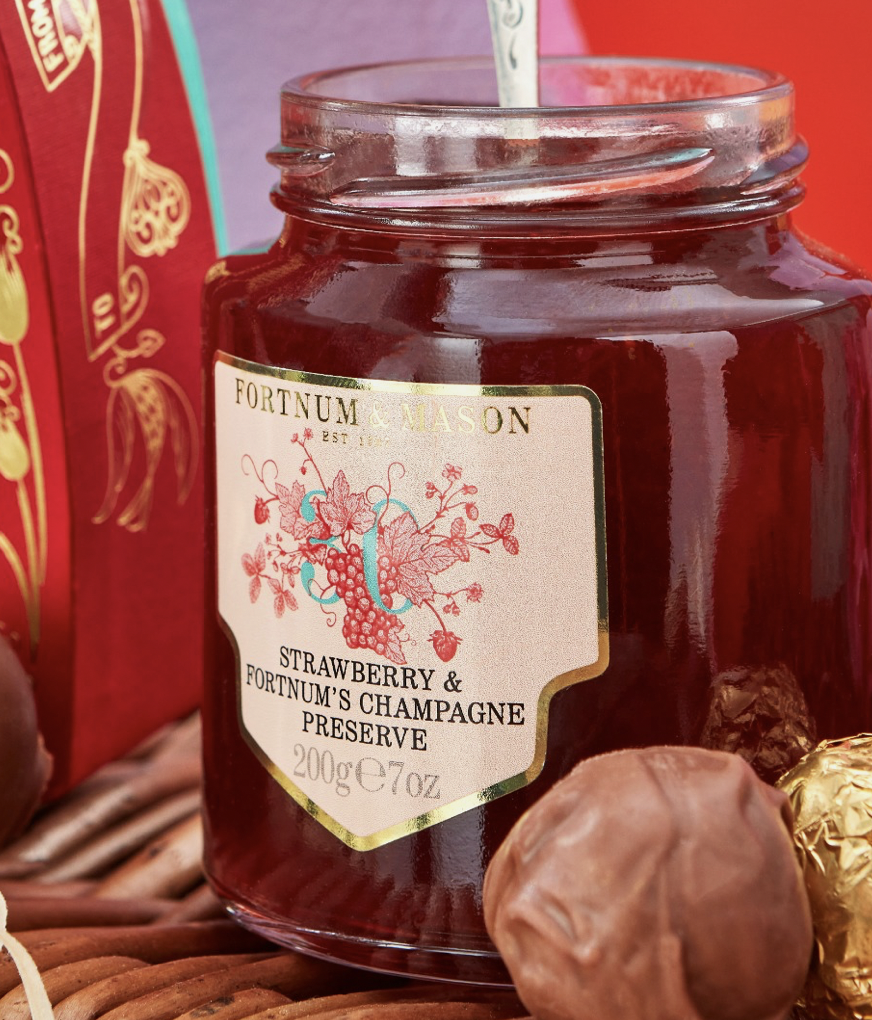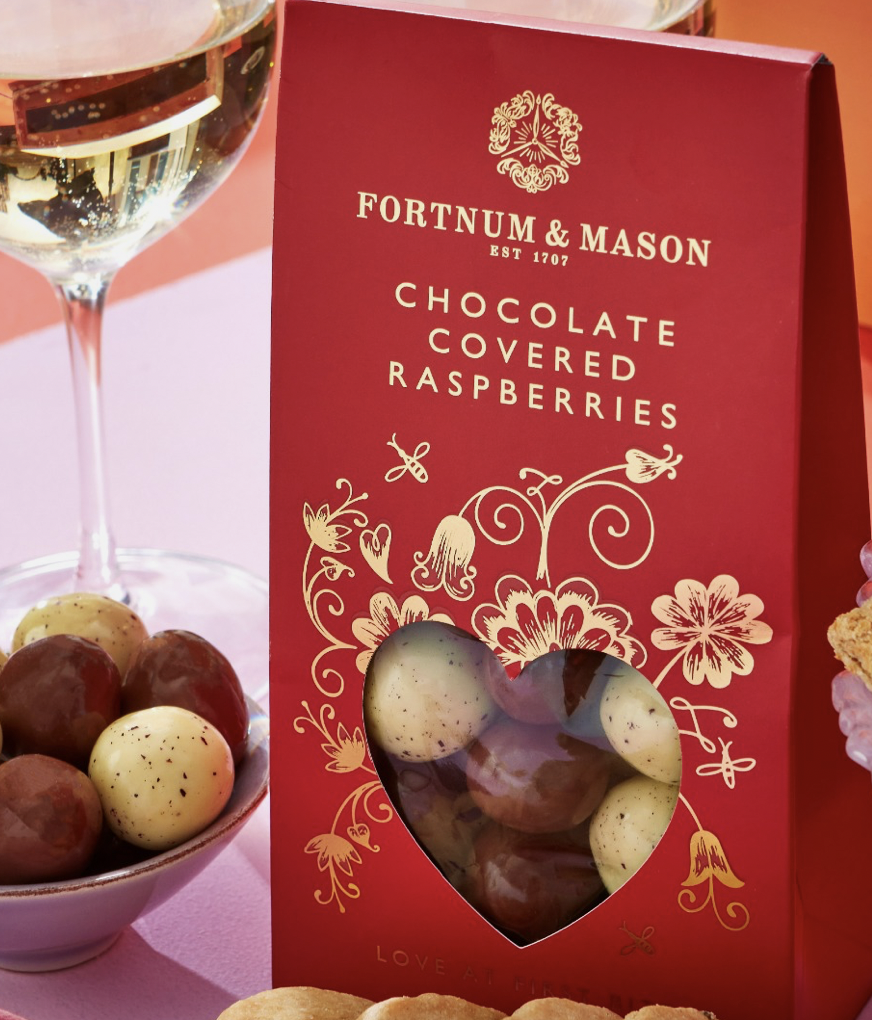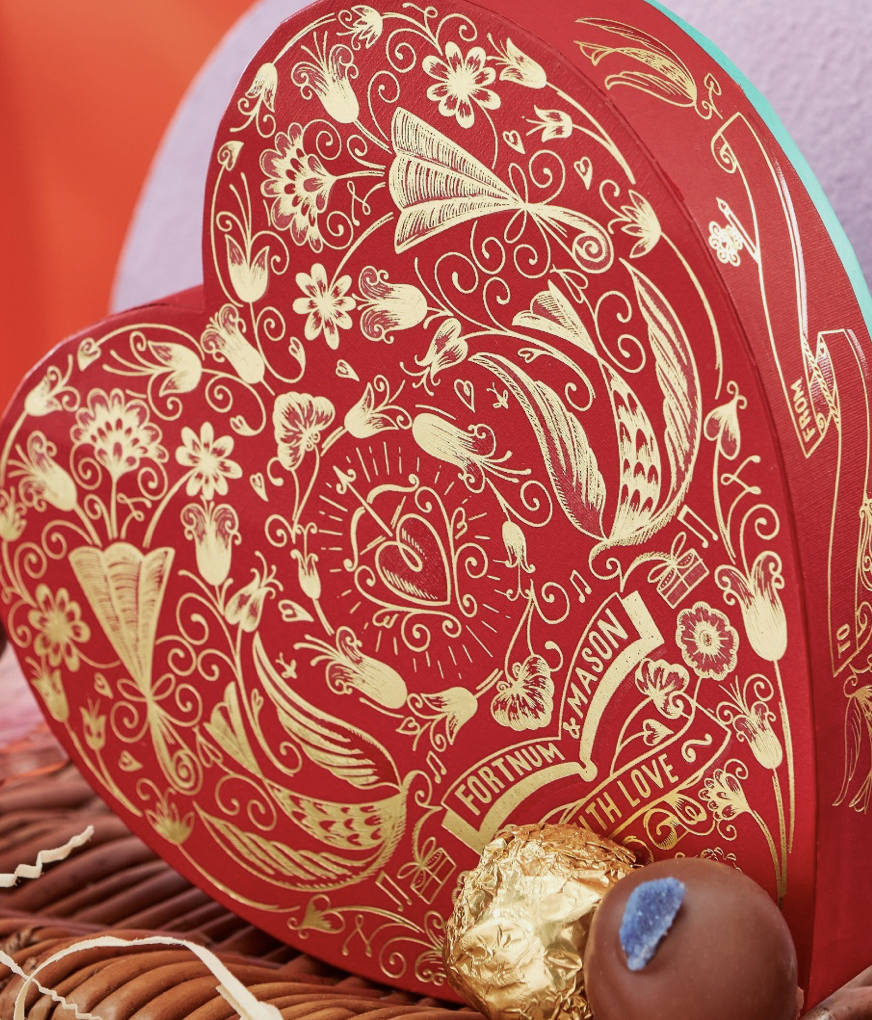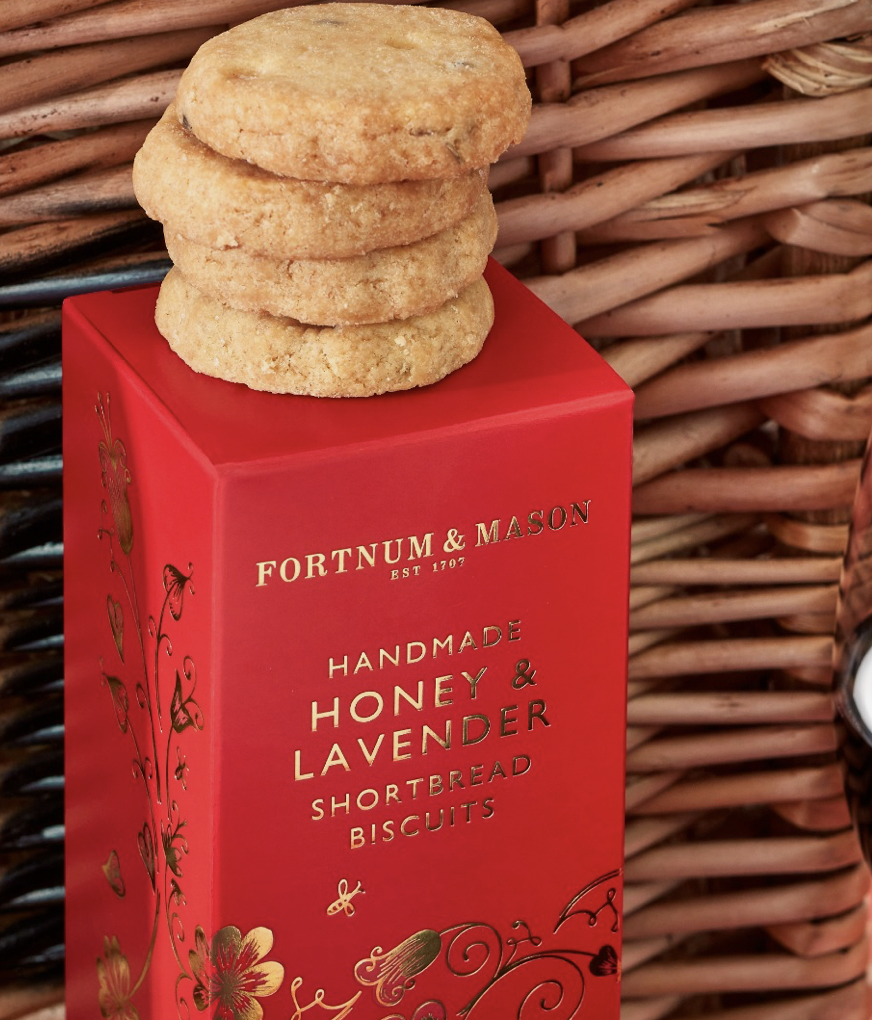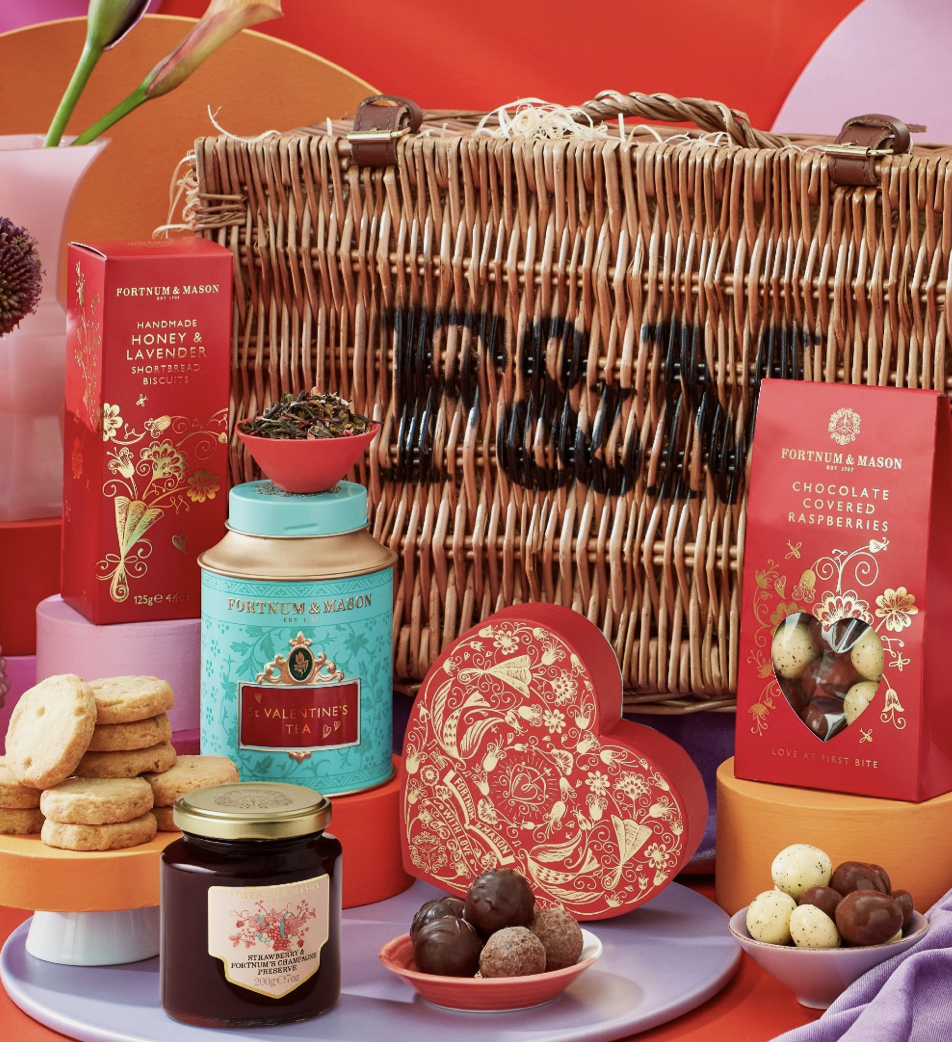 FORTNUM & MASON The Lovestruck Hamper
Description
FORTNUM & MASON The Lovestruck Hamper
Inside this hamper lies everything required to dazzle your significant other this Valentine's Day. Packed with all manner of delights – from jars of our sweetest preserves to chocolates for nibbling and teas for sipping – this wicker is fully packed and ready to woo.
Peek inside this wicker-bound work of Valentine's wonder to discover our sweetest and most chocolatey treats. Starting with our fragrant and delicate Valentine's Tea – the perfect morning pick-me-up. Of course, there's no tea without dunking, so we've packed in our Valentine's Scottish Heather Honey & Lavender Shortbread – buttery, crumbly goodness fused with deliciously light honey and lavender.
Speaking of deliciousness, discover a jar of our Strawberry & Rose Preserve for an extra sweet treat. Certain to get hearts beating and appetites whetted, this hamper is completed with our heart-shaped Vegan Truffles and Valentine's Chocolate Coated Raspberries – a truly decadent mix of rose petal white chocolate and rich milk chocolate enrobed freeze-dried fruits.
| Winner Name | Ticket Number | Draw Date |
| --- | --- | --- |
| Roxanne Hancox | 150 | 25/01/2023 |
| Ticket Number | Date | Name |
| --- | --- | --- |
| 1 | 2023-01-25 17:10:10 | N C |
| 2 | 2023-01-25 19:00:57 | Patricia Clarkson |
| 3 | 2023-01-21 23:41:50 | Mali Taylor-Powell |
| 4 | 2023-01-24 21:40:57 | Sarah Kallmeier |
| 5 | 2023-01-25 11:29:27 | Suzanne Oliver |
| 6 | 2023-01-25 16:12:18 | Hayley Jackson |
| 7 | 2023-01-25 14:23:37 | Claire dipple |
| 8 | 2023-01-25 17:10:10 | N C |
| 9 | 2023-01-25 17:10:10 | N C |
| 10 | 2023-01-25 16:30:30 | Katarina Pennington |
| 11 | 2023-01-22 17:23:35 | Sophie Richardson |
| 12 | 2023-01-22 04:31:26 | Rebecca Wood |
| 13 | 2023-01-18 18:52:16 | Dawn Barnes |
| 14 | 2023-01-24 20:58:02 | Martyna Jaglowska |
| 15 | 2023-01-25 20:08:10 | Hadleigh Winsor |
| 16 | 2023-01-25 20:06:46 | Rachel Dineen |
| 17 | 2023-01-25 20:19:43 | Mark Winter |
| 18 | 2023-01-25 09:19:46 | Amanda Moore |
| 19 | 2023-01-25 08:03:14 | Samantha Head |
| 20 | 2023-01-25 20:17:04 | Aim P |
| 21 | 2023-01-25 14:06:38 | Lisa Roberts |
| 22 | 2023-01-25 11:29:27 | Suzanne Oliver |
| 23 | 2023-01-25 08:38:12 | Nikki Chrysanthou |
| 24 | 2023-01-25 10:03:38 | Emma Louise |
| 25 | 2023-01-25 19:00:57 | Patricia Clarkson |
| 26 | 2023-01-25 14:37:35 | Emma & lee |
| 27 | 2023-01-25 20:06:46 | Rachel Dineen |
| 28 | 2023-01-25 20:17:04 | Aim P |
| 29 | 2023-01-25 20:24:18 | Victoria Porter |
| 30 | 2023-01-19 19:30:50 | Phil Gaudin |
| 31 | 2023-01-25 14:23:37 | Claire dipple |
| 32 | 2023-01-25 19:00:57 | Patricia Clarkson |
| 33 | 2023-01-25 20:24:18 | Victoria Porter |
| 34 | 2023-01-25 11:29:27 | Suzanne Oliver |
| 36 | 2023-01-25 19:00:57 | Patricia Clarkson |
| 38 | 2023-01-25 07:48:28 | Emma Ormrod |
| 40 | 2023-01-25 20:30:58 | Jill Higham |
| 41 | 2023-01-24 22:10:33 | Emma White |
| 42 | 2023-01-25 20:42:56 | Jenny King |
| 43 | 2023-01-25 20:08:10 | Hadleigh Winsor |
| 44 | 2023-01-21 15:49:58 | Sarah Thompson-Lowe |
| 47 | 2023-01-25 20:05:38 | Jayne Back |
| 50 | 2023-01-25 20:07:26 | Sarah Hughes |
| 51 | 2023-01-25 18:14:29 | Justin Lashley |
| 52 | 2023-01-18 22:17:26 | rachel barnes |
| 54 | 2023-01-25 20:09:49 | Grace Birchill-Studdy |
| 55 | 2023-01-25 20:17:04 | Aim P |
| 56 | 2023-01-24 15:50:54 | Jackie Dyer |
| 57 | 2023-01-25 20:49:24 | Chris Carr |
| 58 | 2023-01-24 20:58:02 | Martyna Jaglowska |
| 59 | 2023-01-22 12:41:03 | Michelle Soanes |
| 62 | 2023-01-25 20:18:27 | Erin Rogers |
| 64 | 2023-01-23 12:22:13 | Georgie Turner |
| 66 | 2023-01-25 19:33:44 | Amy Horrell |
| 68 | 2023-01-24 20:58:02 | Martyna Jaglowska |
| 71 | 2023-01-23 12:11:43 | phyllis steer |
| 72 | 2023-01-25 20:18:27 | Erin Rogers |
| 73 | 2023-01-23 20:21:43 | Natalie J Clark |
| 76 | 2023-01-25 20:24:18 | Victoria Porter |
| 77 | 2023-01-25 16:39:57 | Ian Anslow |
| 79 | 2023-01-24 23:43:02 | Ewan Robertson |
| 80 | 2023-01-25 20:49:24 | Chris Carr |
| 81 | 2023-01-25 20:42:56 | Jenny King |
| 82 | 2023-01-25 20:59:21 | Jolene Collings |
| 84 | 2023-01-25 20:24:18 | Victoria Porter |
| 85 | 2023-01-18 22:38:45 | Jaque Shackleton |
| 86 | 2023-01-25 20:24:18 | Victoria Porter |
| 87 | 2023-01-25 20:23:48 | Stacie Marie |
| 88 | 2023-01-18 20:40:06 | Lauren Rigby |
| 89 | 2023-01-18 20:45:31 | Julie Cleave |
| 90 | 2023-01-23 21:38:54 | Lisa Howard |
| 91 | 2023-01-24 20:58:02 | Martyna Jaglowska |
| 92 | 2023-01-25 19:53:42 | Victoria Brown |
| 93 | 2023-01-18 23:00:37 | Oliver Narramore |
| 98 | 2023-01-25 20:24:19 | Kate Robinson |
| 99 | 2023-01-25 20:06:46 | Rachel Dineen |
| 101 | 2023-01-24 21:40:57 | Sarah Kallmeier |
| 103 | 2023-01-22 17:23:35 | Sophie Richardson |
| 104 | 2023-01-25 19:53:59 | Alex Parrott |
| 105 | 2023-01-25 20:19:43 | Mark Winter |
| 107 | 2023-01-25 19:32:22 | Michelle Fewings |
| 108 | 2023-01-25 08:38:12 | Nikki Chrysanthou |
| 110 | 2023-01-25 17:38:06 | Daniel Dennis |