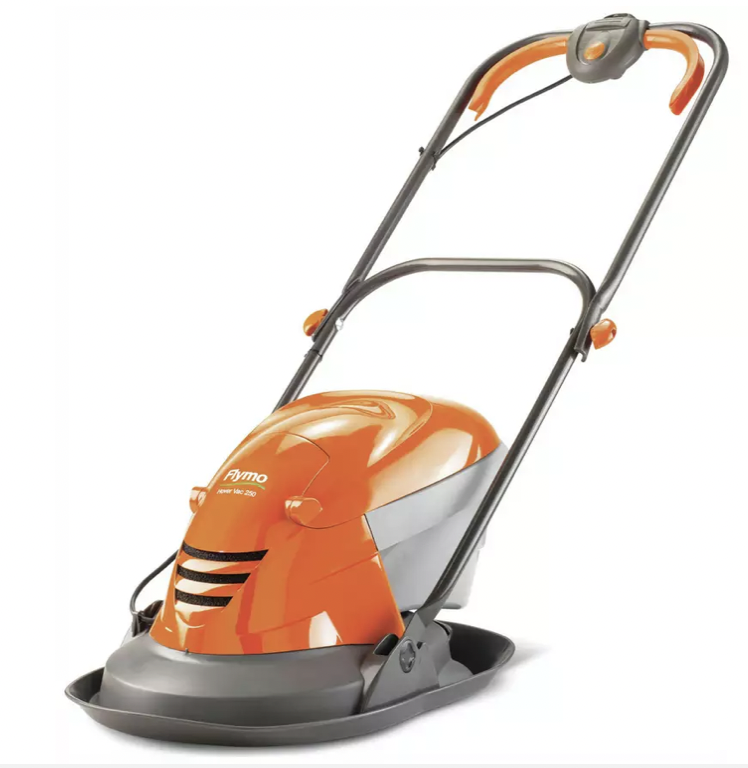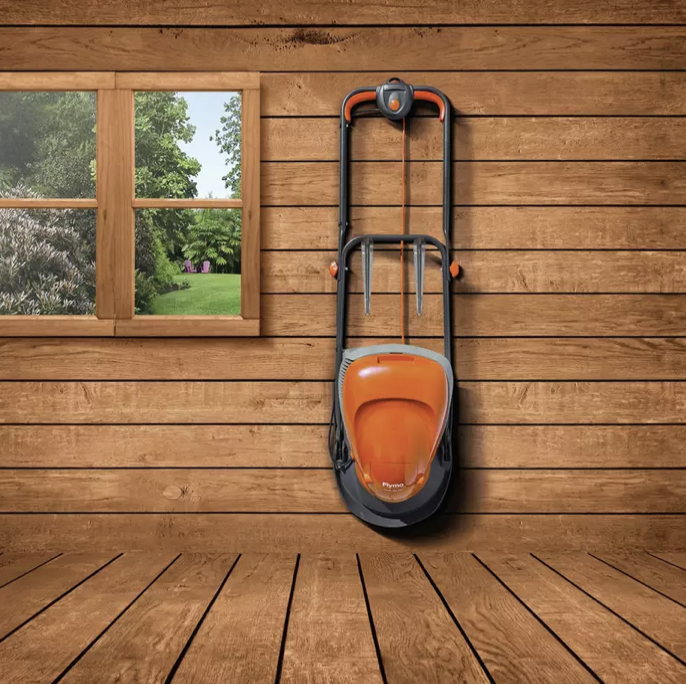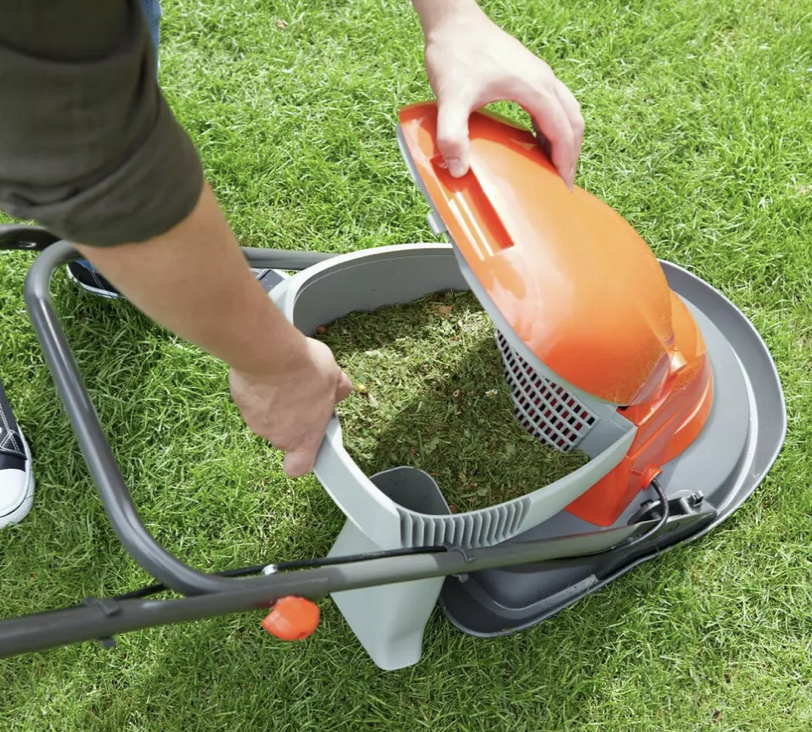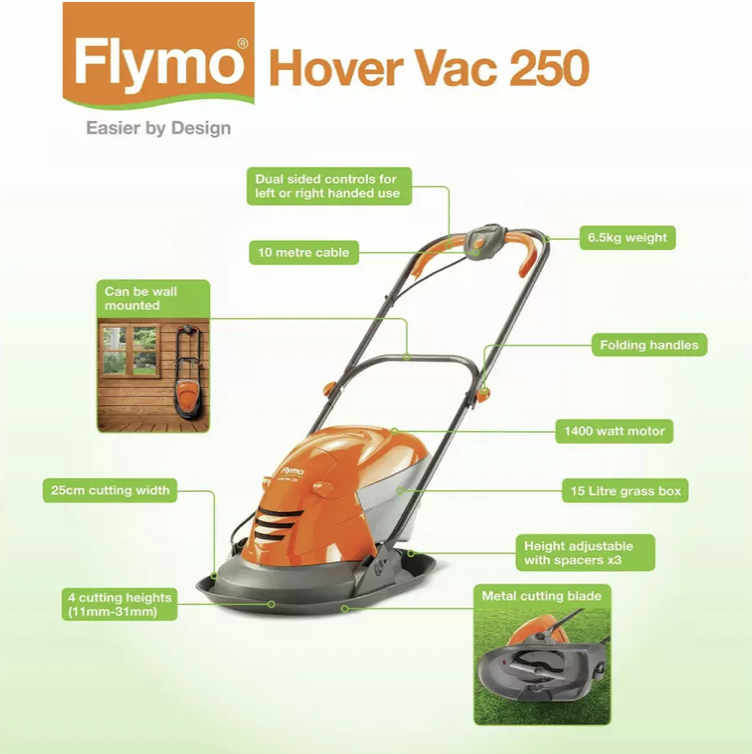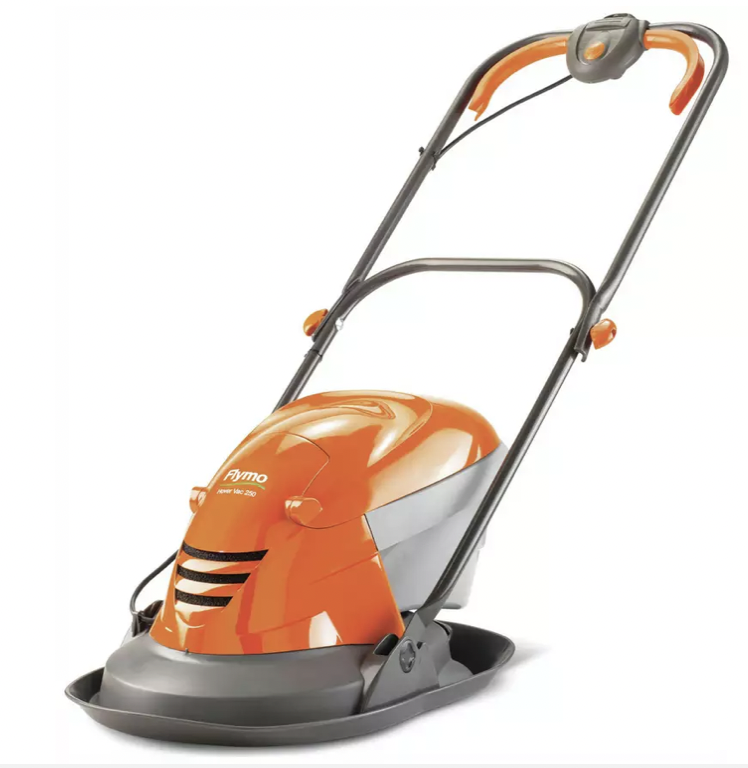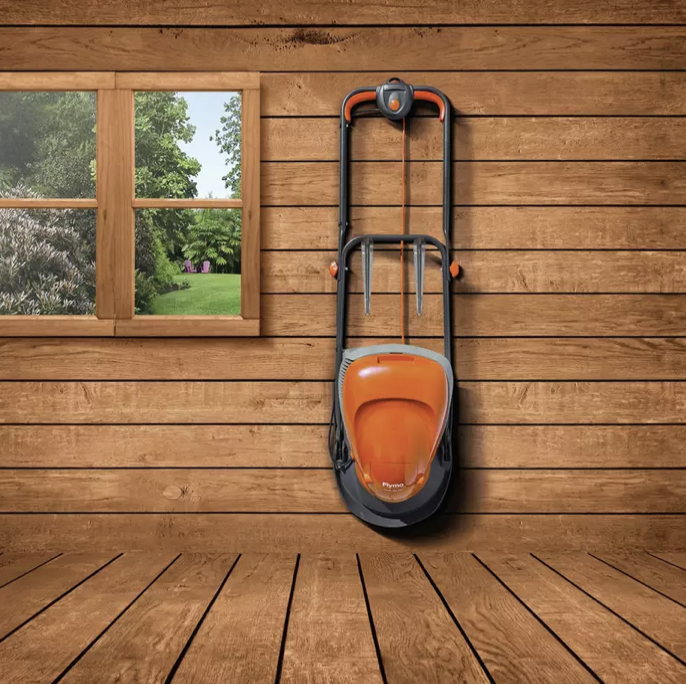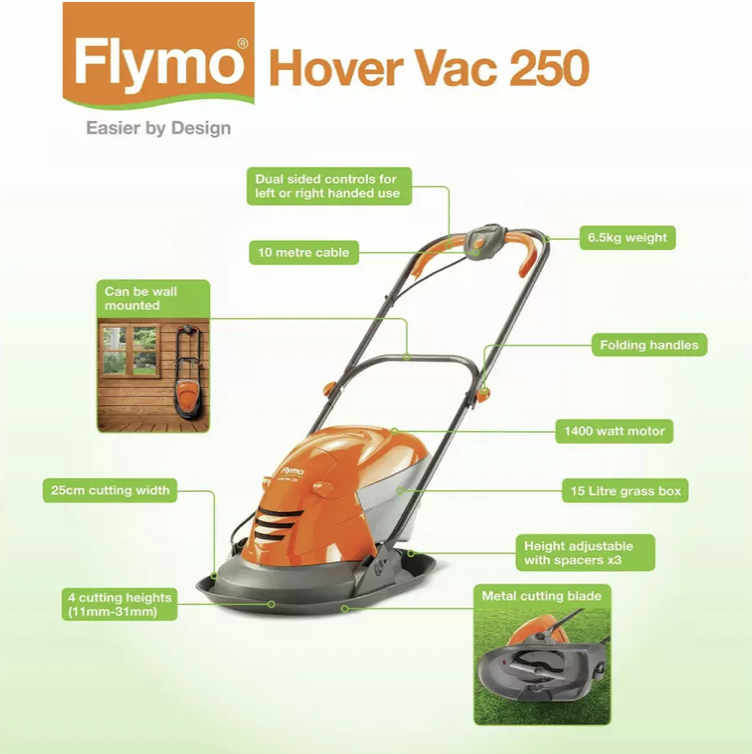 Flymo Hover Vac 250 25cm Collect Lawnmower – 1400W – 21/03
Description
Flymo Hover Vac 250 25cm Collect Lawnmower – 1400W – 21/03
This lightweight mower is perfect for small gardens. It floats on a cushion of air, meaning you won't struggle pushing it up and down the garden. Powered from the mains you won't have to worry about refuelling or recharging it. It has a 10m power cable and a safety switch. It's got three cutting heights (from 1cm to 3cm) so you can choose the perfect length for your lawn.
Grass is collected and compacted in an easy-to-empty 15 litre box. And, when you're done, the handles fold down making the mower smaller and easier to store.
Lawnmower features:
Corded or cordless: corded.
1400 watt electric hover motor.
Metal blade.
25cm blade width.
3 cutting heights.
Cutting heights ranging from 1cm-3cm.
15L grass collection capacity.
10m power cable.
Safety switch.
General information:
| Winner Name | Ticket Number | Draw Date |
| --- | --- | --- |
| Lisa Burgess | 51 | 21/03/2023 |
| Ticket Number | Date | Name |
| --- | --- | --- |
| 1 | 2023-03-21 16:03:20 | Amber Ley |
| 2 | 2023-03-21 14:14:39 | jeanette rich |
| 3 | 2023-03-21 19:06:33 | Helen Cottrell |
| 5 | 2023-03-21 20:55:25 | Fay Lees |
| 6 | 2023-03-21 17:04:18 | Amber Ley |
| 7 | 2023-03-21 07:58:23 | Tina Joyce |
| 8 | 2023-03-21 19:24:58 | Julie Webb |
| 9 | 2023-03-21 13:21:11 | Katharine Petherick |
| 12 | 2023-03-21 19:24:58 | Julie Webb |
| 13 | 2023-03-21 14:14:39 | jeanette rich |
| 14 | 2023-03-17 01:26:58 | Jenna Daniels |
| 17 | 2023-03-21 19:24:29 | Alan Underhill |
| 18 | 2023-03-21 09:13:01 | Ashley Commins |
| 20 | 2023-03-21 07:45:51 | David Fitzsimmons |
| 24 | 2023-03-19 12:20:16 | Paula Vinnicombe |
| 25 | 2023-03-21 19:28:56 | Lisa Burgess |
| 26 | 2023-03-21 15:24:05 | Marilyn Booth |
| 27 | 2023-03-21 19:24:58 | Julie Webb |
| 28 | 2023-03-21 16:54:30 | Ann Herd |
| 32 | 2023-03-21 19:06:33 | Helen Cottrell |
| 34 | 2023-03-21 19:02:51 | Wendy Thompsett |
| 37 | 2023-03-21 07:58:23 | Tina Joyce |
| 40 | 2023-03-21 07:45:51 | David Fitzsimmons |
| 42 | 2023-03-21 13:21:11 | Katharine Petherick |
| 45 | 2023-03-21 20:55:25 | Fay Lees |
| 49 | 2023-03-21 19:28:56 | Lisa Burgess |
| 51 | 2023-03-21 19:28:56 | Lisa Burgess |
| 54 | 2023-03-21 20:30:32 | Roseanna Cobley |
| 59 | 2023-03-18 08:59:42 | Ann Chase |
| 60 | 2023-03-21 07:45:51 | David Fitzsimmons |
| 61 | 2023-03-21 14:34:00 | Adam Cheeseworth |
| 66 | 2023-03-21 20:08:59 | Kevin Lovell |
| 67 | 2023-03-21 13:21:11 | Katharine Petherick |
| 68 | 2023-03-21 20:55:25 | Fay Lees |
| 70 | 2023-03-21 20:55:25 | Fay Lees |
| 71 | 2023-03-21 19:28:44 | Nicola pugh |
| 72 | 2023-03-20 20:14:23 | Shelly Edwards |
| 74 | 2023-03-21 20:21:22 | Sam Fitzsimmons |
| 75 | 2023-03-21 19:28:56 | Lisa Burgess |
| 80 | 2023-03-21 07:45:51 | David Fitzsimmons |
| 81 | 2023-03-21 14:44:04 | Devon Moxon |
| 83 | 2023-03-17 20:39:56 | Daniel Andrews |
| 87 | 2023-03-21 20:19:00 | Andrew Fielder |
| 88 | 2023-03-21 20:32:31 | Lau X |
| 89 | 2023-03-21 18:28:12 | Tracy Mills |
| 90 | 2023-03-21 20:16:40 | Matt Campbell |
| 91 | 2023-03-20 22:27:24 | Gary King |
| 92 | 2023-03-21 16:01:47 | Claire French |
| 93 | 2023-03-21 14:26:12 | Carl Hoare |
| 97 | 2023-03-21 20:48:52 | Chelsie Smith |
| 100 | 2023-03-21 07:45:51 | David Fitzsimmons |