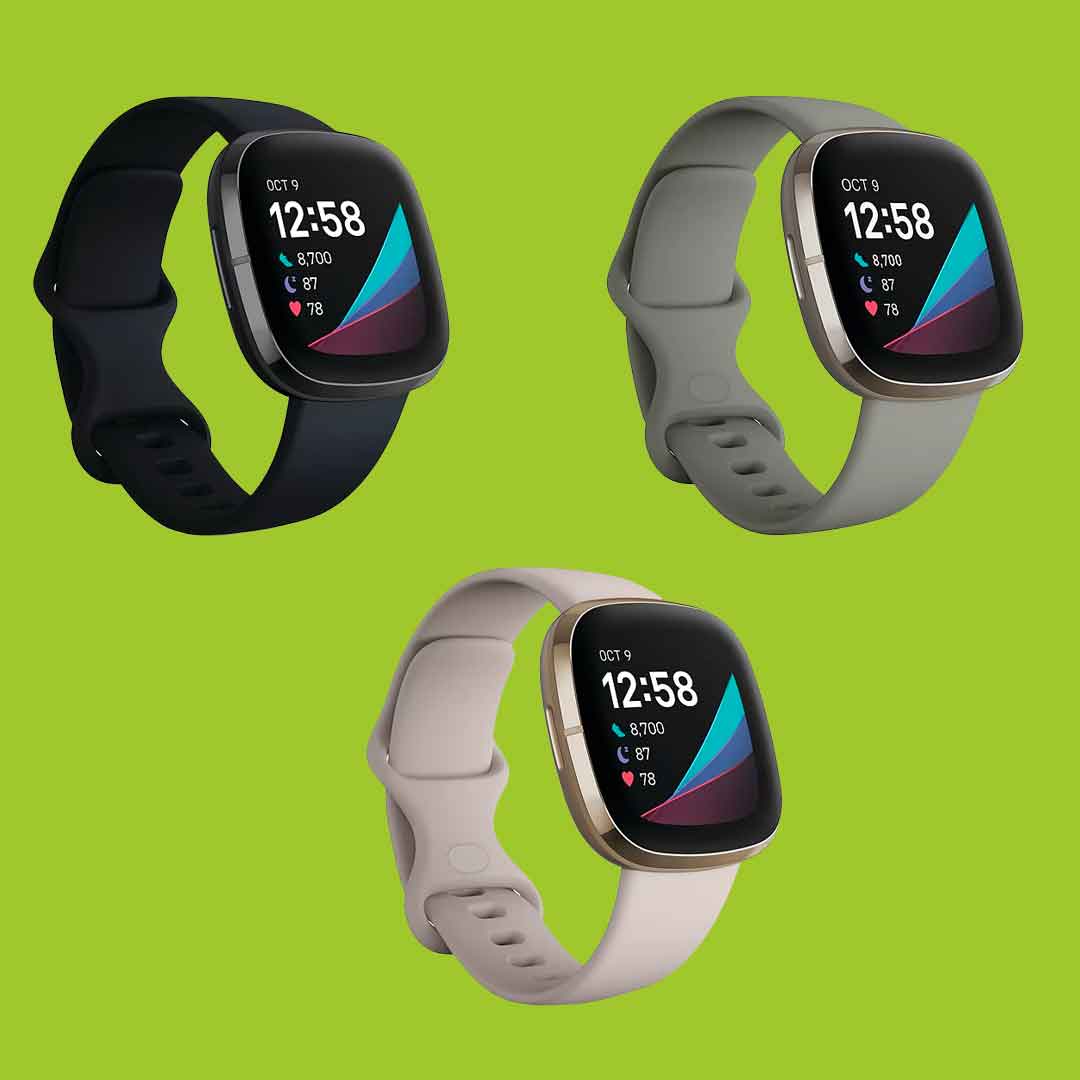 Fitbit Sense
Description
Fitbit Sense, Health and Fitness Watch with Heart Rate Monitor,
Created with a biosensor core to help you tune into your body, Fitbit Sense is able to track your stress levels and offer useful guidance, provide heart rate notifications, analyse your skin temperature, as well as track your sleep patterns. You even have access to voice assistants to help your day pass more smoothly.
Fitbit Premium
Track your activity, heart rate and sleep, and receive personalised insights via the Fitbit Premium app (subscription required).
Voice assistants
Check the weather, set reminders, get on-screen answers to your questions and more, thanks to either Google or Amazon's voice assistants.
Built-in GPS
Discover more about your hikes and runs thanks to the Fitbit Sense's built-in GPS.
Stay in contact
If you have a compatible mobile, you're able to take calls and receive texts, as well as smartphone app notifications when your phone is nearby. You're even able to send quick text messages and voice replies (compatible Android devices only).
On-screen coaching
Start dynamic personal coaching, complete with on-screen guidance during every move and routines that adapt based on your feedback. Get a better understanding of your fitness level and learn how you can improve over time.
Sleep stages
Get help improving your sleeping habits, as well as investigating your time spent in light, deep and REM sleep.
Heart Rate (HR)
Track your resting heart rate and receive a notification alert you if yours seems above or below your average.
Jog on
With built-in GPS and up to 6 days of battery life, you can concentrate on working out, rather than route checking or powering up.
Winner selects the colour
| Winner Name | Ticket Number | Draw Date |
| --- | --- | --- |
| Teresa Mitchell | 120 | 20/04/2022 |
1-40
41-80
81-120
121-160
161-200
201-240
241-280
281-320
321-360
361-400
| Ticket Number | Date | Name |
| --- | --- | --- |
| 1 | 2022-04-13 22:17:26 | Suzi Gooding |
| 2 | 2022-04-13 22:17:26 | Suzi Gooding |
| 3 | 2022-04-18 22:21:06 | Wendy Bailey |
| 4 | 2022-04-15 08:27:38 | Tracey Lear |
| 6 | 2022-04-14 14:42:55 | Joanne Martin |
| 7 | 2022-04-13 22:17:26 | Suzi Gooding |
| 9 | 2022-04-20 14:29:03 | Amanda Sullivan |
| 10 | 2022-04-17 09:25:01 | Debbie Rhodes |
| 11 | 2022-04-15 08:27:38 | Tracey Lear |
| 12 | 2022-04-20 14:29:03 | Amanda Sullivan |
| 13 | 2022-04-13 22:17:26 | Suzi Gooding |
| 14 | 2022-04-20 20:35:30 | Sharon Hobday |
| 16 | 2022-04-20 07:49:18 | Danielle Hooper |
| 18 | 2022-04-20 17:59:51 | Amanda Sullivan |
| 20 | 2022-04-14 12:33:47 | G B |
| 21 | 2022-04-13 19:58:14 | Rachael Dummett |
| 22 | 2022-04-20 20:29:21 | Sophie Noble-Gloyn |
| 23 | 2022-04-13 22:17:26 | Suzi Gooding |
| 24 | 2022-04-20 07:31:40 | Tracy Cramond |
| 25 | 2022-04-13 21:41:03 | Karen Larder |
| 29 | 2022-04-20 20:07:00 | Danielle Cronin |
| 30 | 2022-04-20 20:38:50 | Amanda Sullivan |
| 31 | 2022-04-20 20:32:11 | Kelly Reed |
| 34 | 2022-04-19 20:04:12 | Mandy Smith |
| 35 | 2022-04-16 22:27:40 | Ben Melsome |
| 37 | 2022-04-16 09:46:51 | Joanna Brailsford-Dunn |
| 40 | 2022-04-20 14:05:19 | W A |