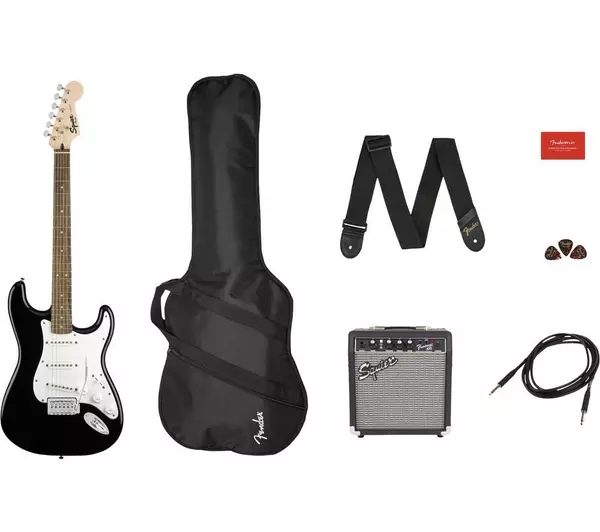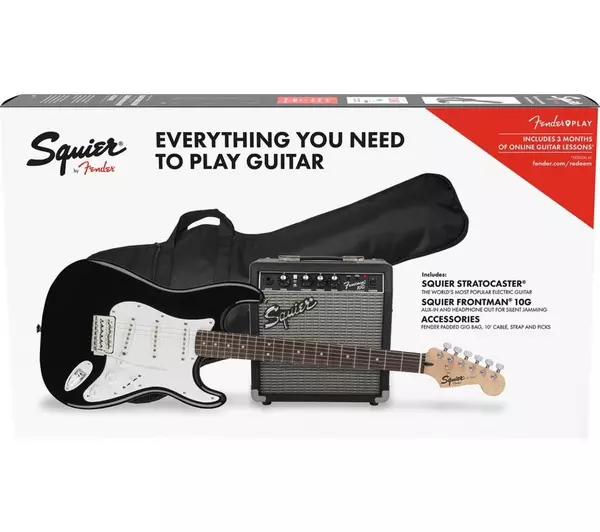 FENDER Squier Stratocaster Electric Guitar Bundle – Black & White
Description
The Fender Squier Stratocaster Electric Guitar Bundle includes everything you need to start playing. There's an amp, guitar case, cable, strap and picks.
The classic Fender ST electric guitar is made of hard poplar wood for that signature Stratocaster sound guitarists love.
The included 10 W amplifier is ideal for small venues or your practice time.
| Winner Name | Ticket Number | Draw Date |
| --- | --- | --- |
| Susan Y | 89 | 16/05/2022 |
| Ticket Number | Date | Name |
| --- | --- | --- |
| 3 | 2022-05-16 14:26:53 | Denise Kennedy |
| 4 | 2022-05-16 17:26:53 | Tia potter |
| 5 | 2022-05-16 18:00:34 | Christopher Youlden |
| 6 | 2022-05-14 13:34:47 | Kenneth Wilkins |
| 8 | 2022-05-14 11:15:32 | Kevin Hayes |
| 9 | 2022-05-14 13:45:30 | Dudley Chaplin |
| 10 | 2022-05-16 13:22:38 | jemma Vooght |
| 11 | 2022-05-16 13:41:26 | Neil Morris |
| 12 | 2022-05-16 12:20:24 | Rebecca Wood |
| 13 | 2022-05-14 17:01:52 | Rachel Oakley |
| 14 | 2022-05-16 16:09:00 | Vikki Forward |
| 15 | 2022-05-16 18:53:21 | Mathew Whitney |
| 18 | 2022-05-16 19:37:29 | Matthew Wotton |
| 19 | 2022-05-13 10:50:10 | Roz Hunt |
| 20 | 2022-05-16 20:22:45 | Andrew Stockley |
| 21 | 2022-05-16 18:49:55 | Lisa Roberts |
| 22 | 2022-05-16 14:26:53 | Denise Kennedy |
| 23 | 2022-05-15 19:31:02 | Denise Kennedy |
| 24 | 2022-05-13 08:30:21 | Lawrence Purdie |
| 26 | 2022-05-16 16:20:55 | Raymond Burgess |
| 27 | 2022-05-16 16:09:00 | Vikki Forward |
| 28 | 2022-05-16 19:35:48 | Chloe Rabone |
| 30 | 2022-05-16 13:41:26 | Neil Morris |
| 31 | 2022-05-16 18:57:26 | Courtney Edgecombe |
| 33 | 2022-05-16 12:48:12 | Samantha Sedgbeer |
| 34 | 2022-05-16 18:59:39 | Leah Gove |
| 38 | 2022-05-16 20:22:45 | Joanne Lane |
| 39 | 2022-05-16 18:39:39 | Luke Jarvis |
| 41 | 2022-05-16 20:22:01 | Kelly Hallett |
| 44 | 2022-05-16 19:59:40 | Kiola Smith |
| 47 | 2022-05-14 11:53:53 | Marc Jones |
| 49 | 2022-05-16 16:28:18 | Jodie Ellis |
| 50 | 2022-05-16 19:26:55 | Tia potter |
| 51 | 2022-05-16 19:16:04 | Debbie Jones |
| 52 | 2022-05-16 19:16:04 | Debbie Jones |
| 54 | 2022-05-16 17:32:21 | Amanda Gardner |
| 55 | 2022-05-16 13:26:32 | Ashley Bloomfield |
| 59 | 2022-05-16 20:44:18 | Simon Mansfield |
| 61 | 2022-05-16 19:16:04 | Debbie Jones |
| 62 | 2022-05-16 20:22:45 | Andrew Stockley |
| 63 | 2022-05-14 17:01:52 | Rachel Oakley |
| 68 | 2022-05-14 21:31:33 | Holly Ring |
| 69 | 2022-05-16 17:32:21 | Amanda Gardner |
| 71 | 2022-05-14 08:33:46 | Jordan Shaw |
| 72 | 2022-05-16 19:26:55 | Tia potter |
| 73 | 2022-05-16 19:35:48 | Chloe Rabone |
| 74 | 2022-05-16 20:28:02 | Darren Willis |
| 75 | 2022-05-16 19:39:36 | Elaine Lewis |
| 76 | 2022-05-16 20:22:45 | Andrew Stockley |
| 78 | 2022-05-16 11:29:59 | Kayleigh Leicester |
| 80 | 2022-05-16 19:39:56 | Leah Borrowdale |
| 81 | 2022-05-14 11:53:53 | Marc Jones |
| 82 | 2022-05-16 18:42:20 | Chris Martin |
| 83 | 2022-05-16 17:26:53 | Tia potter |
| 84 | 2022-05-16 20:15:18 | Stevielee Moseley |
| 85 | 2022-05-16 16:29:13 | Lekel North |
| 87 | 2022-05-16 20:44:18 | Simon Mansfield |
| 88 | 2022-05-15 18:27:30 | Tanya Bridger |
| 89 | 2022-05-16 18:31:48 | Susan Youlden |
| 91 | 2022-05-16 17:17:09 | Lenka Rowsell |
| 92 | 2022-05-16 08:00:54 | Deborah Talbot |
| 93 | 2022-05-16 13:18:12 | Debbie Jones |
| 94 | 2022-05-16 13:29:13 | Ashley Bloomfield |
| 96 | 2022-05-16 20:22:45 | Andrew Stockley |
| 97 | 2022-05-16 19:51:59 | Rebecca Cook |
| 98 | 2022-05-16 20:00:52 | carol smaller |