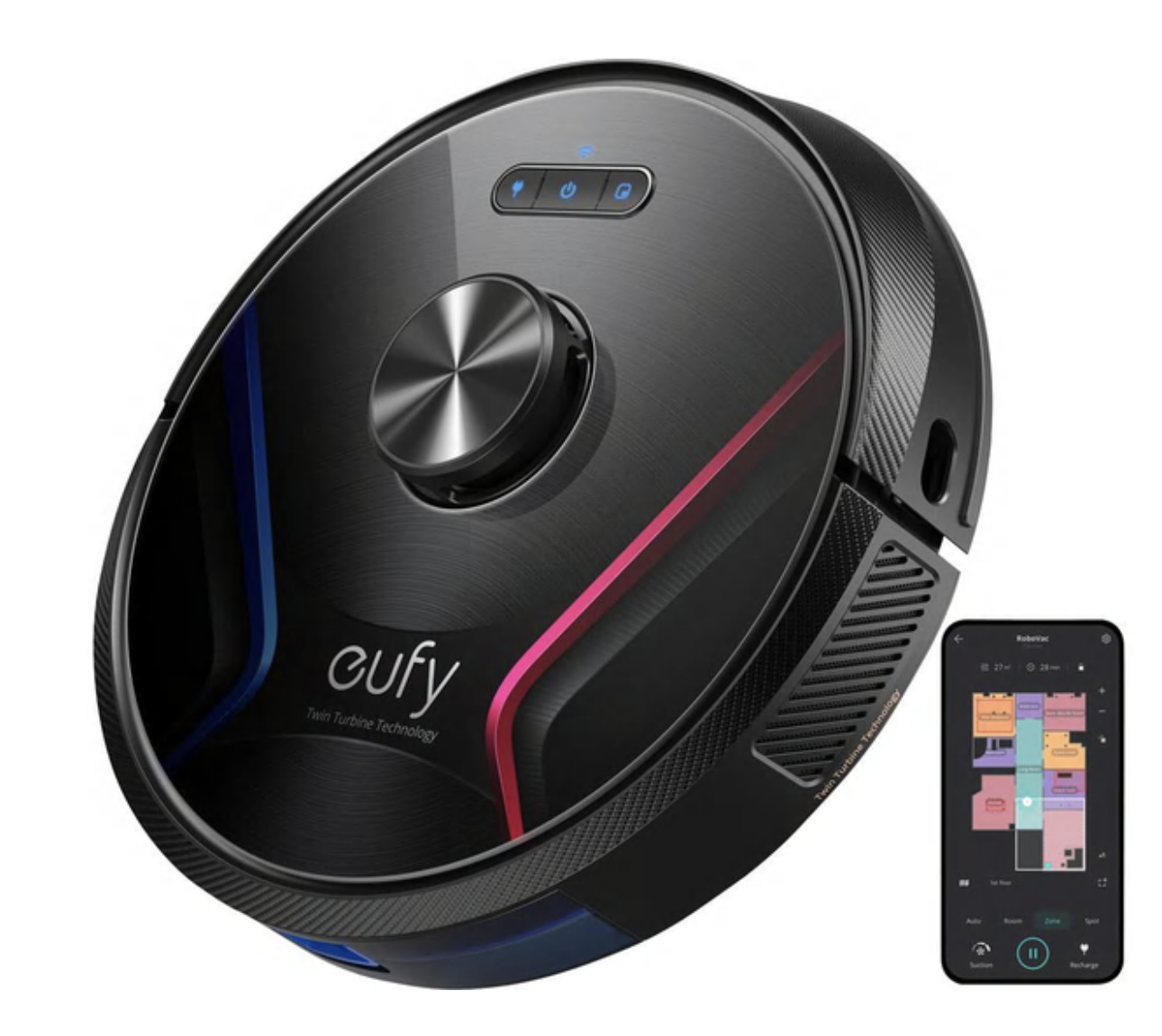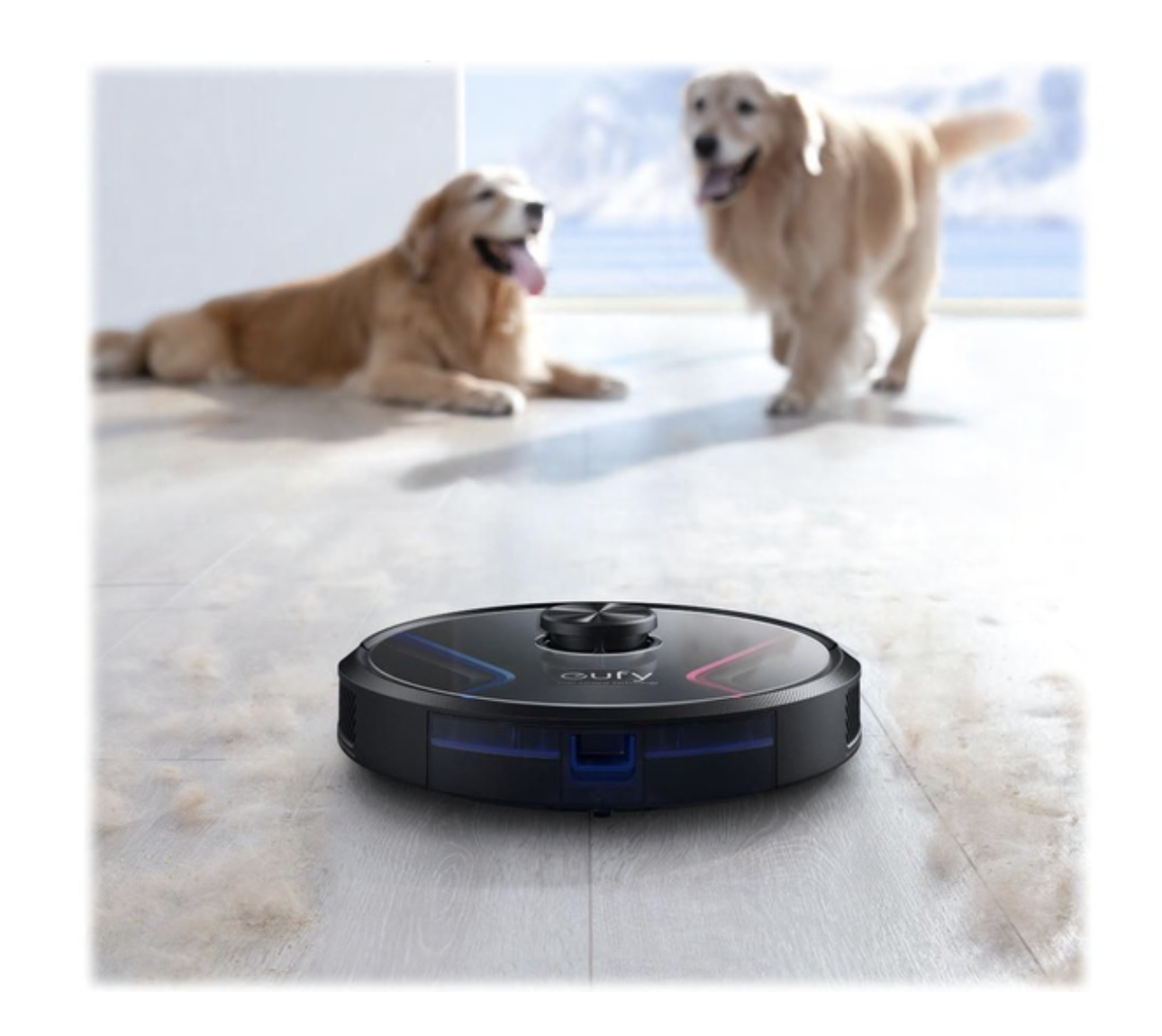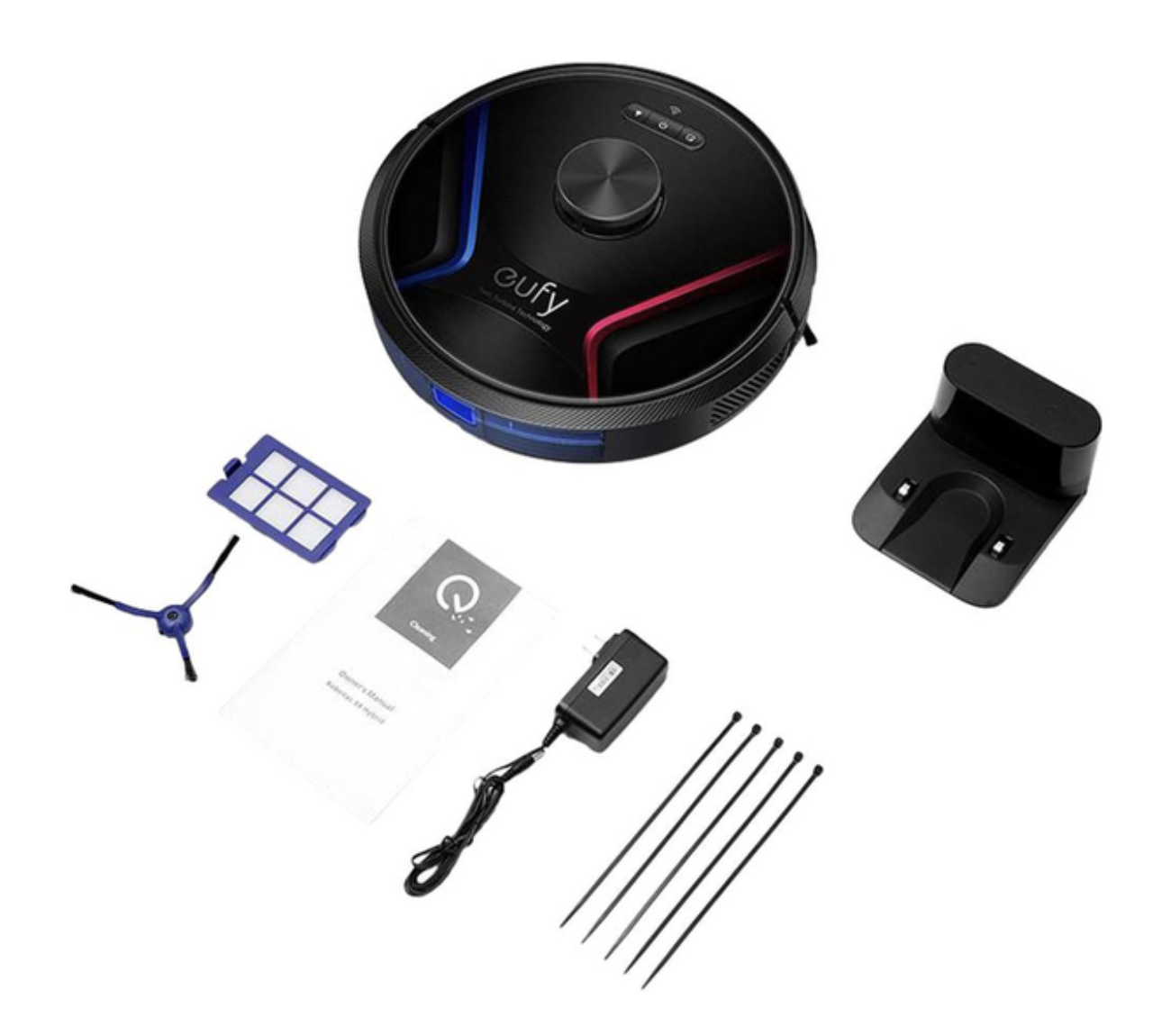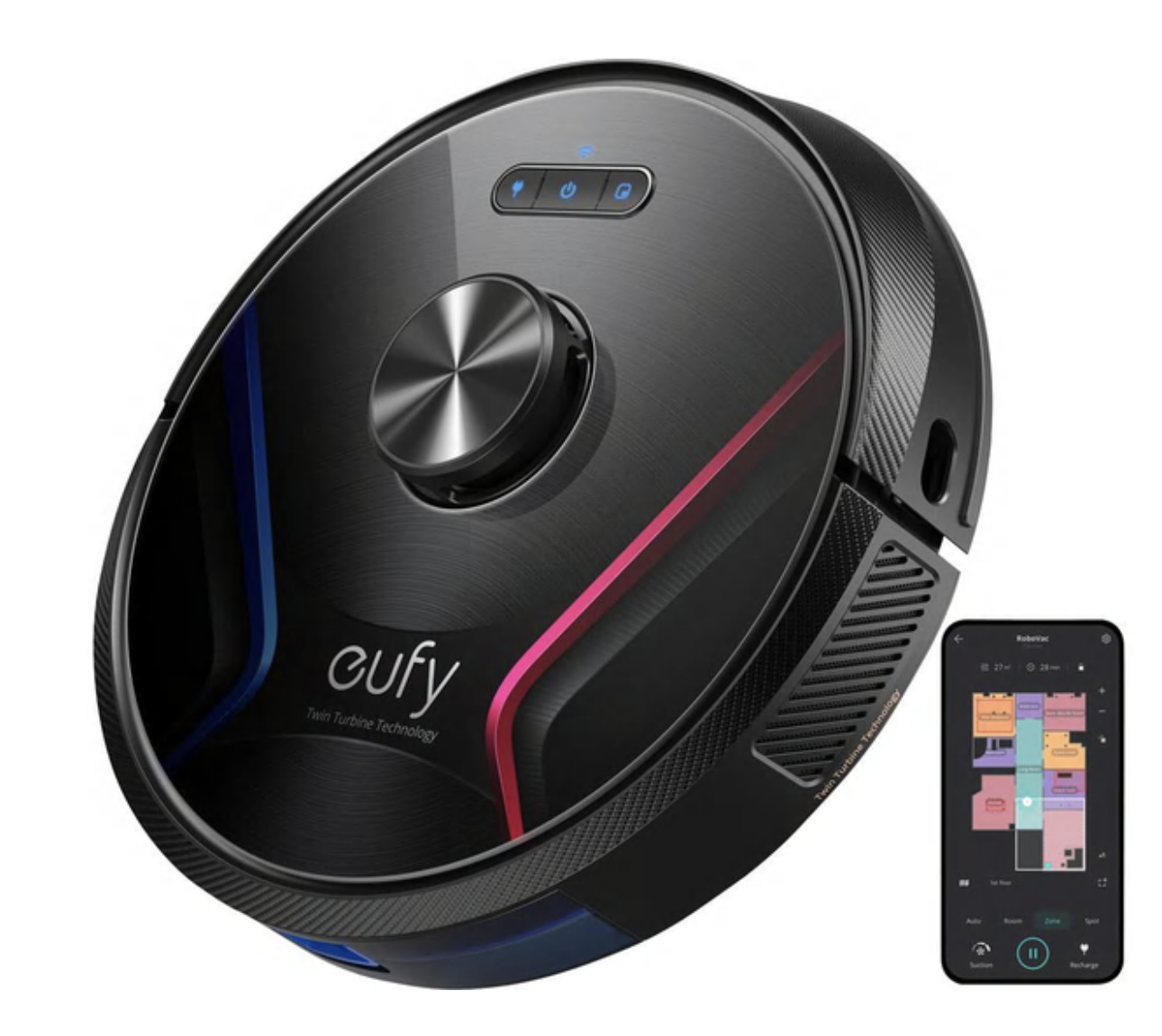 EUFY RoboVac X8 Robot Vacuum Cleaner – Black – 20/03
Description
EUFY RoboVac X8 Robot Vacuum Cleaner – Black – 20/03
Always ready to clean
Let the eufy RoboVac X8 Robot Vacuum Cleaner take care of the vacuuming for you. With the multiple cleaning modes you can rest easy while the vacuum thoroughly cleans your carpets and hard flooring for up to 180 minutes.
Ultra-strong suction
The robot is ideal to keep your house clean, especially if you share it with a four-legged friend. With powerful twin-turbine technology, it cleans your floor while getting rid of even the most stubborn pet hair. Plus, the ultrapack dust-compression technology helps you collect way more dust while emptying less often.
App control
Control the tasks through the app or a voice assistant right from your sofa. The AI Map 2.0 technology ensures the RoboVac X8 vacuums in the most efficient path. You can even set a cleaning schedule for vacuuming at a certain time.
| Winner Name | Ticket Number | Draw Date |
| --- | --- | --- |
| Georgia Brown | 201 | 20/03/2023 |
1-100
101-200
201-300
301-400
401-500
501-600
601-700
701-800
| Ticket Number | Date | Name |
| --- | --- | --- |
| 1 | 2023-03-20 12:51:01 | Lisa Chamberlain |
| 2 | 2023-03-20 14:07:30 | jeanette rich |
| 3 | 2023-03-16 18:40:08 | Claire Kuyuate |
| 4 | 2023-03-14 19:52:08 | Bren Last |
| 5 | 2023-03-19 10:45:51 | Sam King |
| 6 | 2023-03-20 13:34:06 | John Huteson |
| 7 | 2023-03-16 11:40:42 | Jackie Dean |
| 8 | 2023-03-17 10:14:23 | Helen Holloway |
| 9 | 2023-03-19 10:45:51 | Sam King |
| 10 | 2023-03-17 12:52:36 | Donna Sargeant |
| 11 | 2023-03-20 20:25:09 | Chloe Lee-Rivers |
| 12 | 2023-03-20 12:43:04 | Lewis Holmes |
| 13 | 2023-03-19 10:45:51 | Sam King |
| 14 | 2023-03-20 19:17:35 | Emma Roberts |
| 15 | 2023-03-20 20:36:22 | Deana Bristow |
| 16 | 2023-03-20 20:36:22 | Deana Bristow |
| 17 | 2023-03-20 16:48:57 | Mark Lowe |
| 18 | 2023-03-20 12:13:25 | Emma Dixon |
| 19 | 2023-03-20 17:09:58 | Kate Coley |
| 20 | 2023-03-14 18:40:58 | Gee Bee |
| 21 | 2023-03-14 16:34:28 | Lisa Roberts |
| 22 | 2023-03-20 14:29:33 | Emma & lee |
| 23 | 2023-03-20 13:18:52 | Nicola Last |
| 24 | 2023-03-20 15:02:47 | Gemma Lambeth |
| 25 | 2023-03-20 16:48:57 | Mark Lowe |
| 26 | 2023-03-19 10:45:51 | Sam King |
| 27 | 2023-03-19 10:45:51 | Sam King |
| 28 | 2023-03-20 20:52:56 | Kelsey Jary |
| 29 | 2023-03-20 16:33:40 | Emma White |
| 32 | 2023-03-19 10:45:51 | Sam King |
| 35 | 2023-03-16 17:25:52 | Stephanie Belchamber |
| 36 | 2023-03-19 10:45:51 | Sam King |
| 39 | 2023-03-20 16:48:57 | Mark Lowe |
| 40 | 2023-03-17 20:02:39 | Georgia Brown |
| 41 | 2023-03-20 20:32:42 | Dean Norman |
| 42 | 2023-03-16 21:50:06 | Angela Richards |
| 43 | 2023-03-20 18:27:28 | Kelly Dinsdale |
| 45 | 2023-03-20 16:48:57 | Mark Lowe |
| 47 | 2023-03-19 19:48:11 | Trudi Kim |
| 51 | 2023-03-20 13:49:46 | Shannon Dempsey |
| 54 | 2023-03-20 20:51:32 | Emma White |
| 56 | 2023-03-20 15:55:16 | Amy Wain |
| 57 | 2023-03-20 20:50:17 | Gee Bee |
| 61 | 2023-03-20 20:03:32 | Max Leaman |
| 62 | 2023-03-20 20:12:54 | Sarah Brady |
| 63 | 2023-03-20 20:52:56 | Kelsey Jary |
| 64 | 2023-03-20 18:55:28 | Emma Jones |
| 65 | 2023-03-15 21:39:08 | Molly Elnaugh |
| 66 | 2023-03-20 13:24:26 | sue fogarty |
| 68 | 2023-03-20 19:45:15 | Kim Ayres |
| 69 | 2023-03-17 21:30:21 | c P |
| 71 | 2023-03-20 19:20:28 | Mandy Blake-Burke |
| 74 | 2023-03-20 20:03:21 | Kasia Kyziol |
| 75 | 2023-03-20 20:08:57 | Helen wade |
| 76 | 2023-03-20 15:35:52 | Kelly Howells |
| 77 | 2023-03-19 22:21:32 | Samantha Fanson |
| 78 | 2023-03-20 20:41:35 | Darren Willis |
| 81 | 2023-03-19 10:45:51 | Sam King |
| 83 | 2023-03-20 20:38:29 | Gemma Bush |
| 84 | 2023-03-20 20:41:35 | Darren Willis |
| 85 | 2023-03-18 14:25:28 | Sabrina Gill |
| 86 | 2023-03-20 13:24:11 | ian McHale |
| 89 | 2023-03-20 19:42:11 | Megan Simmonds |
| 90 | 2023-03-20 20:39:31 | Ann-Marie Hopkins |
| 91 | 2023-03-20 20:38:29 | Gemma Bush |
| 92 | 2023-03-18 14:25:28 | Sabrina Gill |
| 94 | 2023-03-20 19:01:35 | Tyne Pollard |
| 96 | 2023-03-20 20:16:37 | Becci Vayle |
| 97 | 2023-03-20 20:41:35 | Darren Willis |
| 98 | 2023-03-20 15:02:47 | Gemma Lambeth |
| 99 | 2023-03-20 09:27:58 | Richard Meanley |
| 100 | 2023-03-20 14:07:30 | jeanette rich |