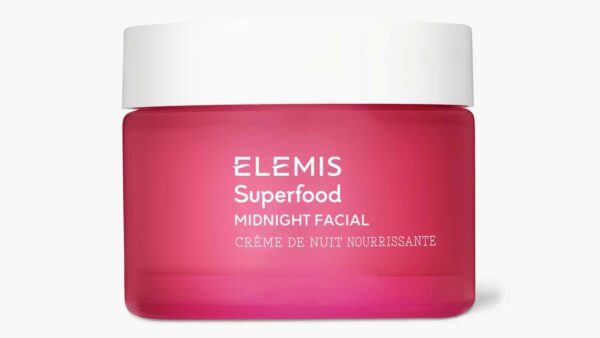 Elemis Superfood Midnight Facial, 50ml
Description
Elemis Superfood Midnight Facial, 50ml
Wake up to your dreamiest skin ever with this luxurious sleeping cream.
Perfect for all skin types, this balancing Prebiotic gel-cream works through the night to drench dull-looking skin in a cocoon of nourishing hydration.
The indulgent formula is infused with Camu Camu, a well-known source of Vitamin C, and Cocoa Butter which contains Omega 6 and 9 Fatty Acids, known to provide skin with essential moisture. Considered a rich source of fibre, vitamins and minerals, this silky cream also contains Banana Flower Extract, offering hydrating and Prebiotic properties.
Light enough for daily use yet decadent enough to feel like a treat, this bedtime beauty minimises the visible signs of fatigue and helps improve the appearance of skin tone. The complexion is left looking radiant and replenished with moisture.
How to use:
For optimal results, use every evening or a minimum of twice weekly.
| Winner Name | Ticket Number | Draw Date |
| --- | --- | --- |
| PYHLLIS STEER | 11 | 02/05/2022 |
1-10
11-20
21-30
31-40
41-50
51-60
61-70
71-80
81-90
91-100
| Ticket Number | Date | Name |
| --- | --- | --- |
| 1 | 2022-05-02 09:25:54 | Charlotte Addison |
| 2 | 2022-05-02 19:22:03 | Aim P |
| 3 | 2022-05-02 12:36:35 | Sabrina Canepa |
| 4 | 2022-05-02 18:35:16 | Stacey Miller |
| 5 | 2022-05-01 19:29:19 | Tina Moxon |
| 6 | 2022-05-02 18:58:14 | Dannie Flynn |
| 7 | 2022-05-02 15:38:26 | Lenka Rowsell |
| 9 | 2022-05-02 09:25:54 | Charlotte Addison |
| 10 | 2022-05-02 13:16:23 | Emma Jones |