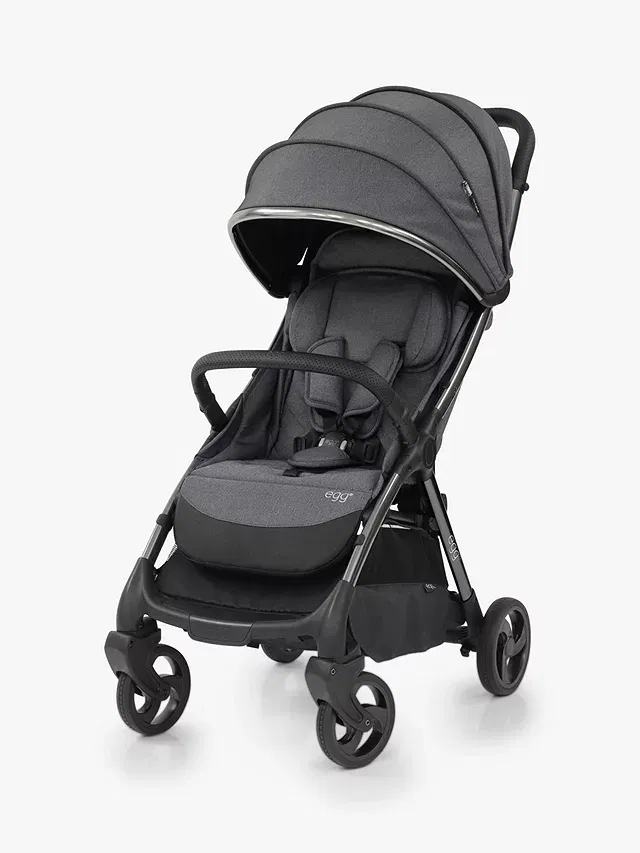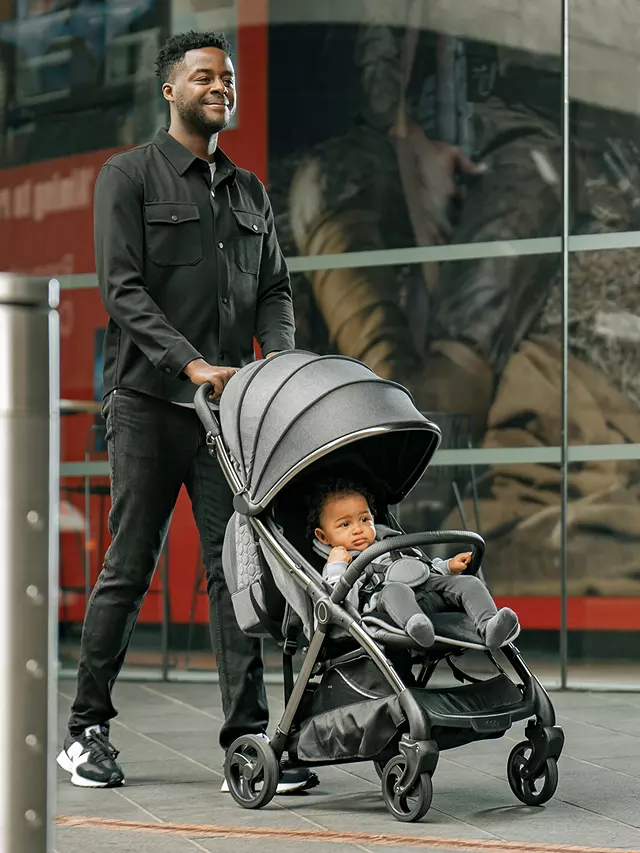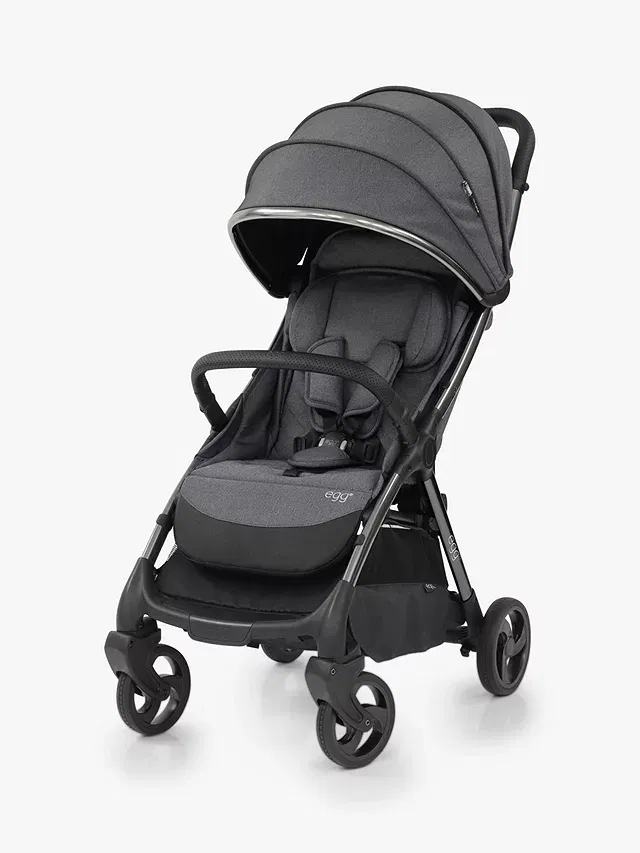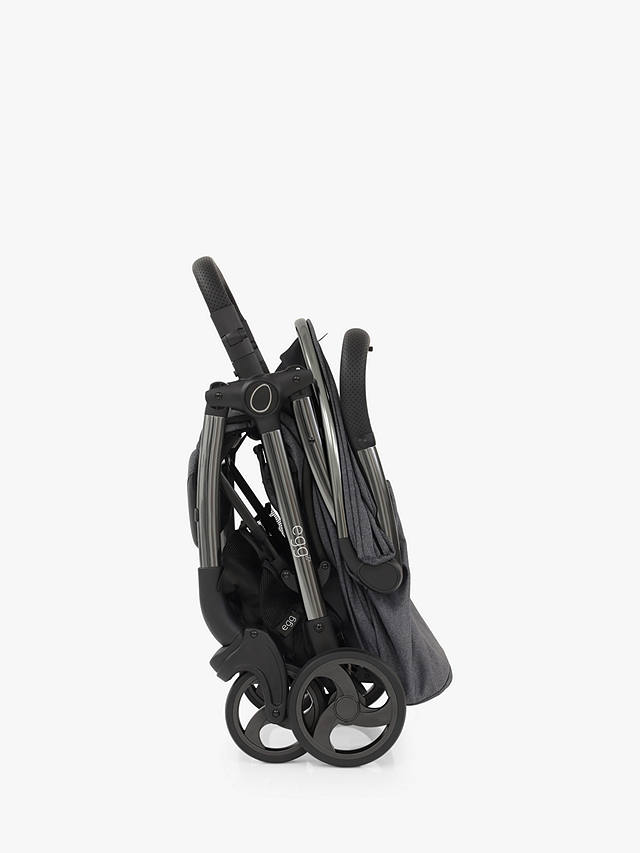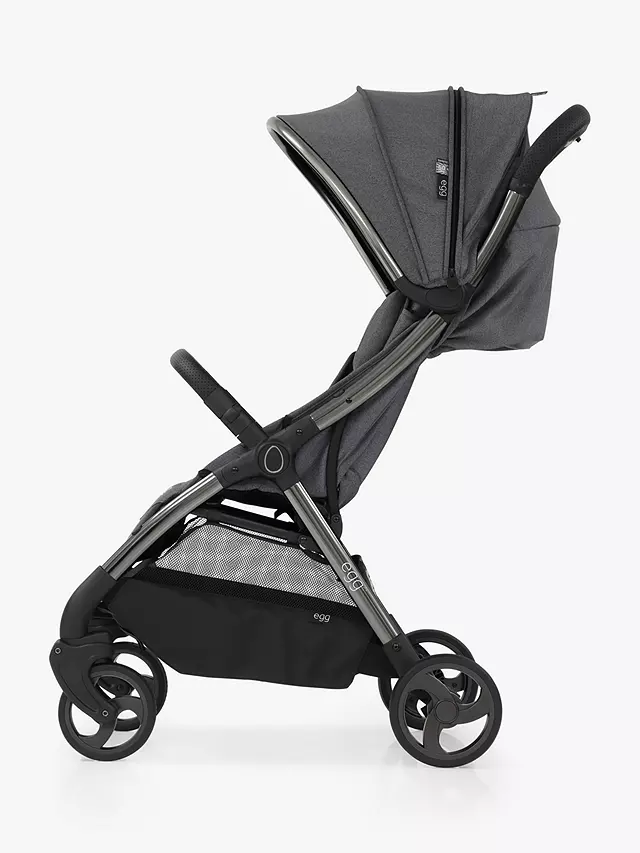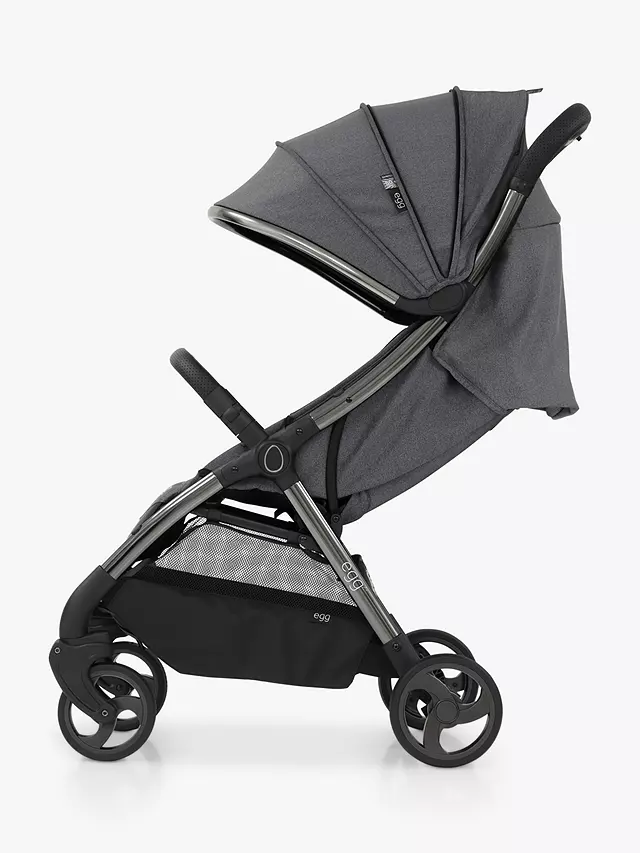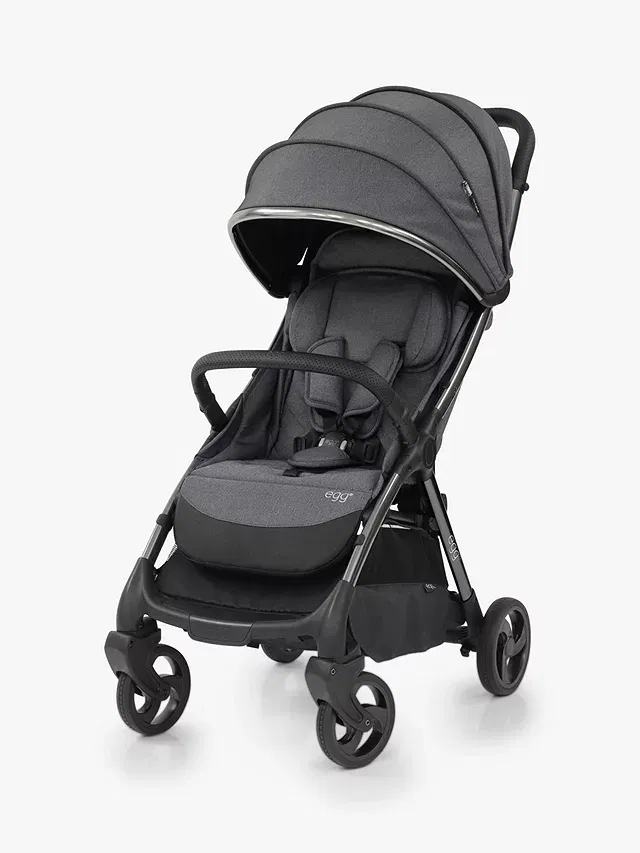 EggZ Stroller, Quartz
Description
EggZ Stroller, Quartz
Setting out to create the smallest stroller without compromising on luxury, convenience and safety that the egg brand offers, egg have come up with the eggZ. The brilliant compact design has everything that is loved about the larger egg2 stroller, such as the easy push and smooth ride, the exquisite comfort and tailoring of the fabrics and the curves of the chassis providing maximum functionality in a small package.
Smitten with the smallest of details, egg have designed this stroller with multiple well-thought-out features. That button; this stitch of fabric, those buckle clasps, the treads on that tyre. It's the dozens of tiny individual decisions that make the complete finished product so great.
Suitable from birth to 22kg, the stroller has 3 recline positions to ensure comfort is maintained as they grow. Plus with a four-wheel suspension, you rest assured your little one will get a smooth ride no matter what the terrain.
Key Features:
Hand-stitched handle with a height of 103cm and fold mechanism
Easy one-handed three position recline, suitable from birth
Iconic egg central hub
Flip-flop friendly break with traffic light indicator
All-round suspension with quick release rear wheels
Spacious shopping basket
Swivel front wheels
Integrated footrest
Wipe clean two position calf adjustment
Removable gated luxury hand-stitched bumper bar
Five-point magnetic safety harness
Integrated headrest
Large extendable canopy with UPF 50+ protection and ventilation window
Includes raincover.
| Winner Name | Ticket Number | Draw Date |
| --- | --- | --- |
| G B | 12 | 02/11/2022 |
| Ticket Number | Date | Name |
| --- | --- | --- |
| 1 | 2022-10-28 13:57:18 | Holly Mills |
| 2 | 2022-10-28 13:57:12 | Natalie Owen |
| 3 | 2022-11-02 14:47:33 | Jo Pennington |
| 4 | 2022-10-28 10:27:50 | Shauni Sullivan |
| 5 | 2022-10-28 12:53:40 | Alesha Bradley |
| 6 | 2022-10-28 12:53:40 | Alesha Bradley |
| 7 | 2022-10-29 08:08:41 | Rebecca Scott |
| 8 | 2022-11-02 19:31:39 | Hayley Rose |
| 9 | 2022-10-28 10:29:45 | Katie Wood |
| 10 | 2022-10-28 11:17:46 | Carly Stapleton |
| 11 | 2022-10-30 17:16:16 | Jodie England |
| 12 | 2022-10-28 19:58:54 | G B |
| 13 | 2022-10-28 15:52:54 | J C |
| 14 | 2022-10-28 12:07:02 | Michael Wright |
| 15 | 2022-10-28 12:53:40 | Alesha Bradley |
| 16 | 2022-10-28 12:53:40 | Alesha Bradley |
| 17 | 2022-10-28 13:57:18 | Holly Mills |
| 18 | 2022-10-28 10:29:45 | Katie Wood |
| 19 | 2022-10-28 10:26:01 | Amelia Reynolds |
| 20 | 2022-10-28 19:58:54 | G B |
| 21 | 2022-10-28 22:13:53 | Jackie Tallamy |
| 22 | 2022-10-28 13:57:12 | Natalie Owen |
| 23 | 2022-10-28 13:25:34 | Samantha Black |
| 24 | 2022-10-28 13:57:12 | Natalie Owen |
| 25 | 2022-10-28 12:53:40 | Alesha Bradley |
| 26 | 2022-10-28 14:48:37 | Jo Pennington |
| 27 | 2022-11-02 17:48:37 | Michelle Fewings |
| 28 | 2022-10-28 16:48:15 | Lisa Johnson |
| 29 | 2022-10-28 14:48:37 | Jo Pennington |
| 30 | 2022-10-28 20:05:31 | Jasmine Taylor |
| 31 | 2022-10-28 12:53:40 | Alesha Bradley |
| 32 | 2022-10-28 12:53:40 | Alesha Bradley |
| 33 | 2022-10-28 10:22:39 | Lauren Down |
| 34 | 2022-10-28 16:04:22 | Sophie Radford |
| 35 | 2022-11-02 07:53:53 | Beverley Madge |
| 36 | 2022-10-28 13:57:18 | Holly Mills |
| 37 | 2022-11-02 19:28:09 | Chloe Rainbow |
| 38 | 2022-11-02 07:55:17 | N K |
| 39 | 2022-11-02 19:23:42 | Tasha Bradley |
| 40 | 2022-11-02 14:10:05 | Lucy Wallis |
| 41 | 2022-10-28 13:57:18 | Holly Mills |
| 42 | 2022-11-02 19:14:38 | Ryan Turnstill |
| 43 | 2022-10-28 19:11:16 | Megan Huntington |
| 44 | 2022-10-28 17:55:52 | Kerrie Parker |
| 45 | 2022-10-28 14:34:04 | daisy underhill |
| 46 | 2022-11-02 07:46:49 | A V |
| 47 | 2022-10-29 08:08:41 | Rebecca Scott |
| 48 | 2022-11-02 07:27:54 | Esme Kershaw |
| 49 | 2022-10-28 14:48:37 | Jo Pennington |
| 50 | 2022-10-29 08:08:41 | Rebecca Scott |
| 51 | 2022-10-29 13:17:19 | Abie Shoudjae |
| 52 | 2022-11-02 18:51:29 | Jasmin Bourne |
| 53 | 2022-10-28 16:20:17 | Danielle Tallamy |
| 54 | 2022-11-02 10:00:37 | Chris Wills |
| 55 | 2022-11-02 10:00:37 | Chris Wills |
| 56 | 2022-11-01 18:15:32 | J C |
| 57 | 2022-10-28 11:17:46 | Carly Stapleton |
| 58 | 2022-10-28 13:57:18 | Holly Mills |
| 59 | 2022-11-02 16:56:25 | Cathie Bull |
| 60 | 2022-10-29 13:17:19 | Abie Shoudjae |
| 61 | 2022-11-02 08:11:02 | Hannah Curnock |
| 62 | 2022-11-01 11:08:35 | Usher Prowse |
| 63 | 2022-10-30 12:14:51 | Samantha Black |
| 64 | 2022-10-28 17:55:52 | Kerrie Parker |
| 65 | 2022-10-28 12:53:40 | Alesha Bradley |
| 66 | 2022-11-02 14:47:33 | Jo Pennington |
| 67 | 2022-11-02 08:58:16 | Kitty Cat |
| 68 | 2022-10-28 14:34:04 | daisy underhill |
| 69 | 2022-10-30 12:14:51 | Samantha Black |
| 70 | 2022-10-28 10:22:12 | Stacey Roberts |
| 71 | 2022-10-28 13:57:18 | Holly Mills |
| 72 | 2022-10-31 19:14:20 | Becky Bowman |
| 73 | 2022-10-28 20:02:55 | Anne-Marie Daniels |
| 74 | 2022-10-28 16:48:15 | Lisa Johnson |
| 75 | 2022-10-28 12:53:40 | Alesha Bradley |
| 76 | 2022-10-28 13:57:18 | Holly Mills |
| 77 | 2022-10-31 21:18:22 | Bethany Neal |
| 78 | 2022-11-02 19:08:46 | K Winner K Winner |
| 79 | 2022-10-29 13:17:19 | Abie Shoudjae |
| 80 | 2022-10-28 12:37:45 | Emily Bolt |
| 81 | 2022-11-02 17:46:49 | Bethany Neal |
| 82 | 2022-10-28 16:20:17 | Danielle Tallamy |
| 83 | 2022-10-29 13:17:19 | Abie Shoudjae |
| 84 | 2022-10-28 18:17:07 | Karen Barry |
| 85 | 2022-10-30 09:44:05 | Shannon Grove |
| 86 | 2022-10-28 11:20:44 | Alice Hill |
| 87 | 2022-10-28 10:17:26 | Amelia Reynolds |
| 88 | 2022-10-28 16:22:14 | Ellie Bridge |
| 89 | 2022-10-29 08:36:28 | Alison Edgar |
| 90 | 2022-11-02 08:11:02 | Hannah Curnock |
| 91 | 2022-10-29 13:17:19 | Abie Shoudjae |
| 92 | 2022-10-28 12:53:40 | Alesha Bradley |
| 93 | 2022-10-28 13:25:34 | Samantha Black |
| 94 | 2022-10-28 12:53:40 | Alesha Bradley |
| 95 | 2022-10-28 10:58:15 | Rachel chalk |
| 96 | 2022-11-01 11:08:35 | Usher Prowse |
| 97 | 2022-10-28 10:26:01 | Amelia Reynolds |
| 98 | 2022-10-28 17:57:01 | Jasmine Diamond |
| 99 | 2022-11-02 19:07:59 | Lauren Slater |
| 100 | 2022-11-02 19:23:42 | Tasha Bradley |
| 101 | 2022-11-02 18:47:57 | Lauren Slater |
| 102 | 2022-11-02 07:53:12 | Hannah Harrison-scott |
| 103 | 2022-10-28 13:14:46 | Hayley Rose |
| 104 | 2022-10-28 12:53:40 | Alesha Bradley |
| 105 | 2022-11-02 20:06:42 | Amber Lawrence |
| 106 | 2022-10-29 13:17:19 | Abie Shoudjae |
| 107 | 2022-11-02 20:48:11 | A P |
| 108 | 2022-11-02 19:31:39 | Hayley Rose |
| 109 | 2022-10-31 21:18:22 | Bethany Neal |
| 110 | 2022-10-28 13:57:18 | Holly Mills |
| 111 | 2022-11-01 11:08:35 | Usher Prowse |
| 112 | 2022-10-28 11:17:46 | Carly Stapleton |
| 113 | 2022-10-28 13:14:46 | Hayley Rose |
| 114 | 2022-11-02 11:34:28 | Danielle Tallamy |
| 115 | 2022-10-28 19:58:54 | G B |
| 116 | 2022-10-29 13:17:19 | Abie Shoudjae |
| 117 | 2022-10-28 12:53:40 | Alesha Bradley |
| 118 | 2022-10-28 17:57:01 | Jasmine Diamond |
| 119 | 2022-10-28 16:22:14 | Ellie Bridge |
| 120 | 2022-11-01 18:50:38 | A P |
| 121 | 2022-10-28 12:53:40 | Alesha Bradley |
| 122 | 2022-10-28 12:53:40 | Alesha Bradley |
| 123 | 2022-10-28 18:16:30 | Sarah Randall |
| 124 | 2022-10-30 09:44:05 | Shannon Grove |
| 125 | 2022-11-02 19:31:39 | Hayley Rose |
| 126 | 2022-11-02 19:11:52 | Tasha Bradley |
| 127 | 2022-11-02 19:28:09 | Chloe Rainbow |
| 128 | 2022-11-02 09:02:24 | Sammy Lou |
| 129 | 2022-10-29 13:17:19 | Abie Shoudjae |
| 130 | 2022-10-28 10:17:26 | Amelia Reynolds |
| 131 | 2022-11-02 19:22:35 | Shauni Sullivan |
| 132 | 2022-10-28 14:34:04 | daisy underhill |
| 133 | 2022-11-02 19:23:42 | Tasha Bradley |
| 134 | 2022-10-28 10:17:26 | Amelia Reynolds |
| 135 | 2022-10-28 13:25:34 | Samantha Black |
| 136 | 2022-10-28 14:48:37 | Jo Pennington |
| 137 | 2022-10-29 08:08:41 | Rebecca Scott |
| 138 | 2022-11-02 16:11:45 | Amy Leslie |
| 139 | 2022-11-02 20:04:28 | G B |
| 140 | 2022-10-30 11:12:43 | Danielle Tallamy |
| 141 | 2022-10-29 13:17:19 | Abie Shoudjae |
| 142 | 2022-10-28 13:25:34 | Samantha Black |
| 143 | 2022-10-28 12:58:10 | Natalie Maple |
| 144 | 2022-10-28 19:13:10 | Kayleigh Dilling |
| 145 | 2022-10-29 13:17:19 | Abie Shoudjae |
| 146 | 2022-10-28 10:26:01 | Amelia Reynolds |
| 147 | 2022-10-30 11:15:50 | Ellie Bridge |
| 148 | 2022-10-28 10:27:50 | Shauni Sullivan |
| 149 | 2022-10-28 13:57:18 | Holly Mills |
| 150 | 2022-10-31 17:22:40 | Danielle Tallamy |
| 151 | 2022-11-01 18:15:32 | J C |
| 152 | 2022-11-02 19:17:23 | Megan Shearon |
| 153 | 2022-10-30 12:14:51 | Samantha Black |
| 154 | 2022-10-28 12:37:45 | Emily Bolt |
| 155 | 2022-11-02 19:06:24 | daisy underhill |
| 156 | 2022-10-29 13:17:19 | Abie Shoudjae |
| 157 | 2022-11-02 08:11:02 | Hannah Curnock |
| 158 | 2022-10-28 13:25:34 | Samantha Black |
| 159 | 2022-10-28 10:17:26 | Amelia Reynolds |
| 160 | 2022-10-29 13:17:19 | Abie Shoudjae |
| 161 | 2022-11-02 17:46:49 | Bethany Neal |
| 162 | 2022-10-30 18:51:19 | Jade Bailey |
| 163 | 2022-10-30 12:14:51 | Samantha Black |
| 164 | 2022-10-28 10:21:42 | Lauren Rogers |
| 165 | 2022-10-28 15:52:54 | J C |
| 166 | 2022-11-02 07:29:57 | April Wootton |
| 167 | 2022-10-28 14:48:37 | Jo Pennington |
| 168 | 2022-10-30 07:52:03 | Amy Watkinson |
| 169 | 2022-10-28 13:25:34 | Samantha Black |
| 170 | 2022-10-28 12:58:10 | Natalie Maple |
| 171 | 2022-11-02 07:53:12 | Hannah Harrison-scott |
| 172 | 2022-11-02 16:20:43 | Julie Major |
| 173 | 2022-10-28 13:57:18 | Holly Mills |
| 174 | 2022-10-28 10:17:26 | Amelia Reynolds |
| 175 | 2022-11-02 18:08:15 | Amelia Reynolds |
| 176 | 2022-10-29 13:17:19 | Abie Shoudjae |
| 177 | 2022-10-30 12:14:51 | Samantha Black |
| 178 | 2022-11-02 07:40:44 | A P |
| 179 | 2022-10-29 13:17:19 | Abie Shoudjae |
| 180 | 2022-10-28 12:53:40 | Alesha Bradley |
| 181 | 2022-10-28 12:53:40 | Alesha Bradley |
| 182 | 2022-11-02 19:30:16 | jade hay |
| 183 | 2022-10-28 13:14:46 | Hayley Rose |
| 184 | 2022-11-02 19:23:42 | Tasha Bradley |
| 185 | 2022-10-28 12:53:40 | Alesha Bradley |
| 186 | 2022-11-02 16:56:25 | Cathie Bull |
| 187 | 2022-10-28 22:13:53 | Jackie Tallamy |
| 188 | 2022-10-28 12:53:40 | Alesha Bradley |
| 189 | 2022-11-02 16:49:22 | Chelsea King |
| 190 | 2022-10-28 12:53:40 | Alesha Bradley |
| 191 | 2022-11-02 14:10:05 | Lucy Wallis |
| 192 | 2022-10-29 13:17:19 | Abie Shoudjae |
| 193 | 2022-11-02 16:29:19 | Rhian Tippett |
| 194 | 2022-10-28 13:57:18 | Holly Mills |
| 195 | 2022-10-29 08:08:41 | Rebecca Scott |
| 196 | 2022-11-02 17:52:39 | Alisha Harding |
| 197 | 2022-11-02 16:53:39 | Natalie Parkes |
| 198 | 2022-10-28 13:25:34 | Samantha Black |
| 199 | 2022-11-01 21:41:20 | Rachi B |
| 200 | 2022-10-28 12:53:40 | Alesha Bradley |