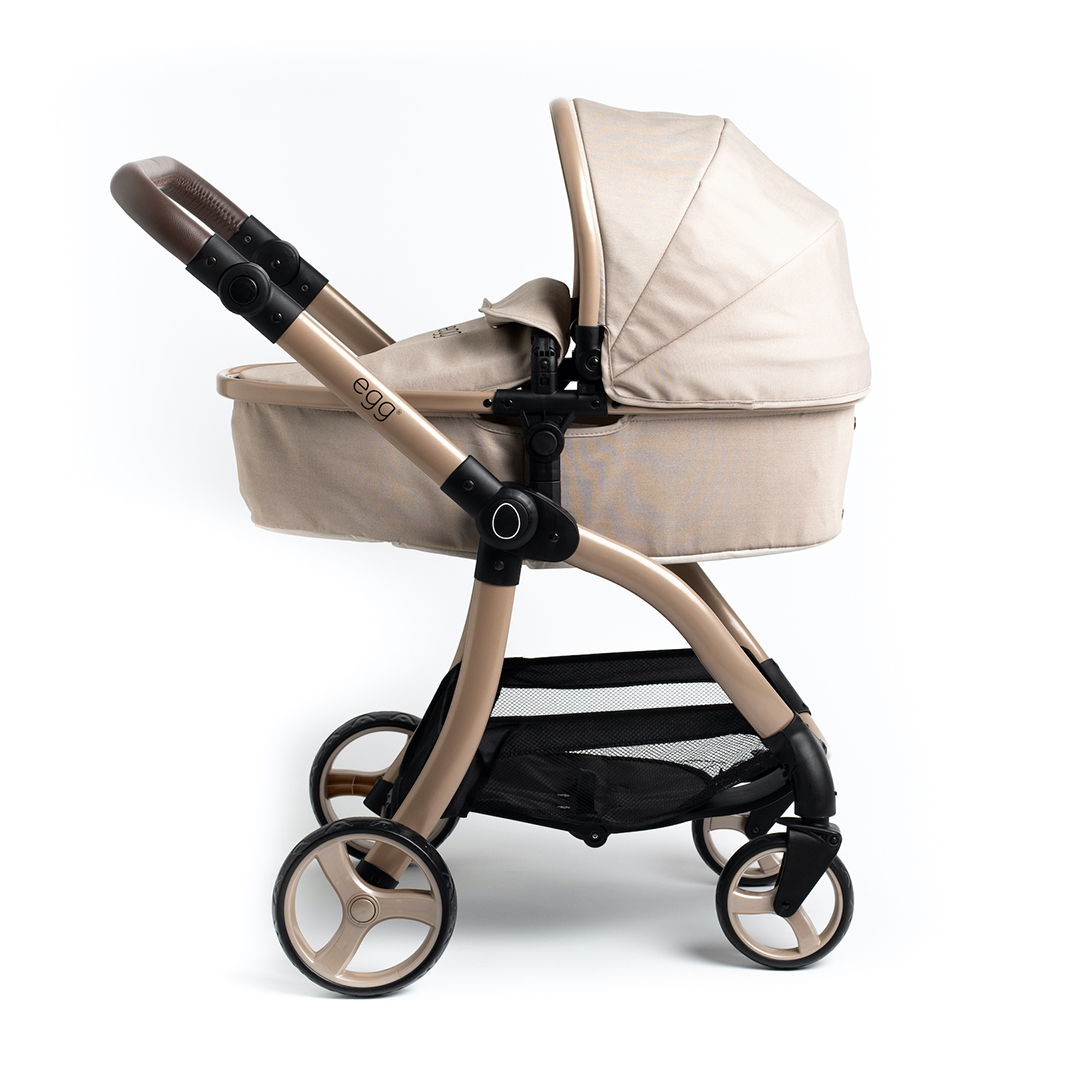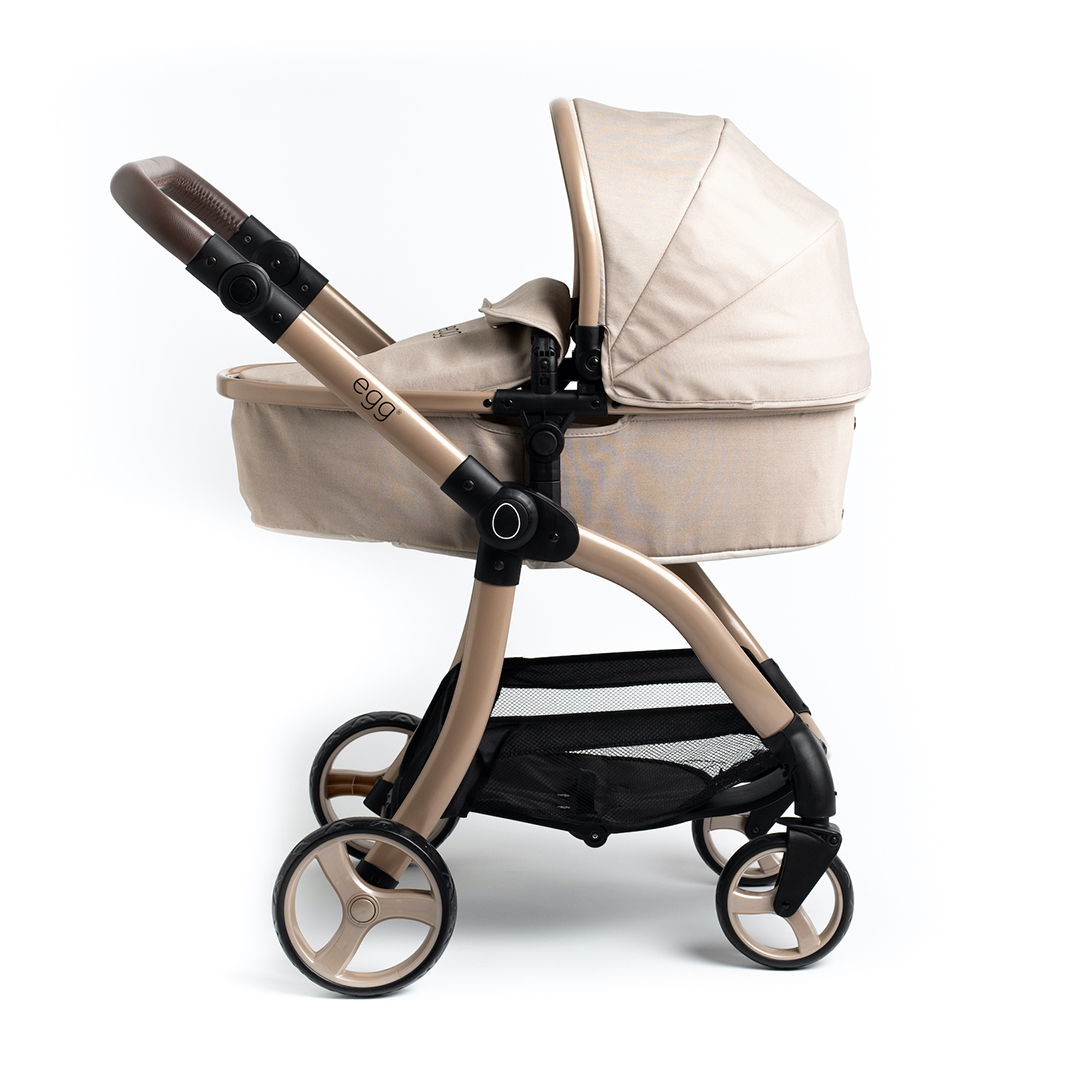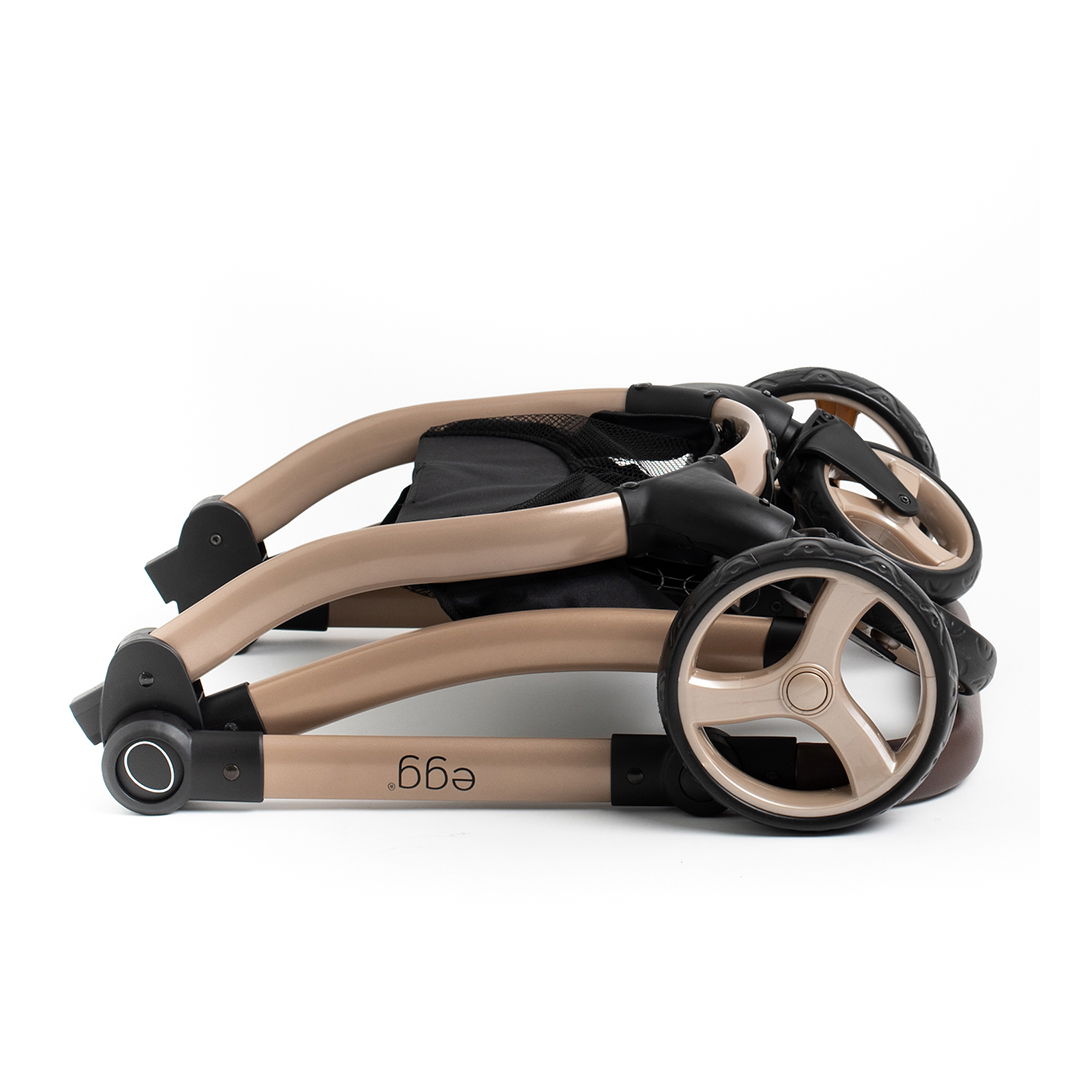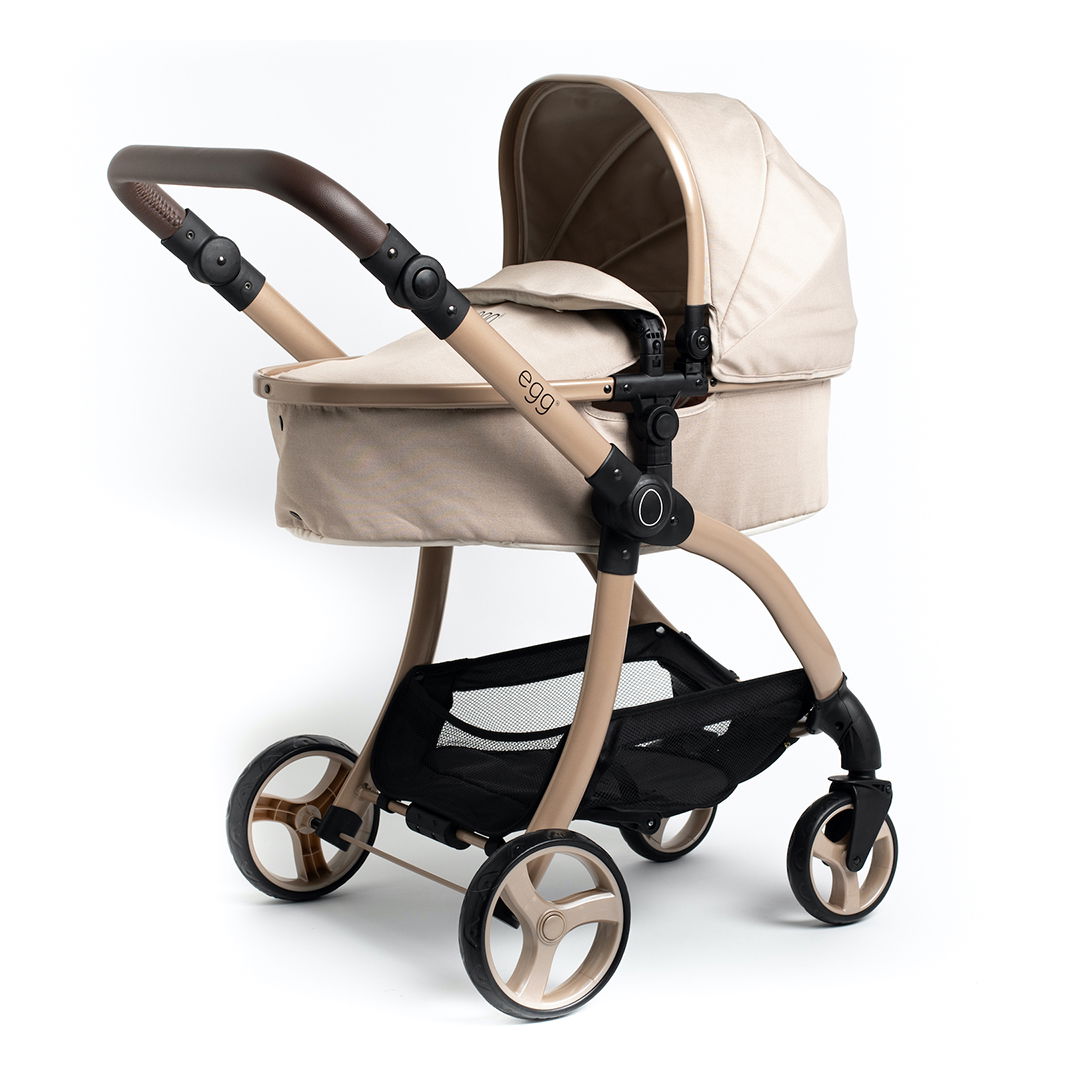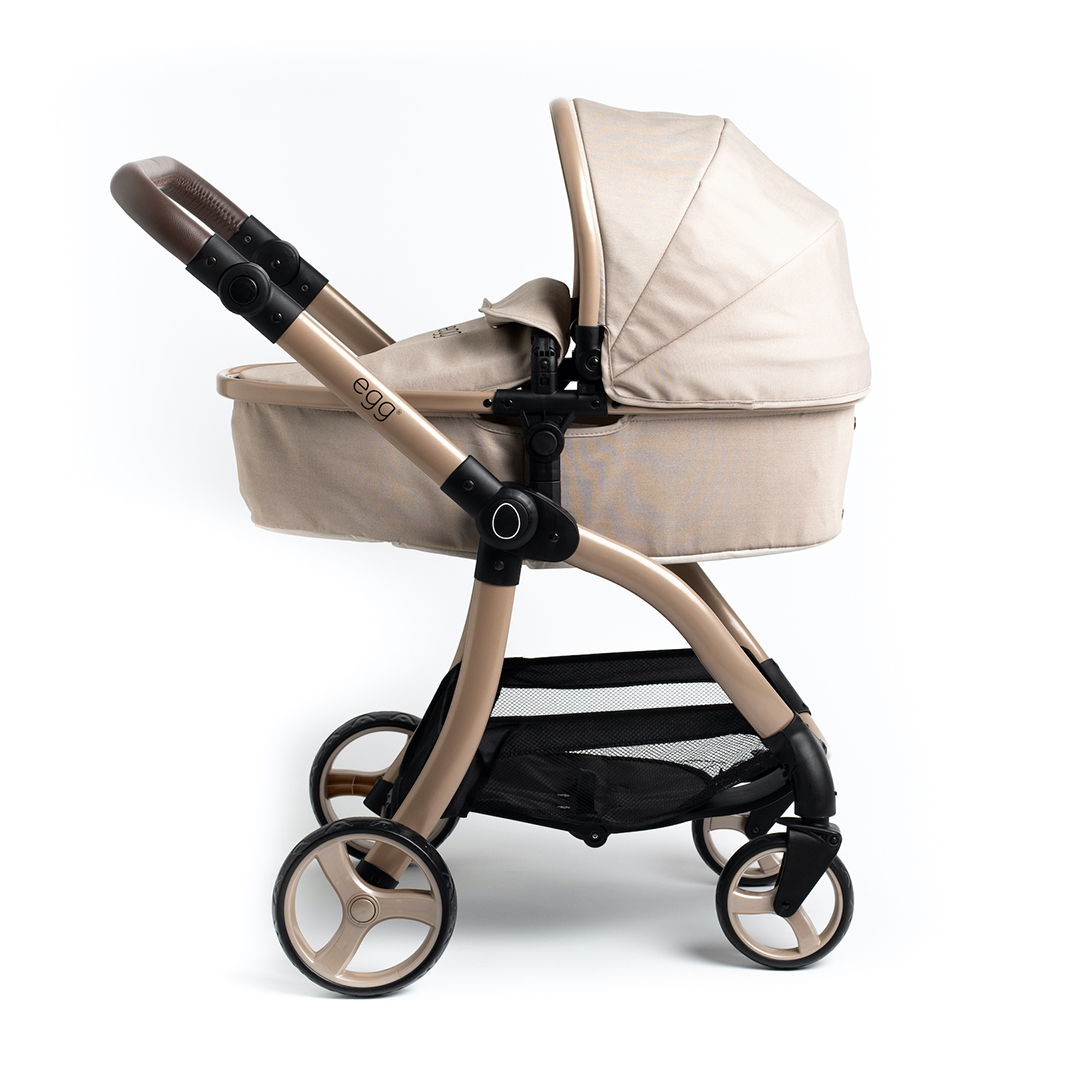 EGG 2 DOLLS PRAM
Description
The egg® Dolls Pram by Roma Prams is a miniature version of the beautiful egg2®. It is suitable from age 3+, with a fully adjustable handle height ranging from 60cm-78cm.
With 2 in 1 fabrics, the egg® Dolls Pram carry cot converts into a seat unit with simple poppers. The seat unit has a 3 point harness, suitable for dollies of all ages!
Included in the box is a coordinating apron for use in carrycot mode. The fabrics are the same stunning Feather colourway found on the full size egg2® stroller. Finished on a gloss champagne chassis with cocoa leatherette hand-stitched handle bar.
The egg® Dolls Pram also folds for storage. Simply remove the carrycot, then fold down the handle using the egg button on either side. Pull on the handle in the basket to collapse the frame.
What's in the box?
Roma egg® Dolls Pram
2-in-1 seat unit/carry cot
3 point harness
Apron
Under basket
Let's take a look at the key features:
Adjustable handle height 60 – 78cm*
Suitable for 36 months + – please measure the handle height for your child.
Lightweight frame
Carrycot that converts to a seat unit with 1 strap
3 point adjustable harness
1 year warranty
Mattress size 60cm
Carrycot size L 60cm x W 27cm x D 16cm
PLEASE NOTE THIS IS A DOLLS PRAM
| Winner Name | Ticket Number | Draw Date |
| --- | --- | --- |
| Chelsea Walton | 51 | 30/03/2023 |
| Ticket Number | Date | Name |
| --- | --- | --- |
| 1 | 2023-03-30 12:17:41 | Louise Gourley |
| 3 | 2023-03-28 10:07:17 | Sally Smith |
| 6 | 2023-03-30 19:00:18 | Kevina Jenkins |
| 7 | 2023-03-29 18:02:37 | Toni Phillips |
| 10 | 2023-03-30 19:43:45 | Chelsea Walton |
| 11 | 2023-03-29 18:02:37 | Toni Phillips |
| 13 | 2023-03-28 10:07:17 | Sally Smith |
| 16 | 2023-03-30 20:21:34 | Clare Good |
| 17 | 2023-03-29 18:02:37 | Toni Phillips |
| 18 | 2023-03-23 14:34:22 | Toni Phillips |
| 19 | 2023-03-30 19:47:31 | Megan Hawkey |
| 20 | 2023-03-30 20:52:48 | Charlotte Ager |
| 21 | 2023-03-29 20:32:29 | Stephanie Jayne Martin |
| 23 | 2023-03-30 19:43:45 | Chelsea Walton |
| 26 | 2023-03-30 17:59:23 | Claire Allen |
| 31 | 2023-03-30 19:00:18 | Kevina Jenkins |
| 32 | 2023-03-30 10:29:55 | Ryan Watkins |
| 33 | 2023-03-30 14:43:15 | Dana Kiddle |
| 37 | 2023-03-30 20:29:41 | Louise Gourley |
| 38 | 2023-03-30 20:41:39 | Anwar Qantah |
| 41 | 2023-03-30 11:26:39 | Usher Prowse |
| 42 | 2023-03-30 18:31:54 | Philip Colbourne |
| 43 | 2023-03-30 10:29:55 | Ryan Watkins |
| 45 | 2023-03-30 19:43:45 | Chelsea Walton |
| 46 | 2023-03-30 11:27:15 | Honey Sanford |
| 47 | 2023-03-30 20:19:44 | Kiall Scott |
| 50 | 2023-03-30 12:43:24 | Brandon Jennings |
| 51 | 2023-03-30 19:43:45 | Chelsea Walton |
| 52 | 2023-03-29 22:04:54 | Kerry Jones |
| 54 | 2023-03-29 20:46:10 | Katy Dawson |
| 59 | 2023-03-30 18:31:00 | Amber Lake |
| 64 | 2023-03-23 14:34:22 | Toni Phillips |
| 66 | 2023-03-30 10:29:55 | Ryan Watkins |
| 68 | 2023-03-23 18:09:59 | Laura Skuse |
| 73 | 2023-03-30 12:17:41 | Louise Gourley |
| 77 | 2023-03-30 13:43:54 | S G |
| 78 | 2023-03-30 11:04:24 | Amber Lake |
| 82 | 2023-03-30 18:26:41 | Lisa Gilpin |
| 88 | 2023-03-30 19:00:18 | Kevina Jenkins |
| 89 | 2023-03-30 19:43:45 | Chelsea Walton |
| 91 | 2023-03-30 15:44:28 | Amy Rowland |
| 98 | 2023-03-30 10:29:55 | Ryan Watkins |