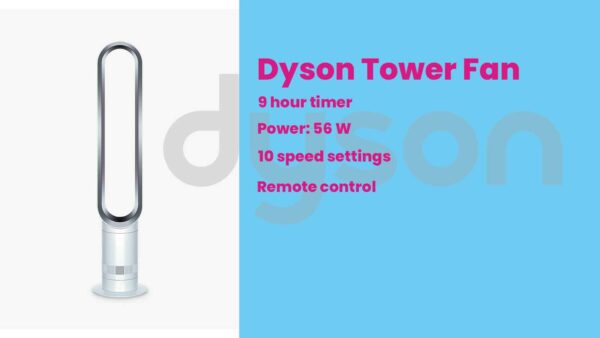 Dyson Cool Tower Fan, White
Description
Dyson Cool Tower Fan, White
The Dyson Cool™ AM07 Tower Fan generates smooth, powerful airflow for personal cooling. Like all Dyson bladeless fans, it uses Air Multiplier™ technology to draw in surrounding air, creating powerful air projection.
Some fans are quiet but weak; others are powerful but noisy. AM07 is both quiet and powerful, making it the ultimate silent fan. Dyson engineers have reduced turbulence and noise throughout the machine by channelling airflow more efficiently. Motor noise and vibration have been isolated and significantly reduced.
AM07 now houses a Helmholtz cavity, designed to capture and dissipate noise from the motor – which has been calibrated to run slower whilst maintaining powerful airflow.
There's also a remote control for precise airflow control, and the AM07 has a sleep timer which can be programmed to turn off after preset intervals, for ease of use throughout the night.
All Dyson machines are tested rigorously during development, so the AM07 comes with a 2 year parts and labour guarantee.
Key features:
Air Multiplier™ technology – air is accelerated through an annular aperture, drawing in surrounding air to project smooth, powerful, high-velocity airflow.
Safe – this cooling fan has no fast-spinning blades.
Acoustic engineering – streamlined air channels for reduced airflow turbulence. Awarded the Quiet Mark by the Noise Abatement Society.
Energy efficient – engineered to create powerful airflow using 10% less energy than AM02.
Sleep timer – the AM07 silent fan can be programmed to turn off after preset intervals ranging from 15 minutes to 9 hours.
Remote control – 10 precise airflow settings. Curved and magnetised to store neatly on the machine.
Oscillation control – to project air around the room. One touch for smoother oscillation.
Easy to clean – this handy cooling fan has no awkward grilles or blades.
Quiet Mark
Plus, with the Quiet Mark stamp of approval, this appliance will work discreetly without disrupting the tranquillity of your home.
Caution: This product is not suitable for use for people fitted with pacemakers.
| Winner Name | Ticket Number | Draw Date |
| --- | --- | --- |
| Jodie Ellis | 419 | 07/06/2022 |
1-100
101-200
201-300
301-400
401-500
501-600
| Ticket Number | Date | Name |
| --- | --- | --- |
| 1 | 2022-06-07 16:15:59 | Tara Evans |
| 2 | 2022-06-04 21:58:41 | Alison Cass |
| 3 | 2022-06-02 20:49:58 | Helen Bryant |
| 4 | 2022-06-02 08:36:27 | Melanie Bailey |
| 5 | 2022-06-05 10:37:49 | Shanice Shepherd |
| 6 | 2022-06-07 14:34:42 | Shelley Clewes |
| 7 | 2022-06-07 08:51:54 | Jackie Dean |
| 8 | 2022-06-07 16:15:59 | Tara Evans |
| 9 | 2022-06-07 09:25:38 | Melanie Bailey |
| 10 | 2022-06-07 14:12:31 | Nick Stevens |
| 11 | 2022-06-04 21:58:41 | Alison Cass |
| 12 | 2022-06-04 17:04:37 | Alison Binnie |
| 13 | 2022-06-02 12:50:37 | Becky Hartmink |
| 14 | 2022-06-07 19:10:41 | Lauren Tooley |
| 15 | 2022-06-07 16:53:29 | Justin Lashley |
| 16 | 2022-06-07 13:11:18 | Denise Kennedy |
| 17 | 2022-06-03 22:10:45 | Adam Cree |
| 18 | 2022-06-06 20:28:42 | Ryan Valentine |
| 19 | 2022-06-02 20:49:58 | Helen Bryant |
| 20 | 2022-06-07 13:11:18 | Denise Kennedy |
| 21 | 2022-06-04 19:12:11 | Lisa Roberts |
| 22 | 2022-06-02 20:49:58 | Helen Bryant |
| 23 | 2022-06-03 22:10:45 | Adam Cree |
| 24 | 2022-06-02 09:22:32 | Angelica Pickles |
| 25 | 2022-06-05 13:33:22 | Emily Taylor |
| 26 | 2022-06-06 11:12:25 | David Binmore |
| 27 | 2022-06-04 05:38:14 | Trudi Parnell |
| 28 | 2022-06-07 19:43:42 | Tracy Mcdonald |
| 29 | 2022-06-05 10:12:05 | Emma Weston |
| 30 | 2022-06-03 21:39:44 | Linda Theobald |
| 31 | 2022-06-02 20:49:58 | Helen Bryant |
| 32 | 2022-06-07 16:59:12 | Emmeline Shields |
| 33 | 2022-06-07 16:15:59 | Tara Evans |
| 34 | 2022-06-04 13:16:15 | Agnes Newman |
| 35 | 2022-06-03 22:34:28 | Sharon Bray |
| 36 | 2022-06-07 12:46:58 | Sharon Bray |
| 37 | 2022-06-07 18:26:43 | Adam Cannan |
| 38 | 2022-06-07 17:48:47 | Rainbow Brite |
| 39 | 2022-06-07 20:18:56 | Andy S |
| 40 | 2022-06-07 14:32:41 | Sophie Woodman |
| 41 | 2022-06-06 01:31:34 | Emma Jones |
| 42 | 2022-06-06 19:34:35 | Jason Matthews |
| 43 | 2022-06-07 13:34:13 | Megan Rees |
| 44 | 2022-06-02 20:49:58 | Helen Bryant |
| 45 | 2022-06-07 17:53:15 | Tia potter |
| 46 | 2022-06-04 21:58:41 | Alison Cass |
| 47 | 2022-06-04 21:58:41 | Alison Cass |
| 48 | 2022-06-04 21:58:41 | Alison Cass |
| 49 | 2022-06-04 21:58:41 | Alison Cass |
| 50 | 2022-06-02 13:02:24 | Victoria Shaw |
| 51 | 2022-06-07 15:08:39 | Rhian Tippett |
| 52 | 2022-06-07 18:27:27 | Amy Hicks |
| 53 | 2022-06-07 14:26:35 | Jessica Westcott |
| 54 | 2022-06-07 20:28:56 | Kenneth Wilkins |
| 55 | 2022-06-03 06:35:13 | Mandy Cove |
| 56 | 2022-06-07 17:34:21 | Tyler Ward |
| 57 | 2022-06-07 19:32:58 | Grace de Young |
| 58 | 2022-06-03 00:50:31 | Lauren Tooley |
| 59 | 2022-06-03 19:33:53 | Carla Ryding |
| 60 | 2022-06-02 08:36:27 | Melanie Bailey |
| 61 | 2022-06-07 18:10:17 | Jodie Ellis |
| 62 | 2022-06-07 12:11:27 | Jacob Robins |
| 63 | 2022-06-03 10:57:39 | Carlie Bastow |
| 64 | 2022-06-07 19:09:25 | barbara warne |
| 65 | 2022-06-04 05:38:14 | Trudi Parnell |
| 66 | 2022-06-07 20:08:42 | Rachael Kenny |
| 67 | 2022-06-07 14:11:53 | Zoey Hinchcliffe |
| 68 | 2022-06-06 18:20:43 | Kate Nicholas |
| 69 | 2022-06-07 16:34:27 | Ellyse Webb |
| 70 | 2022-06-07 17:06:00 | Kelly Hallett |
| 71 | 2022-06-06 19:12:41 | Julie Cleave |
| 72 | 2022-06-06 23:49:06 | Edward Tooley |
| 73 | 2022-06-07 18:06:53 | Jodie Ellis |
| 74 | 2022-06-07 20:33:08 | Sarah Kallmeier |
| 75 | 2022-06-04 15:49:36 | Joe Russell |
| 76 | 2022-06-02 08:36:27 | Melanie Bailey |
| 77 | 2022-06-07 17:53:15 | Tia potter |
| 78 | 2022-06-02 09:14:28 | Amanda Sturdy |
| 79 | 2022-06-07 08:15:26 | Katrina Bennett |
| 80 | 2022-06-05 20:49:42 | Kerry NOSWORTHY |
| 81 | 2022-06-07 09:25:38 | Melanie Bailey |
| 82 | 2022-06-07 14:54:29 | Joseph Clifford |
| 83 | 2022-06-03 00:50:31 | Lauren Tooley |
| 84 | 2022-06-07 20:18:56 | Andy S |
| 85 | 2022-06-07 16:07:09 | Lekel North |
| 86 | 2022-06-07 20:39:15 | Raymond Burgess |
| 87 | 2022-06-07 09:25:38 | Melanie Bailey |
| 88 | 2022-06-07 09:25:38 | Melanie Bailey |
| 89 | 2022-06-07 20:06:15 | Tina Graham |
| 90 | 2022-06-07 14:19:52 | Mervyn Teague |
| 91 | 2022-06-07 20:44:29 | Dale Stocker |
| 92 | 2022-06-07 17:27:32 | Deborah Talbot |
| 93 | 2022-06-07 17:27:32 | Deborah Talbot |
| 94 | 2022-06-04 21:58:41 | Alison Cass |
| 95 | 2022-06-07 18:33:58 | lucy webber |
| 96 | 2022-06-07 19:10:41 | Lauren Tooley |
| 97 | 2022-06-07 20:14:32 | Charlotte Ager |
| 98 | 2022-06-06 17:15:06 | Melanie Bailey |
| 99 | 2022-06-05 07:42:41 | Dean O'Connor |
| 100 | 2022-06-07 16:15:59 | Tara Evans |