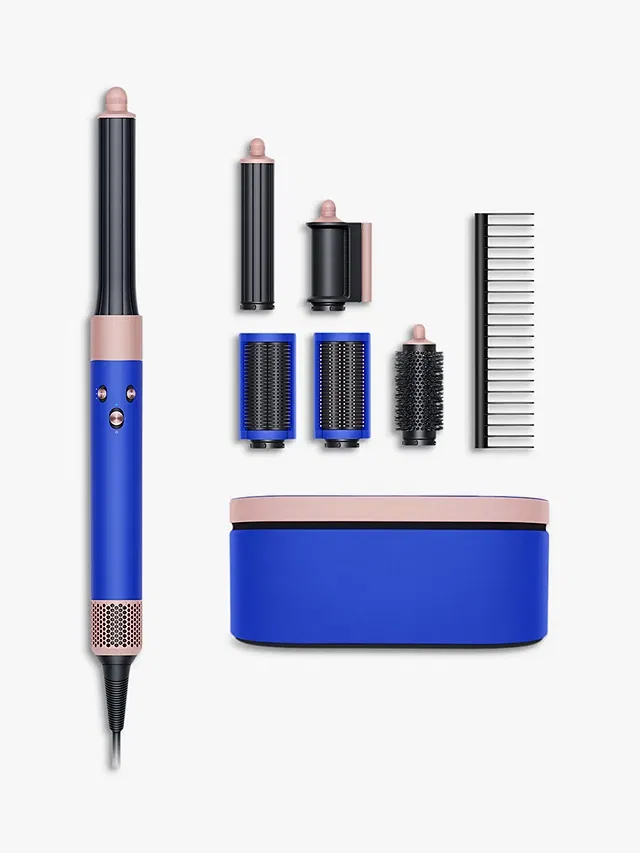 Dyson Airwrap Multi-Styler with Presentation Case & Complimentary Comb, Blue Blush
Description
Dyson Airwrap Multi-Styler with Presentation Case & Complimentary Comb, Blue Blush
Give the gift of invention with the Dyson Airwrap™ multi-styler Complete Long, in special edition Blue Blush. Special gift addition includes a Dyson-designed Blue Blush Presentation case and complimentary Dyson-designed Detangling comb.
The most awarded hair multi-styler1 The only multi-styler to dry, curl, shape and hide flyaways with the Coanda effect – with no heat damage. Invented by Dyson. Re-engineered attachments harness Enhanced Coanda airflow to create your styles with air, not extreme heat.
Dries and styles simultaneously – with no extreme heat
Some styling tools use extreme temperatures to break bonds in the hair and reset them in a new shape. This can cause permanent damage to the hair. The Dyson Airwrap™ multi-styler styles hair from wet to dry using Coanda airflow, not extreme heat.
Multiple heat and speed settings
Three precise airflow speeds and three precise heat settings to suit your hair and desired style. Plus a Cold shot that immediately deactivates the heating element, for cooler air to set your style.
Powered by the Dyson digital motor V9
The 13-blade impeller spins at up to 110,000rpm, generating 3.2kPa. Powerful enough to produce the air pressure that creates the Coanda effect.
Intelligent heat control
Measures airflow temperature over 40 times a second, intelligently controlling the heating element to keep the temperature under 150°C. Preventing extreme heat damage.
Engineered for multiple hair types, lengths and styles
Re-engineered attachments for faster and easier styling³ with increased control⁴ – 6 attachments included in the box including re-engineered barrels that curl in both directions, smoothing brushes for straighter styles, and a 2-in-1 multi-functional Coanda Smoothing dryer harness enhanced Coanda airflow to pre-dry and finish your styles. Engineered for different hair types and to create a range of styles.
Attachments – Included in the box:
2-in-1 Coanda Smoothing Dryer
Versatile, multi-functional attachment to dry, smooth and hide flyaways. Dryer mode for fast drying to pre-dry your hair from wet before styling with your chosen attachment. Focussed airflow allows you to create volume at the roots. Flyaway mode is the ideal finishing tool to smooth and perfect your end style. Two jets of air work simultaneously on dry and straight[ened] hair to hide flyaways under longer hair. For up to 58% less frizz and flyaways.5
Airwrap™ Barrels
For both tight voluminous bouncy curls or looser waves, the 30mm and 40mm long barrels use Enhanced Coanda airflow to curl with air not extreme heat. Re-engineered so you can create clockwise and anti-clockwise curls with one barrel, for faster styling.3 Precision built for short-medium length hair and different hair types.
Smoothing Brushes
Shape and dry hair with increased control3 using Enhanced Coanda airflow. Softer bristles are engineered for finer hair, and firmer bristles for thicker hair. Brush under the hair for volume and brush on top of the hair for smoother, straighter styles.
Round volumising brush
Long, fine bristles direct air deep into the hair to give body, creating tension to shape hair as it dries. Ideal for creating a smooth and bouncy blow-dry look.
Dyson-designed presentation case in Blue Blush
Protects and neatly stores your Dyson Airwrap™ multi-styler and all its attachments. Cushioned with soft fabric to protect your machine from dents and scratches. With a fully removable lid you can store under the case while using your machine, to save space. In special edition Blue Blush.
Complimentary Dyson-designed Detangling comb
Perfect for detangling and lengthening all hair types, before styling. Or shapes and refines your finished style. Engineered with wide, polished teeth to glide easily through wet and dry hair – with minimal friction.
In the box (Complete Long)
Dyson Airwrap™ multi-styler
Coanda smoothing dryer
30mm Airwrap™ long barrel
40mm Airwrap™ long barrel
Soft smoothing brush
Firm smoothing brush
Round volumising brush
Presentation case
Detangling comb
Filter cleaning brush
| Winner Name | Ticket Number | Draw Date |
| --- | --- | --- |
| Jade Morrison | 102 | 20/11/2023 |
| Ticket Number | Date | Name |
| --- | --- | --- |
| 1 | 2023-11-20 10:24:48 | Lucy M |
| 2 | 2023-11-19 10:04:37 | Ellie Squires |
| 3 | 2023-11-20 19:14:17 | Marta Bialko |
| 4 | 2023-11-17 14:38:07 | S E H |
| 5 | 2023-11-20 19:16:31 | J C |
| 6 | 2023-11-20 19:25:57 | Scott Eveleigh |
| 7 | 2023-11-17 14:38:07 | S E H |
| 8 | 2023-11-20 18:23:25 | Becca Hirst |
| 9 | 2023-11-18 16:04:09 | Ross Couch |
| 10 | 2023-11-20 19:33:15 | Susan Foster |
| 11 | 2023-11-20 19:53:26 | Amy Bond |
| 12 | 2023-11-20 14:13:41 | JMS S |
| 13 | 2023-11-18 00:34:19 | Sarah jane Glover |
| 14 | 2023-11-17 14:38:07 | S E H |
| 15 | 2023-11-20 20:24:27 | Jemima Hember |
| 16 | 2023-11-20 18:19:22 | Levi-Marie Lloyd |
| 17 | 2023-11-20 20:37:53 | Cherie Bardsley |
| 18 | 2023-11-19 20:14:38 | Jo Lloyd |
| 19 | 2023-11-20 18:34:29 | Jennifer Ronchetti |
| 20 | 2023-11-20 19:14:17 | Marta Bialko |
| 21 | 2023-11-20 19:28:39 | Ashley Houston |
| 22 | 2023-11-19 09:07:06 | Kelly Thorne |
| 23 | 2023-11-17 14:38:07 | S E H |
| 24 | 2023-11-20 20:26:41 | Emma Hares |
| 25 | 2023-11-18 18:11:41 | Jonathon Bray |
| 26 | 2023-11-20 19:24:09 | Scott Wooll |
| 27 | 2023-11-20 14:13:41 | JMS S |
| 29 | 2023-11-20 20:36:34 | katrina haynes |
| 30 | 2023-11-20 18:20:01 | Nicole Paige Barnett |
| 31 | 2023-11-20 19:28:33 | Lauren Hawkins |
| 32 | 2023-11-19 09:07:06 | Kelly Thorne |
| 33 | 2023-11-18 00:34:19 | Sarah jane Glover |
| 36 | 2023-11-20 18:41:17 | Kerry McLean |
| 37 | 2023-11-20 19:51:42 | Michelle W |
| 39 | 2023-11-17 19:26:00 | Tracey Milne |
| 40 | 2023-11-20 19:21:55 | Lacey Coombes |
| 41 | 2023-11-20 18:24:03 | Keith Moore |
| 42 | 2023-11-20 18:23:41 | Christopher Priest |
| 44 | 2023-11-20 18:34:29 | Jennifer Ronchetti |
| 45 | 2023-11-20 19:44:59 | Claire Thomas |
| 46 | 2023-11-20 19:20:18 | Nikki COOMBES |
| 47 | 2023-11-18 00:34:19 | Sarah jane Glover |
| 49 | 2023-11-20 19:37:07 | Emma Donnelly |
| 50 | 2023-11-20 19:15:12 | Claire Fort |
| 51 | 2023-11-20 18:26:07 | Sarah Widdop |
| 52 | 2023-11-20 20:55:00 | Hi Janine Tidball |
| 53 | 2023-11-17 16:29:22 | Ben Stocker |
| 55 | 2023-11-20 09:00:06 | LL BB |
| 57 | 2023-11-20 19:28:33 | Lauren Hawkins |
| 58 | 2023-11-17 20:05:23 | Courtney Quinlan |
| 59 | 2023-11-20 19:52:39 | Kiera Saunders |
| 60 | 2023-11-20 19:41:49 | Liz Smith |
| 62 | 2023-11-19 09:07:06 | Kelly Thorne |
| 63 | 2023-11-18 20:15:34 | A.T W. |
| 64 | 2023-11-17 14:29:56 | G W |
| 65 | 2023-11-20 20:55:28 | Brandon Hodge |
| 68 | 2023-11-20 18:23:41 | Christopher Priest |
| 69 | 2023-11-20 20:55:00 | Hi Janine Tidball |
| 72 | 2023-11-20 18:35:08 | Danielle Lindsay |
| 73 | 2023-11-18 16:59:55 | Ross Couch |
| 74 | 2023-11-20 19:37:07 | Emma Donnelly |
| 76 | 2023-11-20 18:41:17 | Kerry McLean |
| 78 | 2023-11-20 20:50:16 | Georgina Shotter |
| 79 | 2023-11-20 15:17:44 | Gary King |
| 80 | 2023-11-20 16:08:43 | Vicki Kershaw |
| 82 | 2023-11-20 18:23:41 | Christopher Priest |
| 84 | 2023-11-20 19:24:09 | Scott Wooll |
| 85 | 2023-11-20 19:15:12 | Claire Fort |
| 86 | 2023-11-20 15:42:11 | Alison Hammond |
| 87 | 2023-11-19 09:07:06 | Kelly Thorne |
| 89 | 2023-11-20 20:52:31 | Caitlyn Hobbs |
| 90 | 2023-11-20 20:28:54 | Eric Marsdon |
| 91 | 2023-11-20 10:51:28 | Stacey La'moon |
| 93 | 2023-11-20 12:35:10 | Tara Hawthorn |
| 97 | 2023-11-20 18:03:36 | Kendra Brain |
| 99 | 2023-11-20 19:44:59 | Claire Thomas |
| 102 | 2023-11-20 20:58:42 | Jade Morrison |
| 104 | 2023-11-20 20:53:37 | C S |
| 109 | 2023-11-20 20:28:54 | Eric Marsdon |
| 110 | 2023-11-20 19:51:30 | Holly Tonner |
| 111 | 2023-11-20 20:52:31 | Caitlyn Hobbs |
| 113 | 2023-11-20 21:04:19 | Susan Munt |
| 114 | 2023-11-20 20:42:33 | Karen Bumby |
| 116 | 2023-11-19 23:01:15 | Gemma Mccourty |
| 117 | 2023-11-20 19:53:27 | William Danks |
| 120 | 2023-11-20 18:03:49 | Oliver Bourton |
| 121 | 2023-11-20 20:55:28 | Brandon Hodge |
| 122 | 2023-11-20 20:28:54 | Eric Marsdon |
| 123 | 2023-11-20 20:15:51 | C A |
| 124 | 2023-11-20 20:55:28 | Brandon Hodge |
| 126 | 2023-11-20 20:10:59 | Jade Waghorne |
| 127 | 2023-11-20 20:15:51 | C A |
| 131 | 2023-11-20 19:14:17 | Marta Bialko |
| 132 | 2023-11-20 18:19:03 | Lucy Wootton |
| 133 | 2023-11-20 18:19:30 | Jonathon Bray |
| 134 | 2023-11-19 09:07:06 | Kelly Thorne |
| 140 | 2023-11-20 21:05:59 | Sam Pride |
| 142 | 2023-11-18 21:10:02 | Kim White |
| 143 | 2023-11-20 19:12:42 | Emma King |
| 144 | 2023-11-20 19:17:26 | Ellie Brooks |
| 146 | 2023-11-20 21:03:20 | Cheryl White |
| 147 | 2023-11-20 18:24:03 | Keith Moore |
| 149 | 2023-11-20 17:55:50 | Kyle Watterson |
| 152 | 2023-11-20 19:25:57 | Scott Eveleigh |
| 154 | 2023-11-20 18:53:33 | Keira Bradford-jones |
| 155 | 2023-11-20 19:41:49 | Liz Smith |
| 156 | 2023-11-17 22:34:28 | Brooke Dolbear |
| 160 | 2023-11-20 20:55:28 | Brandon Hodge |
| 161 | 2023-11-18 16:59:55 | Ross Couch |
| 163 | 2023-11-20 18:19:03 | Lucy Wootton |
| 164 | 2023-11-20 20:06:12 | Jenna Finch |
| 166 | 2023-11-20 19:41:49 | Liz Smith |
| 168 | 2023-11-20 19:21:55 | Lacey Coombes |
| 172 | 2023-11-20 20:15:51 | C A |
| 173 | 2023-11-20 19:17:26 | Ellie Brooks |
| 174 | 2023-11-20 19:23:14 | Donna Heardson |
| 176 | 2023-11-20 20:16:58 | Kirsty Kirsty |
| 177 | 2023-11-19 19:46:48 | Agnes Newman |
| 179 | 2023-11-20 19:14:17 | Marta Bialko |
| 181 | 2023-11-20 20:42:27 | Charlotte Pollitt |
| 182 | 2023-11-20 19:41:49 | Liz Smith |
| 183 | 2023-11-20 19:51:30 | Holly Tonner |
| 185 | 2023-11-20 20:21:38 | Amazon Start |
| 187 | 2023-11-19 14:27:36 | A.T W. |
| 188 | 2023-11-20 20:04:33 | Demi Demetriou |
| 191 | 2023-11-20 18:19:30 | Jonathon Bray |
| 192 | 2023-11-19 10:04:37 | Ellie Squires |
| 193 | 2023-11-20 20:18:31 | Jemma Harrison |
| 194 | 2023-11-17 21:26:51 | Kim White |
| 195 | 2023-11-20 18:38:43 | Jo Kestell |
| 199 | 2023-11-20 19:14:17 | Marta Bialko |