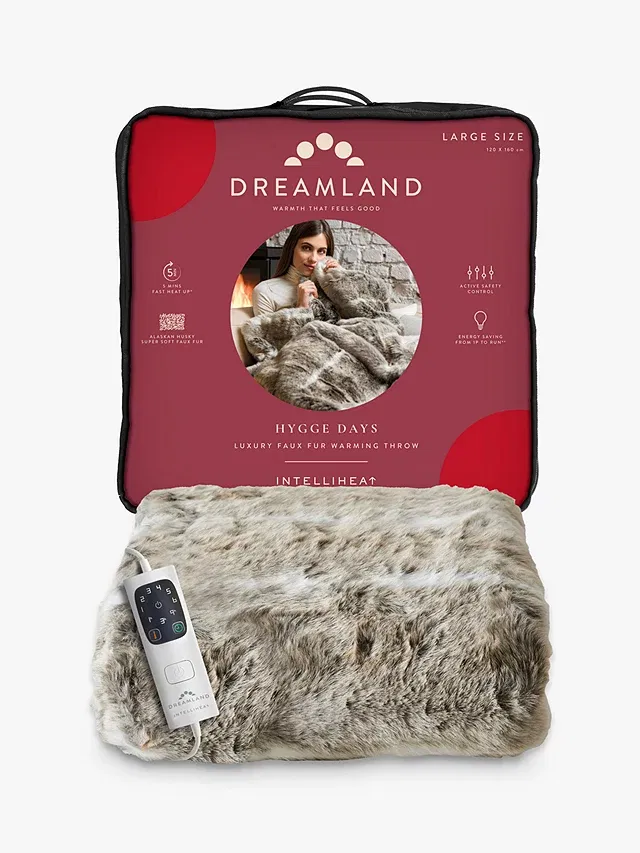 Dreamland Alaskan Husky Faux Fur Throw
Description
Dreamland Alaskan Husky Faux Fur Throw
Dreamland's fashionable deluxe Alaskan Husky faux fur heated throw is a gorgeous accessory to add to your living room or bedroom, and fits right in if you are after the scandi look.
It looks fabulous draped over you or your bed. It is the most luxurious way to snuggle up and watch tv. Keeping you warm and cosy on chilly nights, imagine the warmth around you from being cocooned in super soft strokeable faux fur. The reverse fabric is in a beautiful soft beige micromink fabric.
Intelliheat + Technology cleverly responds to temperature changes while you sleep and relax.
It also has an auto-shut off function which can be set for 1, 3 or 9 hours.
Cable length: 3m
| Winner Name | Ticket Number | Draw Date |
| --- | --- | --- |
| Kelly Mckeever | 94 | 16/10/2023 |
| Ticket Number | Date | Name |
| --- | --- | --- |
| 1 | 2023-10-16 11:02:38 | Lisa Glover |
| 2 | 2023-10-16 19:49:30 | Sarah Widdop |
| 3 | 2023-10-16 19:31:13 | Sharon Smith |
| 4 | 2023-10-16 14:31:38 | Nicky Legge |
| 5 | 2023-10-16 20:25:55 | Jade Chudley |
| 6 | 2023-10-16 19:08:55 | Richard Arnold |
| 7 | 2023-10-16 18:48:15 | Courteney Stone |
| 8 | 2023-10-16 08:23:04 | Emma White |
| 9 | 2023-10-10 15:18:03 | Sharon Saunders |
| 10 | 2023-10-16 08:23:04 | Emma White |
| 11 | 2023-10-15 13:17:51 | sue fogarty |
| 12 | 2023-10-16 18:56:17 | Richard O'Neill |
| 13 | 2023-10-10 13:59:25 | Sarah jane Glover |
| 14 | 2023-10-16 19:06:51 | Suzanne Oliver |
| 15 | 2023-10-16 19:41:25 | Stacey Karpinski |
| 16 | 2023-10-16 19:31:13 | Sharon Smith |
| 17 | 2023-10-14 01:26:14 | Tanya Sumner |
| 18 | 2023-10-16 20:29:26 | Gordon Humphreys |
| 19 | 2023-10-15 22:09:55 | Helen Smith |
| 20 | 2023-10-14 12:44:36 | sue fogarty |
| 21 | 2023-10-16 18:00:47 | Lisa Roberts |
| 22 | 2023-10-16 12:20:25 | Emma & lee |
| 23 | 2023-10-16 10:06:19 | Tanya Sherlock |
| 24 | 2023-10-16 19:06:51 | Suzanne Oliver |
| 25 | 2023-10-16 12:02:18 | Jessica Pellens |
| 26 | 2023-10-16 19:28:39 | Lloyd Minear |
| 27 | 2023-10-16 08:23:04 | Emma White |
| 28 | 2023-10-16 20:29:26 | Gordon Humphreys |
| 29 | 2023-10-16 20:14:34 | Steve Ford |
| 30 | 2023-10-13 22:21:42 | Tintin Spaang |
| 31 | 2023-10-11 20:41:58 | Emma White |
| 32 | 2023-10-16 20:43:55 | Miriam Jordan |
| 33 | 2023-10-10 13:59:25 | Sarah jane Glover |
| 34 | 2023-10-16 01:30:20 | Judith Barnett |
| 35 | 2023-10-16 19:08:55 | Richard Arnold |
| 36 | 2023-10-16 20:29:26 | Gordon Humphreys |
| 37 | 2023-10-15 13:17:51 | sue fogarty |
| 38 | 2023-10-16 20:04:14 | Nadia Davey |
| 39 | 2023-10-16 19:30:04 | nicola DAVIES |
| 40 | 2023-10-16 20:29:21 | M P |
| 41 | 2023-10-16 20:43:55 | Miriam Jordan |
| 42 | 2023-10-16 15:44:24 | Marnie Griffiths |
| 43 | 2023-10-16 20:22:42 | J R |
| 44 | 2023-10-15 21:19:54 | Lyn Peters |
| 45 | 2023-10-16 20:32:10 | Natalie Holding |
| 46 | 2023-10-16 20:09:05 | David Fitzsimmons |
| 47 | 2023-10-16 20:09:29 | Sarah jane Glover |
| 48 | 2023-10-16 19:08:55 | Richard Arnold |
| 49 | 2023-10-16 18:40:20 | Grace Cox |
| 50 | 2023-10-15 21:57:19 | Tracy Brown |
| 51 | 2023-10-16 18:39:52 | Caneshia Voisey |
| 52 | 2023-10-16 20:33:26 | Ross Newham |
| 53 | 2023-10-16 20:33:10 | J/S J/S |
| 54 | 2023-10-16 18:56:17 | Richard O'Neill |
| 55 | 2023-10-16 20:49:33 | Danielle Bagley |
| 56 | 2023-10-16 20:14:34 | Steve Ford |
| 57 | 2023-10-16 14:41:21 | Ali Gilbert |
| 58 | 2023-10-16 08:23:04 | Emma White |
| 59 | 2023-10-16 08:04:24 | Sammy Morphey |
| 60 | 2023-10-16 18:28:55 | Gail. Gilbert. |
| 61 | 2023-10-16 17:23:21 | Tom Speed |
| 62 | 2023-10-16 10:06:19 | Tanya Sherlock |
| 63 | 2023-10-16 17:21:14 | Nikki Keetch |
| 64 | 2023-10-15 22:16:33 | Sharon Saunders |
| 65 | 2023-10-16 19:24:21 | Sharon Jordain |
| 66 | 2023-10-16 20:22:42 | J R |
| 67 | 2023-10-16 18:06:33 | Seb Stevens |
| 68 | 2023-10-16 20:09:05 | David Fitzsimmons |
| 69 | 2023-10-16 16:18:55 | Shanon Jonas |
| 70 | 2023-10-16 20:29:26 | Gordon Humphreys |
| 72 | 2023-10-16 20:43:55 | Miriam Jordan |
| 73 | 2023-10-16 19:52:40 | Hi Janine Tidball |
| 74 | 2023-10-16 18:00:57 | Elaine Lipscombe |
| 75 | 2023-10-16 20:43:54 | Amy Shoyer |
| 76 | 2023-10-16 19:43:38 | Tracy Mills |
| 77 | 2023-10-16 19:08:55 | Richard Arnold |
| 78 | 2023-10-16 18:22:41 | Jamelia Walshe |
| 79 | 2023-10-15 13:17:51 | sue fogarty |
| 80 | 2023-10-15 21:11:14 | Luana Winston |
| 81 | 2023-10-16 18:00:57 | Elaine Lipscombe |
| 82 | 2023-10-16 20:09:05 | David Fitzsimmons |
| 83 | 2023-10-16 19:08:55 | Richard Arnold |
| 84 | 2023-10-16 17:45:36 | Emma King |
| 85 | 2023-10-16 17:23:21 | Tom Speed |
| 86 | 2023-10-16 20:58:00 | Richard Higham |
| 87 | 2023-10-16 20:43:54 | Amy Shoyer |
| 88 | 2023-10-16 19:21:48 | Lisa Darragh |
| 89 | 2023-10-16 18:46:24 | Joanne Stewart |
| 90 | 2023-10-16 20:14:34 | Steve Ford |
| 91 | 2023-10-16 19:02:00 | Paula Curtis |
| 92 | 2023-10-16 20:22:42 | J R |
| 93 | 2023-10-16 20:22:42 | J R |
| 94 | 2023-10-16 20:17:05 | Kelly Mckeever |
| 95 | 2023-10-16 20:20:27 | Adam Frost |
| 96 | 2023-10-16 20:38:24 | Kerry Eldred |
| 97 | 2023-10-16 20:58:34 | Charlie Georgina |
| 98 | 2023-10-16 19:05:43 | Ma Roberts |
| 99 | 2023-10-16 20:14:34 | Steve Ford |
| 100 | 2023-10-16 18:56:09 | holly m bewers |
| 101 | 2023-10-16 19:43:38 | Tracy Mills |
| 102 | 2023-10-16 20:22:42 | J R |
| 103 | 2023-10-16 17:50:28 | Amy Shoyer |
| 104 | 2023-10-16 20:45:54 | Donna Mckie |
| 105 | 2023-10-16 20:24:50 | D H |
| 106 | 2023-10-16 20:07:55 | Louise Street |
| 107 | 2023-10-16 20:04:08 | Marnie Griffiths |
| 108 | 2023-10-16 20:58:09 | Jodie Ellis |
| 109 | 2023-10-16 20:09:05 | David Fitzsimmons |
| 110 | 2023-10-11 17:20:34 | Tina Howard |
| 111 | 2023-10-16 20:34:31 | Lisa Chamberlain |
| 112 | 2023-10-16 20:28:27 | Sam Gough |
| 113 | 2023-10-16 20:58:34 | Charlie Georgina |
| 114 | 2023-10-16 20:43:54 | Amy Shoyer |
| 115 | 2023-10-16 20:29:26 | Gordon Humphreys |
| 116 | 2023-10-14 12:44:36 | sue fogarty |
| 117 | 2023-10-16 20:04:08 | Marnie Griffiths |
| 119 | 2023-10-16 20:43:55 | Miriam Jordan |
| 120 | 2023-10-16 18:43:46 | Dan Hollands |
| 121 | 2023-10-16 19:05:42 | Jade Waghorne |
| 122 | 2023-10-16 19:01:04 | Paul Mcmahon |
| 123 | 2023-10-16 20:43:55 | Miriam Jordan |
| 124 | 2023-10-16 20:50:49 | Ami Laskey |
| 125 | 2023-10-16 18:56:53 | Kirstie Drake |
| 126 | 2023-10-16 12:06:22 | Sharon White |
| 128 | 2023-10-16 20:09:05 | David Fitzsimmons |
| 129 | 2023-10-16 20:43:30 | Alex Alex |
| 130 | 2023-10-16 17:50:28 | Amy Shoyer |