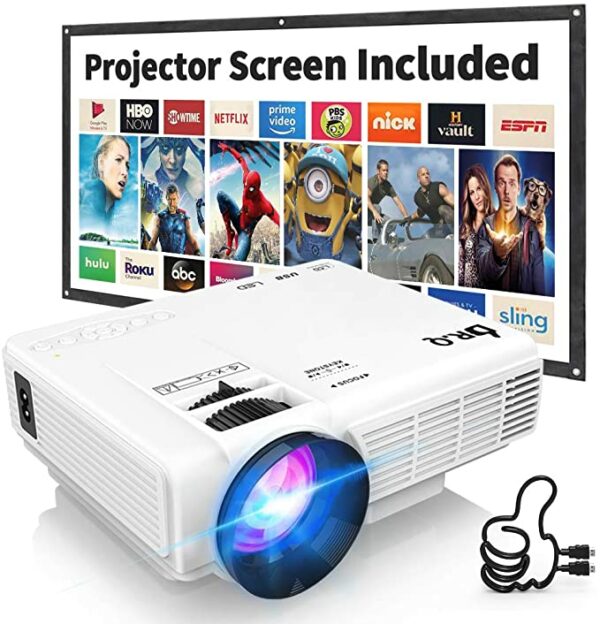 DR. Q HI-04 Projector with Projection Screen 1080P Full HD Supported, Upgraded 6500 Lux Video Projector Compatible with TV Stick PS4 HDMI USB AV.
Description
【👍 UPGRADED DYNAMIC RGB LIGHT OUTPUT 👍】This video projector features with an upgraded color light output as well as a native 1920 * 720P resolution and delivers a Full HD clear, dynamic and color vibrant image quality. With the latest 3LCD Technique and 80% enhanced Color Brightness compared with other typical projectors, as well as 90% increased White Brightness, this easy-to-operate & carry 4 Inch mini LCD projector is real value for money.

【👍 LARGER SCREEN & BETTER VIEWING EXPERIENCE 👍】This HI-04 projector is tailored to meet our customer's requirements and offers a customized and limited 100 inch projection screen in the packaging. This portable, foldable, anti-wrinkle and easy to wash 100 inch projection screen is larger than others, which ensures larger viewing angle and more picture details. If you are using this projector for watching outdoor football games, it must be at night or in a dark environment.

【👍 MULTIPLE MULTIMEDIA ACCESSIBILITY 👍】This compact video projector is equipped with multiple ports for ease of use, including a built-in HDMI, USB, TF Card, VGA, and AV interface. You can connect this projector to a TV Stick directly, as well as Game consoles, PCs, Smartphones, Tablets, Laptops, DVD player, Micro SD card and USB flash drive, etc.

【👍 THE ONLY IDEAL HOME THEATER PROJECTOR 👍】Set up a portable cinema in your home now to watch movies and TV shows, view photo slides and play video games. This portable projector offers outstanding product performance and brings you a fantastic and beautiful cinematic experience on your 240 Inch large screen. The newest improved uniform illumination method ensures the optimum visual experience, as no dark area will appear on the edge of the screen.

【👍 CUSTOMIZED AND QUALITY PROJECTOR 👍】This compact video projector is fitted with a modern design and is a customised and limited edition with exquisite and exclusive projection screen. The innovative and efficient cooling system empowers a stunning watching and listening experience, a unique dual built-in speakers system, offering excellent loud sound quality without connecting to an external speaker. This is in addition to the easy to adjustable focus and keystone correction.
| Winner Name | Ticket Number | Draw Date |
| --- | --- | --- |
| Holly Wines | 121 | 12/05/2022 |
| Ticket Number | Date | Name |
| --- | --- | --- |
| 1 | 2022-05-09 10:15:29 | Ryan Watkins |
| 2 | 2022-05-12 07:50:18 | Melanie Rowe |
| 3 | 2022-05-12 09:04:10 | Sophie Hodge |
| 4 | 2022-05-11 15:27:04 | Kelly Mcintosh |
| 5 | 2022-05-12 07:50:18 | Melanie Rowe |
| 6 | 2022-05-09 10:15:29 | Ryan Watkins |
| 7 | 2022-05-07 19:02:20 | Hayley Ward |
| 8 | 2022-05-11 18:20:24 | Sam Egan |
| 9 | 2022-05-10 04:28:52 | Soph Sayer |
| 10 | 2022-05-12 09:04:10 | Sophie Hodge |
| 11 | 2022-05-11 15:27:04 | Kelly Mcintosh |
| 12 | 2022-05-11 19:58:58 | Kerry Jones |
| 13 | 2022-05-10 04:28:52 | Soph Sayer |
| 14 | 2022-05-06 19:33:03 | Holly Ring |
| 15 | 2022-05-12 09:04:10 | Sophie Hodge |
| 16 | 2022-05-09 13:17:55 | Sarah Lamble |
| 17 | 2022-05-11 18:43:02 | Sarah Guest |
| 18 | 2022-05-12 07:50:18 | Melanie Rowe |
| 19 | 2022-05-08 23:23:50 | Rachael Rowlands |
| 20 | 2022-05-08 17:37:31 | Claire Marks |
| 21 | 2022-05-09 10:15:29 | Ryan Watkins |
| 22 | 2022-05-09 12:12:14 | Claire Marks |
| 23 | 2022-05-11 17:58:08 | Linda Beer |
| 24 | 2022-05-07 19:02:20 | Hayley Ward |
| 25 | 2022-05-06 20:27:21 | Claire Marks |
| 26 | 2022-05-10 04:28:52 | Soph Sayer |
| 27 | 2022-05-11 19:32:55 | Lisa Donoghue |
| 28 | 2022-05-11 22:46:26 | Holly Wines |
| 29 | 2022-05-11 22:46:26 | Holly Wines |
| 30 | 2022-05-10 20:10:10 | Debbie Deane |
| 31 | 2022-05-11 19:58:58 | Kerry Jones |
| 32 | 2022-05-10 20:10:10 | Debbie Deane |
| 33 | 2022-05-10 04:28:52 | Soph Sayer |
| 34 | 2022-05-10 10:00:00 | Adam Cree |
| 35 | 2022-05-10 10:18:49 | Amanda Bowden |
| 36 | 2022-05-12 08:26:27 | Katrina IķStevens |
| 37 | 2022-05-12 09:04:10 | Sophie Hodge |
| 38 | 2022-05-11 23:10:19 | Tim Hallam |
| 39 | 2022-05-11 20:20:06 | Anna Lofthouse |
| 40 | 2022-05-12 04:21:04 | Kirsty Woohoo |
| 41 | 2022-05-06 18:18:15 | Ann Atkinson |
| 42 | 2022-05-11 22:46:26 | Holly Wines |
| 43 | 2022-05-11 20:29:11 | Simon Payne |
| 44 | 2022-05-09 15:19:09 | Selina Bailey |
| 45 | 2022-05-12 03:20:15 | Kim Dudley |
| 46 | 2022-05-10 04:28:52 | Soph Sayer |
| 47 | 2022-05-10 04:28:52 | Soph Sayer |
| 48 | 2022-05-11 22:46:26 | Holly Wines |
| 49 | 2022-05-11 22:46:26 | Holly Wines |
| 50 | 2022-05-11 19:58:58 | Kerry Jones |
| 51 | 2022-05-09 10:15:29 | Ryan Watkins |
| 52 | 2022-05-08 23:23:50 | Rachael Rowlands |
| 53 | 2022-05-08 15:32:20 | Lisa Dockree |
| 54 | 2022-05-10 04:28:52 | Soph Sayer |
| 55 | 2022-05-06 19:33:03 | Holly Ring |
| 56 | 2022-05-11 22:46:26 | Holly Wines |
| 57 | 2022-05-10 04:28:52 | Soph Sayer |
| 58 | 2022-05-11 20:06:19 | Lisah Brooking |
| 59 | 2022-05-11 22:46:26 | Holly Wines |
| 60 | 2022-05-10 22:38:49 | Sarah Dennis |
| 61 | 2022-05-10 10:00:00 | Adam Cree |
| 62 | 2022-05-11 14:23:23 | Emily Billing |
| 63 | 2022-05-08 11:17:13 | kerry budd |
| 64 | 2022-05-11 19:08:34 | Teresa Jeffery |
| 65 | 2022-05-11 18:38:08 | anna heard |
| 66 | 2022-05-11 20:29:11 | Simon Payne |
| 67 | 2022-05-11 14:28:41 | Jeni Chown |
| 68 | 2022-05-07 09:22:23 | Jen Reid |
| 69 | 2022-05-11 07:37:34 | Jodie Copley |
| 70 | 2022-05-10 04:28:52 | Soph Sayer |
| 71 | 2022-05-10 08:08:02 | Michael O'connor |
| 72 | 2022-05-11 19:21:50 | Usher Prowse |
| 73 | 2022-05-11 19:43:11 | Aimee Holmes |
| 74 | 2022-05-11 22:46:26 | Holly Wines |
| 75 | 2022-05-09 13:00:42 | Megan Barratt |
| 76 | 2022-05-07 19:02:20 | Hayley Ward |
| 77 | 2022-05-11 22:46:26 | Holly Wines |
| 78 | 2022-05-10 04:28:52 | Soph Sayer |
| 79 | 2022-05-11 22:46:26 | Holly Wines |
| 80 | 2022-05-11 20:29:11 | Simon Payne |
| 81 | 2022-05-08 17:37:31 | Claire Marks |
| 82 | 2022-05-11 22:46:26 | Holly Wines |
| 83 | 2022-05-08 17:37:31 | Claire Marks |
| 84 | 2022-05-10 04:28:52 | Soph Sayer |
| 85 | 2022-05-09 11:49:43 | Kirsty Kilkenny |
| 86 | 2022-05-09 10:15:29 | Ryan Watkins |
| 87 | 2022-05-10 10:00:00 | Adam Cree |
| 88 | 2022-05-10 13:28:41 | Annamai Martinot |
| 89 | 2022-05-11 22:46:26 | Holly Wines |
| 90 | 2022-05-10 08:08:02 | Michael O'connor |
| 91 | 2022-05-10 04:28:52 | Soph Sayer |
| 92 | 2022-05-09 12:12:14 | Claire Marks |
| 93 | 2022-05-12 09:04:10 | Sophie Hodge |
| 94 | 2022-05-11 19:32:55 | Lisa Donoghue |
| 95 | 2022-05-11 12:16:10 | Lekel North |
| 96 | 2022-05-05 19:00:00 | Lizzie Storer |
| 97 | 2022-05-09 10:15:29 | Ryan Watkins |
| 98 | 2022-05-10 13:28:41 | Annamai Martinot |
| 99 | 2022-05-10 08:08:02 | Michael O'connor |
| 100 | 2022-05-11 19:43:11 | Aimee Holmes |