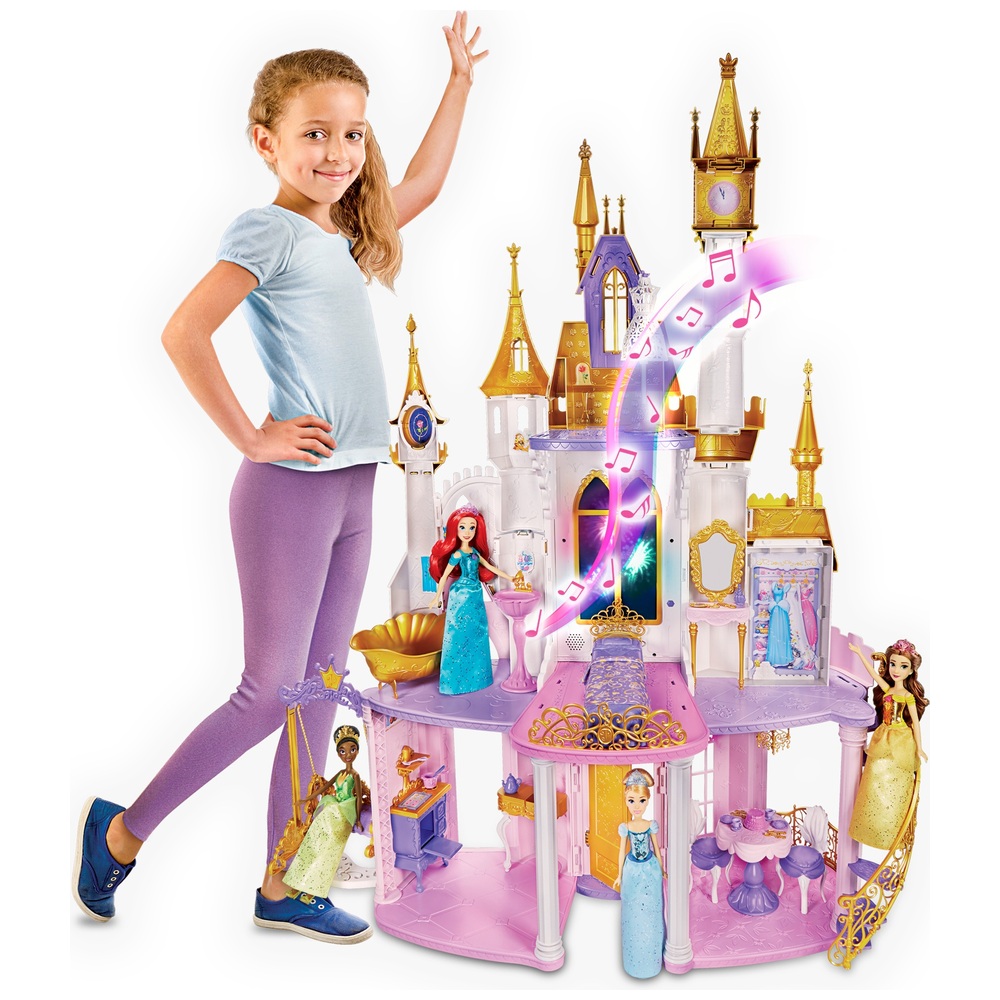 DISNEY PRINCESS ULTIMATE CELEBRATION CASTLE
Description
DISNEY PRINCESS ULTIMATE CELEBRATION CASTLE
Celebrate along with the Disney Princess characters in the Ultimate Celebration Castle! Standing four feet tall with its classic silhouette, this dollhouse features three stories and six rooms. There's plenty to explore!
Fully-Furnished Dollhouse
The Ultimate Celebration Castle places you in the Disney adventures of your dreams. Explore this elaborate dollhouse and take in its bathroom with tub and sink, bedroom with bed and vanity, kitchen with stove, and dining room with table and chairs. There's also a sofa that converts to a garden swing for outside of the castle.
Doll's House with Lights and Sounds
The upstairs window lights up like fireworks while music plays, so kids can imagine the Disney Princess characters watching a spectacular fireworks show. The Ultimate Celebration Castle also includes 29 accessories, like forks, spoons, a teapot, teacups, plates, a comb, mirror, and more to help kids' imaginations come to life.
Disney Princess Castle Gift Set
With its size, furniture, accessories, lights, and music, this Disney Princess castle dollhouse makes a great gift for girls 3 year and up. It's a great home for Disney Princess dolls and no tools are required for adults to assemble. (Dolls not included.)
| Winner Name | Ticket Number | Draw Date |
| --- | --- | --- |
| Kelvin Courtenay | 183 | 15/09/2022 |
| Ticket Number | Date | Name |
| --- | --- | --- |
| 1 | 2022-09-15 11:20:18 | Riddock Suzanne |
| 2 | 2022-09-15 17:52:24 | Katie Pile |
| 3 | 2022-09-13 21:26:31 | Jade Ballard |
| 4 | 2022-09-14 21:59:35 | Mariesha Trant |
| 5 | 2022-09-15 14:30:14 | Alison Kennard |
| 6 | 2022-09-11 19:59:02 | Shelley Clewes |
| 7 | 2022-09-11 16:56:44 | Jessica Walton |
| 8 | 2022-09-15 10:25:05 | Kevin Hayes |
| 9 | 2022-09-14 14:57:20 | Ami Laskey |
| 10 | 2022-09-13 22:10:22 | Holly Ring |
| 11 | 2022-09-07 20:30:59 | Ms Elizabeth E Beal |
| 12 | 2022-09-13 15:11:31 | Chloe Carnell |
| 13 | 2022-09-14 19:18:35 | Gabrielle Loveridge |
| 14 | 2022-09-14 20:38:32 | Lauren Rogers |
| 15 | 2022-09-15 07:33:46 | Lucy Oldham |
| 16 | 2022-09-15 12:29:54 | Amy Leslie |
| 17 | 2022-09-15 09:56:32 | Justine Nos |
| 18 | 2022-09-05 19:42:05 | Ben Stocker |
| 19 | 2022-09-14 12:46:06 | Donna Heardson |
| 20 | 2022-09-10 06:39:42 | Ami Laskey |
| 21 | 2022-09-13 21:26:31 | Jade Ballard |
| 22 | 2022-09-05 20:00:38 | Ruth Harris |
| 23 | 2022-09-15 11:15:28 | Molly Watkins |
| 24 | 2022-09-06 10:49:26 | Rachel Palmer |
| 25 | 2022-09-15 16:31:57 | Lee Mills |
| 26 | 2022-09-14 20:38:32 | Lauren Rogers |
| 27 | 2022-09-06 19:57:00 | Clare Keating |
| 28 | 2022-09-15 09:56:32 | Justine Nos |
| 29 | 2022-09-15 19:25:11 | Rees Sam |
| 30 | 2022-09-15 18:37:10 | Lee Mayo |
| 31 | 2022-09-15 19:08:58 | Lucy Griffiths |
| 33 | 2022-09-15 19:40:28 | Amie Mcleod |
| 34 | 2022-09-15 13:15:23 | Sarah Smith |
| 35 | 2022-09-15 16:47:26 | Lee Mills |
| 36 | 2022-09-15 19:08:58 | Lucy Griffiths |
| 37 | 2022-09-15 18:42:12 | Nathan White |
| 38 | 2022-09-15 18:05:17 | Chantel Adams |
| 39 | 2022-09-15 17:37:15 | Tinker Bell |
| 40 | 2022-09-15 17:05:21 | Amber Phillips |
| 41 | 2022-09-15 19:55:13 | Abigail Banner |
| 42 | 2022-09-13 07:36:34 | Kate Henry |
| 43 | 2022-09-13 21:34:18 | Lucy Hobbs |
| 44 | 2022-09-15 12:19:02 | Tina Greenwood |
| 45 | 2022-09-15 19:55:33 | Kevin Head |
| 46 | 2022-09-15 11:15:28 | Molly Watkins |
| 47 | 2022-09-15 19:55:13 | Abigail Banner |
| 48 | 2022-09-15 20:14:48 | Kim Dudley |
| 49 | 2022-09-15 18:43:34 | Melissa davidson |
| 50 | 2022-09-15 14:44:23 | Ben Tait |
| 51 | 2022-09-13 07:36:34 | Kate Henry |
| 52 | 2022-09-15 18:43:53 | Sian Beer |
| 53 | 2022-09-13 21:26:31 | Jade Ballard |
| 54 | 2022-09-05 20:35:58 | bethany dunn |
| 55 | 2022-09-15 16:47:26 | Lee Mills |
| 56 | 2022-09-15 17:52:24 | Katie Pile |
| 57 | 2022-09-15 19:25:11 | Rees Sam |
| 59 | 2022-09-15 18:32:16 | Jackie Dean |
| 61 | 2022-09-15 14:37:49 | Rebecca vaughan |
| 62 | 2022-09-15 18:27:27 | Hannah Riley |
| 63 | 2022-09-09 14:15:09 | Katie Loram |
| 64 | 2022-09-12 19:18:34 | Rachel Gilbert |
| 65 | 2022-09-15 18:42:12 | Nathan White |
| 67 | 2022-09-06 22:54:35 | Rachel Williams |
| 68 | 2022-09-14 21:37:55 | Robyn Collier |
| 69 | 2022-09-15 10:03:07 | Laura West |
| 71 | 2022-09-15 10:01:20 | Rebecca Chatburn |
| 72 | 2022-09-15 19:08:58 | Lucy Griffiths |
| 73 | 2022-09-15 20:42:35 | Jayne Anslow |
| 74 | 2022-09-15 19:08:58 | Lucy Griffiths |
| 75 | 2022-09-14 19:39:05 | Chelsea Guest |
| 76 | 2022-09-06 19:57:00 | Clare Keating |
| 77 | 2022-09-15 18:42:12 | Nathan White |
| 78 | 2022-09-15 07:24:51 | Rosie Reynolds |
| 79 | 2022-09-14 21:57:57 | Kerry Eldred |
| 80 | 2022-09-15 18:08:25 | Rachel Scott |
| 82 | 2022-09-15 20:43:02 | linda Brown |
| 83 | 2022-09-15 19:55:13 | Abigail Banner |
| 84 | 2022-09-15 16:25:41 | Victoria Sealey |
| 85 | 2022-09-09 11:45:25 | Hayley Dixon |
| 86 | 2022-09-15 09:34:45 | Daniel Stanyon |
| 87 | 2022-09-15 19:40:29 | David Smith |
| 88 | 2022-09-15 18:43:53 | Sian Beer |
| 89 | 2022-09-15 16:17:15 | Emma Davies |
| 90 | 2022-09-15 19:24:44 | Mark Pease |
| 91 | 2022-09-15 20:39:43 | Beverley Chandler |
| 92 | 2022-09-10 06:39:42 | Ami Laskey |
| 95 | 2022-09-15 16:47:26 | Lee Mills |
| 96 | 2022-09-15 18:32:16 | Jackie Dean |
| 97 | 2022-09-15 17:42:00 | Kevin Hall |
| 98 | 2022-09-15 19:23:22 | Lisa Hynes |
| 99 | 2022-09-15 17:37:15 | Tinker Bell |
| 100 | 2022-09-15 18:32:16 | Jackie Dean |