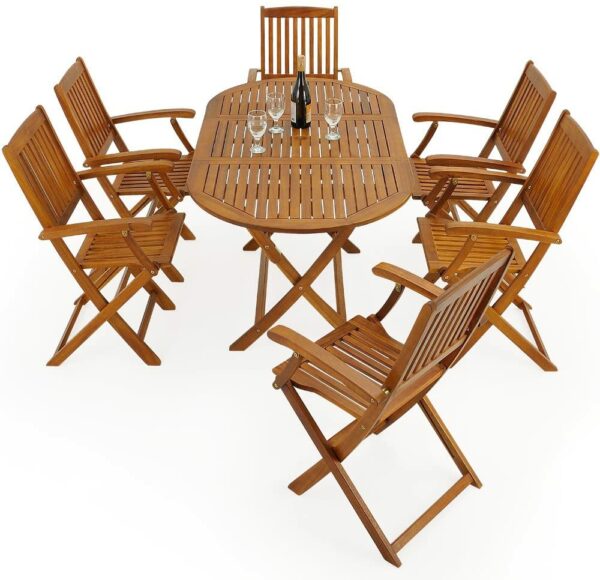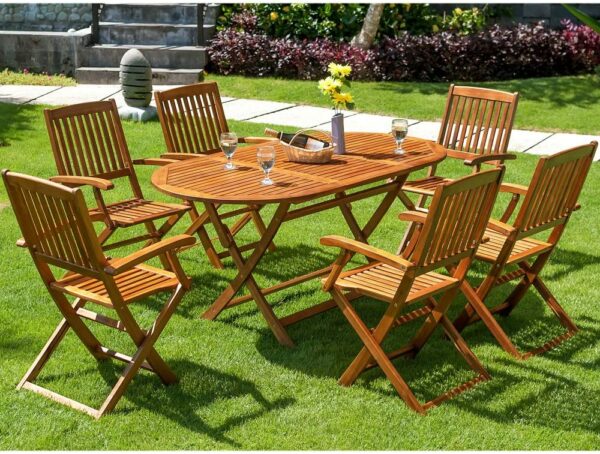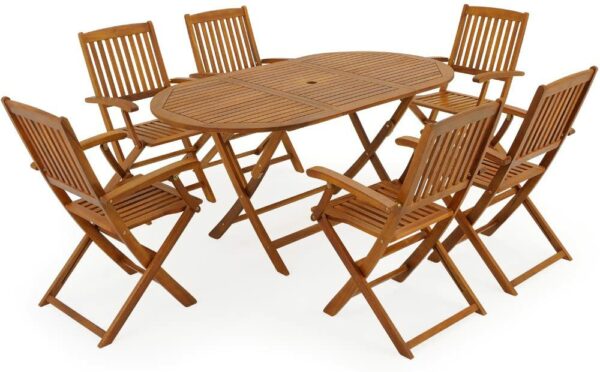 Deuba Wooden Dining Table and Chairs Folding Garden Patio Outdoor Furniture Set
Description
Deuba Wooden Dining Table and Chairs Folding Garden Patio Outdoor Furniture Set Boston FSC®-Certified Acacia Wood Oval 6 Seater 160×85 cm Conservatory Armrests High Back
Foldable table and chairs. Ideal for: Garden, patio, balcony and terrace. Made of robust and stable FSC-Certified Acacia wood. Very comfortable chairs with armrests and a high backrest. Space-saving storage when not needed.

Table dimensions: Length 160 cm x Depth 85 cm x Height 74 cm. Chairs dimensions: Length 58 cm x Depth 52 cm x Height 91 cm. Hinges and joints are made of galvanized metal. There is a hole in the middle of the table suitable for umbrellas.

The high-quality timber is extremely solid and has a great durability and strength. Its high oil content repels water and moisture. This makes the set perfectly suitable as a garden furniture.

The table and chair set has an attractive natural grain. This great piece of furniture will beautify your garden. It will give a warm and rich touch to your patio. The set won't warp and will be highly resistant to fungus.

Oval table, folding chairs for an easy transport and storage. The 7 pieces furniture set is perfectly suited as an outdoor dining table during the summer.
| Winner Name | Ticket Number | Draw Date |
| --- | --- | --- |
| Michael O'connor | 325 | 29/04/2022 |
1-100
101-200
201-300
301-400
| Ticket Number | Date | Name |
| --- | --- | --- |
| 1 | 2022-04-25 23:43:23 | Tracy Langridge |
| 2 | 2022-04-29 19:40:31 | Julie Cleave |
| 3 | 2022-04-29 19:47:44 | Nicole Humphrey |
| 4 | 2022-04-29 20:40:12 | Vikki Leicester |
| 5 | 2022-04-29 13:52:56 | Claire Drury |
| 7 | 2022-04-27 10:54:35 | Sophia Cousins |
| 9 | 2022-04-29 13:52:56 | Claire Drury |
| 10 | 2022-04-29 07:33:42 | Lin Salter |
| 11 | 2022-04-29 17:05:13 | Jodie Ellis |
| 12 | 2022-04-29 18:50:09 | Tracy Langridge |
| 13 | 2022-04-29 19:22:23 | Vikki Leicester |
| 14 | 2022-04-29 07:36:58 | Annette Curtain |
| 15 | 2022-04-29 15:32:38 | Mandy Cove |
| 16 | 2022-04-29 20:40:12 | Vikki Leicester |
| 17 | 2022-04-29 18:04:03 | Carl Rowsell |
| 18 | 2022-04-29 19:47:44 | Nicole Humphrey |
| 19 | 2022-04-29 08:09:34 | Paula Horrocks |
| 20 | 2022-04-29 16:21:48 | Sally Scurrah |
| 21 | 2022-04-25 23:43:23 | Tracy Langridge |
| 23 | 2022-04-26 07:05:48 | Mrs Sally J Davies |
| 27 | 2022-04-29 19:22:23 | Vikki Leicester |
| 32 | 2022-04-27 08:59:21 | Meisha Williams |
| 33 | 2022-04-29 07:15:08 | Melanie Rowe |
| 35 | 2022-04-29 17:05:13 | Jodie Ellis |
| 37 | 2022-04-26 17:05:21 | Christina Allen |
| 38 | 2022-04-29 19:39:46 | Jemma Harrison |
| 39 | 2022-04-29 18:03:19 | Jodie Ellis |
| 40 | 2022-04-26 07:05:48 | Mrs Sally J Davies |
| 43 | 2022-04-29 20:11:04 | Hayley Spears |
| 45 | 2022-04-26 11:13:18 | Theresa Mitchell |
| 46 | 2022-04-26 09:39:39 | Charlotte Horton |
| 47 | 2022-04-29 19:05:17 | Gail Gilbert |
| 48 | 2022-04-29 18:24:41 | Robert Maisey |
| 49 | 2022-04-26 17:48:40 | Chloe Kershaw |
| 50 | 2022-04-29 19:42:18 | Elaine Lewis |
| 51 | 2022-04-29 18:54:12 | Michael O'connor |
| 52 | 2022-04-29 20:40:12 | Vikki Leicester |
| 54 | 2022-04-29 20:21:16 | David Smith |
| 55 | 2022-04-27 17:54:55 | Tracy Mills |
| 56 | 2022-04-29 07:45:28 | Tracy Langridge |
| 57 | 2022-04-29 18:38:23 | Julie Mcglinchey |
| 58 | 2022-04-29 17:28:31 | Janice Parker-Done |
| 60 | 2022-04-29 10:16:41 | Charlotte Horton |
| 61 | 2022-04-29 11:28:53 | Katrina IķStevens |
| 64 | 2022-04-29 14:32:50 | Heather Turnstill |
| 65 | 2022-04-26 22:11:06 | Rachael Dummett |
| 66 | 2022-04-29 18:24:05 | Darren greep |
| 67 | 2022-04-29 19:42:18 | Elaine Lewis |
| 68 | 2022-04-29 19:42:26 | Victoria Mancuso |
| 69 | 2022-04-25 23:43:23 | Tracy Langridge |
| 70 | 2022-04-29 16:56:17 | Kerry Wood |
| 71 | 2022-04-27 10:09:47 | Emma Nixon |
| 72 | 2022-04-29 20:31:19 | Karen Hogg |
| 73 | 2022-04-29 20:40:12 | Vikki Leicester |
| 75 | 2022-04-29 16:29:53 | Hannah Waterhouse |
| 76 | 2022-04-29 19:14:22 | Pamela Forester |
| 77 | 2022-04-29 19:18:35 | Hannah Carter |
| 78 | 2022-04-29 20:19:09 | Nicky Winter |
| 81 | 2022-04-29 17:22:07 | Warren Kenny |
| 82 | 2022-04-29 16:56:53 | Lauren Charlesworth |
| 84 | 2022-04-28 03:12:40 | Kim Dudley |
| 85 | 2022-04-29 18:50:09 | Tracy Langridge |
| 86 | 2022-04-25 23:43:23 | Tracy Langridge |
| 87 | 2022-04-27 17:26:36 | Michael O'connor |
| 90 | 2022-04-26 17:28:26 | Emily Neno |
| 91 | 2022-04-29 19:43:03 | Lee Warren |
| 92 | 2022-04-29 16:42:05 | Deborah Talbot |
| 94 | 2022-04-29 20:18:40 | Emma Nixon |
| 97 | 2022-04-29 08:38:01 | Tracy Mills |
| 98 | 2022-04-28 17:23:57 | Lucy Mulligan |
| 99 | 2022-04-29 07:45:28 | Tracy Langridge |