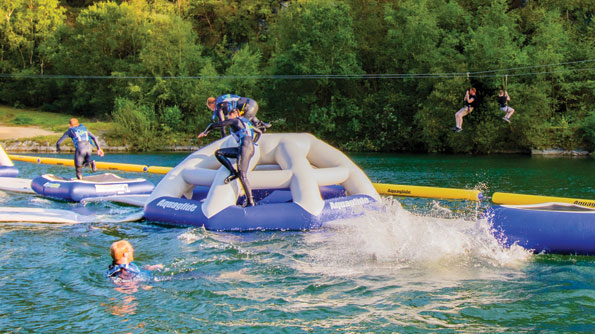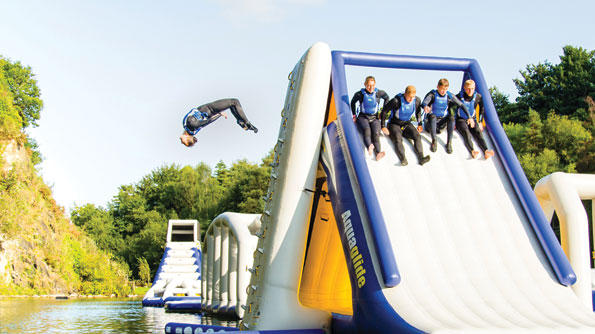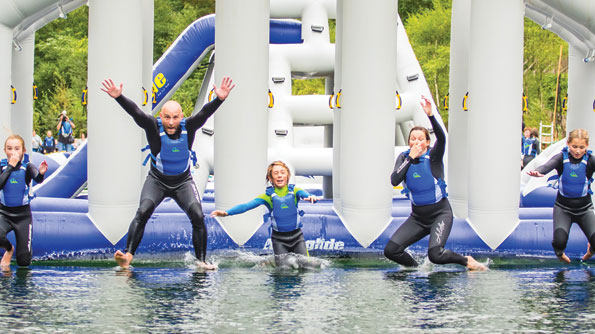 DAY AT THE ADRENALIN QUARRY AQUAPARK – UP TO 6 PEOPLE
Description
DAY AT THE ADRENALIN QUARRY AQUAPARK – UP TO 6 PEOPLE
Climb, jump, slide and bounce at the world's biggest Aquapark. No-holds-barred madness on our colossal inflatable playground. Get wet & go wild on oversized trampolines, monkey bars, slides, swings and more.
We encourage you to book your 6-8 year olds + family and friends on the earliest available session on any given day. Under 11s must be accompanied by 18 yrs+ (max 3 under 11s per adult).
INCLUDES £30 FOOD VOUCHER FOR PASTY AND ICECREAM.
| Winner Name | Ticket Number | Draw Date |
| --- | --- | --- |
| Gemma Dark | 248 | 26/07/2022 |
| Ticket Number | Date | Name |
| --- | --- | --- |
| 1 | 2022-07-25 15:34:04 | Nathan White |
| 2 | 2022-07-25 09:01:35 | Leanne Coles |
| 3 | 2022-07-25 10:28:18 | Robert Tovagliari |
| 4 | 2022-07-25 11:44:09 | Samantha Bailey |
| 5 | 2022-07-25 10:36:19 | Kayleigh Barnard |
| 6 | 2022-07-25 17:35:56 | Hayley Bewsher |
| 7 | 2022-07-25 08:55:59 | Emily Allen |
| 8 | 2022-07-25 12:20:14 | Lauren Mann |
| 9 | 2022-07-25 10:28:18 | Robert Tovagliari |
| 10 | 2022-07-25 12:39:45 | Kirsty Moranzoni |
| 11 | 2022-07-25 18:30:49 | Megan Barratt |
| 12 | 2022-07-25 09:26:38 | Jenna Hill |
| 13 | 2022-07-25 09:01:47 | Emma Louise |
| 14 | 2022-07-25 13:01:21 | Jenny King |
| 15 | 2022-07-25 12:20:14 | Lauren Mann |
| 16 | 2022-07-25 10:22:21 | Leanne Bowers |
| 17 | 2022-07-25 08:44:59 | ABIGAIL Freeth |
| 18 | 2022-07-25 09:02:12 | Peter Dolman |
| 19 | 2022-07-25 20:06:45 | Louise Tucker |
| 20 | 2022-07-25 09:07:51 | Dean O'Connor |
| 21 | 2022-07-25 09:01:47 | Emma Louise |
| 22 | 2022-07-25 13:01:21 | Jenny King |
| 23 | 2022-07-25 10:23:25 | Leanne Bowers |
| 24 | 2022-07-25 09:01:47 | Emma Louise |
| 25 | 2022-07-25 14:28:57 | Carrie Williams |
| 26 | 2022-07-25 09:07:51 | Dean O'Connor |
| 27 | 2022-07-25 09:07:51 | Dean O'Connor |
| 28 | 2022-07-25 16:27:17 | Marie Leat |
| 29 | 2022-07-25 19:02:49 | Lisa Balding |
| 30 | 2022-07-26 01:55:08 | Helen Bryant |
| 31 | 2022-07-25 09:17:17 | Belinda Mellas |
| 32 | 2022-07-25 10:28:18 | Robert Tovagliari |
| 33 | 2022-07-25 18:46:38 | Dina Smart |
| 34 | 2022-07-25 09:23:37 | Jasmin Bourne |
| 35 | 2022-07-25 12:42:36 | Mandy Smith |
| 36 | 2022-07-25 19:49:40 | Amanda Porter |
| 37 | 2022-07-25 08:44:59 | ABIGAIL Freeth |
| 38 | 2022-07-25 09:06:18 | Ellie Smith |
| 39 | 2022-07-25 17:03:58 | Jake Coley |
| 40 | 2022-07-25 09:16:11 | Tom Friend |
| 41 | 2022-07-25 20:45:34 | Demi Broome |
| 42 | 2022-07-26 18:06:34 | Tanya Lewis |
| 43 | 2022-07-25 20:45:34 | Demi Broome |
| 44 | 2022-07-25 13:41:55 | Kirsty Westy |
| 45 | 2022-07-25 17:03:58 | Jake Coley |
| 46 | 2022-07-25 20:06:45 | Louise Tucker |
| 47 | 2022-07-25 20:49:01 | Tia potter |
| 48 | 2022-07-25 09:17:17 | Belinda Mellas |
| 49 | 2022-07-25 15:34:04 | Nathan White |
| 50 | 2022-07-25 10:15:31 | Janette Nolan |
| 51 | 2022-07-25 20:06:45 | Louise Tucker |
| 52 | 2022-07-25 08:46:10 | Rachel Hayes |
| 53 | 2022-07-26 15:14:28 | Rachel Palmer |
| 54 | 2022-07-26 13:53:50 | Jeanette Anderson |
| 55 | 2022-07-25 12:39:45 | Kirsty Moranzoni |
| 56 | 2022-07-25 11:01:42 | Emma Jones |
| 57 | 2022-07-25 16:50:32 | Teresa Billage |
| 58 | 2022-07-25 18:05:31 | Victoria Johnston |
| 59 | 2022-07-26 17:57:36 | Dean O'Connor |
| 60 | 2022-07-26 10:46:21 | Eren Cronin |
| 61 | 2022-07-26 11:42:27 | Charlotte Timbrell |
| 62 | 2022-07-25 10:21:37 | Tegan Reed-Gallimore |
| 63 | 2022-07-25 19:49:40 | Amanda Porter |
| 64 | 2022-07-25 14:59:11 | Jenny Tyler |
| 65 | 2022-07-25 08:56:58 | Leah Smith |
| 66 | 2022-07-25 20:49:01 | Tia potter |
| 67 | 2022-07-25 12:39:45 | Kirsty Moranzoni |
| 68 | 2022-07-25 08:44:59 | ABIGAIL Freeth |
| 69 | 2022-07-25 09:02:12 | Peter Dolman |
| 70 | 2022-07-25 13:13:52 | Seth Ruderham |
| 71 | 2022-07-26 18:44:23 | Ciara Gilson |
| 72 | 2022-07-25 15:56:07 | Kerstin Daly |
| 73 | 2022-07-26 17:27:44 | Alice Oconnell |
| 74 | 2022-07-25 17:03:58 | Jake Coley |
| 75 | 2022-07-25 09:23:37 | Jasmin Bourne |
| 76 | 2022-07-25 09:23:37 | Jasmin Bourne |
| 77 | 2022-07-26 18:30:00 | charlotte higman |
| 78 | 2022-07-25 19:04:26 | Amy Lee |
| 79 | 2022-07-25 14:06:12 | Rachael Rowlands |
| 80 | 2022-07-25 20:39:22 | Stacey Harris |
| 81 | 2022-07-25 20:50:44 | Sharon Hobday |
| 82 | 2022-07-25 14:28:57 | Carrie Williams |
| 83 | 2022-07-25 10:32:59 | India Spears |
| 84 | 2022-07-25 08:43:41 | Danielle Lindsay |
| 85 | 2022-07-25 08:44:59 | ABIGAIL Freeth |
| 86 | 2022-07-25 10:36:19 | Kayleigh Barnard |
| 87 | 2022-07-25 15:34:04 | Nathan White |
| 88 | 2022-07-25 09:37:52 | Kim Jarvis |
| 89 | 2022-07-25 09:01:35 | Leanne Coles |
| 90 | 2022-07-25 16:50:32 | Teresa Billage |
| 91 | 2022-07-25 16:50:32 | Teresa Billage |
| 92 | 2022-07-25 20:50:44 | Sharon Hobday |
| 93 | 2022-07-25 08:37:35 | Natasha Allen |
| 94 | 2022-07-25 09:59:46 | Natasha Allen |
| 95 | 2022-07-25 08:56:58 | Leah Smith |
| 96 | 2022-07-25 17:35:56 | Hayley Bewsher |
| 97 | 2022-07-25 08:46:10 | Rachel Hayes |
| 98 | 2022-07-25 20:52:49 | Rachel rich |
| 99 | 2022-07-25 20:49:01 | Tia potter |
| 100 | 2022-07-25 15:34:04 | Nathan White |