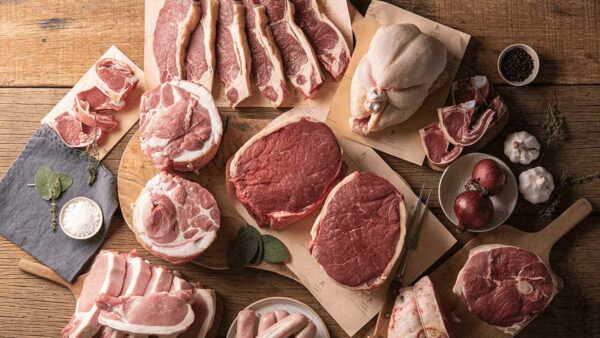 Darts Farm FAMILY MEAT SELECTION BOX- Delivered all over uk
Description
Darts Farm FAMILY MEAT SELECTION BOX- Delivered all over uk
Our Family Box contains all the favourites. From a mixture of quick and easy to cook cuts to incredible Sunday roasting joints, this is the perfect box for feeding the whole family.
Our Master Butchers, Phillip and Alastair, are experts in sourcing and hand selecting the finest quality, locally reared meat.
They oversee the whole process from field to fork, using traditional butchering techniques, skill and great care.
Topside of Beef Joints x2 (min weight 2.72kg)
Spare Rib Pork Joint x2 (min weight 2.72kg)
Whole Leg of Lamb, cut in half (min weight 2.5kg)
Free Range Chicken (min weight 1.81kg)
Pork Sausages x6 (min weight 453g)
Pork Loin Steaks x6 (min weight 1.2kg)
Lamb Chops x6 (min weight 1kg)
Sirloin Steak x6 (min weight 1.2kg)
| Winner Name | Ticket Number | Draw Date |
| --- | --- | --- |
| g Mv | 29 | 02/08/2022 |
| Ticket Number | Date | Name |
| --- | --- | --- |
| 1 | 2022-08-02 03:38:44 | Katie-Louise Chalk |
| 2 | 2022-08-02 08:43:57 | Daniel Hill |
| 3 | 2022-07-27 23:06:36 | michaela avery |
| 4 | 2022-08-01 15:17:52 | BRIDGET CROSS |
| 5 | 2022-07-28 20:17:07 | Paula Horrocks |
| 6 | 2022-07-28 09:58:03 | phyllis steer |
| 7 | 2022-07-31 18:42:42 | Jonathan Holloway |
| 8 | 2022-08-01 19:20:19 | g Mv |
| 9 | 2022-07-28 08:59:32 | Debs Hamilton |
| 10 | 2022-07-30 17:50:48 | Jill Higham |
| 11 | 2022-07-28 09:45:19 | Vanessa Hibble |
| 12 | 2022-07-29 13:58:42 | Kirstie Darragh |
| 13 | 2022-07-28 09:14:48 | Linda Beer |
| 14 | 2022-08-02 07:27:44 | Louise Nickels |
| 15 | 2022-07-31 11:51:20 | Kirsty Kilkenny |
| 16 | 2022-08-01 08:18:13 | Debs Hamilton |
| 17 | 2022-08-02 00:56:19 | Jodie Ellis |
| 18 | 2022-07-30 10:55:04 | Ben Stocker |
| 19 | 2022-08-02 12:06:41 | Kirsty Roberts |
| 20 | 2022-08-02 12:13:48 | Samantha Sedgbeer |
| 21 | 2022-08-01 22:20:03 | Lisa Roberts |
| 22 | 2022-07-29 19:36:35 | Claire Thomas |
| 23 | 2022-07-28 10:31:17 | Jane Olding |
| 24 | 2022-07-28 11:45:46 | Lloyd Minear |
| 25 | 2022-07-30 10:55:04 | Ben Stocker |
| 26 | 2022-08-01 08:18:13 | Debs Hamilton |
| 27 | 2022-07-31 18:42:42 | Jonathan Holloway |
| 28 | 2022-08-02 07:27:44 | Louise Nickels |
| 29 | 2022-07-28 19:46:30 | g Mv |
| 30 | 2022-07-29 23:39:43 | Ben Nutley |
| 31 | 2022-08-02 11:58:33 | Emma Rodrigues |
| 32 | 2022-08-02 07:40:29 | Teresa Ladbrook |
| 33 | 2022-08-02 14:10:23 | Sadie Baker |
| 34 | 2022-08-02 09:29:43 | Marie Leat |
| 35 | 2022-07-30 11:00:24 | Sasha Lovell |
| 36 | 2022-07-28 10:35:37 | Ben Petherick |
| 37 | 2022-07-29 09:33:49 | Linda Beer |
| 38 | 2022-07-28 10:35:37 | Ben Petherick |
| 39 | 2022-07-28 09:14:48 | Linda Beer |
| 40 | 2022-07-29 18:04:51 | Jill Higham |
| 41 | 2022-07-31 11:14:30 | Trina Branch |
| 42 | 2022-07-30 08:40:51 | Samantha Grice |
| 43 | 2022-08-02 13:45:59 | Jodie Ellis |
| 44 | 2022-07-29 09:44:15 | Joanne Warner |
| 45 | 2022-07-28 19:19:21 | Jayne Lofthouse |
| 46 | 2022-07-29 10:32:48 | Helen Fitton |
| 47 | 2022-08-02 14:32:49 | Chantelle Amphlett |
| 48 | 2022-07-28 08:59:32 | Debs Hamilton |
| 49 | 2022-07-30 20:57:19 | Angela Morgan |
| 50 | 2022-07-31 21:52:19 | Dawn Stoneman |
| 51 | 2022-08-02 13:04:04 | Lisa Cogavin |
| 52 | 2022-08-01 11:52:12 | Christina Allen |
| 53 | 2022-08-02 09:28:08 | Zoe Budd |
| 54 | 2022-08-02 10:57:12 | Emma Jones |
| 55 | 2022-07-28 11:45:46 | Lloyd Minear |
| 56 | 2022-07-28 19:46:30 | g Mv |
| 57 | 2022-07-28 09:29:16 | Sarah Handoll |
| 58 | 2022-07-30 08:55:23 | Katrina IķStevens |
| 59 | 2022-08-02 07:40:29 | Teresa Ladbrook |
| 60 | 2022-08-02 10:35:52 | Louise Bullock |
| 61 | 2022-07-30 17:50:48 | Jill Higham |
| 62 | 2022-08-02 08:36:00 | Julie Bouskill |
| 63 | 2022-08-01 20:30:25 | Gary Cattell EU |
| 64 | 2022-07-28 16:10:17 | Adam West |
| 65 | 2022-08-02 07:38:42 | Kirsty Gates |
| 66 | 2022-08-01 20:31:05 | Debi Doyle |
| 67 | 2022-08-02 14:22:25 | Thomas Whirton |
| 68 | 2022-07-28 09:58:03 | phyllis steer |
| 69 | 2022-08-02 04:38:01 | Deborah Talbot |
| 70 | 2022-08-02 11:58:24 | Jane Higgins |
| 71 | 2022-08-02 08:52:13 | Samantha Davies |
| 72 | 2022-07-31 18:09:21 | Michael Walshe |
| 73 | 2022-08-02 15:36:39 | Edmund Legg |
| 74 | 2022-08-02 15:17:05 | Kelly Dodd |
| 75 | 2022-07-28 09:29:16 | Sarah Handoll |
| 76 | 2022-07-28 08:59:32 | Debs Hamilton |
| 77 | 2022-07-31 18:09:21 | Michael Walshe |
| 78 | 2022-08-01 19:20:19 | g Mv |
| 79 | 2022-08-02 11:29:19 | Adam Viney |
| 80 | 2022-07-29 20:09:19 | Bev O'Connor |
| 81 | 2022-08-02 14:28:34 | Kim Ayres |
| 82 | 2022-08-01 08:46:04 | Jo Disley |
| 83 | 2022-08-02 09:20:32 | Richanne Grove |
| 84 | 2022-07-31 21:05:05 | Vikki Major |
| 85 | 2022-07-29 09:33:49 | Linda Beer |
| 86 | 2022-07-29 20:19:50 | Angela Cowlard |
| 87 | 2022-07-31 19:50:44 | David Pearcey |
| 88 | 2022-08-02 11:53:07 | Kirsty Darke |
| 89 | 2022-08-02 08:58:00 | Joanne Pennington |
| 90 | 2022-08-01 19:20:19 | g Mv |
| 91 | 2022-07-30 03:46:15 | Charlotte Steel |
| 92 | 2022-08-02 04:38:01 | Deborah Talbot |
| 93 | 2022-08-02 14:00:42 | Gillian Ronchetti |
| 94 | 2022-08-02 15:28:19 | Patricia Mcculloch |
| 95 | 2022-08-02 15:32:57 | Kelly Walsh |
| 96 | 2022-08-02 07:44:15 | Paula Horrocks |
| 97 | 2022-08-02 07:29:56 | Rosalyn Coles |
| 98 | 2022-08-02 13:19:10 | Kate Boddington |
| 99 | 2022-07-29 20:10:12 | Wendy Woodall |
| 100 | 2022-08-02 12:42:17 | Chantelle Mashiter |
| 101 | 2022-08-01 08:46:04 | Jo Disley |
| 102 | 2022-08-02 08:25:03 | Nicola Hamilton |
| 103 | 2022-08-02 10:05:47 | Elizabeth Hill |
| 104 | 2022-08-02 14:48:54 | Tara Evans |
| 105 | 2022-08-01 12:09:31 | Joseph Clifford |
| 106 | 2022-07-31 19:28:37 | Dean Stevens |
| 107 | 2022-07-28 20:17:07 | Paula Horrocks |
| 108 | 2022-07-30 08:40:51 | Samantha Grice |
| 109 | 2022-08-01 18:42:50 | Trina Branch |
| 110 | 2022-08-02 12:07:04 | Callum Mills |
| 111 | 2022-08-02 09:54:54 | Nicky Winter |
| 112 | 2022-08-01 13:18:59 | Tina Jones |
| 113 | 2022-07-28 09:58:03 | phyllis steer |
| 114 | 2022-07-29 08:15:27 | Lin Salter |
| 115 | 2022-07-30 17:01:58 | Paul Goodenough |
| 116 | 2022-07-30 17:41:48 | Christopher Axon |
| 117 | 2022-08-02 06:48:33 | Simone Grose |
| 118 | 2022-08-02 13:38:13 | Sharon Smith |
| 119 | 2022-08-01 22:04:17 | Richard Broadbank |
| 120 | 2022-07-30 16:44:19 | Melanie Hopes |
| 121 | 2022-07-31 19:18:43 | Roger Southwell |
| 122 | 2022-08-02 14:28:34 | Kim Ayres |
| 123 | 2022-07-30 13:54:21 | Zoe Sparke |
| 124 | 2022-08-02 15:36:39 | Edmund Legg |
| 125 | 2022-08-02 09:03:15 | Victoria Sealey |
| 126 | 2022-08-02 15:28:19 | Patricia Mcculloch |
| 127 | 2022-08-01 22:17:37 | Jake Goodland |
| 128 | 2022-08-02 12:07:04 | Callum Mills |
| 129 | 2022-07-31 21:52:19 | Dawn Stoneman |
| 130 | 2022-08-02 07:40:29 | Teresa Ladbrook |
| 131 | 2022-07-28 09:38:20 | Jo Burnett |
| 132 | 2022-08-01 22:43:11 | Jess Whitney |
| 133 | 2022-08-01 16:00:34 | Jane Netherway |
| 134 | 2022-07-28 11:45:46 | Lloyd Minear |
| 135 | 2022-08-01 22:51:08 | Emma Louise |
| 136 | 2022-08-01 07:37:29 | Chantelle Norman |
| 137 | 2022-07-28 09:38:20 | Jo Burnett |
| 138 | 2022-08-02 07:38:42 | Kirsty Gates |
| 139 | 2022-08-02 09:31:33 | Joseph Clifford |
| 140 | 2022-08-01 22:51:08 | Emma Louise |
| 141 | 2022-07-29 20:19:50 | Angela Cowlard |
| 142 | 2022-08-02 11:58:24 | Jane Higgins |
| 143 | 2022-08-02 14:28:34 | Kim Ayres |
| 144 | 2022-08-02 13:15:36 | Emma Davies |
| 145 | 2022-08-02 08:34:02 | Emma Lawson |
| 146 | 2022-08-02 10:39:37 | Louisa Rideout |
| 147 | 2022-08-02 13:31:47 | Amanda Beard |
| 148 | 2022-07-28 10:11:52 | Dean O'Connor |
| 149 | 2022-08-02 11:58:42 | Sarah Guest |
| 150 | 2022-08-01 08:46:04 | Jo Disley |
| 151 | 2022-08-02 03:38:44 | Katie-Louise Chalk |
| 152 | 2022-08-02 08:32:20 | Karen Reed |
| 153 | 2022-08-02 14:52:37 | Richard Whatman |
| 154 | 2022-08-02 15:36:39 | Edmund Legg |
| 155 | 2022-07-31 19:58:31 | Leah Back |
| 156 | 2022-07-27 21:55:26 | Rhiann Hallett |
| 157 | 2022-08-02 14:52:37 | Richard Whatman |
| 158 | 2022-08-02 14:28:34 | Kim Ayres |
| 159 | 2022-08-02 15:28:19 | Patricia Mcculloch |
| 160 | 2022-07-30 14:24:49 | Kim Loosemore |
| 161 | 2022-08-02 08:54:16 | emma mccauley |
| 162 | 2022-08-02 11:53:07 | Kirsty Darke |
| 163 | 2022-07-28 11:23:34 | Linda Hart |
| 164 | 2022-07-28 21:25:29 | Lisa Soper |
| 165 | 2022-08-02 10:44:27 | Jodie Ellis |
| 166 | 2022-07-28 11:45:46 | Lloyd Minear |
| 167 | 2022-08-01 20:30:25 | Gary Cattell EU |
| 168 | 2022-07-29 08:53:47 | marion pugh |
| 169 | 2022-07-31 17:57:19 | Phillip Drew |
| 170 | 2022-08-01 18:59:05 | Emma-lee Wilson |
| 171 | 2022-07-28 22:09:12 | Emma-lee Wilson |
| 172 | 2022-08-02 10:57:12 | Emma Jones |
| 173 | 2022-08-02 09:28:08 | Zoe Budd |
| 174 | 2022-08-02 11:58:42 | Sarah Guest |
| 175 | 2022-08-02 11:03:21 | Kevin Hayes |
| 176 | 2022-07-31 16:42:26 | Dean O'Connor |
| 177 | 2022-07-29 10:37:38 | Brenda Mossop |
| 178 | 2022-08-02 13:22:09 | Rachel Gilbert |
| 179 | 2022-08-02 00:56:19 | Jodie Ellis |
| 180 | 2022-07-28 21:26:24 | Gary Guard |
| 181 | 2022-07-29 21:34:07 | steve darby |
| 182 | 2022-08-02 14:21:29 | Lloyd Minear |
| 183 | 2022-08-02 14:21:29 | Lloyd Minear |
| 184 | 2022-07-30 08:40:51 | Samantha Grice |
| 185 | 2022-08-02 09:16:22 | Kirsty Westy |
| 186 | 2022-08-02 09:03:15 | Victoria Sealey |
| 187 | 2022-07-31 19:18:43 | Roger Southwell |
| 188 | 2022-08-01 21:51:12 | Rachel Salloway |
| 189 | 2022-08-01 22:58:01 | Will Partridge |
| 190 | 2022-08-02 13:30:56 | Tia Richardson |
| 191 | 2022-07-31 16:42:26 | Dean O'Connor |
| 192 | 2022-08-02 09:11:30 | g Mv |
| 193 | 2022-08-02 06:06:12 | Rob Grist |
| 194 | 2022-08-02 14:48:54 | Tara Evans |
| 195 | 2022-07-31 19:18:43 | Roger Southwell |
| 196 | 2022-07-29 10:09:34 | Elizabeth Stevens |
| 197 | 2022-07-28 19:19:21 | Jayne Lofthouse |
| 198 | 2022-08-02 08:33:20 | Ryan Edwards |
| 199 | 2022-08-02 09:11:30 | g Mv |
| 200 | 2022-07-31 11:14:30 | Trina Branch |
| 201 | 2022-08-02 10:03:53 | Vicki Gerry |
| 202 | 2022-08-02 10:44:27 | Jodie Ellis |
| 203 | 2022-08-02 08:54:16 | emma mccauley |
| 204 | 2022-07-28 07:01:47 | Stacey Smith |
| 205 | 2022-07-29 17:27:04 | Natalie D |
| 206 | 2022-08-02 15:28:19 | Patricia Mcculloch |
| 207 | 2022-08-02 14:22:25 | Thomas Whirton |
| 208 | 2022-07-31 19:38:09 | Shannon Hine |
| 209 | 2022-07-28 09:38:20 | Jo Burnett |
| 210 | 2022-08-01 16:29:53 | Carla Drake |
| 211 | 2022-08-01 15:44:50 | Wendy Kelsall |
| 212 | 2022-08-01 12:09:31 | Joseph Clifford |
| 213 | 2022-08-02 14:09:51 | Rachel chalk |
| 214 | 2022-08-02 15:25:33 | Maralyn Hancox |
| 215 | 2022-07-30 16:44:19 | Melanie Hopes |
| 216 | 2022-08-02 14:28:34 | Kim Ayres |
| 217 | 2022-07-31 18:09:21 | Michael Walshe |
| 218 | 2022-07-28 15:59:36 | Emma Jones |
| 219 | 2022-08-01 11:52:12 | Christina Allen |
| 220 | 2022-08-02 11:58:42 | Sarah Guest |
| 221 | 2022-07-30 03:46:15 | Charlotte Steel |
| 222 | 2022-08-02 04:38:01 | Deborah Talbot |
| 223 | 2022-08-02 12:13:48 | Samantha Sedgbeer |
| 224 | 2022-07-31 11:51:20 | Kirsty Kilkenny |
| 225 | 2022-07-28 09:58:03 | phyllis steer |
| 226 | 2022-08-02 13:38:13 | Sharon Smith |
| 227 | 2022-07-30 20:57:19 | Angela Morgan |
| 228 | 2022-07-28 21:26:24 | Gary Guard |
| 229 | 2022-07-28 19:42:35 | Michelle Darke |
| 230 | 2022-08-02 00:56:19 | Jodie Ellis |
| 231 | 2022-08-02 11:42:54 | Louise White |
| 232 | 2022-08-02 06:48:33 | Simone Grose |
| 233 | 2022-07-29 20:19:50 | Angela Cowlard |
| 234 | 2022-08-02 12:26:18 | Christine Hodgson |
| 235 | 2022-07-29 09:37:27 | Elizabeth Merrett |
| 236 | 2022-08-02 13:52:49 | Bradley Hervin |
| 237 | 2022-08-01 14:02:40 | Callum Baker |
| 238 | 2022-08-01 16:18:54 | Lucy Barrett |
| 239 | 2022-08-02 10:44:27 | Jodie Ellis |
| 240 | 2022-08-02 09:26:00 | Sadie Rowe |
| 241 | 2022-08-01 22:58:01 | Will Partridge |
| 242 | 2022-08-02 08:34:39 | Jade Blight |
| 243 | 2022-08-02 07:29:56 | Rosalyn Coles |
| 244 | 2022-08-02 08:25:57 | Suzette Dodson-Rouse |
| 245 | 2022-08-02 13:42:57 | George Lyne |
| 246 | 2022-07-31 13:07:43 | Alice Tate |
| 247 | 2022-08-01 20:30:25 | Gary Cattell EU |
| 248 | 2022-07-28 09:38:20 | Jo Burnett |
| 249 | 2022-07-28 10:35:37 | Ben Petherick |
| 250 | 2022-08-01 12:01:32 | Katharine Petherick |
| 251 | 2022-08-02 15:28:19 | Patricia Mcculloch |
| 252 | 2022-07-28 10:11:52 | Dean O'Connor |
| 253 | 2022-08-02 12:38:49 | David Clements |
| 254 | 2022-07-31 10:56:23 | Elliot White |
| 255 | 2022-07-30 13:08:22 | Sarah Burgwin |
| 256 | 2022-08-02 11:55:05 | Pamela Mitchell |
| 257 | 2022-08-02 11:54:37 | Kathleen Starling |
| 258 | 2022-08-02 09:12:01 | Amanda Doick |
| 259 | 2022-08-02 14:28:46 | Elizabeth Jackson |
| 260 | 2022-08-02 08:51:54 | Sam Coburn |
| 261 | 2022-08-02 08:44:35 | Donna Thrumble |
| 262 | 2022-07-30 21:37:15 | Nikki Hall |
| 263 | 2022-07-28 21:26:24 | Gary Guard |
| 264 | 2022-08-02 07:53:32 | Grace Cox |
| 265 | 2022-08-01 20:02:11 | Julie Cleave |
| 266 | 2022-08-02 14:48:54 | Tara Evans |
| 267 | 2022-07-30 20:57:19 | Angela Morgan |
| 268 | 2022-08-02 07:40:02 | Gary Cattell EU |
| 269 | 2022-07-31 18:04:06 | Jessica Mitchell |
| 270 | 2022-08-02 14:32:49 | Chantelle Amphlett |
| 271 | 2022-08-02 06:25:26 | George Lyne |
| 272 | 2022-08-02 14:28:34 | Kim Ayres |
| 273 | 2022-08-01 22:04:17 | Richard Broadbank |
| 274 | 2022-08-01 20:14:02 | Lauryn Veasey |
| 275 | 2022-08-01 08:50:17 | Elaine Lipscombe |
| 276 | 2022-08-01 14:16:37 | Amy Kemble |
| 277 | 2022-08-02 09:10:05 | Daniel Mcmullan |
| 278 | 2022-08-02 08:54:22 | Katherine Parker |
| 279 | 2022-08-02 14:28:34 | Kim Ayres |
| 280 | 2022-08-02 06:48:33 | Simone Grose |
| 281 | 2022-08-02 15:36:39 | Edmund Legg |
| 282 | 2022-07-28 14:08:51 | Sarah Vaughan |
| 283 | 2022-07-30 17:01:58 | Paul Goodenough |
| 284 | 2022-07-29 10:48:44 | Darren Nathan |
| 285 | 2022-08-02 07:44:15 | Paula Horrocks |
| 286 | 2022-07-29 08:37:29 | Amy McKeown |
| 287 | 2022-08-02 13:45:59 | Jodie Ellis |
| 288 | 2022-08-02 08:58:00 | Joanne Pennington |
| 289 | 2022-07-29 05:48:10 | Sarah Heal |
| 290 | 2022-07-31 10:56:23 | Elliot White |
| 291 | 2022-07-28 11:45:46 | Lloyd Minear |
| 292 | 2022-07-28 21:31:47 | Lisa Soper |
| 293 | 2022-08-02 08:43:57 | Daniel Hill |
| 294 | 2022-08-02 14:21:29 | Lloyd Minear |
| 295 | 2022-07-31 11:25:17 | Kirstie Darragh |
| 296 | 2022-08-02 10:56:20 | Julia Baker |
| 297 | 2022-08-02 12:13:48 | Samantha Sedgbeer |
| 298 | 2022-08-02 08:43:57 | Daniel Hill |
| 299 | 2022-08-02 08:25:00 | Candia Booker |
| 300 | 2022-08-02 10:44:27 | Jodie Ellis |
| 301 | 2022-08-02 11:54:37 | Kathleen Starling |
| 302 | 2022-08-02 08:41:26 | Felicity Worden |
| 303 | 2022-07-31 08:50:56 | Kerry NOSWORTHY |
| 304 | 2022-08-02 10:05:47 | Elizabeth Hill |
| 305 | 2022-07-28 00:11:06 | Rachel Gilbert |
| 306 | 2022-08-01 12:01:32 | Katharine Petherick |
| 307 | 2022-07-28 09:38:20 | Jo Burnett |
| 308 | 2022-07-30 17:01:58 | Paul Goodenough |
| 309 | 2022-07-28 09:07:41 | Callum Baker |
| 310 | 2022-08-02 15:32:57 | Kelly Walsh |
| 311 | 2022-08-02 14:28:34 | Kim Ayres |
| 312 | 2022-08-02 15:36:39 | Edmund Legg |
| 313 | 2022-08-02 09:02:59 | Sharon marie Williams |
| 314 | 2022-08-02 00:56:19 | Jodie Ellis |
| 315 | 2022-07-31 20:45:49 | Moira Angel |
| 316 | 2022-08-02 14:16:36 | Daniel Brown |
| 317 | 2022-08-02 06:48:33 | Simone Grose |
| 318 | 2022-08-02 14:28:34 | Kim Ayres |
| 319 | 2022-08-02 10:42:42 | Michelle Flood |
| 320 | 2022-07-28 17:12:22 | Viki Cook |
| 321 | 2022-07-29 17:41:46 | steve darby |
| 322 | 2022-07-30 17:01:58 | Paul Goodenough |
| 323 | 2022-07-28 09:45:19 | Vanessa Hibble |
| 324 | 2022-08-02 14:52:37 | Richard Whatman |
| 325 | 2022-07-30 20:24:50 | Samantha Grice |
| 326 | 2022-08-01 18:42:50 | Trina Branch |
| 327 | 2022-07-28 17:22:51 | Janet Mann |
| 328 | 2022-08-02 07:37:23 | Alison Saunders |
| 329 | 2022-07-31 19:58:31 | Leah Back |
| 330 | 2022-07-27 20:50:34 | Chloe Harris |
| 331 | 2022-08-01 08:46:04 | Jo Disley |
| 332 | 2022-07-31 19:26:50 | Marc Baker |
| 333 | 2022-07-28 08:59:32 | Debs Hamilton |
| 334 | 2022-08-02 15:36:39 | Edmund Legg |
| 335 | 2022-07-30 16:54:32 | Kerry Roach |
| 336 | 2022-08-02 07:53:40 | Tracy Daniell |
| 337 | 2022-07-30 12:45:32 | Louise Haydon |
| 338 | 2022-08-02 10:11:56 | Lauren Robins |
| 339 | 2022-08-02 09:11:30 | g Mv |
| 340 | 2022-08-02 08:54:22 | Katherine Parker |
| 341 | 2022-08-02 14:28:34 | Kim Ayres |
| 342 | 2022-07-30 08:06:22 | Charlotte Connabeer |
| 343 | 2022-07-28 18:09:15 | david chubb |
| 344 | 2022-08-01 20:30:25 | Gary Cattell EU |
| 345 | 2022-07-28 06:28:08 | Michelle Archer |
| 346 | 2022-07-29 10:32:48 | Helen Fitton |
| 347 | 2022-07-28 15:27:49 | Natalie Maple |
| 348 | 2022-08-02 15:28:18 | Leah Knight |
| 349 | 2022-08-01 16:18:54 | Lucy Barrett |
| 350 | 2022-07-30 17:01:58 | Paul Goodenough |