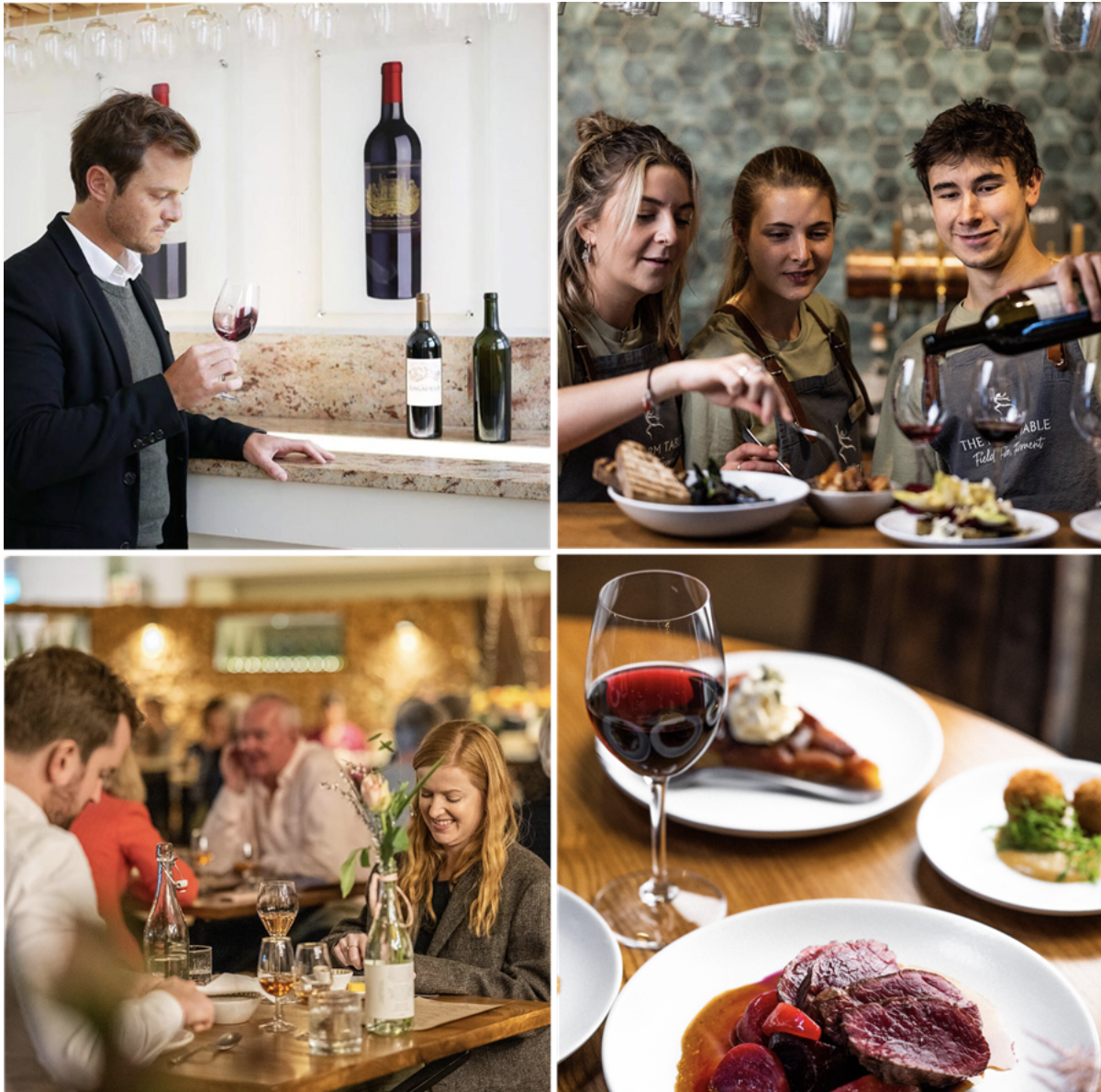 DARTS FARM – BORDEAUX WINE DINNER | 29.03.2023
Description
DARTS FARM – BORDEAUX WINE DINNER | 29.03.2023
An evening with Max Sichel of the Sichel Family
Wednesday 29th March, at 7pm in The Farm Table. 
Max Sichel, 7th generation of the iconic Sichel wine family from Bordeaux, joins us in The Farm Table for an evening of incredible wine, great food & amazing company!
Throughout the evening, Max will lead us through a tasting of 5 amazing wines, showcasing white & red Bordeaux as well as Sauternes; paired with a delicious 5-course menu created by Tom & our team of amazing chefs in The Farm Table.
Maison Sichel
The family owned Maison Sichel is an iconic wine producer in the Bordeaux region; with many legendary wine estates to their name. Since it was founded in 1883, it has remained first and foremost a family business, championing high environmental standards, sustainability… and of course, exceptional wines!
The Menu
Château d'Argadens Blanc, 2020
paired with Hand-Dived Lyme Bay Scallops with Caramelised Cauliflower
& Crispy Lemon Cauliflower
Château d'Argadens Rouge 2018
paired Oyster Mushroom Puy Lentil Stew
Dame d'Angludet 2019
paired Braised Ox Cheeks with Pomme Puree & Chargrilled Shallots
Château d'Angludet 2019
paired Spring Lamb Cutlet with Wild Garlic & Leek
Sichel Sauternes 2020
paired with Darts Raw Honey Panna Cotta with Rhubarb
| Winner Name | Ticket Number | Draw Date |
| --- | --- | --- |
| Kirstie Drake | 48 | 21/03/2023 |
| Ticket Number | Date | Name |
| --- | --- | --- |
| 3 | 2023-03-21 10:40:05 | Kaye Lowden |
| 5 | 2023-03-21 19:14:59 | Paul May |
| 6 | 2023-03-21 19:30:27 | Rachael Gagg |
| 8 | 2023-03-17 16:02:47 | Helen Holloway |
| 11 | 2023-03-21 20:46:51 | Rhys Goacher |
| 12 | 2023-03-20 20:08:20 | Sean Kenny |
| 13 | 2023-03-18 13:16:37 | Claire Ballard |
| 14 | 2023-03-21 18:40:41 | T Buckingham |
| 15 | 2023-03-21 19:07:19 | Kate Sumner |
| 18 | 2023-03-16 20:13:03 | Richard Higham |
| 19 | 2023-03-17 14:47:43 | Julie Wilson |
| 20 | 2023-03-21 16:52:12 | Rhys Hook |
| 21 | 2023-03-20 09:17:17 | Vickie Brocklehurst |
| 28 | 2023-03-16 15:07:46 | Philip Colbourne |
| 35 | 2023-03-20 20:08:20 | Sean Kenny |
| 36 | 2023-03-21 20:04:37 | Rachel Scott |
| 37 | 2023-03-21 09:13:02 | Harrison Oakley |
| 38 | 2023-03-21 19:30:27 | Rachael Gagg |
| 39 | 2023-03-21 19:53:27 | Katie Cavanna |
| 46 | 2023-03-20 20:08:20 | Sean Kenny |
| 48 | 2023-03-20 11:35:06 | Kirstie Drake |
| 49 | 2023-03-21 20:36:32 | Jade Coles |
| 50 | 2023-03-20 20:08:20 | Sean Kenny |
| 51 | 2023-03-17 20:18:01 | alex le puill |
| 53 | 2023-03-21 15:06:34 | Linda Ward |
| 55 | 2023-03-20 20:08:20 | Sean Kenny |
| 59 | 2023-03-21 19:07:19 | Kate Sumner |
| 61 | 2023-03-21 18:34:46 | Emma & lee |
| 64 | 2023-03-21 16:42:25 | Abi Fisher |
| 69 | 2023-03-21 19:29:49 | Charlotte Strawford |
| 70 | 2023-03-21 12:41:42 | Lorraine Tandy |
| 75 | 2023-03-21 18:04:58 | Domm Hulme |
| 76 | 2023-03-21 17:09:29 | Holly Russell |
| 82 | 2023-03-21 19:53:37 | Gemma WR |
| 83 | 2023-03-21 16:54:52 | Nikki H |
| 84 | 2023-03-21 20:04:15 | Jacky Birch |
| 85 | 2023-03-21 20:15:43 | Mitzi Collins |
| 86 | 2023-03-21 17:09:29 | Holly Russell |
| 87 | 2023-03-20 20:08:20 | Sean Kenny |
| 88 | 2023-03-21 20:41:24 | nicola martin |
| 91 | 2023-03-17 21:18:24 | Jan Puckett |
| 93 | 2023-03-21 18:04:58 | Domm Hulme |
| 100 | 2023-03-21 17:09:29 | Holly Russell |
| 104 | 2023-03-21 18:13:01 | Amy Peterson |
| 105 | 2023-03-21 18:04:58 | Domm Hulme |
| 107 | 2023-03-21 18:04:58 | Domm Hulme |
| 110 | 2023-03-21 19:53:27 | Katie Cavanna |
| 111 | 2023-03-20 20:08:20 | Sean Kenny |
| 112 | 2023-03-21 19:40:48 | Jem V |
| 122 | 2023-03-21 18:04:58 | Domm Hulme |
| 125 | 2023-03-21 20:15:43 | Mitzi Collins |
| 129 | 2023-03-21 20:24:08 | zara Crowson |
| 134 | 2023-03-21 16:52:12 | Rhys Hook |
| 135 | 2023-03-21 19:40:48 | Jem V |
| 141 | 2023-03-21 17:41:28 | Rachael Derbe |
| 143 | 2023-03-21 20:52:04 | David Hodgson |
| 144 | 2023-03-20 20:08:20 | Sean Kenny |
| 148 | 2023-03-21 20:15:43 | Mitzi Collins |
| 150 | 2023-03-21 18:24:21 | Tia Richardson |
| 152 | 2023-03-20 20:08:20 | Sean Kenny |
| 162 | 2023-03-21 20:36:32 | Jade Coles |
| 165 | 2023-03-21 16:10:43 | Sharon White |
| 166 | 2023-03-20 20:08:20 | Sean Kenny |