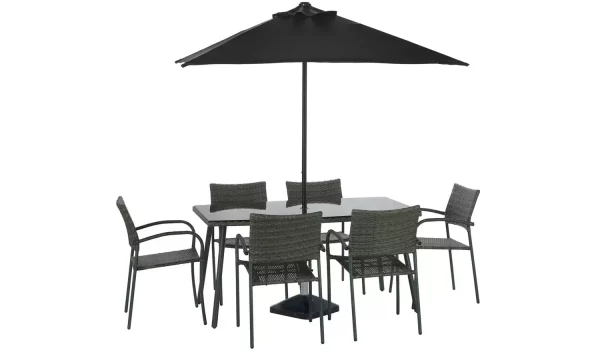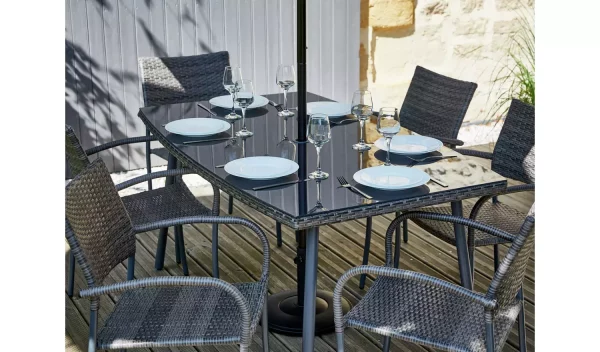 Cusco Rattan Effect 6 Seater Patio Set – Grey
Description
Cusco Rattan Effect 6 Seater Patio Set – Grey
Set sail for the summer with the Cusco 6-seater rattan dining set. With curved edges to make dinnertime even more sociable, this is a great value set to create a real wow in your garden. The 6 rattan armchairs all stack together, and the table legs are removable for when you need to store the set away. Vents in the parasol add a touch of class and give greater stability on those breezier days.
Remember to add on a parasol base – we've got loads to choose from.
Parasol base not included.
General features:
Set seats 6 people .
Set made from steel and rattan effect.
Store inside when not in use.
Cover or store inside in winter months to prolong life of the products.
Total weight 52.5kg.
Garden table features:
Glass table top.
Table size: H72, W90, L150cm.
Removable legs for storage.
Chair features:
Chair seat and back made from rattan effect.
Size H82, W52, D59cm.
Seat height 43.5cm.
Seating area size W 46, D47cm.
Stackable chairs.
110kg maximum user weight per chair.
Parasol features:
Parasol included.
Black fabric parasol.
Size H2.14m, .
Parasol diameter 210cm.
Parasol hole in table diameter 4.2cm.
Air vents for added stability.
Crank action.
| Winner Name | Ticket Number | Draw Date |
| --- | --- | --- |
| Elizabeth Halfyard | 117 | 09/08/2022 |
| Ticket Number | Date | Name |
| --- | --- | --- |
| 1 | 2022-08-09 20:31:30 | Lisa Darragh |
| 3 | 2022-08-07 18:34:19 | Alice Tate |
| 4 | 2022-08-08 21:21:33 | Ross Mackellar |
| 5 | 2022-08-09 09:02:17 | Julie Bouskill |
| 7 | 2022-08-09 17:27:29 | Megan Ebbrell |
| 10 | 2022-08-09 16:28:32 | Bonni Matsell |
| 11 | 2022-08-06 15:39:43 | Briony Corness |
| 12 | 2022-08-08 21:01:55 | Sharon Hayes |
| 13 | 2022-08-08 19:50:49 | Hayley Spears |
| 14 | 2022-08-06 15:39:43 | Briony Corness |
| 17 | 2022-08-09 09:02:17 | Julie Bouskill |
| 19 | 2022-08-08 19:50:53 | Michelle Blamey |
| 20 | 2022-08-09 15:27:02 | Charlie Zaple |
| 21 | 2022-08-09 12:33:18 | Lisa Roberts |
| 22 | 2022-08-08 18:25:16 | Lesley Jones |
| 23 | 2022-08-09 09:02:17 | Julie Bouskill |
| 24 | 2022-08-04 16:10:28 | Emma Louise |
| 25 | 2022-08-09 11:32:16 | Lucy Mulligan |
| 26 | 2022-08-06 11:50:54 | mark chapman |
| 27 | 2022-08-09 07:38:25 | Jane Bowen |
| 28 | 2022-08-07 22:17:44 | Heather Cameron |
| 29 | 2022-08-09 18:19:31 | Mandy Smith8o |
| 30 | 2022-08-06 19:57:17 | Emily Billing |
| 31 | 2022-08-09 09:29:45 | Ben Tait |
| 34 | 2022-08-09 09:06:42 | Leanne Nutley |
| 35 | 2022-08-09 09:09:24 | Lucy Barrett |
| 37 | 2022-08-09 00:25:06 | Toby BAMSEY |
| 38 | 2022-08-05 19:02:36 | Lou Lister |
| 39 | 2022-08-09 20:32:36 | Linda Beer |
| 40 | 2022-08-07 12:51:17 | Joyce Hope |
| 41 | 2022-08-09 19:58:14 | Erin Bray |
| 44 | 2022-08-09 20:43:46 | Samantha Bennett |
| 46 | 2022-08-09 19:59:39 | Aron Davis |
| 47 | 2022-08-07 09:21:15 | Bernice Wilson |
| 48 | 2022-08-05 19:02:36 | Lou Lister |
| 50 | 2022-08-09 09:14:45 | Leah Knight |
| 52 | 2022-08-07 11:21:11 | Sophie Woodman |
| 53 | 2022-08-09 12:32:21 | Debbie Jones |
| 55 | 2022-08-06 16:30:19 | Kyle Jago |
| 57 | 2022-08-08 22:12:32 | Sarah Thompson-Lowe |
| 59 | 2022-08-09 19:24:12 | Jackie bowman |
| 61 | 2022-08-08 11:04:04 | Rebecca Langford |
| 63 | 2022-08-05 19:52:55 | Karen Wilmott |
| 65 | 2022-08-08 08:39:46 | Trudi Parnell |
| 66 | 2022-08-09 20:37:11 | Emma Jones |
| 67 | 2022-08-09 19:21:59 | Daniel Hill |
| 69 | 2022-08-09 20:13:04 | Rachael Dummett |
| 70 | 2022-08-09 20:33:09 | Erica Walker |
| 71 | 2022-08-09 20:04:36 | Steph Sutherland |
| 73 | 2022-08-09 13:32:50 | Kayleigh Leicester |
| 76 | 2022-08-06 11:50:54 | mark chapman |
| 77 | 2022-08-09 15:27:02 | Charlie Zaple |
| 78 | 2022-08-09 16:39:37 | Emma Davies |
| 79 | 2022-08-09 15:00:44 | Ian Garner |
| 80 | 2022-08-09 20:12:34 | Tracy Mills |
| 81 | 2022-08-08 17:00:01 | Sadie Baker |
| 83 | 2022-08-05 19:02:36 | Lou Lister |
| 84 | 2022-08-09 10:30:45 | Gemma Sayer |
| 85 | 2022-08-05 22:52:51 | Lou Lister |
| 87 | 2022-08-09 09:17:53 | Belinda Lawford |
| 88 | 2022-08-04 14:06:41 | VICTORIA LEES |
| 89 | 2022-08-04 09:04:23 | Lou Lister |
| 90 | 2022-08-09 15:00:44 | Ian Garner |
| 91 | 2022-08-09 09:17:53 | Belinda Lawford |
| 94 | 2022-08-09 20:20:29 | Joseph Clifford |
| 95 | 2022-08-09 19:58:16 | Aisling Gillies |
| 98 | 2022-08-09 09:56:42 | Natasha Tougher |
| 99 | 2022-08-09 19:06:30 | Debbie Hele |
| 100 | 2022-08-09 20:35:12 | Alan Gowland |
| 101 | 2022-08-09 20:18:55 | Adrian Uglow |
| 105 | 2022-08-09 17:37:23 | Jodie Ellis |
| 108 | 2022-08-05 22:46:08 | Beth Hewitt |
| 109 | 2022-08-09 20:43:46 | Samantha Bennett |
| 110 | 2022-08-09 19:42:48 | Ann Hall |
| 112 | 2022-08-09 20:33:32 | Jade Pook |
| 113 | 2022-08-08 18:32:23 | Sarah Dennis |
| 115 | 2022-08-09 20:37:31 | Laura Roche |
| 117 | 2022-08-08 19:19:18 | Elizabeth Halfyard |
| 119 | 2022-08-09 19:42:48 | Ann Hall |
| 120 | 2022-08-05 19:02:36 | Lou Lister |
| 122 | 2022-08-08 19:12:38 | Vincent Horak |
| 125 | 2022-08-09 19:45:24 | Jasmine Walsh |
| 127 | 2022-08-08 10:45:58 | Joseph Clifford |
| 128 | 2022-08-09 12:32:21 | Debbie Jones |
| 129 | 2022-08-05 22:52:51 | Lou Lister |
| 130 | 2022-08-08 18:56:42 | Kate Parsons |
| 131 | 2022-08-09 20:43:21 | Jo Shaw |
| 133 | 2022-08-04 09:04:23 | Lou Lister |
| 135 | 2022-08-09 19:44:01 | Heather Turnstill |
| 136 | 2022-08-08 09:10:39 | Lisa Donoghue |
| 138 | 2022-08-06 09:16:25 | Claire Westwood |
| 141 | 2022-08-09 20:30:20 | Natasha Bourne |
| 142 | 2022-08-09 20:43:57 | Debbie Jones |
| 143 | 2022-08-09 16:15:10 | Nicola Naylor |
| 145 | 2022-08-09 20:22:06 | Jane Evans |
| 146 | 2022-08-09 20:32:36 | Linda Beer |
| 149 | 2022-08-09 17:48:28 | jemma Vooght |
| 150 | 2022-08-09 20:33:09 | Erica Walker |
| 151 | 2022-08-08 20:46:10 | mr sean m winsor |
| 153 | 2022-08-05 19:02:36 | Lou Lister |
| 154 | 2022-08-09 17:37:23 | Jodie Ellis |
| 156 | 2022-08-09 09:57:27 | Lekel North |
| 157 | 2022-08-09 20:31:30 | Lisa Darragh |
| 164 | 2022-08-09 09:57:27 | Lekel North |
| 166 | 2022-08-09 17:56:53 | Katie Strachan |
| 167 | 2022-08-04 22:30:00 | Tim Hallam |
| 169 | 2022-08-06 11:50:54 | mark chapman |
| 170 | 2022-08-09 19:59:39 | Aron Davis |
| 173 | 2022-08-08 18:41:59 | Talia Tucker |
| 177 | 2022-08-09 20:43:57 | Debbie Jones |
| 179 | 2022-08-09 20:43:57 | Debbie Jones |
| 181 | 2022-08-09 07:38:25 | Jane Bowen |
| 182 | 2022-08-09 17:04:31 | Neil King |
| 183 | 2022-08-07 18:38:09 | Simon Worth |
| 184 | 2022-08-08 17:52:02 | Sammy jo Smith |
| 185 | 2022-08-09 09:57:27 | Lekel North |
| 186 | 2022-08-09 17:48:28 | jemma Vooght |
| 187 | 2022-08-07 19:38:36 | Lucy Houghton |
| 189 | 2022-08-09 20:42:17 | Gemma Norgate |
| 190 | 2022-08-04 22:34:19 | Lou Lister |
| 193 | 2022-08-09 19:44:01 | Heather Turnstill |
| 194 | 2022-08-09 09:56:42 | Natasha Tougher |
| 197 | 2022-08-09 15:30:56 | Emma Jones |
| 199 | 2022-08-09 19:42:48 | Ann Hall |
| 203 | 2022-08-09 10:21:10 | Zeta Hunter |
| 206 | 2022-08-08 18:56:42 | Kate Parsons |
| 209 | 2022-08-09 07:57:25 | Rachael Dummett |
| 212 | 2022-08-09 18:48:38 | Nicola Bird |
| 213 | 2022-08-09 17:00:11 | Vanessa Williams |
| 215 | 2022-08-08 18:41:59 | Talia Tucker |
| 216 | 2022-08-09 14:11:26 | Kerry Packer |
| 217 | 2022-08-09 20:15:56 | Sharon Longbottom |
| 218 | 2022-08-09 18:28:14 | Katherine Meathrel |
| 220 | 2022-08-09 20:35:12 | Alan Gowland |
| 226 | 2022-08-09 10:21:10 | Zeta Hunter |
| 228 | 2022-08-09 09:56:42 | Natasha Tougher |
| 231 | 2022-08-08 19:20:45 | Heather Turnstill |
| 233 | 2022-08-09 09:19:22 | Tara Evans |