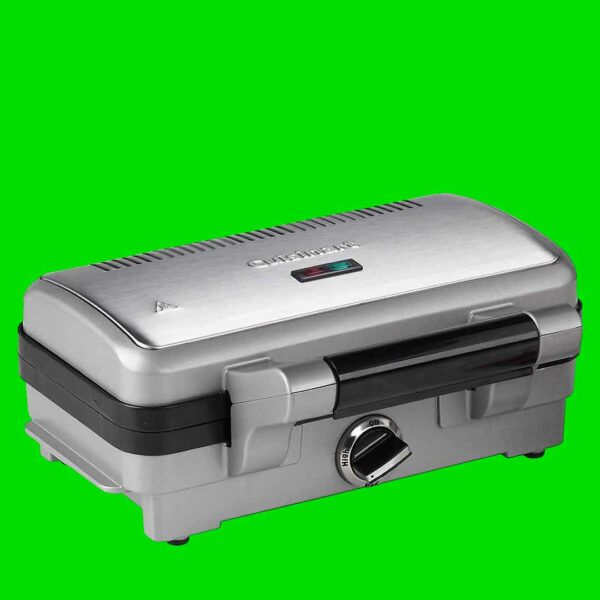 CUISINART Sandwich maker
Description
CUISINART Sandwich maker
Extra-large plates with extra deep pockets for delicious deep filled sandwiches with perfectly sealed edges.
Also perfect for omelettes, fruit pastries, French Toast, quesadillas and much more.
Easy clean non-stick plates are removable and dishwasher safe.
Variable temperature control for perfect browning every time.
Commercial grade stainless steel housing with brushed finish.
| Winner Name | Ticket Number | Draw Date |
| --- | --- | --- |
| Alison Cass | 158 | 20/04/2022 |
| Ticket Number | Date | Name |
| --- | --- | --- |
| 1 | 2022-04-14 09:45:35 | Debs H |
| 2 | 2022-04-14 16:55:51 | Laura Currie |
| 3 | 2022-04-18 17:31:00 | Debs H |
| 4 | 2022-04-20 18:30:19 | Lisa Hynes |
| 5 | 2022-04-20 06:52:08 | phyllis steer |
| 6 | 2022-04-18 07:47:16 | Robert Maisey |
| 7 | 2022-04-18 19:14:38 | John Taylor |
| 11 | 2022-04-18 18:52:09 | Alison Cass |
| 12 | 2022-04-14 18:27:27 | Aim P |
| 13 | 2022-04-18 19:14:38 | John Taylor |
| 14 | 2022-04-20 19:33:05 | Izzy Eveson |
| 15 | 2022-04-20 12:46:19 | Emma & lee |
| 16 | 2022-04-15 23:13:58 | Claire Leworthy |
| 17 | 2022-04-14 13:36:47 | Carolyne Salter |
| 19 | 2022-04-20 17:15:58 | Debs H |
| 20 | 2022-04-20 20:24:46 | Hannah Harrison-scott |
| 21 | 2022-04-14 16:55:51 | Laura Currie |
| 22 | 2022-04-18 17:31:00 | Debs H |
| 23 | 2022-04-20 19:50:42 | Paul Clements |
| 24 | 2022-04-20 19:41:26 | Emma Louise |
| 25 | 2022-04-18 19:14:38 | John Taylor |
| 26 | 2022-04-18 17:31:00 | Debs H |
| 27 | 2022-04-19 20:36:43 | N C |
| 29 | 2022-04-16 16:21:54 | Ruth Peard |
| 30 | 2022-04-20 20:02:11 | David Paris |
| 31 | 2022-04-20 17:31:25 | Daniel Lee |
| 32 | 2022-04-20 20:24:11 | No Christine Scarbrough |
| 33 | 2022-04-20 20:02:11 | David Paris |
| 34 | 2022-04-20 20:02:11 | David Paris |
| 35 | 2022-04-15 20:54:09 | Lesley Jones |
| 36 | 2022-04-14 10:18:34 | Elizabeth Halfyard |
| 37 | 2022-04-20 20:35:30 | Sharon H |
| 39 | 2022-04-16 07:19:43 | Ivana Plankova |
| 40 | 2022-04-18 19:14:38 | John Taylor |