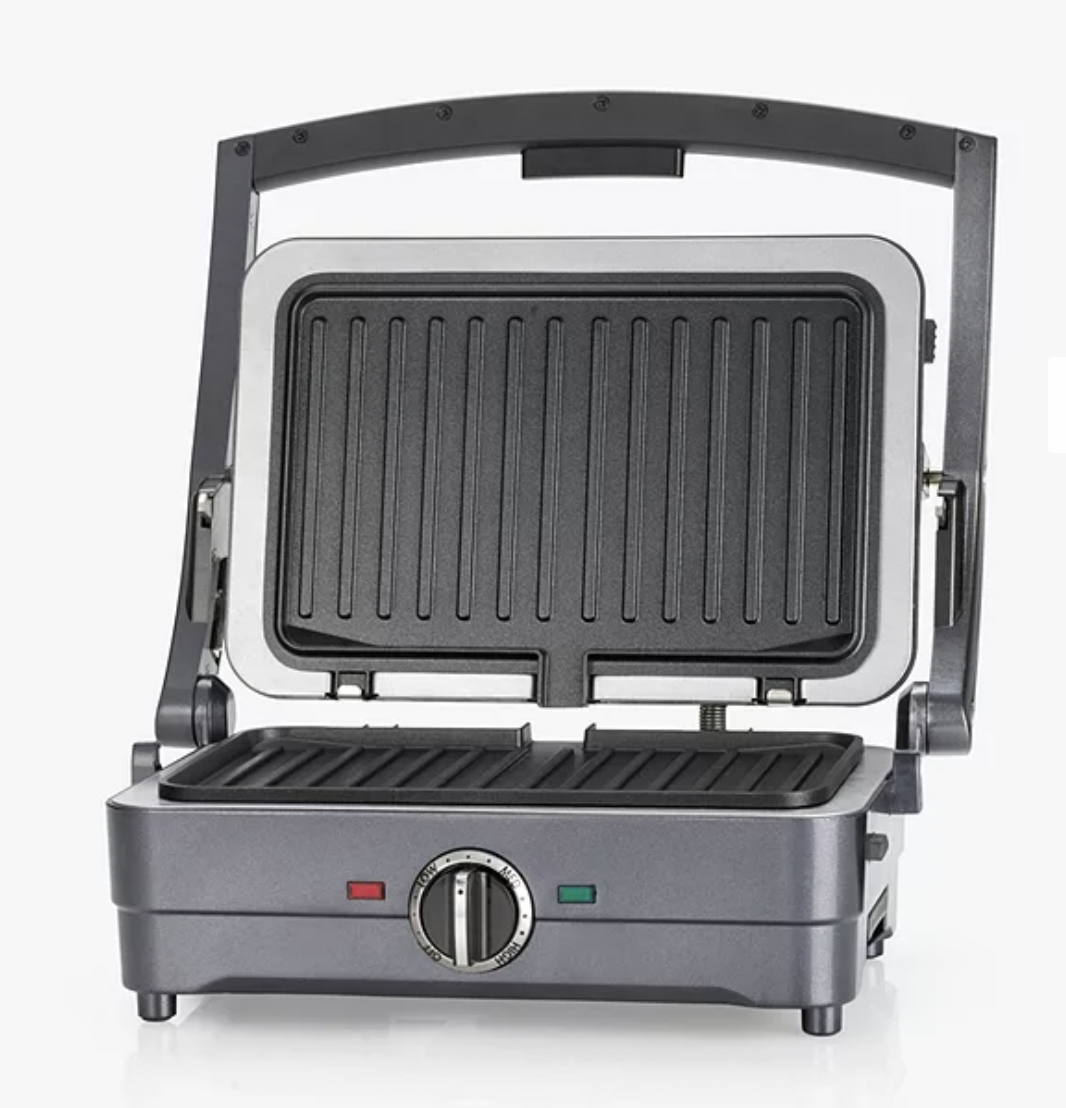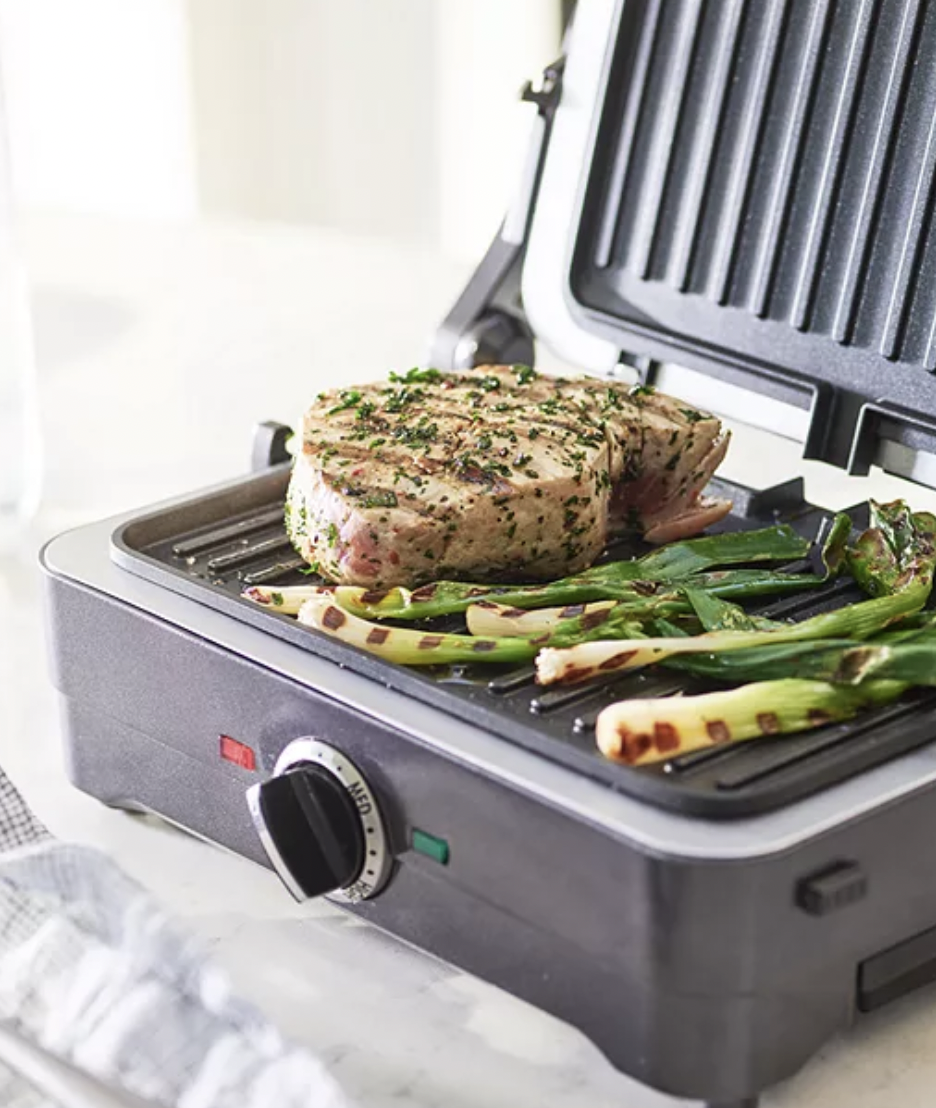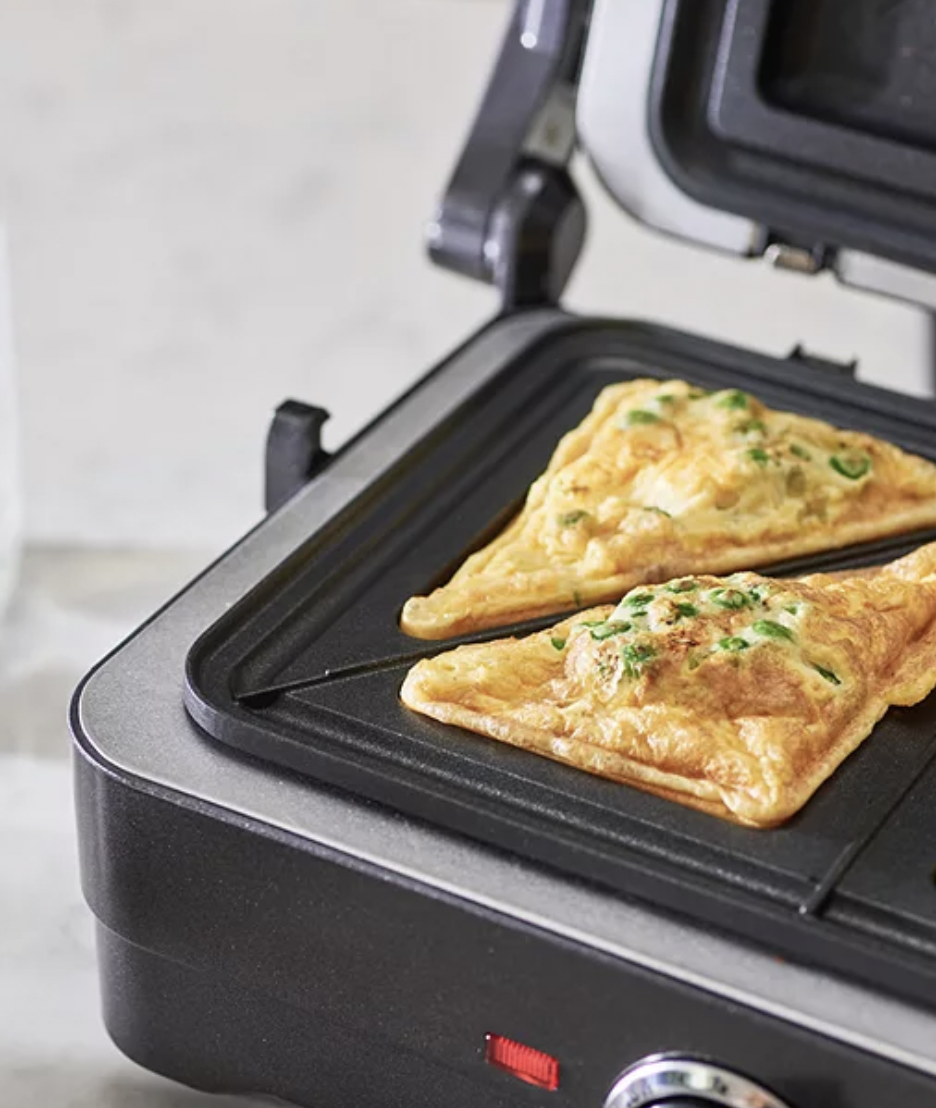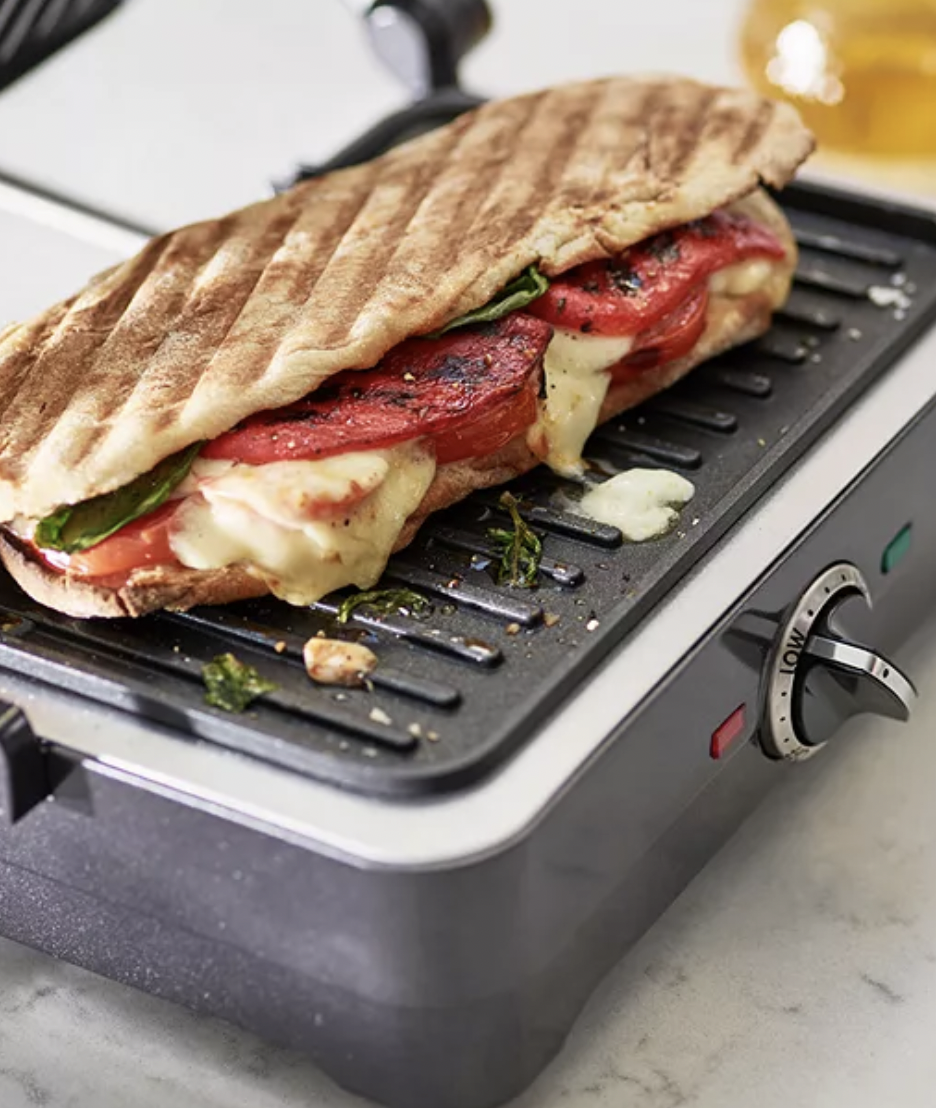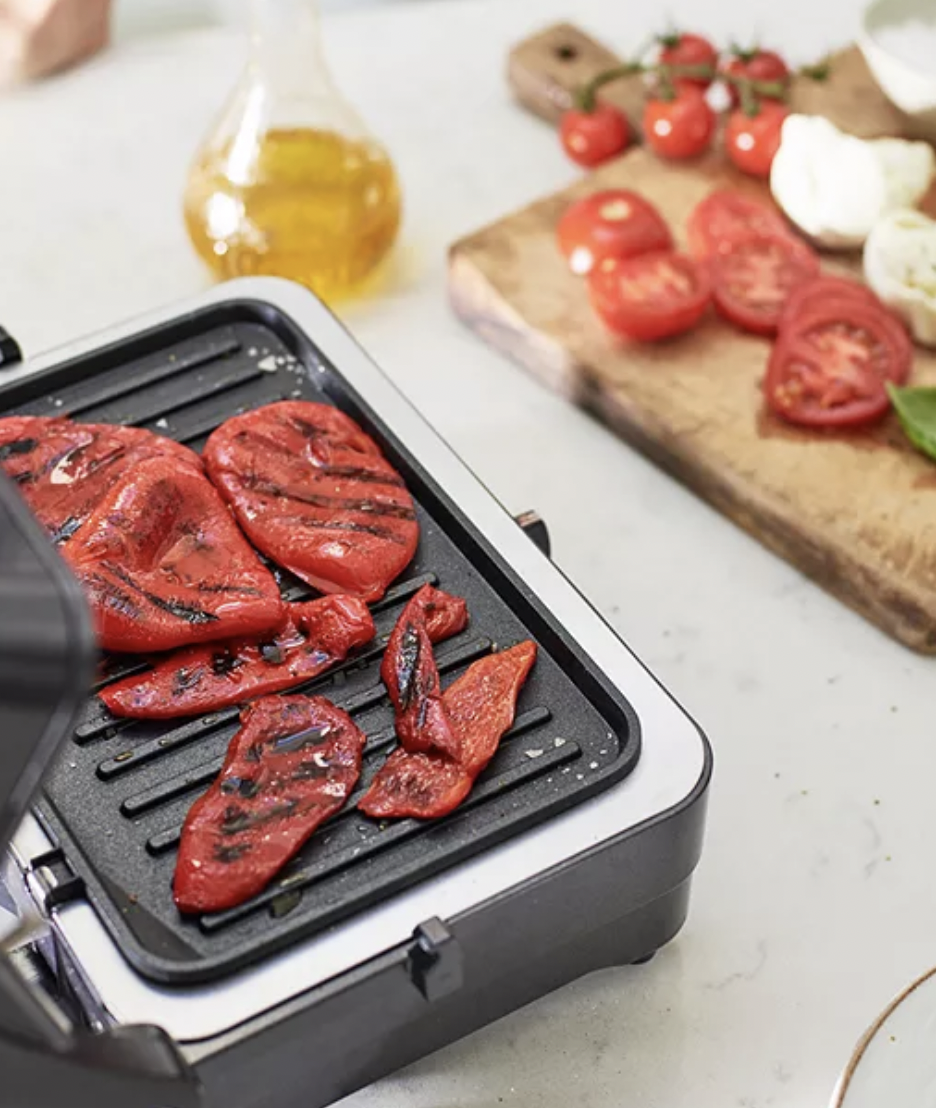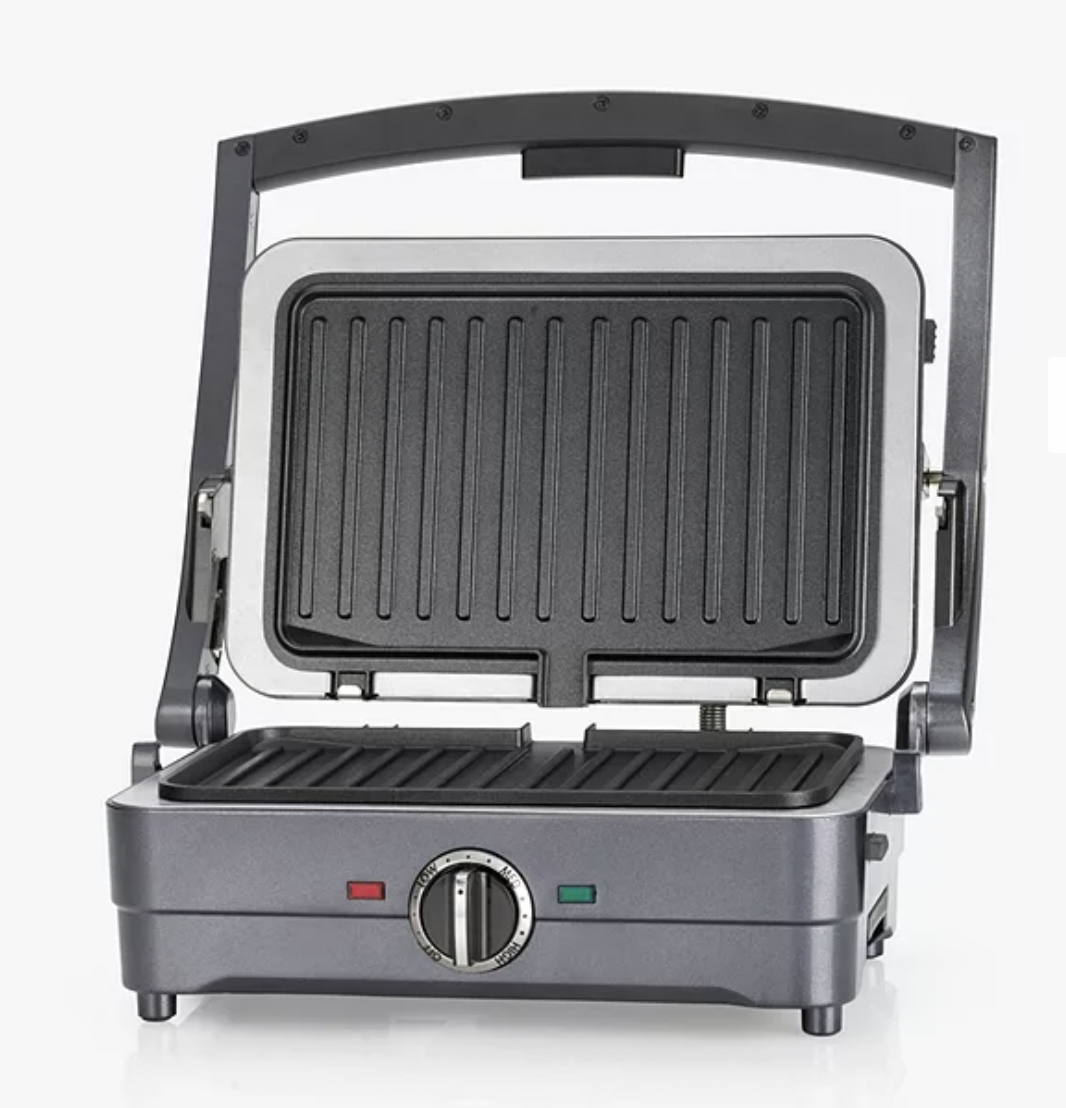 Cuisinart 2-in-1 Grill & Sandwich Toaster
Description
Cuisinart 2-in-1 Grill & Sandwich Toaster
The 2 in 1 Grill and Sandwich Maker is ideal for making quick and easy meals and snacks. Whether it's grilled meats, fish or vegetables for a quick lunch, or a toasted sandwich as an after-school filler or a late-night snack it's the perfect machine. Its compact size is great for even the smallest work spaces.
This high performance grill heats up quickly and maintains a consistent high temperature for perfect cooking results. With variable temperature, select from the low, medium or high settings to suit your recipe.
In grill mode pop in the plates for delicious paninis or perfectly grilled meat, fish or vegetables. The floating hinge allows the top plate to rest gently and evenly over your food, cooking it from both sides for succulent results in half the time and the variable temperature gives you the flexibility to sear steaks or gently grill more delicate ingredients.
In sandwich mode the extra deep plates create perfectly browned and sealed toasted sandwiches. You can also use the sandwich plates to make omelettes, pastries, French toast and calzone – the recipe booklet included will show you how.
Both sets of plates are fully removable and dishwasher safe for easy cleaning.
| Winner Name | Ticket Number | Draw Date |
| --- | --- | --- |
| Daniel Cummings | 131 | 22/03/2023 |
| Ticket Number | Date | Name |
| --- | --- | --- |
| 2 | 2023-03-22 09:34:14 | jeanette rich |
| 3 | 2023-03-22 20:19:08 | Jeff Puttick |
| 4 | 2023-03-20 13:40:33 | Bren Last |
| 5 | 2023-03-22 20:14:49 | Daniel Cummings |
| 6 | 2023-03-22 12:17:25 | sue fogarty |
| 7 | 2023-03-22 15:00:24 | Laurence Dent |
| 8 | 2023-03-18 14:45:40 | Helen Holloway |
| 10 | 2023-03-22 17:51:31 | Dana whereat |
| 13 | 2023-03-22 09:34:14 | jeanette rich |
| 14 | 2023-03-22 17:43:29 | Kelly Herworth |
| 16 | 2023-03-22 19:19:52 | Jackie bowman |
| 17 | 2023-03-22 01:01:09 | Miss T |
| 20 | 2023-03-22 12:17:25 | sue fogarty |
| 21 | 2023-03-22 20:07:58 | Lisa Roberts |
| 22 | 2023-03-22 16:31:57 | Adam Cheeseworth |
| 23 | 2023-03-22 19:31:24 | Cheryl White |
| 25 | 2023-03-22 19:42:51 | Paula Johans |
| 29 | 2023-03-22 19:53:13 | emma mccauley |
| 30 | 2023-03-22 13:00:21 | Michelle Mccourt |
| 31 | 2023-03-22 12:42:16 | emma mccauley |
| 32 | 2023-03-19 09:00:44 | Amelia Reynolds |
| 34 | 2023-03-22 17:51:31 | Dana whereat |
| 35 | 2023-03-22 19:56:58 | Sharon Hobday |
| 37 | 2023-03-22 11:53:47 | Chelsea Quaintance |
| 39 | 2023-03-22 15:23:07 | Charlotte Osborne |
| 41 | 2023-03-22 19:26:01 | Usher Prowse |
| 42 | 2023-03-22 20:05:12 | Sean Finnerty |
| 45 | 2023-03-22 19:14:36 | Ana Chard |
| 48 | 2023-03-22 18:24:03 | Georgia Brown |
| 52 | 2023-03-21 21:31:00 | Hannah Hodgson |
| 53 | 2023-03-22 11:13:34 | Sarah Faulkner-lloyd |
| 54 | 2023-03-22 19:10:01 | Kyle Watterson |
| 55 | 2023-03-22 20:29:51 | Danny Sharam |
| 56 | 2023-03-22 13:52:28 | S S |
| 59 | 2023-03-22 16:06:08 | Sophie Moss |
| 68 | 2023-03-22 20:19:08 | Jeff Puttick |
| 69 | 2023-03-22 18:24:03 | Georgia Brown |
| 70 | 2023-03-22 13:45:23 | Nathan Hill |
| 72 | 2023-03-22 19:22:29 | Gill Smart |
| 73 | 2023-03-22 18:24:03 | Georgia Brown |
| 75 | 2023-03-22 20:14:49 | Daniel Cummings |
| 78 | 2023-03-22 19:27:52 | Joe Browse |
| 79 | 2023-03-22 19:31:03 | Lois Davey |
| 80 | 2023-03-22 20:10:18 | Will Partridge |
| 82 | 2023-03-22 20:10:18 | Will Partridge |
| 85 | 2023-03-22 19:27:52 | Joe Browse |
| 86 | 2023-03-22 19:42:51 | Paula Johans |
| 90 | 2023-03-22 19:27:52 | Joe Browse |
| 94 | 2023-03-21 17:21:13 | Roxanne Hill |
| 95 | 2023-03-22 19:31:01 | Michelle Petricca |
| 96 | 2023-03-22 20:49:33 | Jade Davis-tucker |
| 97 | 2023-03-22 10:48:27 | Roxanne Hill |
| 101 | 2023-03-22 13:11:56 | Jeffery Moseley |
| 102 | 2023-03-22 15:00:24 | Laurence Dent |
| 104 | 2023-03-22 20:05:12 | Sean Finnerty |
| 107 | 2023-03-22 19:27:52 | Joe Browse |
| 111 | 2023-03-22 19:26:01 | Usher Prowse |
| 112 | 2023-03-22 11:13:34 | Sarah Faulkner-lloyd |
| 113 | 2023-03-22 15:02:03 | Anne-Marie Daniels |
| 115 | 2023-03-22 19:27:52 | Joe Browse |
| 118 | 2023-03-22 19:44:40 | Ivana Plankova |
| 119 | 2023-03-22 19:27:52 | Joe Browse |
| 121 | 2023-03-22 16:19:28 | Cassandra Lauridsen |
| 122 | 2023-03-22 17:43:29 | Kelly Herworth |
| 123 | 2023-03-22 12:05:18 | Jacob Robins |
| 124 | 2023-03-22 12:42:16 | emma mccauley |
| 125 | 2023-03-22 19:42:51 | Paula Johans |