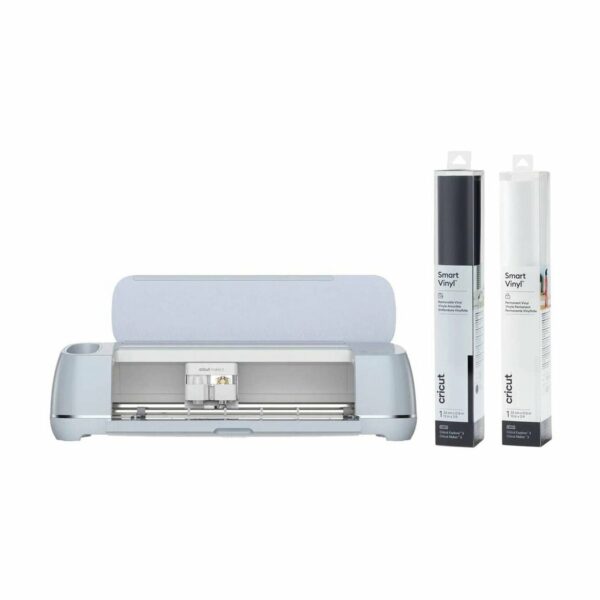 Cricut Maker 3 and Vinyl Bundle
Description
Cricut Maker 3 and Vinyl Bundle
The Cricut Maker 3 and Vinyl Bundle is the perfect way to set yourself up with Cricut and start making your first projects.
You'll have the cutting-edge Cricut Maker 3 to offer incredible performance for every project, along with a set of Smart Vinyl materials – perfect for crafting decals, banners, décor pieces and personalised designs. The Maker 3 is up to two times faster, with up to 10 times the cutting force of the previous Cricut machines. Cut, write, draw, score and foil to personalise a huge range of décor DIY, accessories, clothing, gifts and more.
The Cricut Maker 3 can cut over 300 different materials, ranging from the most delicate fabric and paper to thick and tough mat board, leather, basswood and more. There are 13 different tips available (separately) to help you bring your ideas to life. It's also compatible with Cricut Smart Materials for super-easy, long cuts up to 3.6m without a cutting mat.
As well as beinggreat for crafting custom clothing with iron-on materials, decorating accessories with vinyl decals, creating DIY décor designs and personalising your papercrafts, the Maker will also help simplify your sewing crafts. Choose from a wide variety of sewing patterns and quilt blocks. The Cricut Maker 3 cuts and marks all your pieces in just a few clicks.
| Winner Name | Ticket Number | Draw Date |
| --- | --- | --- |
| Kerry Eldred | 131 | 01/08/2022 |
| Ticket Number | Date | Name |
| --- | --- | --- |
| 1 | 2022-08-01 08:58:59 | Tracy Langridge |
| 2 | 2022-07-31 15:05:50 | Holly Ring |
| 3 | 2022-08-01 14:06:57 | David Orrey |
| 5 | 2022-07-31 09:03:11 | Sharon Smith |
| 6 | 2022-08-01 18:46:43 | Darran Thompson |
| 7 | 2022-07-25 23:21:11 | Lucie Dobeer |
| 8 | 2022-07-31 19:23:38 | Philippa Blair |
| 9 | 2022-08-01 20:38:09 | Nicola Cobain |
| 10 | 2022-08-01 19:20:46 | James Rivers |
| 11 | 2022-08-01 08:49:11 | Sadie Simpson |
| 14 | 2022-08-01 10:38:57 | Leanne Metcalfe |
| 15 | 2022-07-30 08:06:22 | Charlotte Connabeer |
| 16 | 2022-08-01 08:57:35 | Holly Walmsley |
| 18 | 2022-08-01 08:57:35 | Holly Walmsley |
| 20 | 2022-08-01 08:58:59 | Tracy Langridge |
| 21 | 2022-07-25 22:26:04 | Lisa Roberts |
| 22 | 2022-08-01 08:58:59 | Tracy Langridge |
| 23 | 2022-07-31 19:06:19 | Grace Birchill-Studdy |
| 24 | 2022-07-31 16:47:08 | phyllis steer |
| 27 | 2022-08-01 20:38:09 | Nicola Cobain |
| 28 | 2022-08-01 09:01:11 | Jane Sharland |
| 29 | 2022-07-25 21:11:54 | Danielle Cronin |
| 30 | 2022-08-01 19:20:46 | James Rivers |
| 34 | 2022-08-01 14:06:57 | David Orrey |
| 35 | 2022-08-01 09:26:42 | Debbie Jones |
| 36 | 2022-08-01 15:26:32 | Tia Richardson |
| 39 | 2022-08-01 20:50:27 | Justin Lashley |
| 42 | 2022-08-01 18:20:17 | Rachel Salloway |
| 44 | 2022-08-01 20:16:45 | J K |
| 45 | 2022-08-01 20:30:19 | Sid Etches |
| 49 | 2022-08-01 08:58:59 | Tracy Langridge |
| 50 | 2022-08-01 08:31:08 | Vivien Valach |
| 51 | 2022-08-01 08:58:59 | Tracy Langridge |
| 52 | 2022-07-26 00:00:56 | Karen Shinner |
| 55 | 2022-08-01 08:58:59 | Tracy Langridge |
| 57 | 2022-07-30 18:41:42 | Emily Rapson |
| 58 | 2022-08-01 08:58:59 | Tracy Langridge |
| 59 | 2022-07-28 14:35:12 | Meisha Williams |
| 61 | 2022-07-26 19:30:18 | Leah Back |
| 62 | 2022-07-31 17:21:54 | Tina Light |
| 64 | 2022-07-25 23:21:11 | Lucie Dobeer |
| 66 | 2022-07-29 23:03:19 | Andy Shout |
| 69 | 2022-08-01 20:38:09 | Nicola Cobain |
| 72 | 2022-07-25 20:08:00 | Diane Fox |
| 73 | 2022-07-26 00:00:56 | Karen Shinner |
| 78 | 2022-07-26 14:56:55 | Natasha Pitman |
| 80 | 2022-08-01 15:42:14 | Lucie Dobeer |
| 83 | 2022-07-31 16:47:08 | phyllis steer |
| 84 | 2022-07-30 08:11:07 | Elaine Yersin |
| 85 | 2022-07-31 10:54:14 | Mica Jay |
| 86 | 2022-08-01 19:54:07 | Hollie Crosby |
| 87 | 2022-07-31 20:50:57 | Nicola Cobain |
| 88 | 2022-08-01 18:46:43 | Darran Thompson |
| 89 | 2022-07-28 15:14:13 | Lisa Dockree |
| 91 | 2022-08-01 19:20:46 | James Rivers |
| 92 | 2022-08-01 20:30:54 | Emily Carpenter |
| 93 | 2022-07-28 15:14:13 | Lisa Dockree |
| 94 | 2022-08-01 20:33:22 | Ian Anslow |
| 95 | 2022-08-01 18:27:55 | Sam Thompson |
| 97 | 2022-07-28 06:39:39 | Sophie Bowman |
| 100 | 2022-08-01 18:46:43 | Darran Thompson |