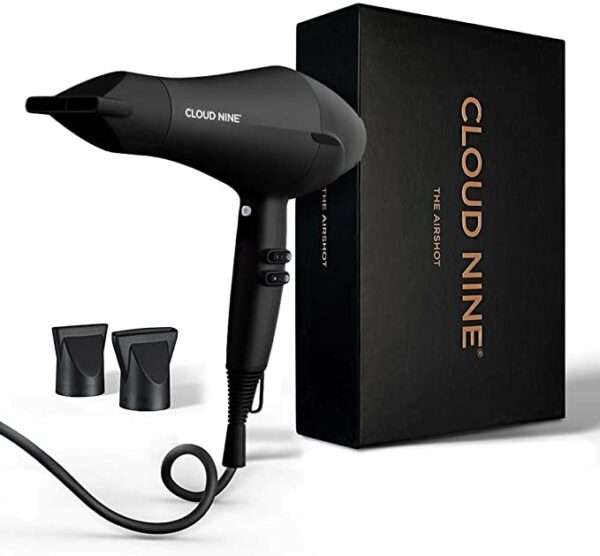 CLOUD NINE The Airshot Hair Dryer
Description
CLOUD NINE The Airshot Hair Dryer
You bring the heat with the hairdryer that turns up your style. With Kinder Styling Technology, you can expect healthier, stronger, shinier hair every time your style.

85% of women said their hair felt and looked SHINIER, HEALTHIER and GLOSSIER using CLOUD NINE.

The Airshot is a lightweight, sleek 2000W styling power house dryer which boasts Tourmaline and Vitamin-Infused ceramic heating elements that provide the ultimate care for your hair whilst styling.

Ensure long-lasting style without compromising your hair's strength, softness or shine. CLOUD NINE's Anti-Static Technology reduces negatively charged particles, diminishing frizz and flyaways.

With professional salon performance and two nozzle attachments with different shapes to focus hot air and target specific parts of your hair during styling, the Airshot Dryer makes the perfect gift.
| Winner Name | Ticket Number | Draw Date |
| --- | --- | --- |
| Emma Hancock | 111 | 02/06/2022 |
| Ticket Number | Date | Name |
| --- | --- | --- |
| 1 | 2022-06-02 20:36:50 | Lisa Darragh |
| 2 | 2022-06-02 13:11:10 | Jane Evans |
| 3 | 2022-06-02 19:48:07 | Lynne Deeley |
| 4 | 2022-05-31 08:11:20 | Rachel Cottam |
| 5 | 2022-06-01 20:41:49 | Lisa Law |
| 6 | 2022-06-02 17:21:30 | Karen Howell |
| 7 | 2022-06-01 21:56:38 | Donna Hart |
| 9 | 2022-06-01 16:09:43 | Tina Hawker |
| 10 | 2022-06-02 20:04:58 | Hannah Allpress |
| 12 | 2022-06-02 18:21:01 | Shelley Clewes |
| 13 | 2022-06-02 18:06:38 | Victoria Brown |
| 14 | 2022-05-29 22:22:16 | Megan Simmonds |
| 15 | 2022-05-30 19:57:34 | Claire Thomas |
| 16 | 2022-05-31 08:11:20 | Rachel Cottam |
| 17 | 2022-06-02 20:38:42 | Ew Mc |
| 18 | 2022-05-27 09:47:48 | Ria Dance |
| 20 | 2022-06-02 20:04:58 | Hannah Allpress |
| 22 | 2022-06-01 20:32:48 | Donna Brickland |
| 23 | 2022-06-02 20:07:20 | Ellie Squires |
| 24 | 2022-05-26 17:27:40 | M E |
| 25 | 2022-05-29 08:11:14 | Matthew Tall |
| 26 | 2022-06-01 17:45:52 | Hannah Allpress |
| 27 | 2022-06-01 20:51:18 | Gail. Gilbert. |
| 29 | 2022-06-02 17:45:31 | connor wren |
| 30 | 2022-06-01 09:26:10 | Deana Bristow |
| 31 | 2022-05-28 08:44:26 | jan blackler |
| 33 | 2022-06-01 17:45:52 | Hannah Allpress |
| 35 | 2022-06-02 17:51:07 | Heather Kelly |
| 36 | 2022-06-01 21:38:24 | Sophie Skinner |
| 37 | 2022-06-02 11:07:47 | Sharon Bray |
| 38 | 2022-06-02 17:45:31 | connor wren |
| 40 | 2022-05-31 17:43:03 | Naomi Warren |
| 41 | 2022-05-31 11:40:46 | Ew Mc |
| 42 | 2022-05-27 07:46:15 | Jen Simm |
| 44 | 2022-06-01 06:43:59 | Lucinda Massey |
| 45 | 2022-05-31 22:49:27 | Rebecca Langford |
| 48 | 2022-06-01 21:38:24 | Sophie Skinner |
| 49 | 2022-06-02 19:48:07 | Lynne Deeley |
| 51 | 2022-06-02 19:57:02 | Gillian Ronchetti |
| 52 | 2022-06-02 11:21:49 | Sian Bush |
| 55 | 2022-06-02 20:04:58 | Hannah Allpress |
| 57 | 2022-05-27 10:32:55 | Jackie Dyer |
| 58 | 2022-06-02 12:56:02 | Holly Kemp |
| 59 | 2022-06-02 20:38:06 | Paula Horrocks |
| 62 | 2022-05-29 20:06:51 | Georgia Armour |
| 64 | 2022-05-28 00:23:23 | Lucinda Massey |
| 65 | 2022-06-02 20:36:50 | Lisa Darragh |
| 66 | 2022-06-02 20:34:05 | Hayley Bewsher |
| 67 | 2022-05-30 18:40:25 | Lisa Law |
| 68 | 2022-06-02 11:41:11 | Jem V |
| 69 | 2022-06-02 18:06:38 | Victoria Brown |
| 71 | 2022-06-01 19:30:52 | Angela Cowlard |
| 74 | 2022-06-02 15:56:53 | A S |
| 75 | 2022-06-02 08:50:56 | Philippa Smith |
| 76 | 2022-06-02 16:43:12 | Emma & lee |
| 77 | 2022-06-02 19:30:17 | Chloe Timms |
| 81 | 2022-06-02 20:34:20 | Vikki Gyde |
| 82 | 2022-06-01 21:03:56 | Joanne Ison |
| 84 | 2022-06-01 21:14:27 | Mike Milden |
| 85 | 2022-06-02 11:11:41 | Lekel North |
| 86 | 2022-06-02 17:45:31 | connor wren |
| 87 | 2022-05-31 08:11:20 | Rachel Cottam |
| 88 | 2022-06-02 11:21:06 | Emma Jones |
| 89 | 2022-06-01 17:45:52 | Hannah Allpress |
| 91 | 2022-06-02 17:21:30 | Karen Howell |
| 92 | 2022-06-02 17:45:31 | connor wren |
| 93 | 2022-06-02 08:59:27 | Joanne Martin |
| 94 | 2022-06-01 17:45:52 | Hannah Allpress |
| 95 | 2022-06-02 08:26:11 | Hailey Green |
| 97 | 2022-06-02 17:49:00 | Andrew Clarke |
| 98 | 2022-06-02 20:04:58 | Hannah Allpress |
| 100 | 2022-05-31 17:12:53 | Sandra holmes |
| 102 | 2022-05-27 19:37:01 | Gail. Gilbert. |
| 104 | 2022-06-01 20:41:49 | Lisa Law |
| 105 | 2022-06-02 19:44:57 | S D |
| 106 | 2022-06-02 19:17:46 | Rebecca Chatburn |
| 107 | 2022-06-02 20:34:05 | Hayley Bewsher |
| 109 | 2022-06-02 11:07:47 | Sharon Bray |
| 110 | 2022-06-02 19:41:40 | Nathan Scott |