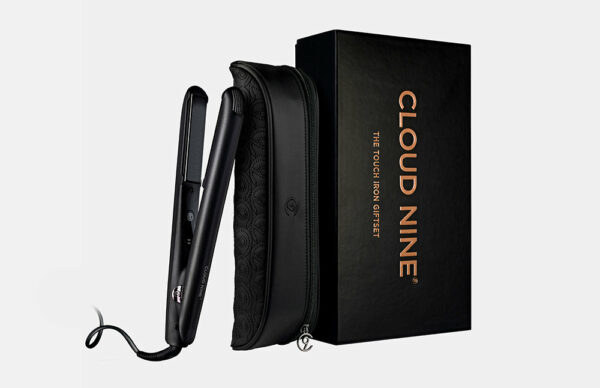 Cloud 9 – THE TOUCH IRON
Description
Cloud 9 – THE TOUCH IRON
Bring the heat in an instant with the Touch Iron. Made for the mane changers on the move. Heating up instantly and always created with Kinder Styling Technology for healthier, stronger, shinier hair every time you style.
Variable Temperature Control
With heat settings ranging from 165-195°C for styling at lower temperatures without the unnecessary heat damage.
Mineral-Infused Ceramic Plates
Infused with our signature healing minerals Sericite and Tourmaline to seal the hair's cuticle and lock in moisture for shinier hair every time you style.
Floating Ceramic Plates
Our Ceramic Mineral-Infused Floating Plates cushion the impact minimising drag and friction on the hair to minimise split ends and breakage.
Instant Heat
The Touch Iron works from the very first swipe eliminating heat up time to reach maximum temperatures instantly, getting the style you want, faster.
Touch Technology
Our exclusive Touch Technology lets you control the temperatures with touch, switching between temperatures by touching the plates together for precise styles.
| Winner Name | Ticket Number | Draw Date |
| --- | --- | --- |
| Harriet CummingsCummings | 344 | 18/05/2022 |
1-100
101-200
201-300
301-400
401-500
501-600
601-700
701-800
| Ticket Number | Date | Name |
| --- | --- | --- |
| 1 | 2022-05-12 13:44:18 | Gillian Smith |
| 2 | 2022-05-15 19:10:39 | Rachel Tovey |
| 3 | 2022-05-13 21:13:55 | Claire Cockram |
| 4 | 2022-05-12 17:59:32 | Amy Mitchelmore |
| 5 | 2022-05-12 13:44:18 | Gillian Smith |
| 6 | 2022-05-12 16:24:52 | Isis Honeywill |
| 7 | 2022-05-16 20:27:23 | Emma Steel |
| 8 | 2022-05-16 12:40:49 | Staceyy C |
| 9 | 2022-05-16 22:30:27 | Sadie Baker |
| 10 | 2022-05-13 21:38:23 | Lisa Balding |
| 11 | 2022-05-16 21:55:05 | Alison Cass |
| 12 | 2022-05-13 18:51:10 | Trudi Ross |
| 13 | 2022-05-17 15:36:36 | Tara Marks |
| 14 | 2022-05-12 19:43:46 | Victoria Bose |
| 15 | 2022-05-12 13:44:18 | Gillian Smith |
| 16 | 2022-05-15 19:10:39 | Rachel Tovey |
| 17 | 2022-05-16 12:40:49 | Staceyy C |
| 18 | 2022-05-14 02:34:36 | Kirsty Mortimore |
| 19 | 2022-05-15 23:15:34 | Nicole Stevenson |
| 20 | 2022-05-12 13:44:18 | Gillian Smith |
| 21 | 2022-05-15 17:59:07 | Emma Louise |
| 22 | 2022-05-15 11:42:11 | Julie Major |
| 23 | 2022-05-14 17:56:32 | Anna Hart |
| 24 | 2022-05-15 17:59:07 | Emma Louise |
| 25 | 2022-05-17 15:15:17 | Harriet Cummings |
| 26 | 2022-05-14 22:23:50 | Shellie Pouladdej |
| 27 | 2022-05-17 14:30:33 | Kayleigh Williams |
| 28 | 2022-05-17 15:23:23 | Mandy Cove |
| 29 | 2022-05-16 19:23:19 | Sarah Thompson-Lowe |
| 30 | 2022-05-16 12:40:49 | Staceyy C |
| 31 | 2022-05-16 21:04:06 | Lee Cross |
| 32 | 2022-05-15 15:04:54 | Jackie bowman |
| 33 | 2022-05-16 20:09:55 | Joanna Jacobs |
| 34 | 2022-05-17 14:47:00 | Stephanie Mayo |
| 35 | 2022-05-17 07:38:28 | Leanne Cox |
| 36 | 2022-05-17 17:23:49 | SHAN FAYER |
| 37 | 2022-05-17 10:48:18 | Karen Wilmott |
| 38 | 2022-05-13 23:51:02 | Bianca Gonzales Savage |
| 39 | 2022-05-15 22:38:32 | Lucy Page |
| 40 | 2022-05-17 01:58:59 | Justine Lee |
| 41 | 2022-05-17 14:47:00 | Stephanie Mayo |
| 42 | 2022-05-17 14:10:28 | Jodie Ellis |
| 43 | 2022-05-16 19:23:19 | Sarah Thompson-Lowe |
| 44 | 2022-05-17 15:25:13 | Carol Ross |
| 45 | 2022-05-13 19:18:09 | Stacey Ann Brown |
| 46 | 2022-05-16 19:35:09 | Joanna Ingham |
| 47 | 2022-05-16 21:04:06 | Lee Cross |
| 48 | 2022-05-14 17:56:32 | Anna Hart |
| 49 | 2022-05-16 21:55:05 | Alison Cass |
| 50 | 2022-05-16 18:09:21 | Amanda Moore |
| 51 | 2022-05-17 19:08:03 | Keith Moore |
| 52 | 2022-05-16 19:58:26 | Ceri Hall |
| 53 | 2022-05-17 16:59:24 | Sarah Moran9 |
| 54 | 2022-05-17 17:54:48 | Samantha Sweeney |
| 55 | 2022-05-15 09:26:46 | Mandy Cove |
| 56 | 2022-05-15 08:22:37 | Rachael Rowlands |
| 57 | 2022-05-16 05:05:13 | Amanda Gerry-O'Connor |
| 59 | 2022-05-16 21:17:17 | terri Sullivan |
| 60 | 2022-05-14 22:23:50 | Shellie Pouladdej |
| 61 | 2022-05-16 21:23:51 | Paisley Devine |
| 62 | 2022-05-16 21:33:45 | Amara Baxter |
| 63 | 2022-05-17 12:43:21 | Emma Louise |
| 65 | 2022-05-17 17:02:00 | Laura Lee |
| 66 | 2022-05-17 17:23:49 | SHAN FAYER |
| 67 | 2022-05-17 19:46:41 | Sophie Skinner |
| 68 | 2022-05-17 19:27:53 | John Sproston |
| 69 | 2022-05-16 22:39:30 | Lisa Johnston |
| 70 | 2022-05-17 09:57:42 | Rebecca vaughan |
| 73 | 2022-05-17 14:15:15 | Lindsey Cackett |
| 74 | 2022-05-17 10:19:04 | Nicola Taylor |
| 76 | 2022-05-16 21:55:05 | Alison Cass |
| 77 | 2022-05-16 22:30:27 | Sadie Baker |
| 78 | 2022-05-17 19:46:41 | Sophie Skinner |
| 79 | 2022-05-17 15:15:17 | Harriet Cummings |
| 81 | 2022-05-12 20:07:03 | Jazmine Birchell-King |
| 83 | 2022-05-15 18:42:59 | Phillip Kelly |
| 84 | 2022-05-12 20:09:15 | Katie Davis |
| 86 | 2022-05-16 20:27:23 | Emma Steel |
| 87 | 2022-05-15 08:22:37 | Rachael Rowlands |
| 88 | 2022-05-14 22:23:50 | Shellie Pouladdej |
| 89 | 2022-05-15 20:16:29 | Sammie Eames |
| 90 | 2022-05-17 14:36:38 | Leanne Coles |
| 91 | 2022-05-17 16:57:29 | E K |
| 92 | 2022-05-17 13:49:09 | Khadine Coyle |
| 94 | 2022-05-16 21:55:05 | Alison Cass |
| 96 | 2022-05-16 22:30:12 | Donna Cox |
| 97 | 2022-05-12 13:41:22 | Gillian Smith |
| 100 | 2022-05-15 16:57:37 | Jessica Matthews |