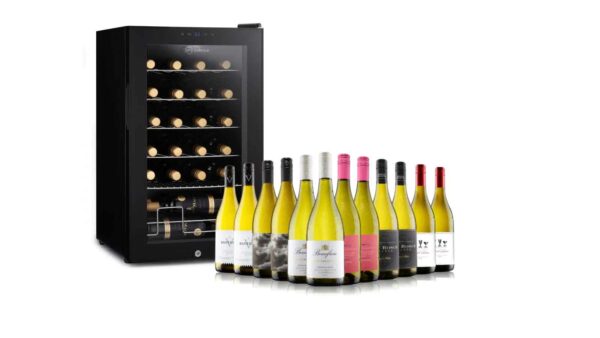 Chilled Vino Bundle
Description
Subcold Viva24 LED – Wine Cooler
Product Highlights
✔ Dimensions: 430W x 450D x 740H (mm
✔ UV Tempered Mirrored Glass Door
✔ Smart Touch Digital Temperature Control
✔ Adjustable Temperature Range 3-18°C
✔ Free 1 Year Warranty from Subcold
The Subcold VIVA24 LED is tastefully designed wine cooler for modern living. It is a freestanding display wine fridge storage capacity of 70 litre which can easily store up to 24 standard (75cl) wine bottles. This advanced compressor driven wine cooler is fully automatic, practical and versatile to your needs. The fridge is equipped with digital thermostat giving you a range of 3°C to 18°C (+/- 2°C).
The design of the Subcold VIVA 24 is highly versatile and fits well into any surroundings. It measure 430W x 450D x 740H (mm) and comes with adjustable feet. There is an internal LED light to illuminate your wine collection and the fridge is lockable with a key to keep them safe and secure. Thanks to its high presentation factor and quiet operation [45dB] – this advanced 70L wine display fridge is suitable for use in any room – at work or at home!
Sauvignon Blanc Special 12 Bottle Case
Sauvignon Blanc is one of the world's most popular white wine varieties and it's clear to see why. As this grape spans a wide variety of regions and vineyards you can find styles that are incredibly zesty, with intense fruit flavours and others that are wonderfully fragrant with grassy, gooseberry and kiwifruit aromatics. This selection has two examples from South Africa, a French beauty from Les Arbousiers, the popular El Nubarron Sauvignon Blanc from Chile, and more. Enjoy chilled alongside your favourite seafood dish for the perfect food match.
| Winner Name | Ticket Number | Draw Date |
| --- | --- | --- |
| Hayley Ward | 296 | 06/05/2022 |
1-50
51-100
101-150
151-200
201-250
251-300
301-350
351-400
401-450
451-500
501-550
| Ticket Number | Date | Name |
| --- | --- | --- |
| 1 | 2022-05-06 17:51:44 | David Curnow |
| 2 | 2022-05-06 19:18:51 | Nini S |
| 3 | 2022-05-05 21:05:15 | Yvonne Sparkes |
| 4 | 2022-05-04 13:11:22 | Sharon White |
| 5 | 2022-05-06 18:03:24 | Henry Shout |
| 6 | 2022-05-06 16:03:37 | Jodie Ellis |
| 7 | 2022-05-05 06:19:13 | Brett Ansell |
| 8 | 2022-05-04 05:41:00 | Jane Sharland |
| 9 | 2022-05-06 15:42:03 | Georgina Coombe |
| 10 | 2022-05-06 20:30:25 | Lisa Darragh |
| 11 | 2022-05-02 21:19:48 | Charlene Robb |
| 12 | 2022-05-06 11:42:29 | Angela Cross |
| 13 | 2022-05-06 18:20:16 | Lisa Cann |
| 14 | 2022-05-06 16:36:11 | Nicholas Warnes |
| 15 | 2022-05-06 18:14:26 | Becki Holmes |
| 16 | 2022-05-02 12:43:00 | Emma Louise |
| 17 | 2022-05-06 02:18:26 | maria deane |
| 18 | 2022-05-02 18:13:04 | Kirstin Payne |
| 19 | 2022-05-06 02:18:26 | maria deane |
| 20 | 2022-05-05 15:00:54 | Angela Cross |
| 21 | 2022-05-06 18:26:45 | June,4921 Gibbings |
| 22 | 2022-05-02 19:22:13 | Claire Marks |
| 23 | 2022-05-06 11:42:29 | Angela Cross |
| 24 | 2022-05-02 12:43:00 | Emma Louise |
| 25 | 2022-05-05 06:41:00 | Lisa Curnow |
| 26 | 2022-05-06 19:44:58 | Emma Bathard |
| 27 | 2022-05-03 18:21:05 | Toni Smith |
| 28 | 2022-05-06 11:42:29 | Angela Cross |
| 29 | 2022-05-06 09:24:04 | Lisa Tanner |
| 30 | 2022-05-02 13:23:20 | jan blackler |
| 31 | 2022-05-04 21:28:39 | lydia chadwick |
| 32 | 2022-05-06 20:39:40 | Steve Rowley |
| 33 | 2022-05-06 19:21:17 | Michaela Collins |
| 35 | 2022-05-04 17:57:45 | Linda Wilson |
| 36 | 2022-05-05 21:21:18 | phyllis steer |
| 39 | 2022-05-03 20:47:35 | Tamzin Hurrell |
| 41 | 2022-05-06 18:33:54 | Usher Prowse |
| 43 | 2022-05-06 17:51:44 | David Curnow |
| 44 | 2022-05-06 15:57:04 | Kelly Gaskell |
| 45 | 2022-05-06 20:21:30 | E K |
| 46 | 2022-05-06 20:43:58 | Amy Collier |
| 47 | 2022-05-03 18:01:57 | Emma Nixon |
| 48 | 2022-05-05 06:19:13 | Brett Ansell |
| 49 | 2022-05-04 11:05:16 | Terri Hurren |
| 50 | 2022-05-04 19:23:37 | Kelly Parker |