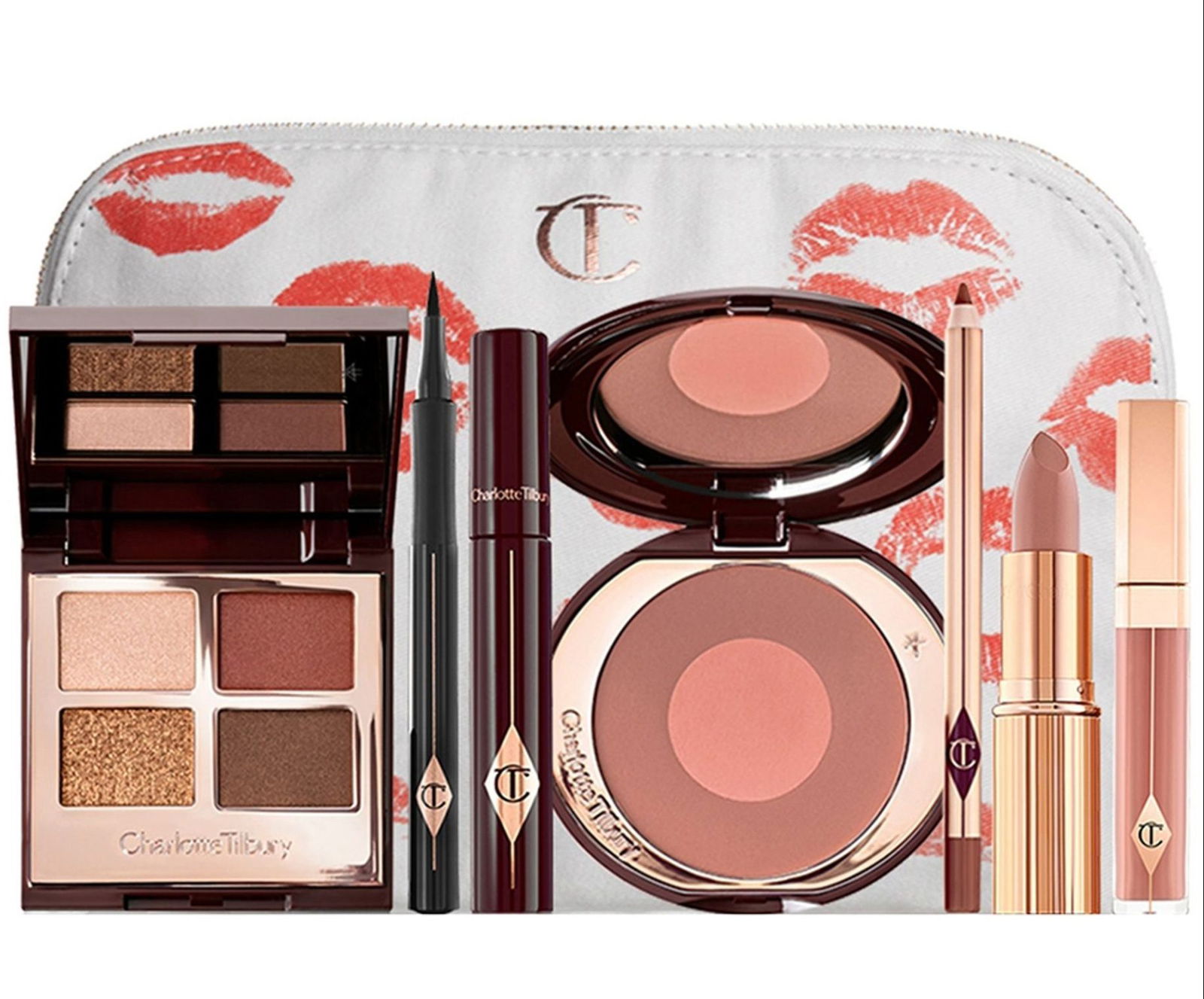 CHARLOTTE TILBURY-The Bella Sofia Look – Deep
Description
CHARLOTTE TILBURY-The Bella Sofia Look – Deep
Charlotte Tilbury's Bella Sofia Look is inspired by Charlotte's gorgeous nieces Bella and Sofia Tilbury.
The Bella Sofia embraces her femininity to conquer and hypnotise the world. Killer curves luxe perfume and a sultry smoky eye. 'Come- to-bed eyes' may as well have been a phrase invented for her. Her mantra is 'femininity and sexuality are weapons for mass seduction!!'
The look features the Luxury Palette in The Bella Sofia – a colour-coded eyeshadow quad featuring seductive molten bronzes coppery tones red-browns and a dreamy champagne shade. The Feline Flick Eyeliner in Panther is an intense black liquid eyeliner pen for the perfect precision when creating winged eyeliner. The Full Fat Lashes Mascara in Glossy Black is an award-winning mascara that gives you curl separation volume length and drama! Cheek to Chic in Climax is a gorgeous reddy-brown for an ultra-flattering look.
Lip Cheat in Foxy Brown is a suede brown lip liner. This velvety gliding formula is the key to blending any shade into deep complexions. K.I.S.S.I.N.G Lipstick in Penelope Pink is a dreamy nude-beige lipstick with pink undertones and Lipstick Tree extracts for a soft kissable finish. Lip Lustre in Seduction is a creamy-nude high shine gloss that's perfect for layering over lipstick.
Set contains:
Luxury Palette in The Bella Sofia
The Feline Flick Eyeliner in Panther
Full Fat Lashes Mascara in Glossy Black
Cheek to Chic in Climax
Lip Cheat in Foxy Brown
K.I.S.S.I.N.G Lipstick in Penelope Pink
Lip Lustre in Seduction
| Winner Name | Ticket Number | Draw Date |
| --- | --- | --- |
| C A | 19 | 29/11/2023 |
| Ticket Number | Date | Name |
| --- | --- | --- |
| 2 | 2023-11-29 20:55:47 | Katie Jaffa |
| 3 | 2023-11-29 20:48:27 | C A |
| 4 | 2023-11-29 17:34:15 | Laura Smith |
| 5 | 2023-11-29 19:18:27 | Rachi B |
| 6 | 2023-11-29 16:25:13 | Holly Kemp |
| 7 | 2023-11-29 17:18:11 | Linda Mcgillivray |
| 8 | 2023-11-29 18:28:39 | Susan MATLOCK |
| 9 | 2023-11-29 17:20:29 | Laura Upton |
| 11 | 2023-11-29 15:21:00 | D T |
| 12 | 2023-11-29 18:25:35 | Siobhan Clifford |
| 13 | 2023-11-29 15:21:00 | D T |
| 14 | 2023-11-29 15:57:06 | Claire King |
| 15 | 2023-11-29 17:35:00 | Deana Bristow |
| 16 | 2023-11-29 18:42:54 | A M |
| 17 | 2023-11-29 15:21:00 | D T |
| 18 | 2023-11-29 17:35:00 | Deana Bristow |
| 19 | 2023-11-29 20:48:27 | C A |
| 20 | 2023-11-29 18:29:47 | sue fogarty |
| 21 | 2023-11-29 18:36:59 | Amie Slater |
| 22 | 2023-11-28 23:57:46 | Emma & lee |
| 23 | 2023-11-29 19:00:56 | Michelle Jones |
| 24 | 2023-11-29 10:28:08 | Emma Lou |
| 25 | 2023-11-29 20:51:49 | Trudi Kim |
| 26 | 2023-11-29 20:42:14 | Candice Carrington |
| 27 | 2023-11-29 20:27:38 | Sarah Brickland |
| 28 | 2023-11-29 18:13:17 | Tina Hawker |
| 31 | 2023-11-29 19:59:37 | Alan Gowland |
| 32 | 2023-11-29 20:53:52 | Danielle Cottell |
| 34 | 2023-11-29 19:36:15 | Kelly Goodyear |
| 35 | 2023-11-29 16:25:13 | Holly Kemp |
| 37 | 2023-11-29 09:55:59 | rebecca cox |
| 38 | 2023-11-29 20:00:41 | Aim P |
| 40 | 2023-11-29 15:57:06 | Claire King |
| 42 | 2023-11-29 18:35:21 | Sharon Smith |
| 44 | 2023-11-29 20:54:27 | Kai Felton |
| 45 | 2023-11-29 20:20:36 | Georgia Brown |
| 46 | 2023-11-28 14:05:28 | Lucy Ayres |
| 47 | 2023-11-29 20:00:41 | Aim P |
| 48 | 2023-11-29 20:41:01 | Charlotte Tucker |
| 49 | 2023-11-29 18:25:35 | Siobhan Clifford |
| 50 | 2023-11-29 20:56:28 | Chris Carr |
| 52 | 2023-11-29 20:18:47 | Ian Handa |
| 53 | 2023-11-29 20:59:09 | Louise Anderson |
| 54 | 2023-11-29 20:33:31 | Ross Newham |
| 55 | 2023-11-29 19:46:24 | Suzanne Trevillion |
| 56 | 2023-11-29 18:13:17 | Tina Hawker |
| 57 | 2023-11-29 15:36:00 | Rachel Nicholson |
| 58 | 2023-11-29 18:42:54 | A M |
| 59 | 2023-11-29 20:51:49 | Trudi Kim |
| 60 | 2023-11-29 19:59:37 | Alan Gowland |
| 61 | 2023-11-29 19:06:10 | Amy Horrocks |
| 62 | 2023-11-29 19:18:27 | Rachi B |
| 64 | 2023-11-29 18:28:39 | Susan MATLOCK |
| 65 | 2023-11-29 20:20:36 | Georgia Brown |
| 66 | 2023-11-29 17:45:56 | Ian Critchlow |
| 67 | 2023-11-29 10:37:38 | Alison Collins |
| 69 | 2023-11-29 20:56:15 | Hi Janine Tidball |
| 70 | 2023-11-29 20:00:41 | Aim P |
| 71 | 2023-11-29 20:45:50 | Sam Heath |
| 72 | 2023-11-29 19:51:30 | Nicola Taylor |
| 73 | 2023-11-29 19:18:27 | Rachi B |
| 75 | 2023-11-29 20:43:51 | Rosie Blood |
| 77 | 2023-11-29 20:59:26 | Kirsty Westwood |
| 78 | 2023-11-29 20:51:49 | Trudi Kim |
| 79 | 2023-11-29 20:15:38 | Emma King |
| 80 | 2023-11-29 20:15:38 | Emma King |
| 83 | 2023-11-29 20:26:24 | Claudia Oneill |
| 86 | 2023-11-29 20:48:27 | C A |
| 88 | 2023-11-29 20:46:14 | Lorraine Williams |
| 89 | 2023-11-29 19:59:37 | Alan Gowland |
| 90 | 2023-11-29 18:36:59 | Amie Slater |
| 92 | 2023-11-29 20:35:19 | Anne-Marie Daniels |
| 94 | 2023-11-29 20:54:27 | Kai Felton |
| 96 | 2023-11-29 20:00:41 | Aim P |
| 98 | 2023-11-29 18:42:54 | A M |
| 100 | 2023-11-29 16:39:09 | Brogan Sandercock |
| 102 | 2023-11-29 20:54:27 | Kai Felton |
| 103 | 2023-11-29 20:19:43 | Victoria Atkinson |
| 104 | 2023-11-29 20:59:09 | Louise Anderson |
| 105 | 2023-11-29 19:10:43 | Tom Speed |
| 107 | 2023-11-29 18:32:46 | Don Hughes |
| 108 | 2023-11-29 19:44:21 | Charles Owen |
| 109 | 2023-11-29 20:46:58 | Debi Rogers |
| 112 | 2023-11-29 19:56:27 | Nicola Wicks |
| 113 | 2023-11-29 20:29:20 | Will L |
| 114 | 2023-11-29 14:29:27 | P C |
| 118 | 2023-11-29 19:55:14 | Claire Baker |
| 120 | 2023-11-29 17:20:29 | Laura Upton |
| 122 | 2023-11-29 20:51:53 | Leisa Carter |
| 123 | 2023-11-29 19:25:57 | Hayley Jackson |
| 126 | 2023-11-29 16:50:02 | Gail. Gilbert. |
| 127 | 2023-11-29 08:59:52 | Kaylie northcott |
| 129 | 2023-11-29 18:25:35 | Siobhan Clifford |
| 130 | 2023-11-29 18:32:46 | Don Hughes |
| 133 | 2023-11-29 19:51:30 | Nicola Taylor |
| 136 | 2023-11-29 20:00:41 | Aim P |
| 138 | 2023-11-29 20:48:27 | C A |
| 140 | 2023-11-29 20:18:49 | Fay davey |
| 142 | 2023-11-29 19:51:30 | Nicola Taylor |
| 143 | 2023-11-29 20:21:10 | Daisy McArdle |
| 145 | 2023-11-29 12:53:29 | Tia Clarke |
| 146 | 2023-11-29 19:18:27 | Rachi B |
| 148 | 2023-11-29 18:25:35 | Siobhan Clifford |
| 149 | 2023-11-29 10:32:37 | Emma Avery |
| 150 | 2023-11-29 16:35:14 | Lyn Leahy |
| 151 | 2023-11-29 20:54:27 | Kai Felton |
| 152 | 2023-11-29 19:18:27 | Rachi B |
| 155 | 2023-11-29 18:35:21 | Sharon Smith |
| 158 | 2023-11-29 20:54:27 | Kai Felton |
| 160 | 2023-11-29 20:52:12 | Will L |
| 161 | 2023-11-29 20:26:24 | Claudia Oneill |
| 162 | 2023-11-29 18:51:56 | Dan Kennard |
| 163 | 2023-11-29 18:42:54 | A M |
| 165 | 2023-11-29 20:48:27 | C A |
| 167 | 2023-11-29 20:58:53 | Helen Taylor |
| 168 | 2023-11-29 20:58:53 | Helen Taylor |
| 169 | 2023-11-29 20:53:02 | Andrew Clarke |
| 171 | 2023-11-29 20:56:28 | Chris Carr |
| 174 | 2023-11-29 20:10:09 | Bethany Wolfenden |