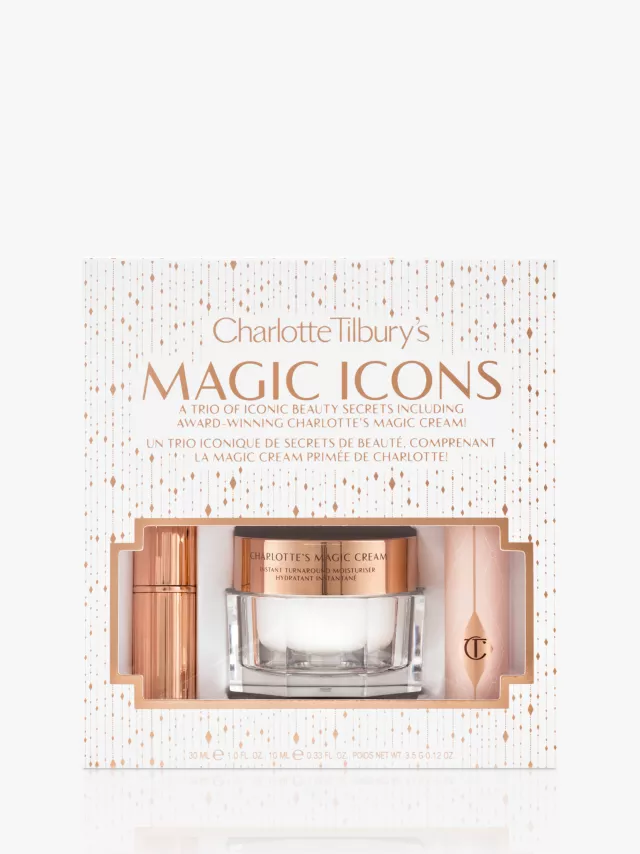 Charlotte Tilbury Magic Icons Skincare Gift Set
Description
Charlotte Tilbury Magic Icons Skincare Gift Set
"Darlings, discover some of my best-selling, iconic, ward-winning beauty secrets this holiday season with a new beauty gift set; Charlotte Tilbury's Magic Icons! Featuring three full-sized icons, this trio is the secret to magic skin, pout-perfection and the lashes of your dreams!" Charlotte Tilbury.
What makes it magic:
In clinical trials for Charlotte's Magic Cream, the appearance of fine lines and wrinkles are reduced by 26%, and skin appears firmer by 188%*
Pillow Talk Push Up Lashes! is enriched with Push Up Lash-Lifting Polymer – Derived from the Larch Tree, this natural gummy stretch and flex film former helps create a push up vertical lip and hold of the lashes
The injection moulded, micro pro precision paddle innovation brush of Pillow Talk Push Up Lashes! has a 'load, comb and lift' technology. Lifts like air, vertically painting each individual lash, even the tiniest ones
In user trials for Pillow Talk Push Up Lashes! mascara, 96% agreed lashes look magnified and amplified** and 96% agree mascara visibly lengthens the lashes**
Matte Revolution Lipstick is blended with antioxidant Lipstick Tree and Orchid extracts for a cashmere-soft, hydrating matte finish
*30 people tested over 8 weeks using once daily. **Blind tested on 31 people after one application.
Set contains:
Charlotte's Magic Cream Moisturiser, 30ml
Pillow Talk Push Up Lashes! Mascara, 10ml
Matte Revolution Lipstick, Pillow Talk Original, 3.5g
| Winner Name | Ticket Number | Draw Date |
| --- | --- | --- |
| Helen Cottrell | 60 | 22/08/2022 |
| Ticket Number | Date | Name |
| --- | --- | --- |
| 1 | 2022-08-22 17:00:49 | Moira stokes |
| 2 | 2022-08-22 18:48:52 | Hannah Allpress |
| 3 | 2022-08-22 19:54:24 | Lauren Hawkins |
| 4 | 2022-08-22 10:23:02 | Rachel Salloway |
| 5 | 2022-08-21 16:04:18 | Michelle Tomlinson |
| 6 | 2022-08-22 19:47:12 | Kim Eaves |
| 7 | 2022-08-22 09:27:29 | Brogan Sandercock |
| 8 | 2022-08-22 14:43:35 | Imogen Howes |
| 9 | 2022-08-20 09:55:34 | Loren Sellick |
| 10 | 2022-08-22 18:48:52 | Hannah Allpress |
| 11 | 2022-08-18 07:54:44 | Zoe Tennet |
| 12 | 2022-08-22 18:49:37 | Joseph Clifford |
| 13 | 2022-08-15 18:17:51 | Ben Stocker |
| 14 | 2022-08-22 18:48:52 | Hannah Allpress |
| 15 | 2022-08-22 18:48:52 | Hannah Allpress |
| 16 | 2022-08-22 14:12:37 | Holly Kemp |
| 17 | 2022-08-22 19:00:28 | Tia Potter |
| 18 | 2022-08-22 20:14:18 | Helen Cottrell |
| 19 | 2022-08-22 15:21:34 | Paula Rowland |
| 20 | 2022-08-15 18:17:51 | Ben Stocker |
| 21 | 2022-08-21 23:33:42 | Siobhan Wilcock |
| 22 | 2022-08-22 18:49:16 | Emily Owens |
| 23 | 2022-08-21 20:10:52 | Lucie Dobeer |
| 24 | 2022-08-15 21:43:25 | Danger mouse |
| 25 | 2022-08-22 14:43:35 | Imogen Howes |
| 26 | 2022-08-21 23:33:42 | Siobhan Wilcock |
| 27 | 2022-08-22 18:48:52 | Hannah Allpress |
| 28 | 2022-08-21 23:33:42 | Siobhan Wilcock |
| 29 | 2022-08-22 20:14:43 | L Coysh |
| 30 | 2022-08-22 19:26:08 | Annie Goldie |
| 31 | 2022-08-22 19:25:45 | Victoria Johnston |
| 32 | 2022-08-22 19:00:28 | Tia Potter |
| 33 | 2022-08-22 17:07:27 | Roz Hagley |
| 34 | 2022-08-22 12:35:57 | Lisa Walker |
| 35 | 2022-08-22 18:48:52 | Hannah Allpress |
| 36 | 2022-08-22 19:47:12 | Kim Eaves |
| 37 | 2022-08-21 09:57:20 | Jessica Carter |
| 38 | 2022-08-22 11:27:48 | Linda Beer |
| 39 | 2022-08-22 19:00:28 | Tia Potter |
| 40 | 2022-08-22 19:55:03 | Emma Berryman |
| 41 | 2022-08-21 16:04:18 | Michelle Tomlinson |
| 42 | 2022-08-22 18:48:52 | Hannah Allpress |
| 43 | 2022-08-22 18:46:11 | Alan Gowland |
| 44 | 2022-08-16 16:06:26 | Jordan Rogers |
| 45 | 2022-08-22 13:30:44 | Jamela Bousaida |
| 46 | 2022-08-18 07:54:44 | Zoe Tennet |
| 47 | 2022-08-20 21:58:54 | Holly Kemp |
| 48 | 2022-08-22 18:38:59 | Stacey Marsh |
| 49 | 2022-08-22 08:12:25 | Anita Passmore |
| 50 | 2022-08-22 14:43:35 | Imogen Howes |
| 51 | 2022-08-22 18:48:52 | Hannah Allpress |
| 52 | 2022-08-22 19:00:28 | Tia Potter |
| 53 | 2022-08-21 09:57:20 | Jessica Carter |
| 54 | 2022-08-19 09:43:17 | Grace Bervoets |
| 55 | 2022-08-22 18:16:00 | Tracy Brown |
| 56 | 2022-08-22 19:22:45 | Katie Shiels |
| 57 | 2022-08-22 19:25:52 | Ellie Squires |
| 58 | 2022-08-22 20:14:18 | Helen Cottrell |
| 59 | 2022-08-22 11:45:57 | Vicky Ring |
| 60 | 2022-08-22 20:14:18 | Helen Cottrell |
| 61 | 2022-08-22 19:24:33 | Rosie Byron |
| 62 | 2022-08-22 10:12:39 | Danger mouse |
| 63 | 2022-08-22 19:27:43 | Laura Barnes |
| 64 | 2022-08-22 19:44:32 | Danielle Bain |
| 65 | 2022-08-22 19:47:12 | Kim Eaves |
| 66 | 2022-08-21 20:10:52 | Lucie Dobeer |
| 67 | 2022-08-22 12:40:42 | g Mv |
| 68 | 2022-08-20 09:26:50 | Lauren Kerr |
| 69 | 2022-08-16 10:22:32 | Charlotte Vicary-ward |
| 70 | 2022-08-20 12:52:03 | Gabby Bellamy |
| 71 | 2022-08-21 16:04:18 | Michelle Tomlinson |
| 72 | 2022-08-22 18:48:52 | Hannah Allpress |
| 73 | 2022-08-21 21:15:51 | Sophie Radford |
| 74 | 2022-08-22 14:09:58 | Charlotte Crispin |
| 75 | 2022-08-20 20:47:40 | Kirsty Westy |
| 76 | 2022-08-22 19:38:39 | Sarah Kallmeier |
| 77 | 2022-08-22 18:48:52 | Hannah Allpress |
| 78 | 2022-08-22 19:11:39 | Alison Jeffries |
| 79 | 2022-08-21 09:57:20 | Jessica Carter |
| 80 | 2022-08-22 13:30:44 | Jamela Bousaida |
| 81 | 2022-08-22 14:04:20 | Jodie Ellis |
| 82 | 2022-08-21 20:51:08 | Hayley Cheeseworth |
| 83 | 2022-08-22 19:00:28 | Tia Potter |
| 84 | 2022-08-22 11:10:39 | Leah Knowles |
| 85 | 2022-08-22 19:06:26 | Beckie Sellick |
| 86 | 2022-08-22 19:38:39 | Sarah Kallmeier |
| 87 | 2022-08-22 19:09:37 | Chantelle Walmsley |
| 88 | 2022-08-22 18:48:52 | Hannah Allpress |
| 89 | 2022-08-22 14:09:58 | Charlotte Crispin |
| 90 | 2022-08-22 14:04:20 | Jodie Ellis |
| 91 | 2022-08-22 18:54:56 | Helen Gudgin |
| 92 | 2022-08-22 19:00:28 | Tia Potter |
| 93 | 2022-08-22 18:49:35 | Victoria Bishop |
| 94 | 2022-08-22 19:14:19 | Gemma McCarthy |
| 95 | 2022-08-22 10:47:22 | Jazmine Pidwell |
| 96 | 2022-08-22 19:00:28 | Tia Potter |
| 97 | 2022-08-22 18:48:13 | Naomi Mason |
| 98 | 2022-08-22 19:37:59 | Teressa Barber |
| 99 | 2022-08-21 16:04:18 | Michelle Tomlinson |
| 100 | 2022-08-22 19:34:59 | Shannon Davies |
| 101 | 2022-08-22 19:00:28 | Tia Potter |
| 102 | 2022-08-22 14:43:35 | Imogen Howes |
| 103 | 2022-08-22 19:23:07 | L G M |
| 104 | 2022-08-22 18:49:16 | Emily Owens |
| 105 | 2022-08-22 13:30:44 | Jamela Bousaida |
| 106 | 2022-08-21 20:10:52 | Lucie Dobeer |
| 107 | 2022-08-21 16:04:18 | Michelle Tomlinson |
| 108 | 2022-08-22 13:30:44 | Jamela Bousaida |
| 109 | 2022-08-22 18:28:57 | Nicola Naylor |
| 110 | 2022-08-21 20:10:52 | Lucie Dobeer |
| 111 | 2022-08-22 20:01:58 | Chloe Rainbow |
| 112 | 2022-08-21 16:04:18 | Michelle Tomlinson |
| 113 | 2022-08-22 18:58:02 | Rebecca Ricks |
| 114 | 2022-08-22 18:56:47 | Natalie Hayes |
| 115 | 2022-08-19 17:02:43 | Brown Terri |
| 116 | 2022-08-22 12:12:23 | Ellie Donald |
| 117 | 2022-08-22 19:57:15 | Laura Kemp |
| 118 | 2022-08-22 18:48:52 | Hannah Allpress |
| 119 | 2022-08-22 14:12:37 | Holly Kemp |
| 120 | 2022-08-22 17:23:53 | Rachel Gilbert |
| 121 | 2022-08-18 15:18:18 | Miriam Fletcher |
| 122 | 2022-08-22 00:10:08 | Jodie Ellis |
| 123 | 2022-08-22 19:37:10 | Clare Stephens |
| 124 | 2022-08-22 14:09:58 | Charlotte Crispin |
| 125 | 2022-08-22 16:57:27 | Jade Pook |
| 126 | 2022-08-20 11:32:10 | Danielle Paige |
| 127 | 2022-08-16 06:57:33 | Jodie C |
| 128 | 2022-08-22 12:40:42 | g Mv |
| 129 | 2022-08-20 12:53:33 | Ellie Squires |
| 130 | 2022-08-22 18:48:52 | Hannah Allpress |
| 131 | 2022-08-22 11:10:39 | Leah Knowles |
| 132 | 2022-08-22 19:34:59 | Shannon Davies |
| 133 | 2022-08-22 19:25:52 | Ellie Squires |
| 134 | 2022-08-22 13:30:44 | Jamela Bousaida |
| 135 | 2022-08-22 18:46:01 | Kelsie Worthington |
| 136 | 2022-08-22 19:27:57 | Lisah Brooking |
| 137 | 2022-08-22 19:30:53 | Farrah Cox |
| 138 | 2022-08-20 21:58:54 | Holly Kemp |
| 139 | 2022-08-22 13:31:19 | Rebecca vaughan |
| 140 | 2022-08-22 18:46:11 | Alan Gowland |
| 141 | 2022-08-22 18:22:08 | Kirsty Lashley |
| 142 | 2022-08-22 18:48:52 | Hannah Allpress |
| 143 | 2022-08-22 19:00:28 | Tia Potter |
| 144 | 2022-08-22 13:57:55 | Emma Jones |
| 145 | 2022-08-22 19:12:54 | Claire Darbs |
| 146 | 2022-08-22 20:02:32 | Jackie bowman |
| 147 | 2022-08-22 18:05:45 | Emma Davies |
| 148 | 2022-08-22 19:50:57 | Kelly jay Tarrant |
| 149 | 2022-08-22 18:40:34 | Hannah Tait |
| 150 | 2022-08-21 16:04:18 | Michelle Tomlinson |
| 151 | 2022-08-22 00:10:08 | Jodie Ellis |
| 152 | 2022-08-22 18:54:56 | Helen Gudgin |
| 153 | 2022-08-22 19:26:47 | Deanne Lovell |
| 154 | 2022-08-22 20:14:18 | Helen Cottrell |
| 155 | 2022-08-22 19:26:06 | Tegan Wilkins |
| 156 | 2022-08-22 19:00:28 | Tia Potter |
| 157 | 2022-08-22 19:43:46 | Emily Dyke |
| 158 | 2022-08-22 19:47:01 | Jake Stapenhill |
| 159 | 2022-08-22 20:06:45 | Kitty Cat |
| 160 | 2022-08-22 18:57:07 | Karen Atkins |