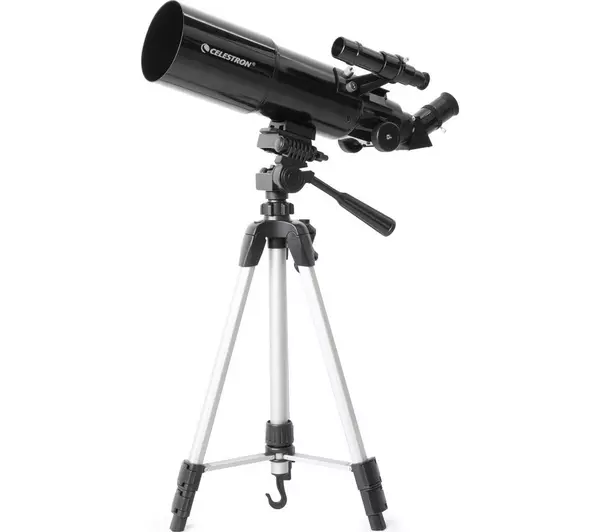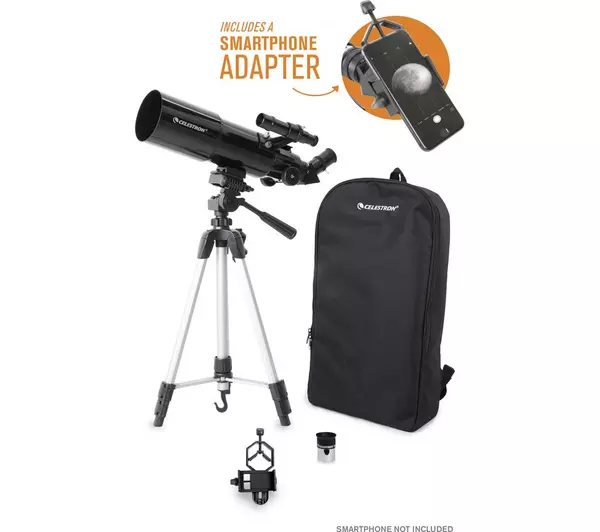 CELESTRON Travelscope 80 22030-CGL Refractor Telescope – Black
Description
CELESTRON Travelscope 80 22030-CGL Refractor Telescope – Black
Get clear, crisp images
The Celestron Travelscope 80 22030-CGL Refractor Telescope is a refractor telescope that's perfect for making both land and sky observations.
You can even use the included smartphone adapter to capture those memorable images.
Everything you need
You get two eyepieces, so you can explore the world around you at different magnifications, and the mount lets  you smoothly track objects as they move across the sky.
It's lightweight and packs away snugly, with all its accessories, into the custom backpack, so it's perfect for those last-minute observing sessions – when the clouds disappear and you get the chance to take in the view, you'll have everything ready to go.
Get set up quickly
You'll have the Celestron Travelscope 80 22030-CGL Telescope set up in no time, leaving you more time to enjoy the stunning sights. Adjust the tripods legs to set it at the right height or place it on a raised surface, like a picnic table, if the ground's a bit unsteady.
| Winner Name | Ticket Number | Draw Date |
| --- | --- | --- |
| Sarah Knight | 98 | 09/06/2022 |
| Ticket Number | Date | Name |
| --- | --- | --- |
| 1 | 2022-06-09 15:25:44 | Vicky Stoddart |
| 2 | 2022-06-09 19:36:01 | Jessica Jones |
| 3 | 2022-06-09 20:40:05 | Rachael Kenny |
| 4 | 2022-06-07 13:34:13 | Megan Rees |
| 5 | 2022-06-08 21:29:05 | Trudi Parnell |
| 6 | 2022-06-09 15:56:45 | David Curnow |
| 7 | 2022-06-07 13:34:13 | Megan Rees |
| 8 | 2022-06-09 19:36:11 | Kevin Hayes |
| 9 | 2022-06-07 14:12:23 | Tim Duxbury |
| 10 | 2022-06-07 18:26:45 | Neil Campion |
| 11 | 2022-06-09 11:07:57 | Natasha Court |
| 13 | 2022-06-07 17:11:41 | Jacqueline Sandford |
| 16 | 2022-06-09 15:06:48 | Zoe Budd |
| 20 | 2022-06-07 20:54:35 | Clare Toms |
| 21 | 2022-06-09 18:55:22 | Terry Salter |
| 22 | 2022-06-08 11:40:35 | selina lisle |
| 23 | 2022-06-09 18:55:22 | Terry Salter |
| 26 | 2022-06-09 18:55:22 | Terry Salter |
| 27 | 2022-06-09 18:55:45 | Kathryn Broom |
| 29 | 2022-06-09 09:19:31 | Jackie Dean |
| 30 | 2022-06-07 17:11:41 | Jacqueline Sandford |
| 31 | 2022-06-09 18:55:22 | Terry Salter |
| 32 | 2022-06-09 20:15:40 | Sarah Knight |
| 33 | 2022-06-09 18:48:35 | Katrina IķStevens |
| 34 | 2022-06-07 13:34:13 | Megan Rees |
| 35 | 2022-06-09 18:55:22 | Terry Salter |
| 38 | 2022-06-07 19:44:37 | Emma Craven |
| 39 | 2022-06-09 15:56:45 | David Curnow |
| 41 | 2022-06-09 19:53:22 | Darren Willis |
| 42 | 2022-06-09 18:55:22 | Terry Salter |
| 43 | 2022-06-09 18:55:22 | Terry Salter |
| 45 | 2022-06-09 10:49:48 | Laura Currie |
| 46 | 2022-06-09 18:55:22 | Terry Salter |
| 47 | 2022-06-07 13:34:13 | Megan Rees |
| 48 | 2022-06-08 14:14:43 | Michael Kiers |
| 52 | 2022-06-07 09:38:02 | Marie West |
| 54 | 2022-06-09 18:55:22 | Terry Salter |
| 55 | 2022-06-09 18:55:22 | Terry Salter |
| 56 | 2022-06-09 15:14:05 | Clare Jamieson |
| 58 | 2022-06-09 19:53:22 | Darren Willis |
| 59 | 2022-06-09 19:49:16 | Danielle Benn |
| 61 | 2022-06-09 16:29:30 | Jeanette Anderson |
| 62 | 2022-06-09 12:27:22 | Kirsty Worthington |
| 63 | 2022-06-09 18:35:53 | Simon saunders |
| 66 | 2022-06-09 20:22:24 | jemma Vooght |
| 67 | 2022-06-09 15:06:48 | Zoe Budd |
| 68 | 2022-06-08 14:14:43 | Michael Kiers |
| 69 | 2022-06-09 16:42:11 | DANIEL STONELAKE |
| 70 | 2022-06-09 19:53:22 | Darren Willis |
| 71 | 2022-06-08 21:29:05 | Trudi Parnell |
| 72 | 2022-06-09 19:53:22 | Darren Willis |
| 73 | 2022-06-09 19:53:22 | Darren Willis |
| 74 | 2022-06-09 20:44:55 | Kim Dudley |
| 78 | 2022-06-09 10:49:48 | Laura Currie |
| 79 | 2022-06-09 19:53:22 | Darren Willis |
| 82 | 2022-06-09 14:08:28 | Emma Davies |
| 85 | 2022-06-07 21:56:36 | Lekel North |
| 88 | 2022-06-09 19:53:22 | Darren Willis |
| 90 | 2022-06-09 13:33:48 | Steffi Roberts |
| 91 | 2022-06-09 19:53:22 | Darren Willis |
| 92 | 2022-06-09 20:40:05 | Rachael Kenny |
| 93 | 2022-06-09 20:42:14 | tom reeves |
| 96 | 2022-06-09 20:15:40 | Sarah Knight |
| 98 | 2022-06-09 20:15:40 | Sarah Knight |
| 99 | 2022-06-06 21:17:34 | Zoe Budd |
| 100 | 2022-06-09 19:36:01 | Jessica Jones |