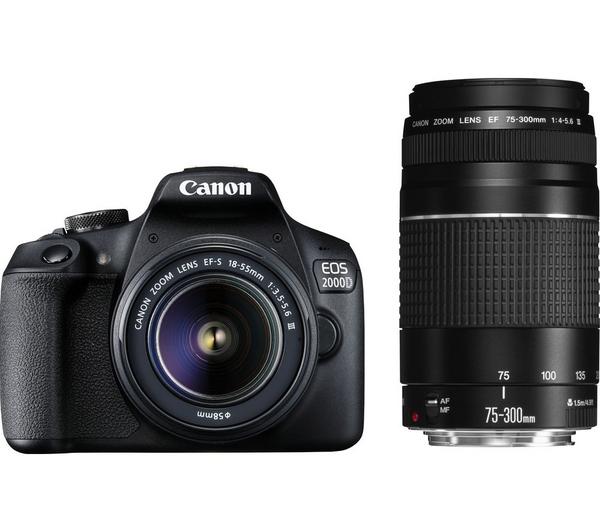 Canon EOS 2000D DSLR Camera Bundle
Description
Canon EOS 2000D DSLR Camera Bundle
The Canon EOS 2000D DSLR Camera lets you take photos packed with detail, and Full HD videos that brings action to life. The standard zoom lens included with the camera is perfect for use in a wide range of situations, while the telephoto zoom lens is great for sports and nature.
Connect your camera
Share your favourite shots with friends and followers quickly with WiFi connectivity on the Canon EOS 2000D DSLR Camera. Alongside the Canon Connect app, the WiFi connection lets you connect and transfer images across your devices, perfect if you want to back up your photos.
You can also use the app to control your camera remotely, so you can take selfies or take images from unique angles.
Guided modes
Build your confidence with the guided modes on the Canon EOS 2000D DSLR Camera. It offers on-screen previews and advice on settings with the Creative Auto mode. There's also a companion app that gives you even more guidance.
If you're just keen to start taking photos, you can let your camera do all the hard work with Scene Intelligent Auto.
Fast autofocus and processing
There's nothing worse than missing that special moment. That's why the Canon EOS 2000D DSLR Camera has a fast autofocus and continuous shooting at 3 fps – whether it's your daughter winning the race or the perfect holiday moment, you'll capture sharp images.
You can see exactly what you're shooting thanks to the 3" LCD screen.
| Winner Name | Ticket Number | Draw Date |
| --- | --- | --- |
| David Barrett | 145 | 10/06/2022 |
1-100
101-200
201-300
301-400
401-500
501-600
601-700
701-800
801-900
901-1000
| Ticket Number | Date | Name |
| --- | --- | --- |
| 1 | 2022-06-10 11:38:33 | Lisa Darragh |
| 2 | 2022-06-10 18:44:47 | Suzi Gooding |
| 3 | 2022-06-08 15:04:10 | Michele Price |
| 4 | 2022-06-10 11:50:20 | Staceyy C |
| 5 | 2022-06-09 18:42:18 | Roxanne Hill |
| 6 | 2022-06-10 19:26:50 | Carmen Middleditch |
| 7 | 2022-06-10 11:50:20 | Staceyy C |
| 8 | 2022-06-10 18:48:04 | Natalija Maric |
| 9 | 2022-06-10 19:23:33 | Kevin Hayes |
| 10 | 2022-06-08 20:20:49 | Esme Kershaw |
| 11 | 2022-06-10 08:24:20 | Jeanette Anderson |
| 12 | 2022-06-10 16:27:49 | Lorna Hill |
| 13 | 2022-06-09 11:07:57 | Deanne White |
| 14 | 2022-06-10 10:52:40 | Sharon H |
| 15 | 2022-06-10 19:08:09 | Philippa Blair |
| 16 | 2022-06-10 20:13:50 | Charlotte Ager |
| 17 | 2022-06-10 11:50:20 | Staceyy C |
| 18 | 2022-06-10 11:48:09 | Juliet Phillips |
| 19 | 2022-06-10 20:03:29 | Julia Kuhn |
| 20 | 2022-06-10 19:49:00 | Tracey Haines |
| 21 | 2022-06-09 09:36:00 | Lisa Roberts |
| 22 | 2022-06-08 14:14:43 | Michael Kiers |
| 23 | 2022-06-10 18:44:47 | Suzi Gooding |
| 24 | 2022-06-07 17:48:47 | Emma Louise |
| 25 | 2022-06-10 19:52:00 | Siobhan Timblin |
| 26 | 2022-06-10 16:30:52 | Dean O'Connor |
| 27 | 2022-06-08 14:09:00 | Gail. Gilbert. |
| 28 | 2022-06-10 19:38:03 | Emma Lewis |
| 29 | 2022-06-10 10:59:34 | Sarah White |
| 30 | 2022-06-10 11:50:20 | Staceyy C |
| 31 | 2022-06-09 20:05:46 | Tracey Haines |
| 34 | 2022-06-07 20:53:00 | Gail. Gilbert. |
| 35 | 2022-06-10 20:37:26 | Bill Danks |
| 36 | 2022-06-10 20:37:26 | Bill Danks |
| 37 | 2022-06-06 22:21:37 | Mark Goodman |
| 38 | 2022-06-10 20:37:26 | Bill Danks |
| 39 | 2022-06-10 19:28:07 | kevin mcgovern |
| 40 | 2022-06-10 20:37:26 | Bill Danks |
| 41 | 2022-06-10 19:10:19 | Chloe Warden |
| 42 | 2022-06-10 20:01:48 | Darren Jeffries |
| 43 | 2022-06-10 20:25:43 | Tim Strugnell |
| 44 | 2022-06-09 20:18:34 | David Barrett |
| 45 | 2022-06-07 20:59:00 | Alicia Sandercock |
| 46 | 2022-06-10 18:58:54 | Ian Anslow |
| 47 | 2022-06-10 19:31:45 | Darren Willis |
| 48 | 2022-06-09 16:26:38 | David Binmore |
| 49 | 2022-06-10 16:23:28 | Gale Jordan |
| 50 | 2022-06-10 20:37:26 | Bill Danks |
| 51 | 2022-06-10 20:37:26 | Bill Danks |
| 52 | 2022-06-07 09:38:02 | Theresa Copsey |
| 53 | 2022-06-10 10:16:16 | No Christine Scarbrough |
| 56 | 2022-06-10 19:31:45 | Darren Willis |
| 57 | 2022-06-10 16:23:28 | Gale Jordan |
| 58 | 2022-06-10 16:16:57 | Jem V |
| 59 | 2022-06-10 20:06:39 | Suzanne Couch |
| 60 | 2022-06-10 20:37:26 | Bill Danks |
| 62 | 2022-06-09 19:37:47 | Amanda Bowden |
| 63 | 2022-06-10 17:57:12 | Kerry⁸ O'nions |
| 64 | 2022-06-10 16:20:01 | Lauren cattermole |
| 65 | 2022-06-10 19:49:00 | Tracey Haines |
| 66 | 2022-06-10 10:55:22 | Jackie Dean |
| 67 | 2022-06-09 19:52:49 | David Smith |
| 68 | 2022-06-10 19:36:15 | Anna Mckinstry |
| 69 | 2022-06-08 00:20:45 | Roxanne Hill |
| 70 | 2022-06-10 20:37:26 | Bill Danks |
| 71 | 2022-06-10 20:37:26 | Bill Danks |
| 72 | 2022-06-10 18:02:47 | Nina Henton-Waller |
| 75 | 2022-06-10 19:31:45 | Darren Willis |
| 76 | 2022-06-10 16:00:26 | Jo Jaremi |
| 78 | 2022-06-09 19:52:49 | David Smith |
| 79 | 2022-06-10 16:16:57 | Jem V |
| 81 | 2022-06-08 16:00:24 | Lesley Jones |
| 82 | 2022-06-07 07:49:20 | Jo Disley |
| 83 | 2022-06-10 19:36:21 | Stefan Dombrowski |
| 84 | 2022-06-10 17:57:12 | Kerry⁸ O'nions |
| 85 | 2022-06-07 21:56:36 | Lekel North |
| 86 | 2022-06-10 11:52:40 | Daniel Wilson |
| 88 | 2022-06-07 13:57:23 | Steph crawford |
| 90 | 2022-06-10 18:06:59 | Cristina Evans |
| 91 | 2022-06-10 19:31:45 | Darren Willis |
| 93 | 2022-06-10 19:52:00 | Siobhan Timblin |
| 94 | 2022-06-10 05:52:04 | Emma Louise |
| 95 | 2022-06-10 20:37:26 | Bill Danks |
| 96 | 2022-06-10 19:58:50 | Lea Painter |
| 97 | 2022-06-10 08:08:36 | Domenic Meffe |
| 98 | 2022-06-10 18:50:36 | Bethany Smith |
| 99 | 2022-06-10 12:37:25 | Laura Paton |
| 100 | 2022-06-10 18:25:18 | Michelle Collins |