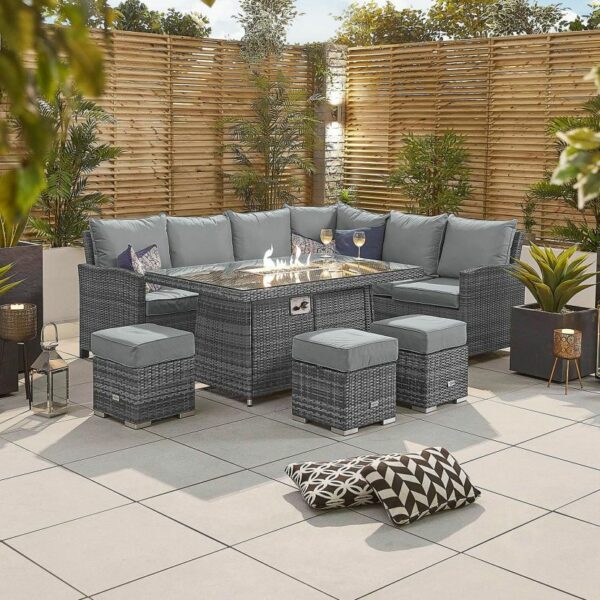 Cambridge Right Hand Casual Dining Corner Sofa Set with Firepit Table
Description
Cambridge Right Hand Casual Dining Corner Sofa Set with Firepit Table
The Nova – Cambridge Fireglow Right Hand Rattan Corner Sofa Dining Set with Gas Firepit Table – Grey is the ultimate dining set for outdoor entertaining, no matter the weather.
The set's key feature is the stunning rattan table which boasts a large gas fire pit in the middle. There is plenty of space to dine using the table, but the fire pit adds something special to the furniture and the atmosphere when using the set. The fire pit allows you to keep your guests warm and use your furniture well into the evening, adding light and heat to your outside space.
Plus, when you are finished with the firepit itself, or you simply need more dining space, you can cover with the metal lid provided to convert to a standard dining table.
Our gas firepit rattan tables work with Patio Gas bottles; these are the green bottles filled with propane. It is important to get a Patio Gas bottle as this is compatible with the clip-on regulator we supply with our systems. We recommend a 5kg bottle as this fits inside the table. Our firepit systems are CE Certified and manufactured using grade 304 stainless steel ensuring they are weatherproof and made to the highest quality. The system used in this particular set is rated at 40,000 BTUs and provides ample heat, light and ambience for the surrounding area.
We estimate that on full power, you will get approximately 6 consistent hours of burn time from this firepit. However, you will be able to run the firepit for longer on a lower heat setting which you can control easily via the handy control panel.
The furniture combines the firepit dining table with a large right-handed corner group, and 3 padded footstools, which double up as extra seats.
| Winner Name | Ticket Number | Draw Date |
| --- | --- | --- |
| Jane Hasni | 925 | 08/07/2022 |
1-200
201-400
401-600
601-800
801-1000
| Ticket Number | Date | Name |
| --- | --- | --- |
| 1 | 2022-06-29 21:00:58 | Jo Burnett |
| 2 | 2022-06-29 19:49:36 | Rachel Cottam |
| 3 | 2022-07-08 08:30:26 | Heather Baker |
| 4 | 2022-07-03 14:44:34 | Bren Last |
| 5 | 2022-07-01 11:51:25 | Beth Davey |
| 6 | 2022-07-08 20:09:20 | Jessica Jones |
| 7 | 2022-07-06 17:03:41 | Georgina Brown |
| 8 | 2022-06-30 15:30:09 | bridgette setters |
| 9 | 2022-07-07 09:22:17 | Richard Whatman |
| 10 | 2022-06-29 21:05:47 | Karen Pollard |
| 11 | 2022-06-29 20:18:22 | Michelle Collins |
| 12 | 2022-06-29 21:00:58 | Jo Burnett |
| 13 | 2022-07-04 19:03:21 | Helen Bryant |
| 14 | 2022-07-07 09:35:55 | Claire Lou |
| 15 | 2022-07-07 11:22:22 | Casmine Wilde |
| 16 | 2022-07-01 18:54:33 | Helen Norton |
| 17 | 2022-06-30 10:40:33 | Donna Mitchell |
| 18 | 2022-07-05 20:07:22 | Gavin Smith |
| 19 | 2022-07-01 21:24:54 | Joeanne O'connor |
| 20 | 2022-06-29 19:49:36 | Rachel Cottam |
| 21 | 2022-07-08 17:10:53 | Lauren Pendleton |
| 22 | 2022-06-29 21:00:58 | Jo Burnett |
| 23 | 2022-07-01 01:27:52 | Angela Cross |
| 24 | 2022-06-29 19:47:39 | Andrew Clarke |
| 25 | 2022-07-07 22:30:24 | Kyle Jago |
| 26 | 2022-06-29 20:00:45 | Sarah Smith |
| 27 | 2022-06-30 15:03:29 | Jessica weymouth |
| 28 | 2022-07-08 19:36:19 | Jodie Ravenhill |
| 29 | 2022-06-29 21:00:58 | Jo Burnett |
| 30 | 2022-06-29 21:00:58 | Jo Burnett |
| 31 | 2022-07-06 18:41:22 | Jacqui Robinson |
| 32 | 2022-07-08 09:38:46 | Patricia Mcculloch |
| 33 | 2022-07-08 20:04:49 | Rachel Dove |
| 34 | 2022-07-08 18:37:10 | jan blackler |
| 35 | 2022-07-08 09:38:46 | Patricia Mcculloch |
| 36 | 2022-07-08 17:52:20 | Julie Mcglinchey |
| 37 | 2022-07-07 20:39:56 | Linda Beer |
| 38 | 2022-07-08 07:19:53 | Pat Taylor |
| 39 | 2022-06-30 21:16:44 | Michael Morgan |
| 40 | 2022-07-08 20:16:31 | David Fitzsimmons |
| 41 | 2022-06-29 22:37:44 | Teela Woodgates |
| 43 | 2022-07-08 19:09:21 | Simon Bates |
| 44 | 2022-07-08 16:14:08 | Deanne Lovell |
| 47 | 2022-07-08 13:02:00 | Marny Stocker |
| 49 | 2022-07-08 14:44:44 | Jay Read |
| 50 | 2022-07-08 12:09:13 | Kenneth Wilkins |
| 52 | 2022-07-08 08:30:49 | Vikki Gyde |
| 53 | 2022-06-30 10:40:33 | Donna Mitchell |
| 54 | 2022-07-08 19:34:30 | Nathan Scott |
| 56 | 2022-07-08 18:26:59 | Lauren cattermole |
| 57 | 2022-07-08 10:39:32 | Tara Duce |
| 58 | 2022-07-06 18:37:24 | Keith Moore |
| 59 | 2022-07-08 19:28:56 | Debbie Jones |
| 60 | 2022-07-08 20:16:31 | David Fitzsimmons |
| 62 | 2022-07-08 20:25:16 | Rach Stevens |
| 64 | 2022-07-08 17:03:58 | Sally Beck |
| 66 | 2022-07-08 17:10:53 | Lauren Pendleton |
| 67 | 2022-07-06 22:05:26 | Lauren Wingfield |
| 68 | 2022-07-08 20:39:26 | Joe Allen |
| 70 | 2022-07-08 19:09:21 | Simon Bates |
| 71 | 2022-07-08 20:29:08 | Karina Williams |
| 73 | 2022-07-07 23:14:48 | marion clark |
| 74 | 2022-07-08 10:54:20 | Lucy Barrett |
| 78 | 2022-07-08 10:59:04 | Leah Cook |
| 79 | 2022-07-08 20:36:35 | Terry Bylett |
| 80 | 2022-07-08 15:46:37 | Helen Bryant |
| 84 | 2022-07-08 20:51:19 | Tammie Isaacs |
| 85 | 2022-07-07 19:50:37 | Lisa Edwards |
| 86 | 2022-07-08 19:49:07 | priest, maxine |
| 87 | 2022-07-07 00:24:29 | Angela Cross |
| 88 | 2022-07-08 17:49:12 | Tania Johns |
| 89 | 2022-07-08 20:39:26 | Joe Allen |
| 90 | 2022-07-07 23:51:23 | Mandy Blake-Burke |
| 91 | 2022-07-08 15:52:13 | steven Hammacott |
| 93 | 2022-07-05 20:07:22 | Gavin Smith |
| 95 | 2022-07-08 06:27:35 | Rachel Cottam |
| 96 | 2022-07-01 09:46:05 | Gavin Smith |
| 97 | 2022-07-08 20:04:14 | Kelly Birkinshaw |
| 99 | 2022-07-02 21:19:27 | Keith Moore |
| 100 | 2022-07-08 20:16:31 | David Fitzsimmons |
| 101 | 2022-07-08 15:27:33 | Tyler Ward |
| 103 | 2022-07-08 13:46:19 | Jackie Stone |
| 104 | 2022-06-29 20:53:21 | Quai Ellis Elliott |
| 105 | 2022-07-08 20:37:38 | Sian Beer |
| 106 | 2022-07-07 00:24:29 | Angela Cross |
| 107 | 2022-07-08 15:42:53 | Donna Hansford |
| 108 | 2022-07-08 06:07:46 | Karen Tait |
| 109 | 2022-06-30 04:50:48 | Sophie Lintern |
| 110 | 2022-07-08 19:09:21 | Simon Bates |
| 111 | 2022-07-08 17:54:13 | Keith Moore |
| 112 | 2022-07-08 20:32:30 | Kelly Reed |
| 113 | 2022-07-07 13:48:25 | Quai Ellis Elliott |
| 114 | 2022-07-08 20:54:59 | Jemma Bishop |
| 116 | 2022-07-01 18:54:33 | Helen Norton |
| 117 | 2022-07-08 20:21:27 | Sian Brinton |
| 118 | 2022-07-08 18:09:52 | Debbie Jones |
| 119 | 2022-07-06 18:37:24 | Keith Moore |
| 120 | 2022-07-08 20:16:31 | David Fitzsimmons |
| 122 | 2022-07-08 15:46:14 | Cristina Evans |
| 123 | 2022-07-03 14:22:57 | Gavin Smith |
| 124 | 2022-07-07 23:49:35 | jade collings |
| 125 | 2022-07-08 06:44:23 | Lucie Dobeer |
| 127 | 2022-07-05 20:07:22 | Gavin Smith |
| 131 | 2022-07-08 20:36:35 | Terry Bylett |
| 132 | 2022-07-08 10:45:53 | Jennifer Waye |
| 133 | 2022-07-03 14:22:57 | Gavin Smith |
| 135 | 2022-07-08 18:32:33 | Kate Coley |
| 136 | 2022-07-08 16:06:32 | Lisa Hynes |
| 137 | 2022-07-08 12:13:07 | Graham Rabbitts |
| 140 | 2022-07-08 12:52:41 | Jodie Ellis |
| 141 | 2022-07-08 20:32:30 | Kelly Reed |
| 144 | 2022-07-08 15:52:13 | steven Hammacott |
| 145 | 2022-06-30 16:26:06 | Annemarie Ohara |
| 146 | 2022-07-08 19:50:12 | Joanna Cannings |
| 148 | 2022-07-08 19:09:21 | Simon Bates |
| 152 | 2022-07-08 19:30:00 | Michelle Teague |
| 153 | 2022-06-29 19:28:20 | Stacey Cudd |
| 154 | 2022-07-08 11:47:49 | Gail Brock |
| 157 | 2022-07-08 18:12:13 | Sadie Baker |
| 158 | 2022-07-08 20:52:38 | Laura Louise |
| 160 | 2022-07-08 20:16:31 | David Fitzsimmons |
| 161 | 2022-07-08 20:57:32 | Samantha Milner |
| 162 | 2022-07-02 09:10:20 | Julie Boon |
| 163 | 2022-07-08 18:09:52 | Debbie Jones |
| 164 | 2022-06-29 19:09:01 | Michelle Teague |
| 165 | 2022-07-08 20:18:24 | David Fitzsimmons |
| 166 | 2022-07-08 09:00:49 | Lisa Johnston |
| 171 | 2022-07-08 15:52:13 | steven Hammacott |
| 172 | 2022-07-08 19:39:27 | Joanne Warner |
| 173 | 2022-07-08 20:45:22 | Amelia Summers |
| 174 | 2022-07-06 13:09:14 | Megan Huntington |
| 176 | 2022-07-05 20:07:22 | Gavin Smith |
| 177 | 2022-07-08 19:41:14 | Leanne Gerring |
| 178 | 2022-07-01 18:54:33 | Helen Norton |
| 179 | 2022-07-05 20:07:22 | Gavin Smith |
| 180 | 2022-07-08 19:28:56 | Debbie Jones |
| 181 | 2022-07-08 20:18:24 | David Fitzsimmons |
| 182 | 2022-07-08 17:55:03 | Helen Norton |
| 183 | 2022-07-08 17:29:10 | Mandy Moore |
| 184 | 2022-07-01 06:32:22 | Lucie Dobeer |
| 186 | 2022-07-08 20:28:44 | Leah Cook |
| 188 | 2022-07-08 19:38:27 | Samantha Davey |
| 192 | 2022-07-08 10:57:07 | Nick Stevens |
| 194 | 2022-07-08 17:55:03 | Helen Norton |
| 196 | 2022-07-08 06:07:46 | Karen Tait |
| 197 | 2022-07-08 15:46:14 | Cristina Evans |
| 198 | 2022-07-08 13:40:29 | Elizabeth Halfyard |
| 199 | 2022-07-02 21:19:27 | Keith Moore |
| 200 | 2022-07-08 20:16:31 | David Fitzsimmons |