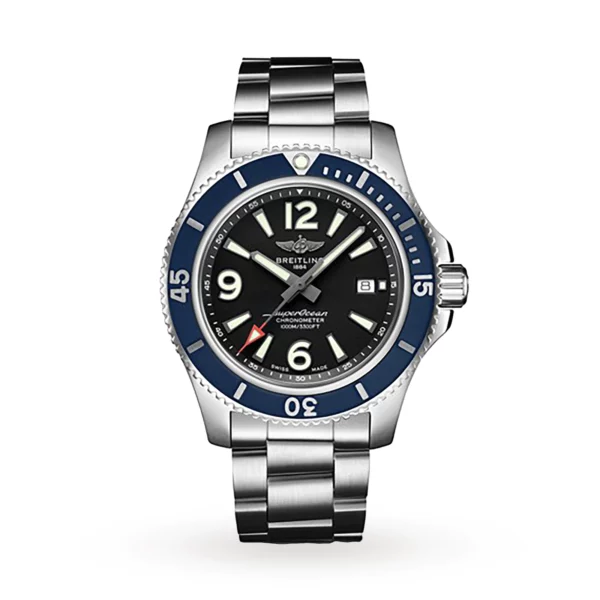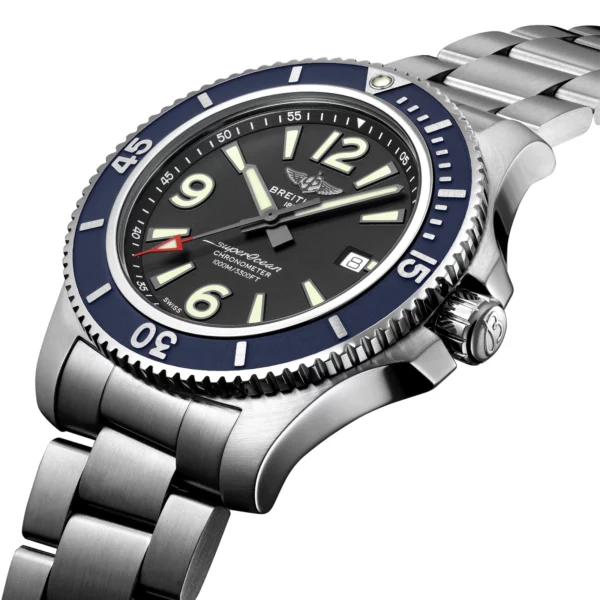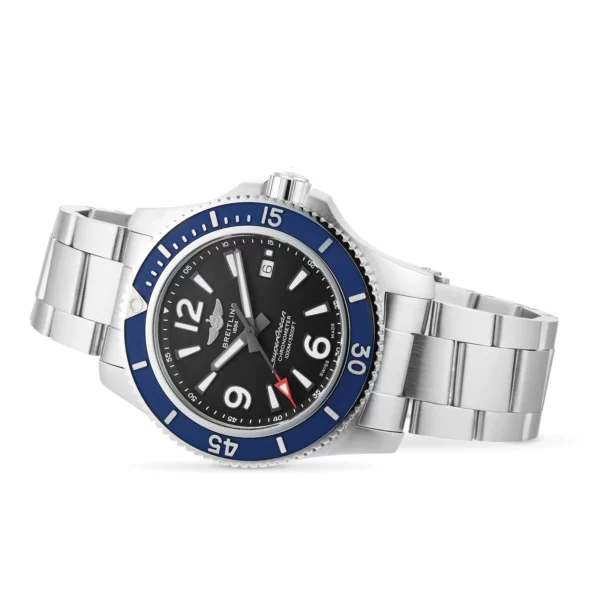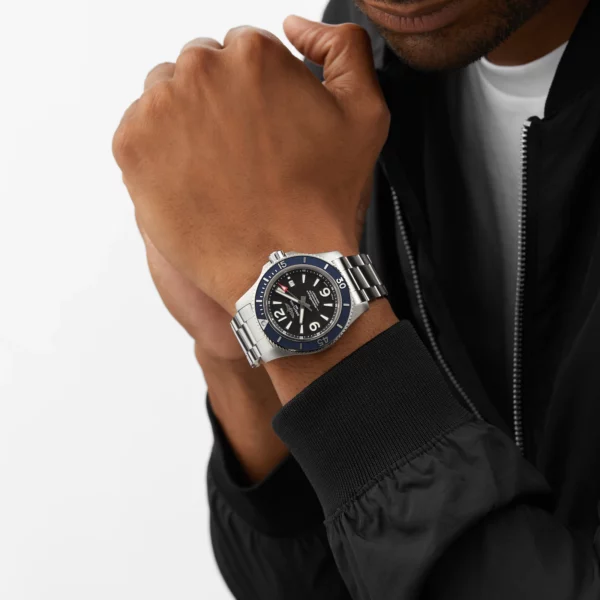 BREITLING Superocean 44 Automatic Stainless Steel Mens Watch UK SPECIAL EDITION
Description
BREITLINGSuperocean 44 Automatic Stainless Steel Mens Watch UK SPECIAL EDITION
DESCRIPTION
Limited Edition of 250 pieces.
Bold and sporty, the new special edition is designed for men looking for a sports watch combining serious performance with classic style.
Not only ready for the challenges of the deep seas (up to 100bar/1000 meters), the new Superocean 44 Automatic will also attract those whose adventures are a little closer to the shore. Whether you're swimming, diving or surfing – the new exclusive Superocean 44 is ready for any challenge!
The Superocean Automatic 44 features a sturdy 44mm stainless-steel case, black dial, blue bezel and a stainless-steel bracelet.
or £2500 Cash Alternative
| Winner Name | Ticket Number | Draw Date |
| --- | --- | --- |
| Clive Mitchell | 896 | 05/08/2022 |
1-500
501-1000
1001-1500
1501-2000
2001-2500
2501-3000
3001-3500
3501-4000
4001-4500
| Ticket Number | Date | Name |
| --- | --- | --- |
| 1 | 2022-07-28 15:14:13 | Lisa Dockree |
| 2 | 2022-07-21 14:17:48 | Lee Mayo |
| 3 | 2022-07-22 07:13:27 | Clive Moxhay |
| 4 | 2022-07-21 14:18:49 | marie winnard |
| 5 | 2022-07-21 14:01:33 | Karen Hawthorne |
| 6 | 2022-07-21 18:22:32 | Michael Castles |
| 7 | 2022-07-21 15:27:34 | Mark Howe |
| 8 | 2022-07-30 17:51:03 | Michael O'connor |
| 9 | 2022-07-21 14:17:48 | Lee Mayo |
| 10 | 2022-07-21 14:00:55 | Ben Fawcett |
| 11 | 2022-07-21 17:46:30 | Jeannette Sims |
| 12 | 2022-07-25 22:07:49 | Oliver Roberts |
| 13 | 2022-08-05 08:16:58 | Kayleigh Jones |
| 14 | 2022-07-21 21:27:29 | Juliet Phillips |
| 15 | 2022-07-21 15:27:34 | Mark Howe |
| 16 | 2022-08-05 17:08:56 | Michelle Eveson |
| 17 | 2022-07-21 14:00:55 | Ben Fawcett |
| 18 | 2022-08-01 19:36:12 | Jade Higham |
| 19 | 2022-07-21 14:01:33 | Karen Hawthorne |
| 20 | 2022-07-23 12:33:25 | Emma-lee Wilson |
| 21 | 2022-07-30 17:51:03 | Michael O'connor |
| 22 | 2022-07-21 14:18:41 | Emma Davies |
| 23 | 2022-07-30 17:51:03 | Michael O'connor |
| 24 | 2022-07-21 13:56:40 | Emma Louise |
| 25 | 2022-08-05 18:47:01 | Patricia Mcculloch |
| 26 | 2022-07-30 17:51:03 | Michael O'connor |
| 27 | 2022-07-27 14:06:34 | Dean O'Connor |
| 28 | 2022-08-03 20:46:22 | Michael O'connor |
| 29 | 2022-07-22 18:32:45 | Karen McCabe |
| 30 | 2022-07-21 14:33:55 | Sam Fitzgerald |
| 31 | 2022-07-22 21:35:11 | Emma-lee Wilson |
| 32 | 2022-08-05 17:51:41 | Amy Summers |
| 33 | 2022-08-05 15:30:16 | Gordon Harris |
| 34 | 2022-08-05 15:45:40 | daniel kelly |
| 35 | 2022-08-05 08:33:10 | Rachel Scott |
| 36 | 2022-07-26 22:23:28 | daniel kelly |
| 37 | 2022-08-04 17:55:54 | Clive Mitchell |
| 38 | 2022-08-04 17:55:54 | Clive Mitchell |
| 39 | 2022-08-05 18:47:01 | Patricia Mcculloch |
| 40 | 2022-07-21 17:46:30 | Jeannette Sims |
| 41 | 2022-08-04 17:55:54 | Clive Mitchell |
| 42 | 2022-08-04 17:55:54 | Clive Mitchell |
| 43 | 2022-08-04 17:55:54 | Clive Mitchell |
| 44 | 2022-07-21 14:18:49 | marie winnard |
| 45 | 2022-08-05 18:22:56 | Richard Higham |
| 46 | 2022-08-05 10:49:44 | Charlotte Ager |
| 47 | 2022-08-05 19:23:37 | Lee Mayo |
| 48 | 2022-08-05 15:42:57 | Stephanie Rhodes |
| 49 | 2022-07-25 21:08:26 | jeremy blackler |
| 50 | 2022-08-01 14:52:51 | Kenneth Wilkins |
| 51 | 2022-08-05 19:23:37 | Lee Mayo |
| 52 | 2022-08-05 19:13:30 | Toby BAMSEY |
| 53 | 2022-08-04 14:43:04 | Sarah Moran9 |
| 54 | 2022-08-05 20:09:33 | Michelle Petricca |
| 55 | 2022-08-05 12:45:31 | Aimee Povey |
| 56 | 2022-07-21 17:46:30 | Jeannette Sims |
| 57 | 2022-08-05 19:24:29 | Chris Hanson |
| 58 | 2022-08-04 19:52:22 | David Smith |
| 59 | 2022-08-05 19:29:09 | Kate Taylor |
| 60 | 2022-08-05 18:09:19 | Alison Farley |
| 61 | 2022-08-05 08:33:10 | Rachel Scott |
| 62 | 2022-08-05 19:23:37 | Lee Mayo |
| 63 | 2022-07-25 21:08:26 | jeremy blackler |
| 64 | 2022-08-05 08:48:03 | Thomas evans |
| 65 | 2022-07-21 14:17:48 | Lee Mayo |
| 66 | 2022-08-05 14:42:51 | Kelvin Courtenay |
| 67 | 2022-08-05 18:29:53 | Jackie Stevenson |
| 68 | 2022-08-05 15:30:16 | Gordon Harris |
| 69 | 2022-07-29 11:06:20 | Matthew Nickels |
| 70 | 2022-08-05 19:23:37 | Lee Mayo |
| 71 | 2022-08-05 20:04:20 | Pat Benn |
| 72 | 2022-08-05 11:00:52 | Deborah Talbot |
| 73 | 2022-08-05 15:43:18 | Jasmine Baillie |
| 74 | 2022-07-22 17:39:57 | Phillip Mann |
| 75 | 2022-08-05 17:20:40 | Andrew Lofthouse |
| 76 | 2022-08-05 20:10:31 | Matt Caine |
| 77 | 2022-08-05 19:10:09 | Tom Pridham |
| 78 | 2022-08-03 23:03:11 | Mark Pease |
| 79 | 2022-08-04 14:43:04 | Sarah Moran9 |
| 80 | 2022-08-05 19:17:02 | Gary King |
| 81 | 2022-08-05 19:37:16 | Warren Kenny |
| 82 | 2022-08-05 18:45:25 | Natalie Hayes |
| 83 | 2022-07-25 12:27:26 | Emma-lee Wilson |
| 84 | 2022-07-21 18:22:32 | Michael Castles |
| 85 | 2022-07-25 12:27:26 | Emma-lee Wilson |
| 86 | 2022-07-21 14:17:48 | Lee Mayo |
| 88 | 2022-08-05 19:52:42 | Holly Louise |
| 89 | 2022-08-05 20:09:10 | Kelly Reed |
| 90 | 2022-08-05 19:23:37 | Lee Mayo |
| 91 | 2022-08-03 19:56:52 | Clive Mitchell |
| 92 | 2022-08-04 19:00:57 | Mandy Morris |
| 93 | 2022-08-04 19:00:57 | Mandy Morris |
| 94 | 2022-08-03 23:03:11 | Mark Pease |
| 95 | 2022-08-05 09:25:28 | Stacey Smith |
| 96 | 2022-08-04 18:48:41 | Michael Taylor |
| 98 | 2022-08-05 20:10:59 | Kerry NOSWORTHY |
| 100 | 2022-07-21 14:17:48 | Lee Mayo |
| 101 | 2022-07-22 17:41:11 | Thomas Julie |
| 102 | 2022-08-05 19:29:09 | Kate Taylor |
| 103 | 2022-08-05 14:42:51 | Kelvin Courtenay |
| 105 | 2022-08-05 20:04:00 | Sarah Wighton |
| 107 | 2022-08-05 09:02:31 | Mrs DJ Eaton |
| 108 | 2022-08-05 20:37:06 | Leah Cook |
| 109 | 2022-08-05 20:46:48 | Tracey Lear |
| 110 | 2022-08-05 20:45:46 | Carla Hames |
| 111 | 2022-08-05 11:00:52 | Deborah Talbot |
| 112 | 2022-08-05 19:37:16 | Warren Kenny |
| 113 | 2022-08-05 20:25:13 | Philippa Smith |
| 114 | 2022-08-05 19:23:37 | Lee Mayo |
| 116 | 2022-08-05 20:09:33 | Michelle Petricca |
| 117 | 2022-08-05 17:39:13 | Sharon Holmes |
| 118 | 2022-08-05 20:49:57 | Jenny King |
| 119 | 2022-08-05 19:27:18 | Katy Doodson |
| 120 | 2022-07-28 21:49:13 | Claire Marks |
| 121 | 2022-08-05 12:45:31 | Aimee Povey |
| 122 | 2022-08-03 23:03:11 | Mark Pease |
| 123 | 2022-08-05 18:51:12 | Patricia Mcculloch |
| 124 | 2022-08-05 19:36:02 | michelle mansell |
| 125 | 2022-08-05 19:49:44 | Sally Scurrah |
| 126 | 2022-08-05 18:42:10 | Jennifer Daniels |
| 127 | 2022-08-05 17:20:40 | Andrew Lofthouse |
| 128 | 2022-08-05 19:13:30 | Toby BAMSEY |
| 129 | 2022-08-05 15:25:40 | Francesca Paris |
| 130 | 2022-08-05 18:02:45 | Joanne Stewart |
| 131 | 2022-08-05 11:46:25 | Emma Davies |
| 132 | 2022-08-05 16:29:29 | Jayne Lofthouse |
| 133 | 2022-08-05 15:18:29 | Rach Stevens |
| 134 | 2022-08-05 18:51:12 | Patricia Mcculloch |
| 135 | 2022-08-03 23:03:11 | Mark Pease |
| 136 | 2022-08-05 20:38:26 | Craig Northway |
| 137 | 2022-08-04 17:55:54 | Clive Mitchell |
| 138 | 2022-08-04 19:52:22 | David Smith |
| 139 | 2022-08-03 23:03:11 | Mark Pease |
| 140 | 2022-08-05 20:50:52 | Usher Prowse |
| 142 | 2022-08-03 23:03:11 | Mark Pease |
| 143 | 2022-08-05 18:47:01 | Patricia Mcculloch |
| 144 | 2022-08-05 17:16:58 | Tia potter |
| 147 | 2022-08-05 20:38:26 | Craig Northway |
| 149 | 2022-08-05 20:36:33 | Grant Fisher |
| 150 | 2022-08-05 20:40:46 | Nicola Farley |
| 151 | 2022-08-03 23:03:11 | Mark Pease |
| 155 | 2022-08-05 13:19:39 | Helen Henson |
| 156 | 2022-07-21 14:17:48 | Lee Mayo |
| 157 | 2022-08-03 23:03:11 | Mark Pease |
| 159 | 2022-08-05 20:25:48 | Kelly Dodd |
| 160 | 2022-07-28 21:26:24 | Gary Guard |
| 161 | 2022-08-05 17:35:24 | Sonia Holden |
| 162 | 2022-08-05 20:50:01 | Lynne Deeley |
| 163 | 2022-08-05 18:19:01 | Chris Williams |
| 165 | 2022-08-05 18:38:11 | Stacey Marsh |
| 166 | 2022-08-03 03:14:24 | Jordan Rogers |
| 168 | 2022-08-05 20:38:07 | Ivana Plankova |
| 169 | 2022-08-05 12:41:43 | Mark Lofthouse |
| 171 | 2022-07-21 15:27:34 | Mark Howe |
| 172 | 2022-08-01 21:54:28 | Victoria Mortimore |
| 173 | 2022-08-05 16:12:51 | Jodie Ellis |
| 174 | 2022-08-05 14:42:51 | Kelvin Courtenay |
| 175 | 2022-08-05 19:17:02 | Gary King |
| 177 | 2022-08-05 19:18:58 | Martyna Jaglowska |
| 178 | 2022-08-05 18:02:45 | Joanne Stewart |
| 179 | 2022-08-04 14:43:04 | Sarah Moran9 |
| 180 | 2022-07-25 21:08:26 | jeremy blackler |
| 182 | 2022-08-03 23:03:11 | Mark Pease |
| 183 | 2022-08-05 18:51:12 | Patricia Mcculloch |
| 184 | 2022-07-23 14:22:25 | Sophie Summerhayes |
| 185 | 2022-08-05 20:09:33 | Michelle Petricca |
| 186 | 2022-08-05 20:38:26 | Craig Northway |
| 188 | 2022-07-22 20:43:44 | Jenny Pinnegar |
| 190 | 2022-08-05 20:43:37 | Olivia Kennard |
| 191 | 2022-08-04 19:00:57 | Mandy Morris |
| 192 | 2022-08-04 19:00:57 | Mandy Morris |
| 193 | 2022-08-03 23:03:11 | Mark Pease |
| 198 | 2022-08-05 19:13:05 | Lola Leech |
| 199 | 2022-08-05 14:42:51 | Kelvin Courtenay |
| 200 | 2022-08-05 20:46:40 | John Fishacre |
| 202 | 2022-08-05 09:44:37 | Erica Sargeant |
| 204 | 2022-08-03 23:03:11 | Mark Pease |
| 205 | 2022-08-05 17:00:28 | Dean O'Connor |
| 207 | 2022-07-28 15:14:13 | Lisa Dockree |
| 208 | 2022-08-05 19:26:50 | David Barrett |
| 209 | 2022-07-23 12:33:25 | Emma-lee Wilson |
| 214 | 2022-07-28 12:31:28 | Karen Bailey |
| 215 | 2022-08-05 17:52:22 | Matthew Widdop |
| 217 | 2022-08-03 19:58:45 | Clive Mitchell |
| 219 | 2022-08-04 21:22:47 | Laura Paton |
| 220 | 2022-08-05 07:43:50 | Melanie Standfast |
| 222 | 2022-08-01 23:17:50 | Jess Ellis |
| 223 | 2022-08-05 19:37:16 | Warren Kenny |
| 224 | 2022-08-05 20:09:10 | Kelly Reed |
| 226 | 2022-08-05 08:22:41 | Danielle Lindsay |
| 227 | 2022-08-05 19:50:07 | Gemma Osborn |
| 228 | 2022-08-05 08:22:41 | Danielle Lindsay |
| 229 | 2022-07-28 07:01:47 | Stacey Smith |
| 230 | 2022-08-05 19:37:16 | Warren Kenny |
| 231 | 2022-08-05 15:22:37 | Emma Reeve |
| 232 | 2022-08-05 20:49:31 | Kim Ayres |
| 233 | 2022-08-05 20:58:41 | John Fishacre |
| 234 | 2022-07-28 21:49:13 | Claire Marks |
| 235 | 2022-08-05 19:37:16 | Warren Kenny |
| 236 | 2022-07-21 15:07:57 | John Huteson |
| 237 | 2022-08-05 14:42:51 | Kelvin Courtenay |
| 239 | 2022-08-03 23:03:11 | Mark Pease |
| 241 | 2022-08-05 01:29:12 | Ray Burgess |
| 244 | 2022-08-05 19:37:15 | Judi Vallance-Marks |
| 246 | 2022-07-21 21:04:40 | |
| 248 | 2022-08-05 19:55:58 | Tia Anslow |
| 249 | 2022-08-05 19:42:23 | Leah Gove |
| 251 | 2022-08-05 20:19:34 | Mike Prosser |
| 253 | 2022-07-21 15:27:34 | Mark Howe |
| 254 | 2022-08-05 09:10:43 | Mcgregor Mary |
| 257 | 2022-07-21 18:25:27 | John Huteson |
| 259 | 2022-07-22 20:34:17 | Sian Baldwin |
| 261 | 2022-08-05 18:23:25 | Rachel Salloway |
| 262 | 2022-08-04 12:11:39 | Clive Mitchell |
| 263 | 2022-08-05 18:51:12 | Patricia Mcculloch |
| 264 | 2022-08-05 18:43:41 | Justin Wee |
| 265 | 2022-08-05 09:04:09 | Lisa Walker |
| 266 | 2022-08-04 17:55:54 | Clive Mitchell |
| 268 | 2022-08-05 14:42:51 | Kelvin Courtenay |
| 270 | 2022-08-04 20:50:03 | g Mv |
| 272 | 2022-08-05 19:46:47 | Emma Weston |
| 273 | 2022-08-05 19:41:57 | Daniel Goode |
| 275 | 2022-07-21 15:07:57 | John Huteson |
| 277 | 2022-08-05 14:42:51 | Kelvin Courtenay |
| 279 | 2022-08-05 08:47:40 | linda Brown |
| 280 | 2022-08-05 12:07:18 | jemma Vooght |
| 283 | 2022-08-05 13:19:39 | Helen Henson |
| 285 | 2022-08-04 17:55:54 | Clive Mitchell |
| 286 | 2022-08-04 17:55:54 | Clive Mitchell |
| 287 | 2022-08-04 17:55:54 | Clive Mitchell |
| 288 | 2022-08-04 17:55:54 | Clive Mitchell |
| 289 | 2022-08-04 17:55:54 | Clive Mitchell |
| 290 | 2022-08-05 19:41:02 | Tina Bylett |
| 291 | 2022-08-05 20:49:30 | Rosie Dart |
| 295 | 2022-08-05 18:50:00 | Kirstyn beadman |
| 296 | 2022-08-05 19:27:24 | Lyndon Punter |
| 297 | 2022-08-04 19:52:22 | David Smith |
| 298 | 2022-08-05 20:04:00 | Sarah Wighton |
| 300 | 2022-07-24 19:28:46 | Gemma Norgate |
| 301 | 2022-08-05 20:09:21 | Chelsea Guest |
| 302 | 2022-08-03 17:10:42 | PATRICK Mills |
| 303 | 2022-08-05 09:41:42 | Carly Gidman |
| 306 | 2022-08-05 17:59:30 | Louise Thorne |
| 308 | 2022-07-24 22:48:04 | marion clark |
| 309 | 2022-08-05 11:46:25 | Emma Davies |
| 312 | 2022-08-05 14:42:51 | Kelvin Courtenay |
| 313 | 2022-08-05 19:32:29 | Roxanne Hill |
| 315 | 2022-07-21 18:22:32 | Michael Castles |
| 317 | 2022-08-05 20:54:06 | Jamie Rochester-Churchill |
| 318 | 2022-08-05 17:16:58 | Tia potter |
| 319 | 2022-08-05 20:20:17 | Daniel Hill |
| 322 | 2022-08-05 17:24:41 | Callum Ellis |
| 323 | 2022-08-03 23:03:11 | Mark Pease |
| 325 | 2022-08-05 14:42:51 | Kelvin Courtenay |
| 327 | 2022-08-05 19:59:11 | Craig Lomas |
| 328 | 2022-08-05 20:51:59 | Gary Foster |
| 330 | 2022-08-05 18:45:25 | Natalie Hayes |
| 331 | 2022-08-05 19:33:06 | Tony Harding |
| 333 | 2022-08-05 20:55:55 | C J |
| 334 | 2022-08-04 18:30:37 | Vanessa Gale |
| 335 | 2022-08-05 16:01:36 | Sian Bolton |
| 336 | 2022-08-05 15:18:29 | Rach Stevens |
| 337 | 2022-08-05 19:48:11 | Nicola Joyce |
| 338 | 2022-08-03 23:03:11 | Mark Pease |
| 339 | 2022-08-05 17:49:24 | Sam Fitzgerald |
| 340 | 2022-08-05 14:42:51 | Kelvin Courtenay |
| 342 | 2022-07-21 21:04:40 | |
| 343 | 2022-07-25 14:44:57 | Dean O'Connor |
| 344 | 2022-08-05 20:44:05 | Helen Henson |
| 346 | 2022-08-05 17:30:40 | Lee Hoy |
| 347 | 2022-08-05 18:54:34 | Jack Lant |
| 348 | 2022-08-03 23:03:11 | Mark Pease |
| 349 | 2022-08-05 19:00:53 | Graham Rabbitts |
| 350 | 2022-08-03 19:58:45 | Clive Mitchell |
| 351 | 2022-08-05 19:59:11 | Craig Lomas |
| 352 | 2022-08-05 20:35:57 | Di Hodge |
| 353 | 2022-07-24 03:30:22 | Annette M |
| 355 | 2022-08-03 23:03:11 | Mark Pease |
| 357 | 2022-08-03 23:03:11 | Mark Pease |
| 358 | 2022-08-05 19:06:28 | Jordan Doulin |
| 359 | 2022-08-05 00:52:45 | Jodie Ellis |
| 360 | 2022-08-04 17:52:15 | Clive Mitchell |
| 361 | 2022-08-05 15:25:03 | wendy Breeze |
| 362 | 2022-08-05 20:09:10 | Kelly Reed |
| 363 | 2022-07-21 15:27:34 | Mark Howe |
| 364 | 2022-08-05 20:09:10 | Kelly Reed |
| 365 | 2022-08-01 12:01:10 | Tia potter |
| 366 | 2022-08-05 09:27:34 | Ian Lipscombe |
| 371 | 2022-08-05 17:17:07 | Jonathan Holloway |
| 372 | 2022-08-05 20:00:58 | Ian Grant |
| 376 | 2022-08-03 23:03:11 | Mark Pease |
| 377 | 2022-08-02 18:17:19 | John Huteson |
| 380 | 2022-08-05 19:17:02 | Gary King |
| 382 | 2022-08-05 16:58:58 | Libby Richards |
| 383 | 2022-08-05 17:57:58 | Victoria Mortimore |
| 384 | 2022-08-04 21:25:04 | Chris Birt |
| 385 | 2022-08-04 17:55:54 | Clive Mitchell |
| 386 | 2022-08-05 20:49:31 | Kim Ayres |
| 387 | 2022-08-05 20:09:10 | Kelly Reed |
| 391 | 2022-08-04 19:00:57 | Mandy Morris |
| 392 | 2022-08-04 19:00:57 | Mandy Morris |
| 393 | 2022-08-04 19:00:57 | Mandy Morris |
| 395 | 2022-08-05 20:23:20 | Carrianne Campbell |
| 396 | 2022-08-05 18:29:34 | Michael O'connor |
| 398 | 2022-08-05 18:57:39 | Caroline Cattermole |
| 402 | 2022-08-04 17:55:54 | Clive Mitchell |
| 403 | 2022-08-03 17:10:42 | PATRICK Mills |
| 407 | 2022-08-03 23:03:11 | Mark Pease |
| 408 | 2022-08-05 16:17:57 | Liam Upcott |
| 409 | 2022-08-05 20:50:16 | Claire Baker |
| 410 | 2022-08-03 23:03:11 | Mark Pease |
| 412 | 2022-08-05 16:00:12 | Lisa Dockree |
| 413 | 2022-08-03 20:46:22 | Michael O'connor |
| 415 | 2022-08-05 20:54:41 | Anna Benney |
| 416 | 2022-08-05 20:37:52 | Will Hageman |
| 417 | 2022-08-05 19:21:46 | Sharon Holmes |
| 421 | 2022-08-05 16:29:29 | Jayne Lofthouse |
| 422 | 2022-08-05 20:21:30 | PATRICK Mills |
| 423 | 2022-08-05 19:30:46 | Lee Mayo |
| 429 | 2022-07-21 21:04:40 | |
| 430 | 2022-08-05 18:42:10 | Jennifer Daniels |
| 431 | 2022-08-05 19:21:30 | Lewis Cudlipp |
| 433 | 2022-08-05 19:29:56 | Elizabeth Forshaw |
| 435 | 2022-08-05 20:09:10 | Kelly Reed |
| 436 | 2022-08-05 18:37:37 | Nicholas Warnes |
| 437 | 2022-07-22 10:16:57 | Victoria Mortimore |
| 438 | 2022-08-05 17:51:41 | Amy Summers |
| 440 | 2022-07-22 17:39:57 | Phillip Mann |
| 441 | 2022-08-05 20:01:16 | Amanda Gallacher |
| 442 | 2022-08-03 23:03:11 | Mark Pease |
| 443 | 2022-08-05 18:12:59 | Chris Penny |
| 446 | 2022-07-21 15:27:34 | Mark Howe |
| 447 | 2022-07-22 22:57:03 | Haley Williams |
| 448 | 2022-08-05 19:25:29 | Bev Dingeldein |
| 449 | 2022-08-05 18:23:25 | Rachel Salloway |
| 450 | 2022-08-05 08:16:58 | Kayleigh Jones |
| 452 | 2022-08-05 17:42:30 | Amy Summers |
| 453 | 2022-08-03 23:03:11 | Mark Pease |
| 454 | 2022-08-04 21:22:22 | Sam Harper |
| 455 | 2022-08-05 19:41:02 | Tina Bylett |
| 456 | 2022-08-05 18:12:59 | Chris Penny |
| 459 | 2022-08-05 12:07:18 | jemma Vooght |
| 460 | 2022-08-05 19:24:29 | Chris Hanson |
| 462 | 2022-07-29 10:21:41 | Lisah Brooking |
| 464 | 2022-08-05 15:20:35 | Marc nall |
| 466 | 2022-07-21 21:04:40 | |
| 469 | 2022-08-05 20:35:57 | Di Hodge |
| 470 | 2022-08-03 20:22:02 | Dominic Rea |
| 475 | 2022-08-05 09:31:45 | Joanna Johnson-laird |
| 477 | 2022-08-05 08:03:10 | Tracy Langridge |
| 478 | 2022-08-05 20:11:23 | Simon Worth |
| 479 | 2022-08-05 20:46:18 | Michael Castles |
| 481 | 2022-08-02 18:17:19 | John Huteson |
| 482 | 2022-08-03 23:03:11 | Mark Pease |
| 484 | 2022-08-05 17:49:18 | Sammie Toms |
| 485 | 2022-08-05 18:11:25 | Lee Mcnulty |
| 487 | 2022-08-05 20:54:41 | Anna Benney |
| 489 | 2022-08-05 20:04:00 | Sarah Wighton |
| 490 | 2022-08-05 19:00:21 | Jemma Lavercombe |
| 491 | 2022-08-04 19:00:57 | Mandy Morris |
| 492 | 2022-07-21 21:04:40 | |
| 493 | 2022-08-04 19:00:57 | Mandy Morris |
| 495 | 2022-08-05 19:24:53 | Paul Jonas |
| 496 | 2022-08-05 19:40:55 | Joanne Pennington |
| 497 | 2022-08-05 20:25:13 | Philippa Smith |
| 498 | 2022-08-05 19:24:29 | Chris Hanson |
| 499 | 2022-08-05 08:03:31 | Emma Jones |
| 500 | 2022-08-05 15:11:08 | Zoeyy Jane |