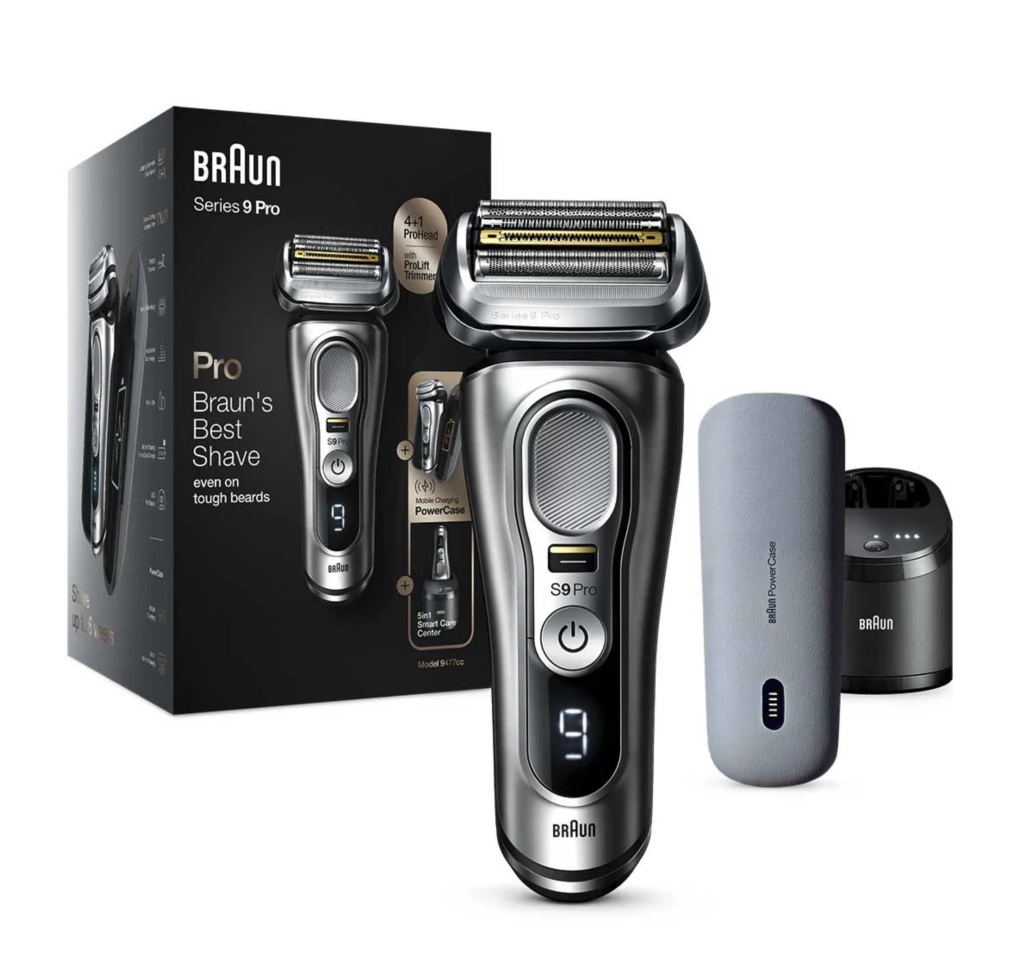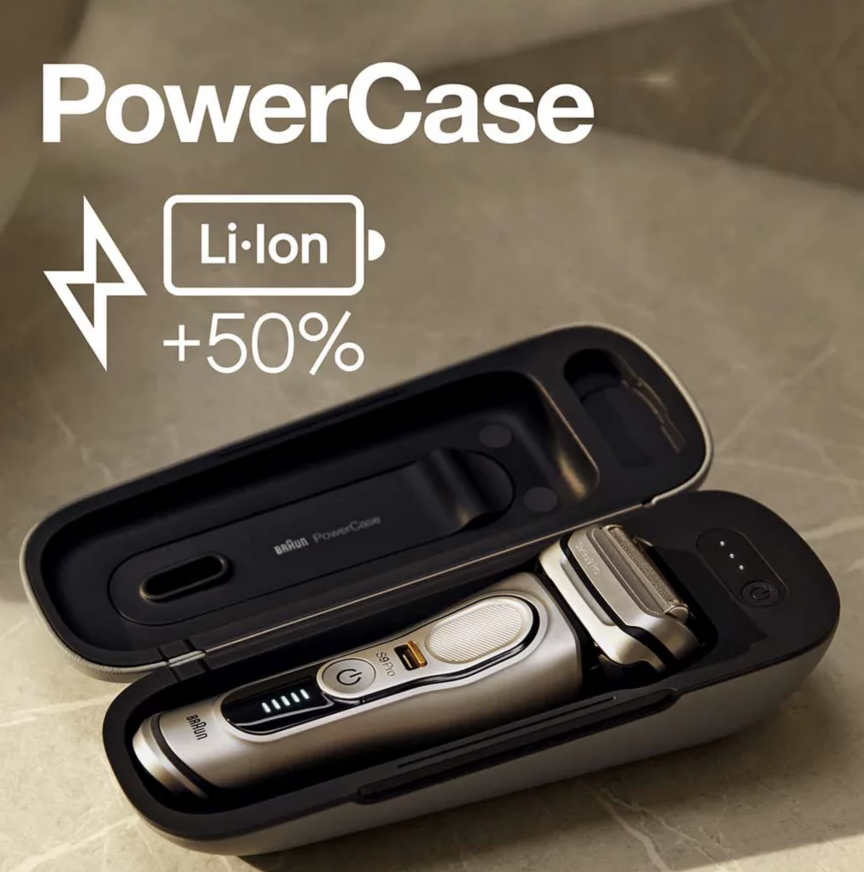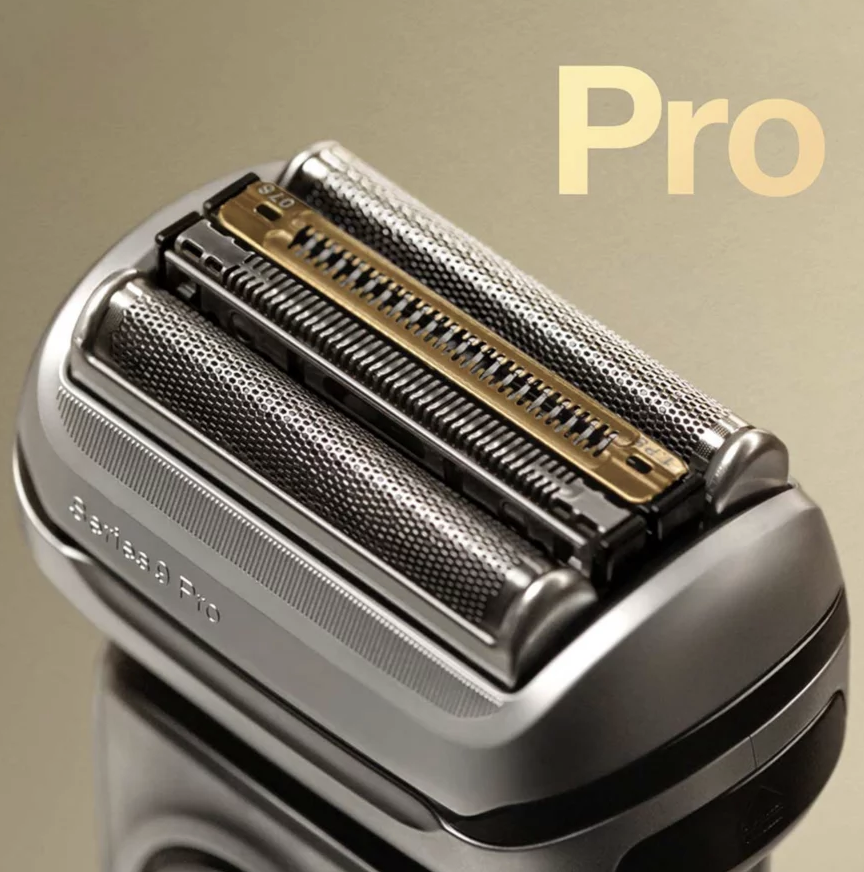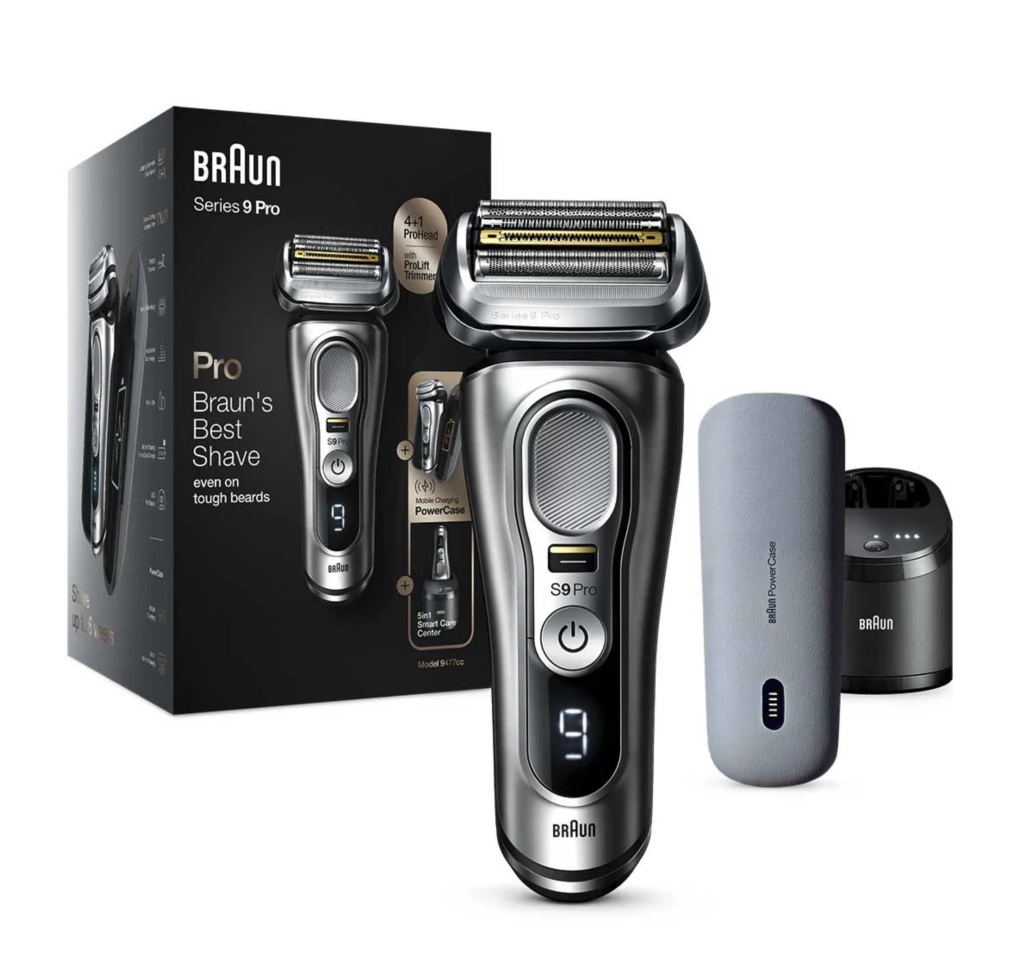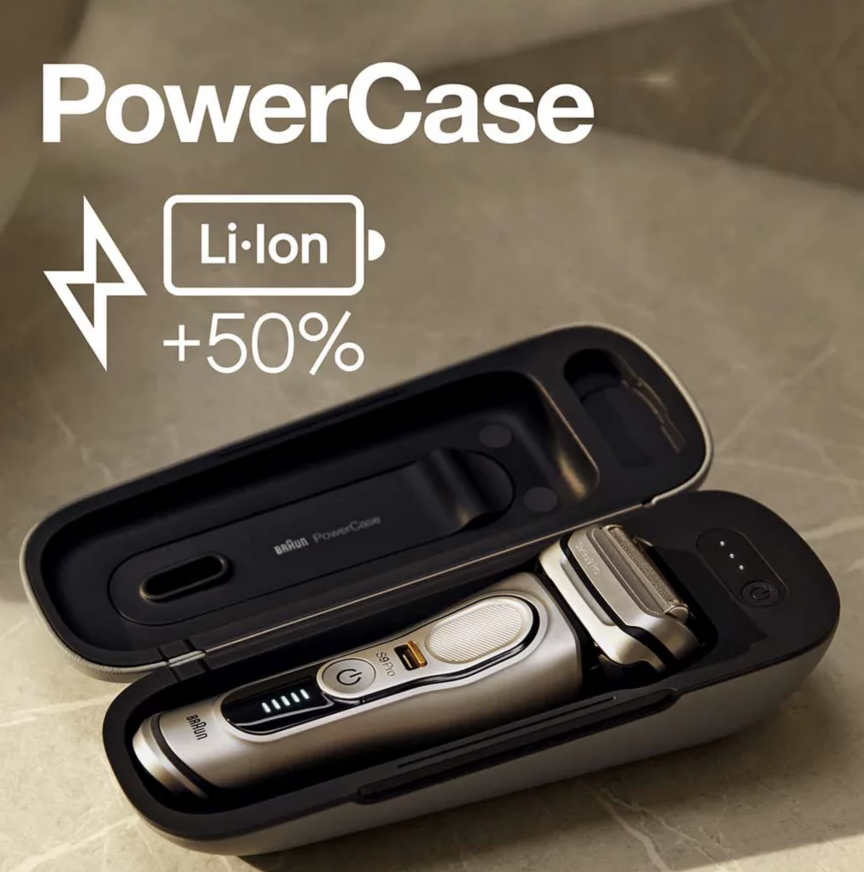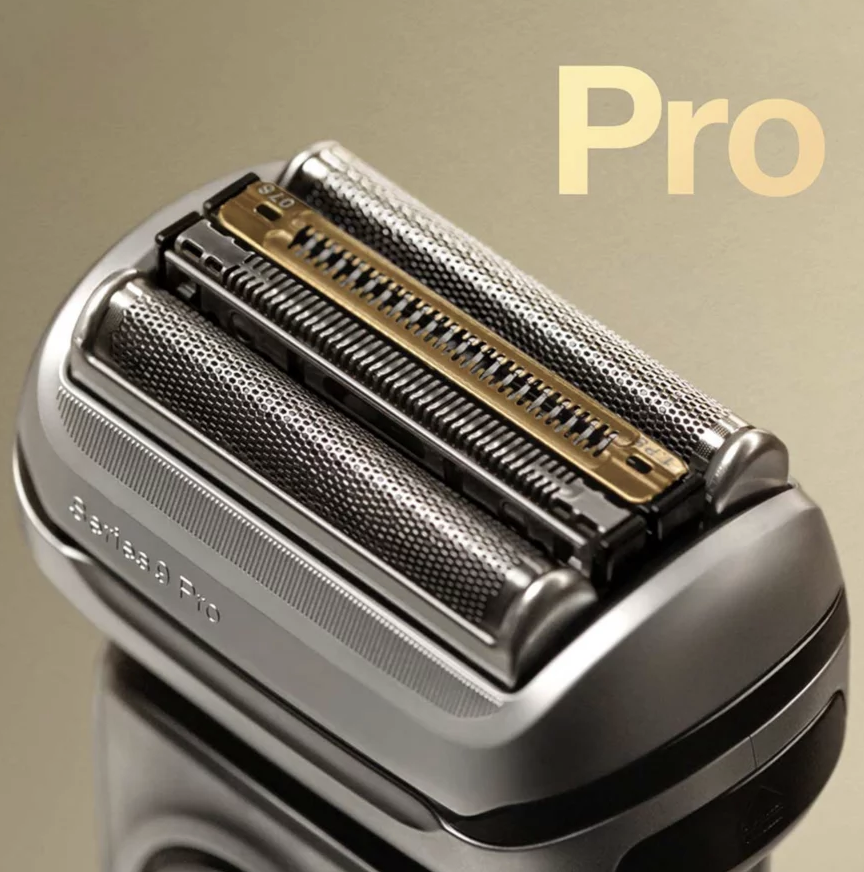 Braun Series 9 Pro 9477cc Electric Shaver, PowerCase, SmartCare Center, Wet & Dry Razor
Description
Braun Series 9 Pro 9477cc Electric Shaver, PowerCase, SmartCare Center, Wet & Dry Razor
The world's most efficient electric razor (tested vs. leading premium tier products), reinvented to be even better. The Series 9 Pro is efficient and gentle in every stroke, no matter if you're shaving a 1, 3, or 7-day beard. The razor for men features the unique ProLift trimmer that lifts and cuts long and flat hair. This shaver comes with the first-ever PowerCase: a charging shaver case which charges your razor for up to 6 weeks of use. The shaver easily captures even the tough hairs thanks to the redesigned Precision Switch – particularly useful in tricky areas.
Braun Series 9 Pro rated a Which? Best on Test. Delivered the closest shave of all tested. Equally effective on short or long stubble. Accurate around the lips and chin.
How to use
Read Manual Included.
Important info
Key Features:
Braun's best razor: Series 9 Pro is the world's most efficient electric shaver (tested vs. leading premium tier products), now better with a new ProHead

Efficient and gentle in every stroke, no matter if it's a 1, 3, or 7-day beard: championing our unique ProLift trimmer, this electric razor for men lifts and cuts tricky hair

More efficient (vs. previous Braun Series 9) & gentle: the innovative ProLift trimmer and Braun's unique Sonic Technology help to shave up to 10% faster (vs. previous Braun Series 9), for a gentle shave

50% more battery runtime with the world's first PowerCase: charge anytime & anywhere with this portable shaver charging case, its powerful built-in Li-Ion battery charges your shaver for up to 6 weeks of use

Made in Germany & designed to last 7 years: this electric razor is also 100% waterproof and can be used with foam, gel or even under the shower
Box includes:
1 x Electric shaver

1 x PowerCase

1 x SmartCare center

1 x Cleaning cartridge

1 x Cleaning brush

1 x Smart plug

1 x User manual
| Winner Name | Ticket Number | Draw Date |
| --- | --- | --- |
| Trudi Kim | 350 | 21/03/2023 |
1-100
101-200
201-300
301-400
401-500
501-600
601-700
| Ticket Number | Date | Name |
| --- | --- | --- |
| 3 | 2023-03-21 18:04:36 | Emma White |
| 7 | 2023-03-21 18:10:23 | Alan Cross |
| 8 | 2023-03-16 18:43:01 | Kelly Connolly |
| 11 | 2023-03-21 20:36:15 | Stephanie Sparks |
| 13 | 2023-03-21 18:04:36 | Emma White |
| 21 | 2023-03-21 20:49:05 | Gemma Lambeth |
| 24 | 2023-03-21 20:49:05 | Gemma Lambeth |
| 25 | 2023-03-21 16:36:17 | Marie Tucker |
| 27 | 2023-03-16 18:43:01 | Kelly Connolly |
| 33 | 2023-03-21 00:50:47 | Marc Baker |
| 41 | 2023-03-19 11:36:24 | Usher Prowse |
| 42 | 2023-03-21 00:52:59 | Jodie Ellis |
| 44 | 2023-03-21 20:27:57 | Kelly Reed |
| 45 | 2023-03-21 20:29:03 | Dot Clarke |
| 46 | 2023-03-21 20:29:03 | Dot Clarke |
| 49 | 2023-03-21 20:29:03 | Dot Clarke |
| 55 | 2023-03-21 13:16:32 | Scott Steele |
| 56 | 2023-03-21 13:16:32 | Scott Steele |
| 57 | 2023-03-21 13:09:02 | Linda Grimshaw |
| 58 | 2023-03-21 19:51:27 | Jane Evans |
| 59 | 2023-03-21 10:22:12 | Laurence Dent |
| 63 | 2023-03-21 16:36:17 | Marie Tucker |
| 68 | 2023-03-21 20:51:34 | Helen Holloway |
| 69 | 2023-03-19 11:36:24 | Usher Prowse |
| 70 | 2023-03-21 20:27:57 | Kelly Reed |
| 73 | 2023-03-19 19:48:11 | Trudi Kim |
| 75 | 2023-03-21 19:53:14 | WAYNE BABEY |
| 78 | 2023-03-21 20:18:58 | Louise Gourley |
| 79 | 2023-03-21 10:22:12 | Laurence Dent |
| 80 | 2023-03-21 18:04:36 | Emma White |
| 83 | 2023-03-21 20:29:03 | Dot Clarke |
| 91 | 2023-03-21 17:37:16 | Trudi Kim |
| 96 | 2023-03-21 19:50:54 | Neil Potter |
| 99 | 2023-03-21 20:36:15 | Stephanie Sparks |