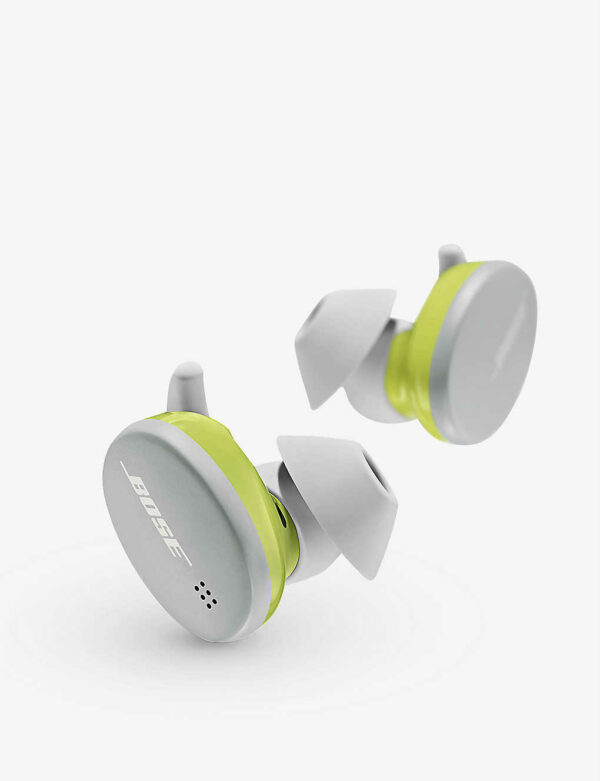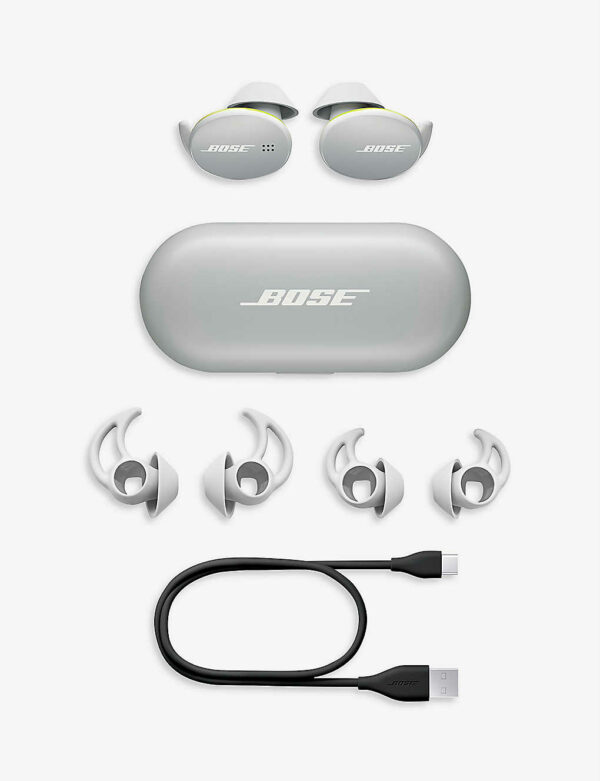 BOSE Sport True wireless earbuds
Description
Bose Sport Earbuds make your music sound like the performer is right there beside you, pushing you to go one more mile or do one more rep. Our patented acoustic port design and premium, high-efficiency drivers combine to deliver big sound from a small acoustic package.
No wires. No stopping you.
As true wireless Bluetooth® earbuds, Bose Sport Earbuds offer complete freedom of movement. As long as you're within 9 m of your device, you'll hear whatever it's playing. And with a custom-designed antenna hidden on the outside of each earbud, you'll stay connected.
You move. They stay.
Bose Sport Earbuds come with three sizes of StayHear® Max tips, so you can find the right fit for you. Every surface that touches your ear is made from soft silicone—not hard plastic—and by applying pressure evenly across your ear, the eartips avoid putting extra pressure on the most sensitive parts.
Sweat & weather resistant
Designed to resist moisture from sweat and weather, Bose Sport Earbuds go through rigorous quality testing for durability to ensure they'll stay in top shape, just like you. They're also rated IPX4, which means the electronics inside each earbud are protected against splashing water in case you get caught in the rain on a run.
| Winner Name | Ticket Number | Draw Date |
| --- | --- | --- |
| Aiden Kelly-Davis | 92 | 12/07/2022 |
| Ticket Number | Date | Name |
| --- | --- | --- |
| 2 | 2022-07-11 21:32:35 | Emily Evans |
| 3 | 2022-07-11 22:01:34 | Alisha Rooke |
| 4 | 2022-07-12 13:05:53 | Sharon Smith |
| 5 | 2022-07-12 19:15:11 | Tracy Mills |
| 6 | 2022-07-09 22:45:09 | Aiden Kelly-Davis |
| 7 | 2022-07-12 17:40:36 | Emma Henwood |
| 9 | 2022-07-12 18:26:03 | Jacqui Robinson |
| 10 | 2022-07-12 16:18:32 | Emma Gears |
| 13 | 2022-07-07 15:37:58 | Darren Martin |
| 15 | 2022-07-11 00:01:40 | Dan Warne |
| 16 | 2022-07-12 17:02:13 | Dan Warne |
| 17 | 2022-07-12 00:56:26 | Debs Talbot |
| 19 | 2022-07-09 22:45:09 | Aiden Kelly-Davis |
| 20 | 2022-07-12 13:05:53 | Sharon Smith |
| 21 | 2022-07-12 20:43:41 | Clive Mitchell |
| 22 | 2022-07-12 20:23:13 | Ashleigh Jefferson |
| 23 | 2022-07-09 19:05:19 | Amanda Moore |
| 24 | 2022-07-12 20:43:58 | Emma Louise |
| 27 | 2022-07-12 17:02:13 | Dan Warne |
| 28 | 2022-07-12 17:02:13 | Dan Warne |
| 30 | 2022-07-11 21:32:35 | Emily Evans |
| 31 | 2022-07-12 16:18:32 | Emma Gears |
| 33 | 2022-07-12 12:10:47 | Dave Nice |
| 35 | 2022-07-12 13:09:08 | Ben Melsome |
| 36 | 2022-07-12 18:26:03 | Jacqui Robinson |
| 38 | 2022-07-12 20:43:41 | Clive Mitchell |
| 40 | 2022-07-09 22:45:09 | Aiden Kelly-Davis |
| 41 | 2022-07-12 19:17:07 | Ian Garner |
| 42 | 2022-07-12 15:28:54 | Rosie Byron |
| 43 | 2022-07-09 22:45:09 | Aiden Kelly-Davis |
| 46 | 2022-07-10 15:48:27 | Sharon Smith |
| 48 | 2022-07-12 20:43:58 | Emma Louise |
| 51 | 2022-07-12 18:26:03 | Jacqui Robinson |
| 55 | 2022-07-12 20:44:27 | Steve Hornby |
| 58 | 2022-07-12 19:25:03 | Paul Smith |
| 60 | 2022-07-12 19:17:07 | Ian Garner |
| 64 | 2022-07-12 19:30:09 | Tyler Ward |
| 65 | 2022-07-12 07:55:52 | Rachel Salloway |
| 67 | 2022-07-12 19:25:03 | Paul Smith |
| 68 | 2022-07-12 20:16:30 | Maxine Everist |
| 69 | 2022-07-12 16:53:17 | Emma Davies |
| 73 | 2022-07-12 16:59:37 | Bridget Wedlake |
| 75 | 2022-07-11 17:42:31 | Danielle Lindsay |
| 78 | 2022-07-11 21:06:25 | Sharon Williams |
| 79 | 2022-07-07 06:31:19 | Lisa Riordan |
| 80 | 2022-07-11 00:01:40 | Dan Warne |
| 81 | 2022-07-10 17:38:52 | Charlotte Addison |
| 83 | 2022-07-12 16:18:32 | Emma Gears |
| 85 | 2022-07-12 20:38:37 | Lekel North |
| 88 | 2022-07-12 19:25:03 | Paul Smith |
| 89 | 2022-07-07 10:06:43 | Kevin Reed |
| 91 | 2022-07-12 15:28:54 | Rosie Byron |
| 92 | 2022-07-09 22:45:09 | Aiden Kelly-Davis |
| 93 | 2022-07-12 20:27:27 | Lucy Jessup |
| 94 | 2022-07-12 20:35:39 | Mandy Morris |
| 95 | 2022-07-12 19:32:35 | Rachel Salloway |
| 96 | 2022-07-12 20:35:39 | Mandy Morris |
| 97 | 2022-07-09 22:45:09 | Aiden Kelly-Davis |
| 98 | 2022-07-12 20:35:39 | Mandy Morris |
| 99 | 2022-07-12 20:43:41 | Clive Mitchell |