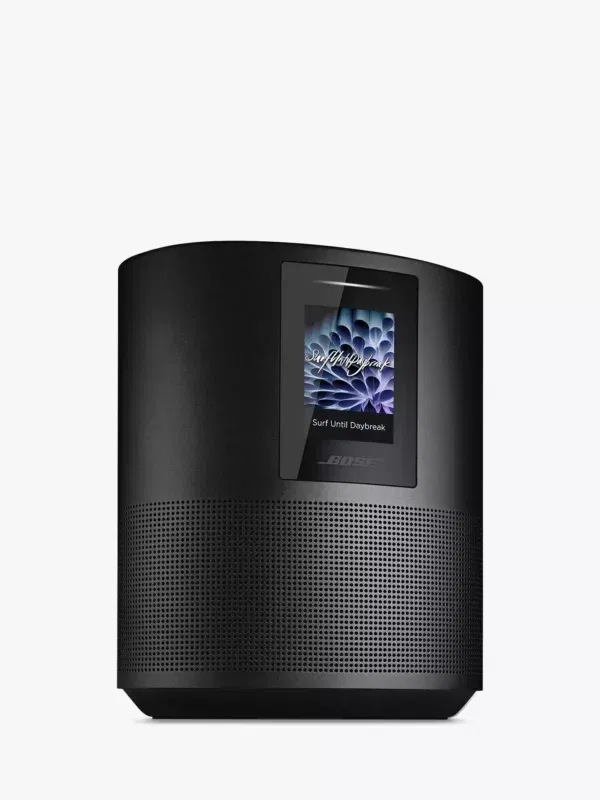 Bose Home Speaker 500 Smart Speaker
Description
Bose Home Speaker 500 Smart Speaker
The Bose Home Speaker 500 delivers wall-to-wall stereo sound from a single speaker. Built-in voice control from the Google Assistant and Alexa puts songs, playlists, and more at the tip of your tongue. Just choose your voice assistant and ask away. And you have the freedom to control the music your way; with your voice, with a tap on the top controls, or with the Bose Music app (available on iOS and Android).
Bose sound
Inside the speaker, two custom drivers point in opposite directions to bounce sound off the walls, creating a spectacularly wide soundstage.
Voice control with the Google Assistant and Alexa
With voice control from the Google Assistant and Alexa built in, millions of songs, internet radio, playlists, and more are at your voice command. And when the music's playing loud, it will still hear you. Just under the top is a custom-designed eight-microphone array for superior voice pickup. But control isn't just limited to the voice; tap the top controls to play, pause, or skip tracks, or manage it all from the Bose Music app.
A world of choice
It offers a huge choice of listening options. Access integrated Wi-Fi music services like Spotify and Amazon Music at the touch of a button (some services may require subscription). You can set up to six different presets for playlists, internet radio stations, and more. And with the Google Assistant and Alexa, music is just the beginning. You have access to things like weather reports and news headlines, so if you want to hear something, you can just ask.* Future software updates will add new features, and multiple users can personalise their experience and control their content with the easy-to-use Bose Music app.
Brilliant Bluetooth
Connect over Bluetooth to play anything from your phone or tablet. It's also designed to easily connect with a range of compatible Bose smart speakers and soundbars so you can enjoy more music in more rooms.
Apple Airplay 2 compatible
With Apple Airplay 2 you can control this speaker from any iOS device like your iPhone, iPad or Mac. Control it either from the Apple Home app, or directly from compatible streaming services like Apple Music, Spotify, and others.
Chromecast built-in
You can wirelessly stream music and podcasts with Chromecast built-in too.
Seamless design
Its seamless anodized aluminium body features a Colour LCD display to shows what's playing, like current song, station, playlist info, album art, and more.
| Winner Name | Ticket Number | Draw Date |
| --- | --- | --- |
| Wendy Bowman | 558 | 10/06/2022 |
1-100
101-200
201-300
301-400
401-500
501-600
| Ticket Number | Date | Name |
| --- | --- | --- |
| 1 | 2022-06-07 17:26:11 | Lisa Darragh |
| 2 | 2022-06-09 15:16:41 | Suzi Gooding |
| 3 | 2022-06-08 06:52:02 | Jo Disley |
| 4 | 2022-06-10 11:40:55 | Elizabeth Hill |
| 5 | 2022-06-08 22:08:49 | Kellie Flaherty |
| 6 | 2022-06-10 17:15:40 | Julie Toal |
| 7 | 2022-06-08 19:13:35 | Kerrie HENTON waller |
| 8 | 2022-06-09 10:45:34 | Donna Mault |
| 9 | 2022-06-08 19:13:35 | Kerrie HENTON waller |
| 10 | 2022-06-10 18:53:35 | Christopher King |
| 11 | 2022-06-10 11:40:55 | Elizabeth Hill |
| 12 | 2022-06-07 19:38:24 | Sam Fitzgerald |
| 13 | 2022-06-07 13:36:08 | Holly Ring |
| 14 | 2022-06-09 15:16:41 | Suzi Gooding |
| 15 | 2022-06-08 19:13:35 | Kerrie HENTON waller |
| 16 | 2022-06-09 19:31:08 | MARK HAMILTON |
| 17 | 2022-06-10 10:51:08 | Deborah Talbot |
| 18 | 2022-06-08 10:12:46 | Amanda Ruddenham |
| 19 | 2022-06-10 17:04:53 | Keith Moore |
| 20 | 2022-06-08 00:03:31 | Kyle Harriman |
| 21 | 2022-06-09 09:36:00 | Lisa Roberts |
| 22 | 2022-06-08 14:14:43 | Michael Kiers |
| 23 | 2022-06-08 19:13:35 | Kerrie HENTON waller |
| 24 | 2022-06-10 20:14:54 | Jordan Dobbin |
| 25 | 2022-06-10 18:23:28 | Stephanie Gallant |
| 27 | 2022-06-10 12:56:42 | Staceyy Clack |
| 28 | 2022-06-09 17:15:34 | Sophie Skinner |
| 29 | 2022-06-10 20:06:44 | Sarah Smith |
| 30 | 2022-06-08 11:34:34 | jan blackler |
| 31 | 2022-06-10 20:15:40 | Joanne> Wood |
| 32 | 2022-06-10 19:12:55 | Phil Skingle |
| 33 | 2022-06-10 19:28:07 | kevin mcgovern |
| 34 | 2022-06-10 20:01:48 | Darren Jeffries |
| 35 | 2022-06-07 21:39:09 | Ben Melsome |
| 36 | 2022-06-10 15:28:25 | Emma Barton |
| 37 | 2022-06-10 19:25:55 | Ian Garner |
| 38 | 2022-06-07 23:44:57 | Jason Matthews |
| 39 | 2022-06-08 10:11:22 | Amanda Ruddenham |
| 40 | 2022-06-07 16:44:49 | Fleur Egington |
| 41 | 2022-06-10 14:56:29 | Jonathan Holloway |
| 42 | 2022-06-10 20:40:23 | Tina Greenwood |
| 43 | 2022-06-10 20:49:36 | Kirsty Westy |
| 45 | 2022-06-10 18:45:53 | Sian Beer |
| 46 | 2022-06-10 11:43:25 | Lisa Darragh |
| 47 | 2022-06-09 07:43:22 | Wendy Bowman |
| 49 | 2022-06-10 18:20:59 | Emily Brown |
| 52 | 2022-06-07 15:02:22 | Julie Major |
| 53 | 2022-06-10 13:49:31 | Sarah Macey |
| 54 | 2022-06-07 13:26:29 | Victoria Shaw |
| 55 | 2022-06-10 08:43:32 | Kate Coley |
| 56 | 2022-06-10 14:04:07 | Jessica Foster |
| 59 | 2022-06-10 20:16:22 | Suella Martin |
| 60 | 2022-06-09 17:36:34 | Sam Fitzgerald |
| 61 | 2022-06-10 18:17:59 | Laura Currie |
| 62 | 2022-06-10 19:40:06 | Luke Owen |
| 63 | 2022-06-09 07:34:32 | Lisa Riordan |
| 64 | 2022-06-10 19:40:07 | Margaret Hill |
| 67 | 2022-06-10 16:14:47 | Melissa Howrihane |
| 69 | 2022-06-10 19:55:59 | Alison Hack |
| 70 | 2022-06-10 19:24:39 | Simon Clark |
| 72 | 2022-06-10 19:24:39 | Simon Clark |
| 73 | 2022-06-09 17:36:34 | Sam Fitzgerald |
| 74 | 2022-06-10 18:38:20 | Angie Goodyear |
| 75 | 2022-06-10 20:38:20 | Julie Wellington |
| 76 | 2022-06-10 19:53:56 | Alisa Cunningham |
| 77 | 2022-06-10 19:51:20 | Stephen Andrews |
| 78 | 2022-06-10 12:57:35 | Danielle Hooper |
| 80 | 2022-06-09 20:50:32 | Justin Lashley |
| 81 | 2022-06-10 17:15:40 | Julie Toal |
| 82 | 2022-06-08 06:52:02 | Jo Disley |
| 83 | 2022-06-10 19:24:39 | Simon Clark |
| 84 | 2022-06-10 16:32:54 | Samantha Toal |
| 85 | 2022-06-07 21:56:36 | Lekel North |
| 86 | 2022-06-10 14:29:39 | Deborah Carling |
| 87 | 2022-06-07 21:39:09 | Ben Melsome |
| 88 | 2022-06-08 18:43:43 | Jo Clarke |
| 89 | 2022-06-10 16:25:54 | Jodie Ellis |
| 90 | 2022-06-10 16:27:49 | Lorna Hill |
| 91 | 2022-06-10 19:40:06 | Luke Owen |
| 92 | 2022-06-10 10:51:08 | Deborah Talbot |
| 93 | 2022-06-09 20:33:51 | Tanya Bridger |
| 94 | 2022-06-09 20:33:51 | Tanya Bridger |
| 95 | 2022-06-10 18:59:13 | Jeremy Boothroyd |
| 96 | 2022-06-07 23:12:11 | Robin Boothroyd |
| 97 | 2022-06-10 17:26:35 | Liam Wickham |
| 98 | 2022-06-10 19:50:26 | Kirsten Pearce |
| 99 | 2022-06-10 19:15:13 | Brad Grist |