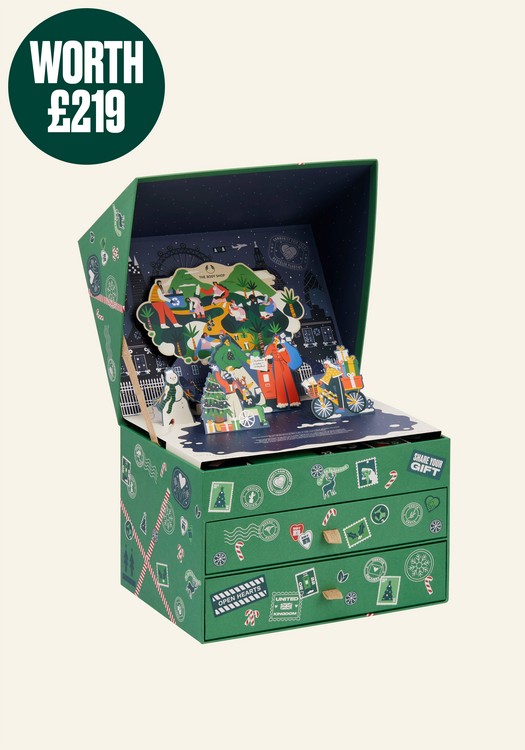 BODY SHOP Box of Wishes & Wonders Ultimate Advent Calendar
Description
BODY SHOP Box of Wishes & Wonders Ultimate Advent CalendarOur new beauty Advent calendar features an amazing pop-up construction that transports you to the world of waste pickers from Bengaluru in India where our Community Fair Trade recycled plastics come from. We use this material in some of our products included in this calendar.
There are 25 seriously good head-to-toe treats for keeping you pampered all season. In fact, we've added a few full-sized favourites and bestsellers to make this calendar extra-special.
Perhaps you'll find our mini, skin-tingling Himalayan Charcoal and refreshing British Rose face masks. Or maybe you'll find our new, full-sized Moringa Shampoo and Conditioner to give dull hair some shine. There might even be our bestselling Sleep Pillow Mist to help you feel prepared for a good night's sleep.
| Winner Name | Ticket Number | Draw Date |
| --- | --- | --- |
| Chloe Rabone | 28 | 21/09/2022 |
| Ticket Number | Date | Name |
| --- | --- | --- |
| 1 | 2022-09-21 17:36:02 | Moira stokes |
| 2 | 2022-09-21 12:47:49 | Tracey Cook |
| 5 | 2022-09-21 07:40:46 | Madison Childs |
| 6 | 2022-09-21 10:49:22 | Lauren Kerr |
| 7 | 2022-09-21 20:03:11 | Sophie Grimes |
| 8 | 2022-09-21 12:13:55 | Kevin Hayes |
| 9 | 2022-09-21 20:43:35 | Sue Manders |
| 11 | 2022-09-21 20:44:53 | Da Ni |
| 12 | 2022-09-21 17:21:40 | Nick Stevens |
| 13 | 2022-09-21 15:54:34 | Jane Hasni |
| 14 | 2022-09-21 07:40:46 | Madison Childs |
| 15 | 2022-09-21 10:21:14 | Shanna Warner |
| 16 | 2022-09-21 19:39:18 | Amelia cutts |
| 17 | 2022-09-21 07:40:45 | Annette M |
| 19 | 2022-09-21 20:00:50 | Fran Hughes |
| 21 | 2022-09-20 16:03:20 | Hayley Woodhouse |
| 22 | 2022-09-21 19:59:55 | Kate Forbear |
| 24 | 2022-09-21 09:05:38 | Chloe Cheese |
| 25 | 2022-09-21 18:22:39 | Sam Ford |
| 26 | 2022-09-21 14:35:43 | Emma Davies |
| 27 | 2022-09-20 21:38:45 | phyllis steer |
| 28 | 2022-09-21 16:38:28 | Chloe Rabone |
| 30 | 2022-09-21 16:39:03 | Emma Jones |
| 33 | 2022-09-20 21:14:20 | Sarah Kallmeier |
| 34 | 2022-09-21 19:46:58 | Kelly Kefford |
| 35 | 2022-09-21 11:26:22 | Emma Jones |
| 36 | 2022-09-20 20:41:27 | Philippa Lohmeyer |
| 37 | 2022-09-21 10:26:39 | Julie Lavercombe |
| 39 | 2022-09-21 13:56:16 | Annette M |
| 43 | 2022-09-21 20:29:46 | April Lelliott |
| 44 | 2022-09-21 20:16:33 | Debbie Brewer |
| 48 | 2022-09-21 19:32:27 | Sarah Garner |
| 49 | 2022-09-21 20:43:36 | kelly donnelly |
| 51 | 2022-09-21 20:44:46 | Hannah Mcmurray |
| 52 | 2022-09-20 21:14:20 | Sarah Kallmeier |
| 54 | 2022-09-21 16:38:28 | Chloe Rabone |
| 55 | 2022-09-21 20:26:49 | Julie Cleave |
| 56 | 2022-09-21 19:19:16 | L G M |
| 57 | 2022-09-21 14:39:13 | Trina Gilderthorp |
| 62 | 2022-09-21 12:25:50 | Holly Kemp |
| 63 | 2022-09-21 19:34:42 | Sarah Clark |
| 64 | 2022-09-21 13:09:29 | Louise Street |
| 67 | 2022-09-21 12:51:48 | Beth Eason |
| 70 | 2022-09-20 18:56:49 | Sharon White |
| 71 | 2022-09-20 22:26:32 | Kirsty Huxtable |
| 72 | 2022-09-21 15:54:34 | Jane Hasni |
| 74 | 2022-09-21 20:16:33 | Debbie Brewer |
| 75 | 2022-09-21 10:49:22 | Lauren Kerr |
| 78 | 2022-09-21 13:56:16 | Annette M |
| 80 | 2022-09-21 20:20:36 | Linda Lugg |
| 81 | 2022-09-20 22:08:00 | Jess Ellis |
| 84 | 2022-09-21 17:33:27 | Nicola Naylor |
| 86 | 2022-09-21 15:42:55 | Kathryn Broom |
| 89 | 2022-09-21 14:07:16 | Danielle Lindsay |
| 94 | 2022-09-21 14:35:26 | Amy Leslie |
| 95 | 2022-09-21 10:21:14 | Shanna Warner |
| 97 | 2022-09-21 20:07:13 | Lea Painter |
| 98 | 2022-09-20 22:08:00 | Jess Ellis |
| 99 | 2022-09-21 19:54:59 | Helen bradford |
| 100 | 2022-09-21 12:47:49 | Tracey Cook |
| 101 | 2022-09-21 15:51:33 | Claire Allen |
| 103 | 2022-09-21 13:56:16 | Annette M |
| 104 | 2022-09-21 00:25:41 | Kelly Dodge |
| 105 | 2022-09-21 15:42:55 | Kathryn Broom |
| 106 | 2022-09-21 12:25:50 | Holly Kemp |
| 112 | 2022-09-21 18:01:45 | Tanya Roberts |
| 118 | 2022-09-21 20:05:21 | Danielle Benn |
| 120 | 2022-09-21 10:21:14 | Shanna Warner |
| 121 | 2022-09-21 10:21:14 | Shanna Warner |
| 125 | 2022-09-21 20:23:22 | Michelle Sweeney |
| 126 | 2022-09-21 19:58:43 | Richard Dunn |
| 128 | 2022-09-21 19:39:18 | Amelia cutts |
| 131 | 2022-09-21 13:56:16 | Annette M |
| 132 | 2022-09-21 20:44:32 | Emma Jones |
| 133 | 2022-09-21 12:05:08 | Anna Benney |
| 137 | 2022-09-21 12:05:08 | Anna Benney |
| 140 | 2022-09-21 20:33:22 | Alisha Rooke |
| 141 | 2022-09-21 11:21:28 | Rachel Salloway |
| 142 | 2022-09-21 13:38:18 | Laura Hunt |
| 144 | 2022-09-21 10:21:14 | Shanna Warner |
| 145 | 2022-09-21 15:33:13 | Stacey Jary |
| 146 | 2022-09-21 07:25:33 | Tina Greenwood |
| 147 | 2022-09-21 07:40:46 | Madison Childs |
| 150 | 2022-09-20 21:38:45 | phyllis steer |